AFX FX-140 Helmet Review Summary
February 17, 2012 – We have received more emails from webBikeWorld visitors about this helmet than any other, so the AFX booth was my first stop at the 2012 Dealer Expo.
The FX-140 has been selling for some time but for one reason or another, we just never caught up with it until now.
AFX told us that pictures don't do it justice and they were right.
This is an amazing-looking helmet at an astoundingly low price.
It also has one of the longest and strangest development stories you've ever heard, guaranteed!
I won't go into all the gory details here, in an attempt to protect the innocent. But, what I can say is that the FX-140 almost didn't make it into production — more than once.
That it did is a testament to both the motivation and stubbornness of the AFX management.
One look will tell you that the FX-140 was designed in Italy.
It was originally going to be a European-only flip-up helmet sold through a well-known Japanese motorcycle manufacturer's retail chain.
But the project was dropped, and AFX picked it up. The original FX-140 concept was revised in many ways by AFX staff, after some lengthy on-the-road trials.
The helmet is now sold in the U.S. and Europe and it meets both DOT and ECE helmet safety standards.
Based on looks alone, there is no other helmet — flip-up or otherwise — that comes close to the modern styling of the FX-140 anywhere near this price range. Or just about any price range, for that matter!
It includes the standard (for 2012) must-have features like an internal sun visor, but it also has a slick-feeling rotating flip-up visor that can be rotated all the way back to the rear.
Funds dried up before dual homologation testing could be finished, so it's technically not permissible to ride with the visor rotated all the way to the rear, like the Shark Evoline (review) orRoof Boxer (review).
But, it sure comes in handy at those, uh, gas stops (wink-wink) to flip the visor all the way back and lower the sun visor for good measure!
The FX-140 also has extra-large neck roll padding — I could feel it on the back of my neck when I put on a size large (that fit to size, by the way, and first impressions are that it has a neutral to slightly round internal shape).
AFX staff said the helmet is very quiet, due to both the neck roll design and the very slick, low-profile exterior.
Another cool feature is the integrated rear exhaust, which blends very nicely into the overall design.
AFX is going to send one over in the flaming "Safety Orange" color, and I'll push it to the top of the queue to get a review completed asap. But here's the deal: the first production run was for only 930 helmets. Total!
Since it comes in a beautiful wine color, along with high-viz yellow, white, silver and black, that means there aren't very many of each to go around.
Divide that up by the size range of XS to XXL and, well, you better get one while you can. AFX is hoping to get another production run going and I'm sure if the FX-140 is as popular as I think it will be, they'll get it into the regular production schedule.
The FX-140 has a list price of $129.95.
UPDATE: Read the wBW AFX FX-140 Review!
In the meantime, here are some photos and a quick video walk-around of the AFX FX-140: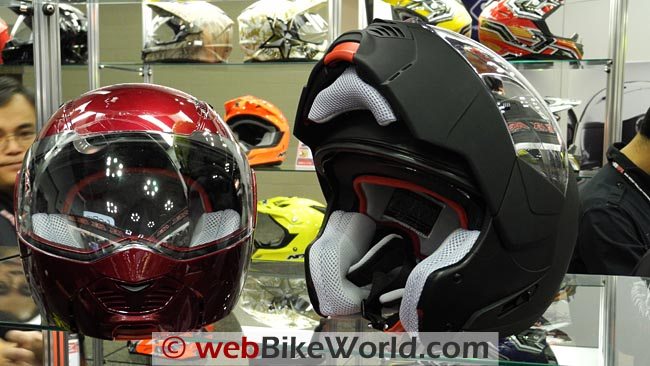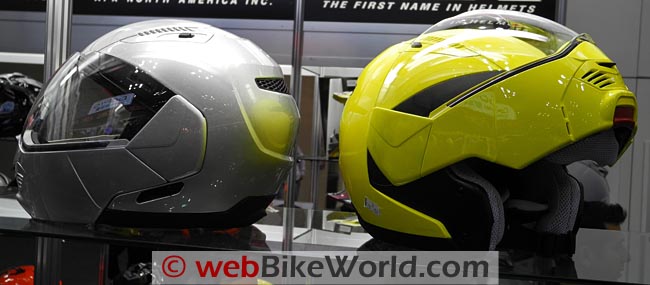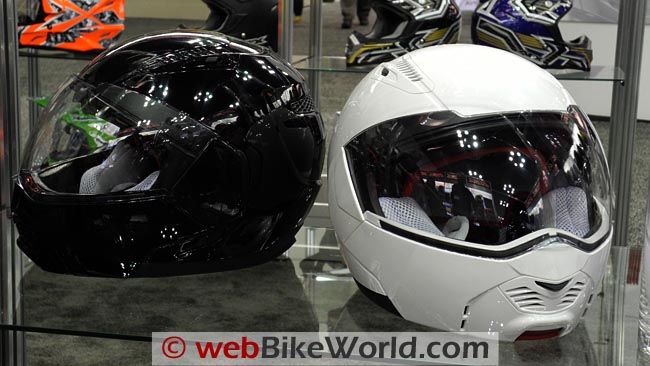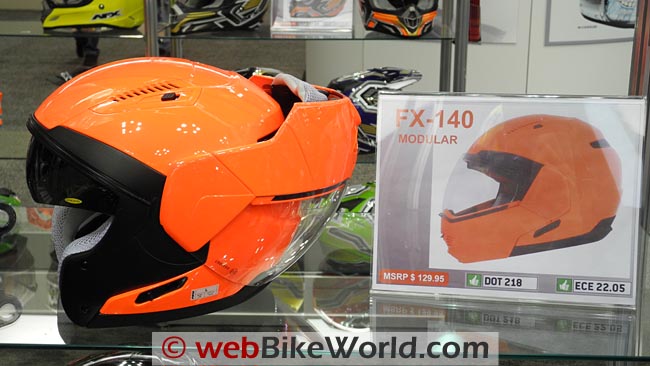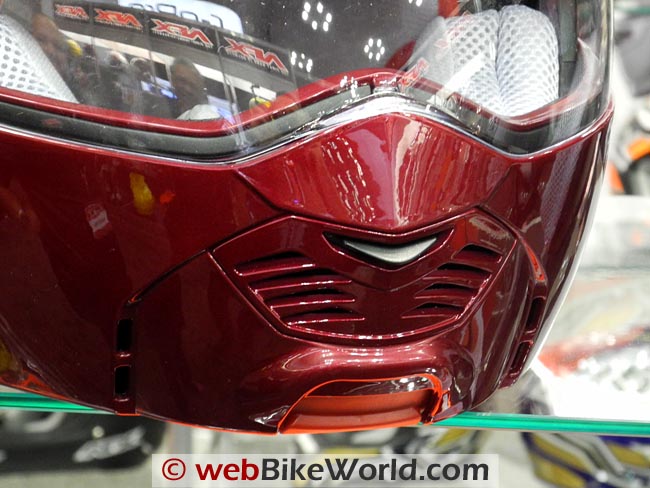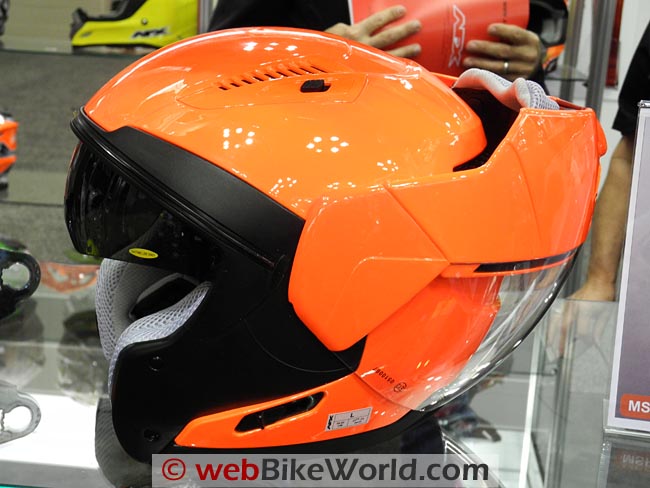 w

BW

 Video: AFX FX-140 Helmet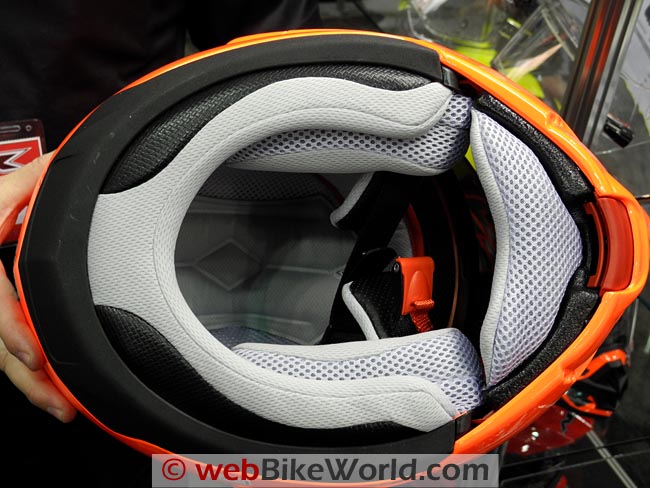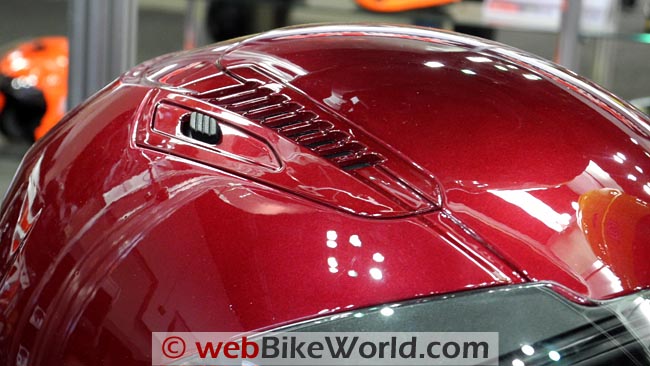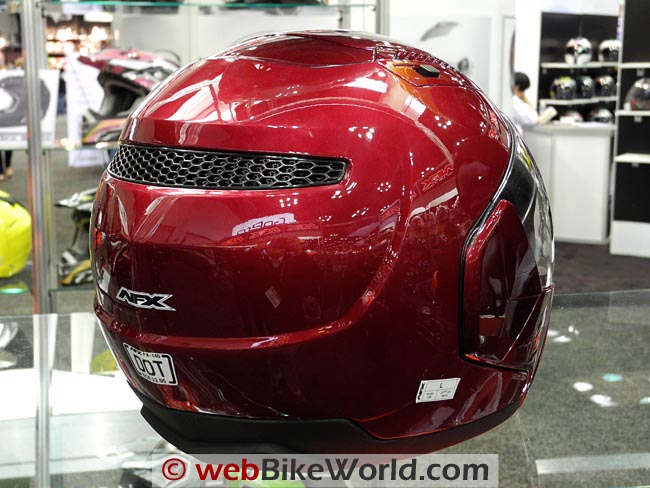 More: 2012 Dealer Expo Live Reports
Publication Date: February 17, 2012
Note:
 For informational use only. All material and photographs are Copyright © webWorld International, LLC since 2000. All rights reserved. See the webBikeWorld® 
Site Info page
. Product specifications, features and details may change or differ from our descriptions. Always check before purchasing. Read the
Terms and Conditions
!
---
Owner

 Comments and Feedback
---
From "R.S." (February 2012): "After seeing the photos you posted, I read a little more from AFX's website. Then I ordered one, which should arrive next week.
One thing I noticed is that it seems to have padding/wind block on the chin bar; which either way is a good idea.
I've been riding with the Shark Evoline 1 (review) for a couple of years now, and fully open with the chin bar on the back, it doesn't easy move back in chin position, acting as if its stuck on something.
Anyway, I've been looking for a modestly-priced but safe replacement (or at least a spare/back-up helmet) and thought to give the AFX a try. Enjoy the expo. As always, I'm envious!"