If you fit any aftermarket accessories to your bike, you run the risk of making it illegal. That's if you go by the letter of the law. In practice, it's a lot more complicated.
You don't even have to fit aftermarket accessories to make your bike illegal; you could have bought it with illegal accessories already fitted. I bought my BMW R 1200 GS directly from BMW Motorrad Australia fitted with a headlight cover that specifically says "Offroad use only". That's because it is illegal to place anything over the headlight for fear it may alter the effectiveness of the headlight, even when it is a clear plastic cover.
It is not illegal for a company to sell you aftermarket accessories, but it may be illegal to fit them. The same goes for radar detectors. You can buy them, but you can't fit them or use them in your vehicle in Australia and many other countries.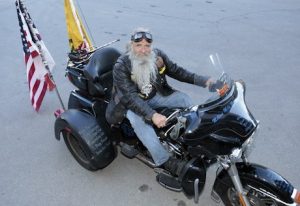 In the USA, you can pretty much modify your bike as much as you want and the police don't mind unless there are bits falling off in the traffic. However, there was the case recently of a Harley rider (pictured at right) whose warranty was voided because he had mounted an American flag to the rear of his bike. So while your aftermarket accessories may be legal, you should also consider your warranty.
The US is home of the wacky accessory. Just have a look at the Revzilla and Cruiser Customizing ads at the side of this page. They have a host of weird and wonderful aftermarket accessories.
Australian laws on modifications and aftermarket accessories are quite anal. State authorities require registered vehicles to comply with both the Australian Design Rules and any state regulations while they are registered. This is usually demonstrated by the compliance plate or used import plate fitted to the vehicle.
By comparison, New Zealand has quite casual rules and the police are not very interested unless you are creating a hazard on the road. That's quite a sensible approach compared with Australia where any change to ADR compliance may technically affect registration,  insurance and your warranty.
However, don't get too paranoid. Like most things, it depends on the circumstances and who is inspecting your vehicle as to what action they might take.
Lights, exhaust, brakes and controls are all covered by the ADRs and fitting aftermarket items may technically make the vehicle unroadworthy and unregistered. There is a guide as to what tyres may be fitted before the brake system is classed as different as well.
If you are buying a bike from a custom builder, make sure it has a compliance plate for the full job and that all accessories and modifications are listed. Genuine custom shops such as Deus, Ellaspede, etc are happy to prove their bikes are compliant.
A MotorbikeWriter reader asked about amber daytime running lights. "I feel they provide a good benefit in terms of visibility but are they legal?"
A lot of aftermarket lights are marked to worldwide ECE regulations which is an acceptable alternative to the ADRs but placement and operation may be the issue. However, importing and compliancing expert Bruce Hartwig, of Sapar Pty Ltd, says amber running lights are not allowed under ADRs. "But I agree they provide better visibility of the oncoming rider," he says.
There are so many vagaries in the law, it is impossible to go into them all here. The best advice is to seek the advice of an expert. Guys like Bruce or your state automobile club are the best people to talk to if you have any concerns about specific aftermarket accessories.
While it may be more expensive to buy factory fitted accessories rather than generic branded aftermarket accessories, it may also be safer and shouldn't make adversely affect your warranty. However, my example of the BMW headlight cover shows that not even some factory accessories are compliant.
Meanwhile, use some commonsense. If the accessory adversely affects the performance and safety of your vehicle, avoid it.
It's also advisable to tell your insurance companies if you add any accessories and question any accessory that is fitted to a bike you are about to buy. Ask to see a certificate of compliance.