Tiny-Mini & Cheap Action Cam?
Definitely the cutest and most fun of any camera in this comparison, but the AEE MD80 is more of a novelty than a serious motorcycle video camera.
Its benefits are the small size and ease of use, along with the included 2 GB MicroSD card.
With a little bit of ingenuity and a roll of duct tape, you can mount this baby just about anywhere, including the chin bar of your helmet or the tip of your fairing.
The AEE MD80 is claimed to be the "Smallest Digital Video Camera in the World With a High Resolution Image ".
I'm not sure what they mean by "high resolution image" and it actually caught me out, because I ordered one assuming "high resolution" meant "HD".
It doesn't.
But the AEE MD80, suggested by a webBikeWorld visitor, is a whole lotta fun. Sure, the video quality isn't that great, but what did you expect from a thumb-sized camera costing $42.00?
Actually, you can buy one for as little as $15.00 (without the memory card) here with this link to our Amazon.com affiliate: AEE MD80 Video Camera
BBe careful whee you buy it though — there are reports of "fake" MD80's out there, with cheaper plastic bodies and some don't come with the MicroSD memory card included with ours.
And speaking of memory, how many video cameras for $42.00 give you a free 2GB memory card? In fact, how many motorcycle video cameras of any type come with memory included?
None that I can think of.
It's like buying a motorcycle and then having to go online to shop for an engine. C'mon manufacturers! Get real!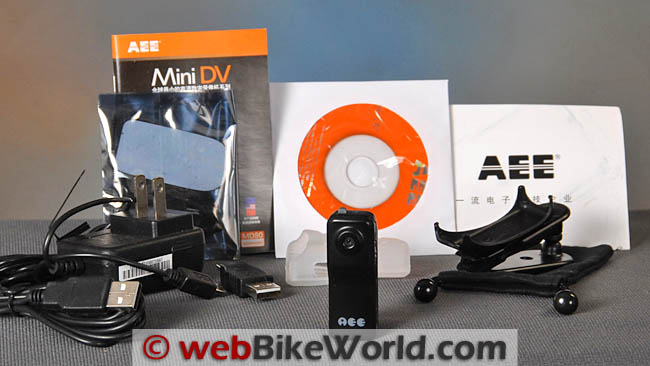 In the Box
The MD80 is built like a miniature tank. It's possible that the body is some type of hard plastic — I don't want to touch a magnet to it to find out — but whatever it is, it's very nicely made.
You have to order one of these from…foreign sources.
Finding it is half the fun, although from the time we bought this one a few months ago until now, the word is out and there are a lot more sources than there were before.
We had to negotiate via Google Translate with an agent in Singapore to find the best price for a camera made in the famous Sun Industrial Area in Xili in the Nanshan District in China (Google Map), then have it shipped to the U.S. with crossed fingers.
It arrived no problem and — surprise! — it comes with a 2GB Transcend MicroSD card! At least ours did, but when you're buying something like this from…foreign sources, you never know what you'll end up with.
So there's a chance your box will be different.
The MD80 even comes with a nicely printed owner's manual and a CD-ROM that I never tried.
The MD80 is not a motorcycle video camera per se, but it includes a clip-on (and I mean clip-on) holder so you can attach the camera to a pocket or the flimsy ball-mount holder that also comes in the box.
It even has a neck lanyard, so you can hang the MD80 around your neck and walk around the streets of the Nanshan District looking for the best deal on that Sea-Gull wristwatch.
The camera includes a built-in standard sized USB connector port and you even get a cool standard size USB-to-computer plug and a standard USB cable (the camera has USB 1.1), along with a translucent skin to cover your MD80 with if you wish.
And finally, a little micro-fleece stash bag to hold your camera.
This is a revelation in itself, because most motorcycle video cameras don't come with any type of storage box, but the manufacturers sure go out of their way to give you a wasteful display box that A) you'll cut your hands to ribbons breaking into and B) is totally useless wasted junk once you do.
We've said this before: how about giving us a display box that can be used to store the video camera? Reduce waste and make your customers happy, all in one!
This is especially important for a video camera with a lens that must be protected.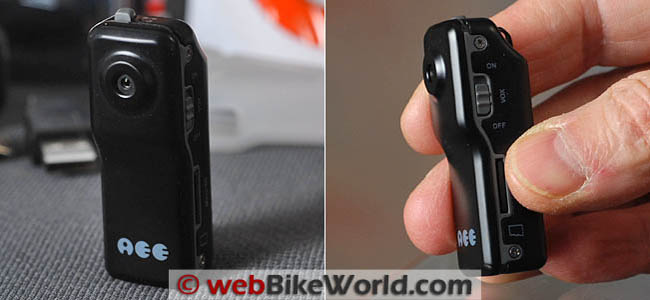 AEE MD80 Specifications
Despite the "high resolution" claims, the MD80 is anything but. It takes basic SD (Standard Definition) video at the ancient 640×480 VGA resolution at a rather strange 25FPS (Frames Per Second).
The files are saved in .AVI format, which is easy to upload, edit and/or play on any computer. Or should be.
The AEE MD80 will work as a web cam, according to the company, something I haven't tried. It won't record video while it's recharging, so that function may be limited anyway.
The MD80 will support up to 16GB MicroSD memory cards, but something to remember is that you do not want to record hours of video on any video camera, because you may find it will be nearly impossible to upload it and edit it.
Newbie motorcycle  videographers may think they can attach a camera, turn it on and video their ride from Chicoutimi to Pine Cove in one take and then upload it to YouTube as soon as they arrive at the Lakeview Inn.
Unh-uh. Won't happen.
Take a few minutes at a time and probably no more than 10. This is where the remote control provided with some motorcycle video cameras comes in handy.
The 2GB MicroSD card that comes with the MD80 will hold about 1 hour and 20 minutes of video total, if you care to take that much.
The MD80 has an internal 260 mAh Lithium-Ion battery that AEE says will last about 2 hours and they're pretty close. It charges via the USB cable, so you'll need a computer or an always-on USB port or charger to do it.
Some USB cell phone chargers may work also, but I haven't tried it.
ThThe AEE MD80 weighs only 40 grams (1-3/8 oz.) and it measures about 55 mm long by 20 mm wide by 18 mm thick, almost exactly 3/4 of the size of my thumb — and I don't have big hands.
It is rated for use from minus 10 to plus 50 degrees C.
Using the AEE MD80
The AEE MD80 is very easy to use. Connect a standard USB cable to the USB port on the bottom of the MD80 and charge it up.
Once the internal battery is charged, which takes a couple of hours, you're ready to go.
There's an on/off power switch on the right side of the camera. When the power is turned on, a tiny LED light on top briefly glows green and then blue to indicate that the camera is ready to record.
To start recording, press the button on top of the camera and the green LED light flashes on and off while recording. Press again to stop recording and the file is saved. Turn the power off when you're done.
The AEE MD80 also has a VOX-activated record button.
If the power is on and the VOX slider is also on (located on the left side of the camera and the MicroSD card is also located there), the camera will start recording video when the sound level reaches 65 dB.
But 65 dB is very low, about the volume of a conversation. This isn't useful for motorcycle video, but maybe it's useful for spying on people entering your office while you're out to lunch.
By the way, the MD80 is small and light enough to fit in any number of household or office items; on your dog's collar; in a radio-controlled sailboat or whatever. Lots of fun can be had with this thing.
w

BW

 Video: Four Motorcycle Video Cameras – Details
w
BW
Video: On-Road Comparison of Four Motorcycle Video Cameras
Pros and Cons of the AEE MD80
The pros for the MD89 included everything stated: its small size, low cost, ease of use and fun factor.
The cons include fairly poor video, which would have been considered pretty good before the advent of HD.
Another big con is that the MD80 seems to be very sensitive to any vibration or camera movement, which results in very wavy video — the "rolling shutter effect".
When mounted on a motorcycle, the MD80 has to be free from vibration or you'll get so much jelly-like shaking that you won't be able to watch it.
Even attaching the MD80 to the included lanyard and walking around gives too much movement.
But if you can find a fairly solid surface to attach it to, the MD80 isn't bad. I'll refer you to the on-road video comparison on the introduction page for this four-part video camera review.
Also, the MD80 is very prone to lens flare, as you can also see in the video. This can be solved by making a shade for the lens, but it's just one more negative for the MD80 overall.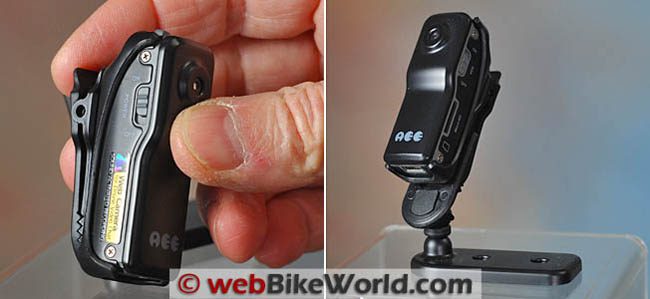 Conclusion
Lots of fun and can be used on a motorcycle with a bit of clever finagling.
But otherwise the relatively low-quality video, extreme jelly-like video when any vibration is present and lots of lens flare makes this a novelty more than anything else.
Buy one to amuse your friends or as an interesting project camera for the bike.
More: Four Motorcycle Video Cameras Reviewed  |  wBW Motorcycle Video Camera Reviews
Master Listing of All wBW Motorcycle Product Reviews
w

BW

 Review: AEE MD80 Video Camera
List Price (2011): $45.00 – $150.00 USD, depending on source.
Made In: China
Colors: Black
Sizes: Tiny!
Review Date: March 2011
Note:
 For informational use only. All material and photographs are Copyright © webWorld International, LLC since 2000. All rights reserved. See the webBikeWorld® 
Site Info page
. Product specifications, features and details may change or differ from our descriptions. Always check before purchasing. Read the
Terms and Conditions
!
Owner Comments and Feedback
---
From "S.C." (03/11):  "I have bought two of these on (an auction site), the $20 with shipping (versions) and both stopped working with in the day.
Having said that while they where working the video is fine for You Tube and they are fun and other people seem to have no problems with them. So spend your money and take your chances."
Rick's Note: I've heard there are some fakes going around, we bought ours through a broker in Singapore who we know, who got it directly from the factory. It cost about twice what you paid but so far, it hasn't failed…