365 Motorcycles You Must Ride
Author: Dain Gingerelli, J. Michaels C. Everitt
Published: January 2011, 325 pages
Motorbooks International
ISBN: 978-0-7603-3474-4
I'll have to admit to a few false starts with "365 Motorcycles You Must Ride".
I didn't quite know what to make of a book that is basically a series of very brief one-page entries on a whole bunch of old motorcycles that I'd probably never see, much less ride.
But after flipping through the pages two or three times, I started to enjoy it.
I'm not sure who came up with the premise.
That question is unanswered, as is the reason why the Cycle World logo is on the cover.
And for that matter, also unanswered is the question of why there are 365 entries and not 10 or 100 or 250 is not answered. But it doesn't really matter.
The three authors, each of whom is either a motorcycle journalist, writer, editor or all of the above, have put together their ultimate wish list of motorcycles.
It's highly unlikely that you'll agree with every entry on the list and you may have one or more favorites for which you could argue should have been included.
But that's all part of the fun — reading about the bikes (many of which may be unfamiliar) and agreeing or disagreeing on the list and creating your own.
In fact, maybe they should have left some blank pages at the end of the book so readers could add their own favorites.
The book is printed in a small format size of about 6.5″ by 8.25″ and averages about one motorcycle per page.
It's loaded with photos but very little text; a couple of paragraphs explaining why the bike is on the list, along with a brief "Factoid" style checklist of pros, cons and background that serves as context.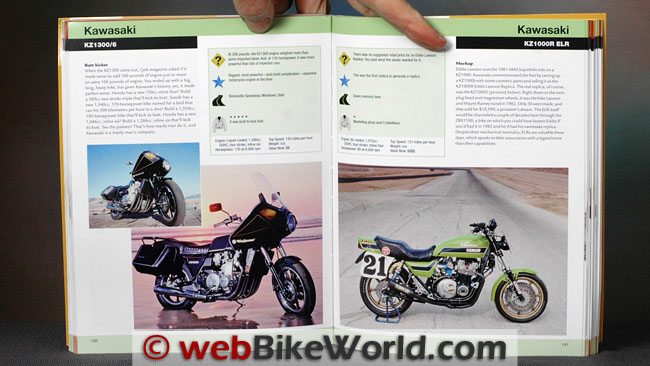 It's also interesting to note that the authors didn't just include the obvious dream bikes, like the BMW R100RS, Ducati 916 or Harley-Davidson Model 1 — motorcycles on everyone's Top 10 list.
They also list a few "lemons", such as the Suzuki Tempter (anyone remember it?) or the Honda NSR500, in the theory that riding the bad helps sharpen comparisons with the good.
This also helps make the book less boring — after all, if the list included only the expected, what fun would it be?
The chance of encountering more than a handful of the bikes described in this book are slim; of actually riding them, negligible.
But I can pretty much guarantee you'll come away with a deeper and richer understanding of motorcycling and how we got to where we are today.
Reading about these motorcycles is like looking at the pieces of a puzzle still in the box.
Each one may not make sense in and of itself, but one slowly develops a recognition of patterns and the bits and pieces taken from here and there that became the breadcrumbs that led us down the path from pneumatic tires to shaft drive to four-cylinder DOHC engines.
In fact, think deeper about this and you may also find yourself with a better understanding of what might come next.
Two sayings come to mind: "Everything old is new again" (author unknown).
And how about "The charm of history and its enigmatic lesson consist in the fact that, from age to age, nothing changes and yet everything is completely different". (Aldous Huxley – Author of Brave New World).
Maybe we won't see a Megola five-cylinder radial engine located inside the front wheel any time soon, but some of the old ideas are still valid and when pulled from the dustbin of history and cleaned up with modern technology, can propel us forward.
This is one of the reasons why history is so important and why, in the end, 365 Motorcycles You Must Ride is a valuable gem.
Review Date: January 2011
w

BW

 "Flaming Helmet" Rating:
4=Must Have. 3=Should Have. 2=Take it or leave it. 1=Fugeddaboudit.
Note:
 For informational use only. All material and photographs are Copyright © webWorld International, LLC since 2000. All rights reserved. See the webBikeWorld® 
Site Info page
. Product specifications, features and details may change or differ from our descriptions. Always check before purchasing. Read the
Terms and Conditions
!
Owner Comments and Feedback