My personal bike is a Triumph Speed Twin 1200 so when I was offered the opportunity of having the Speed Triple 1200 RS on loan for a few weeks I jumped at the chance as I was eager to see how the 1200 RS compared to my twin.
Review Summary
This is a light bike to both maneuver and ride with a wet weight of 198 kg.
At $19,569 USD / $26,252 CAD / £15,795, this bike is at the higher end of the market for similar bikes in this category, you are paying for the Triumph name.
Five riding modes which you can customize – sport; road; rain; track and rider with cornering abs and traction control which are easy to adjust on the user-friendly TFT display.
Tires are Pirelli Diablo™ Supercorsa SP which are a track/road tire which are okay in hot conditions but not so good on cold tarmac and in the wet
Quickshifter comes as standard
Self-canceling indicators although you can turn this function off
There is a USB socket under the seat and the TFT screen is multimedia ready
At A Glance
Weight: 198 kg
1160 cc liquid cooled, 12 valve inline 3 cylinder engine
177.5 bhp
6 speed
Five customisable riding modes: Sport, Road; Rain; Track; Rider
5' TFT display
Ohlins suspension front and back
Brembo brakes front and back
Single sided swingarm
Quick Shifter
Self canceling indicators
830 mm seat height
Price: $19,569 USD / $26,252 CAD / £15,795
See the Triumph Speed Triple 1200 RS model overview and our review on the 2022 Speed Triple 1200 RR!
First Impressions
The color endeared me to the 1200 RS straightaway. I mean, come on, who is not going to be drawn to the distinctive matte Baja orange.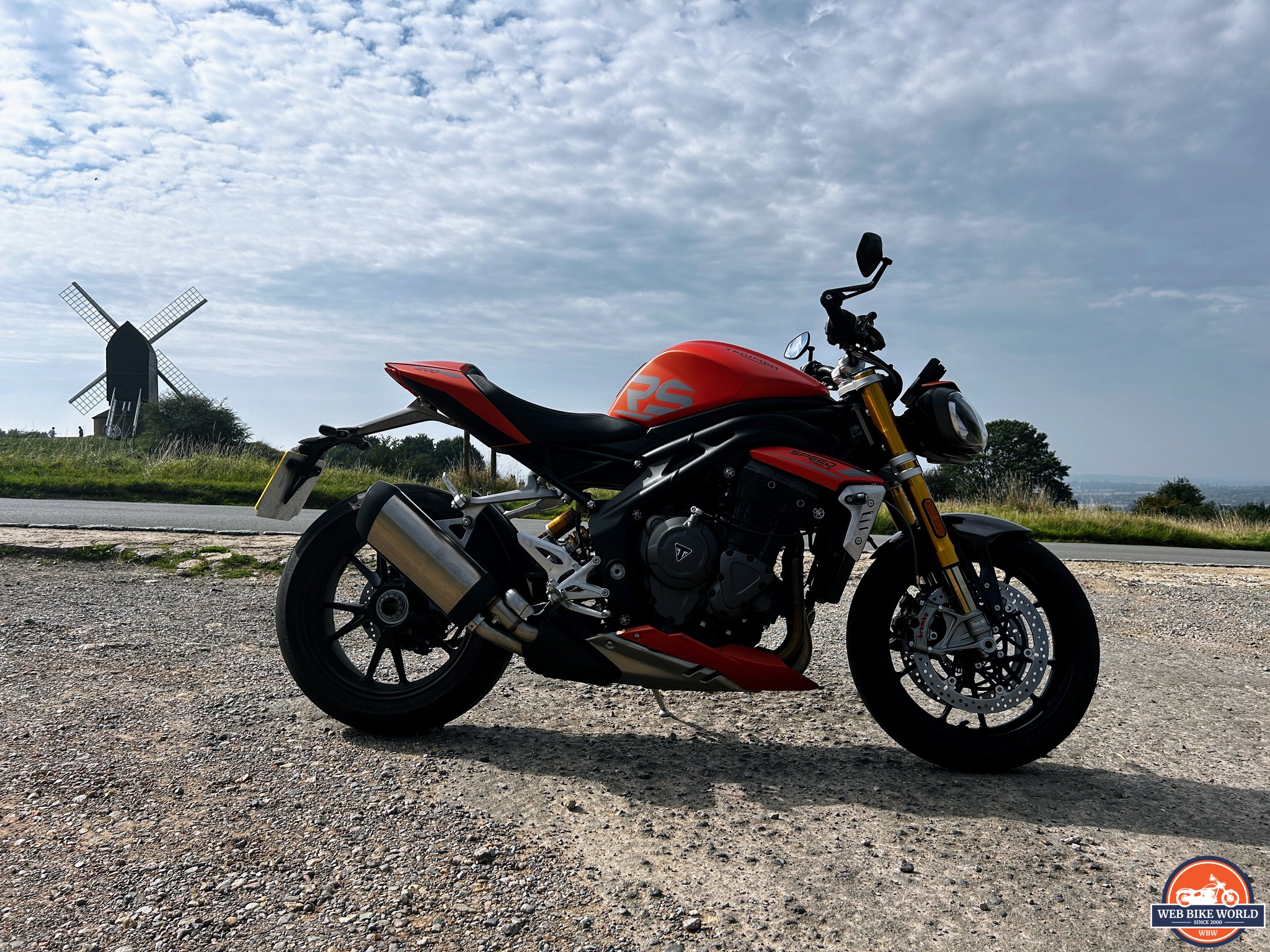 Another thing that drew me to the bike was its 177 bhp. Does one need an abundance of power? Oh yes, one definitely does 😎
Like a twin engine, the Triple has a distinctive sound to it and you start grinning when starting up the bike. The standard exhaust though, for me, is just not loud enough and to be honest does not look particularly sexy either. I would have to change this.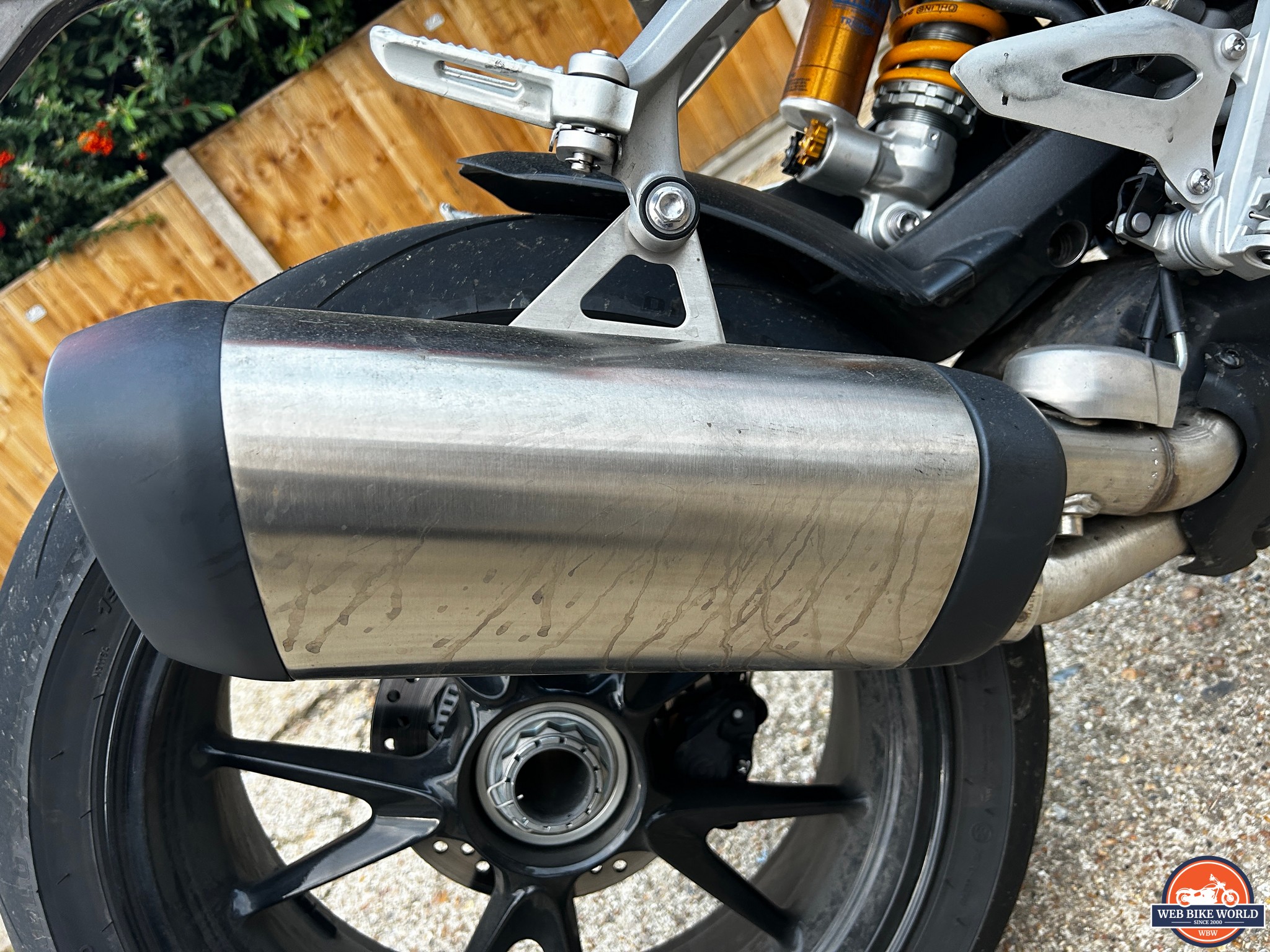 I really like the riding position of the 1200 RS. You may think that because this is a high powered bike that this means the bike would have a sporty riding position but it really doesn't, it is quite an upright position and my legs were not too bent (I'm 5'6") which makes this a comfortable bike to ride on a long trip, ideal for touring.
The 5" TFT display is nice and big so you can glance down when riding and see clearly what you need to see.
Bearing in mind the very many modes and options available within these modes, I found navigating the screen display easy to do which is great news for those of us who are technologically challenged!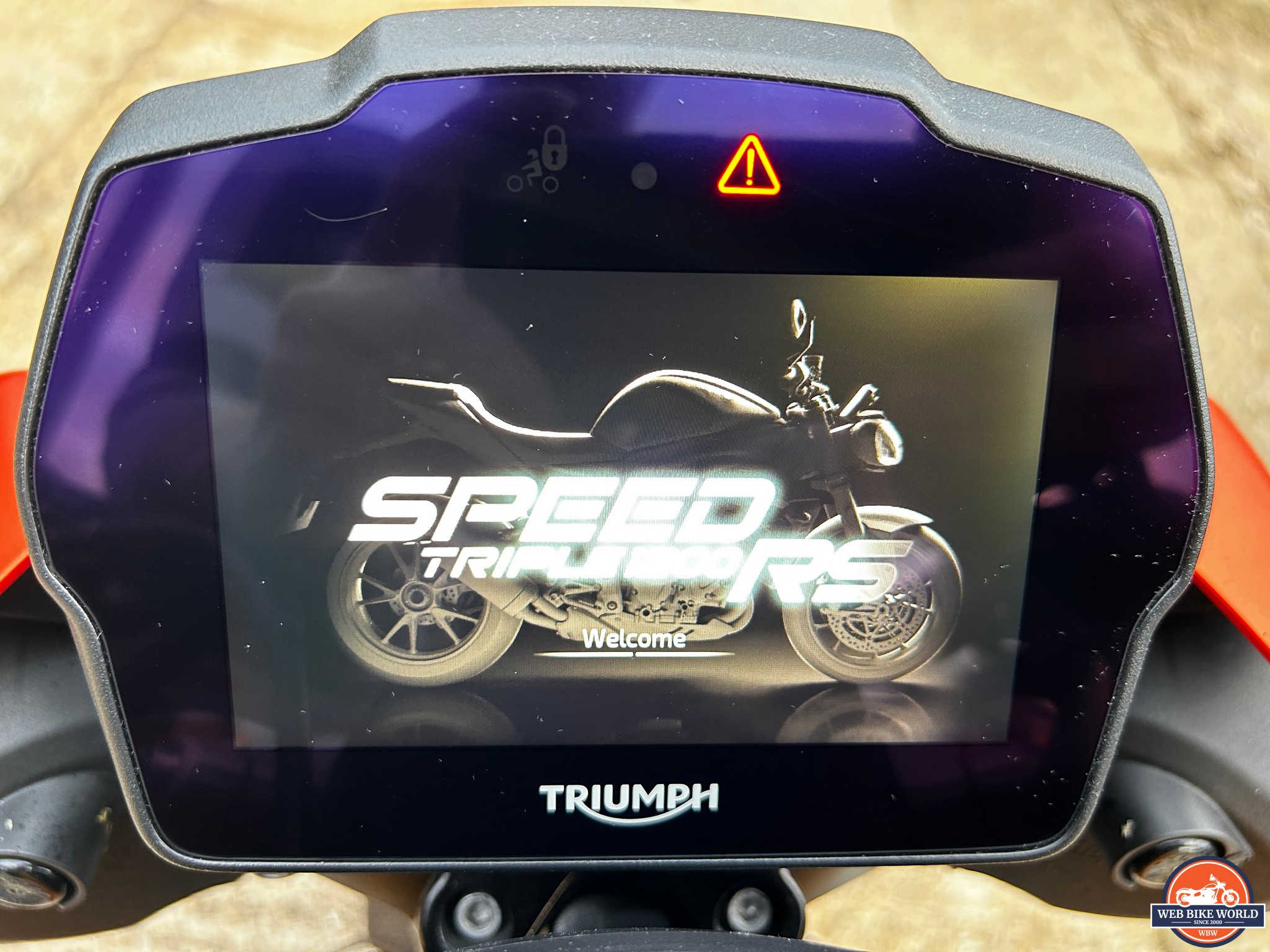 I like the bar end mirrors on this bike, I find them comfortable as the edge of my hands rest on these and they have the added bonus of looking good too.
I have had a lot of conversations about the headlights, some love them and some really do not like them at all. References to 'wasp' looking have been thrown out there a few times.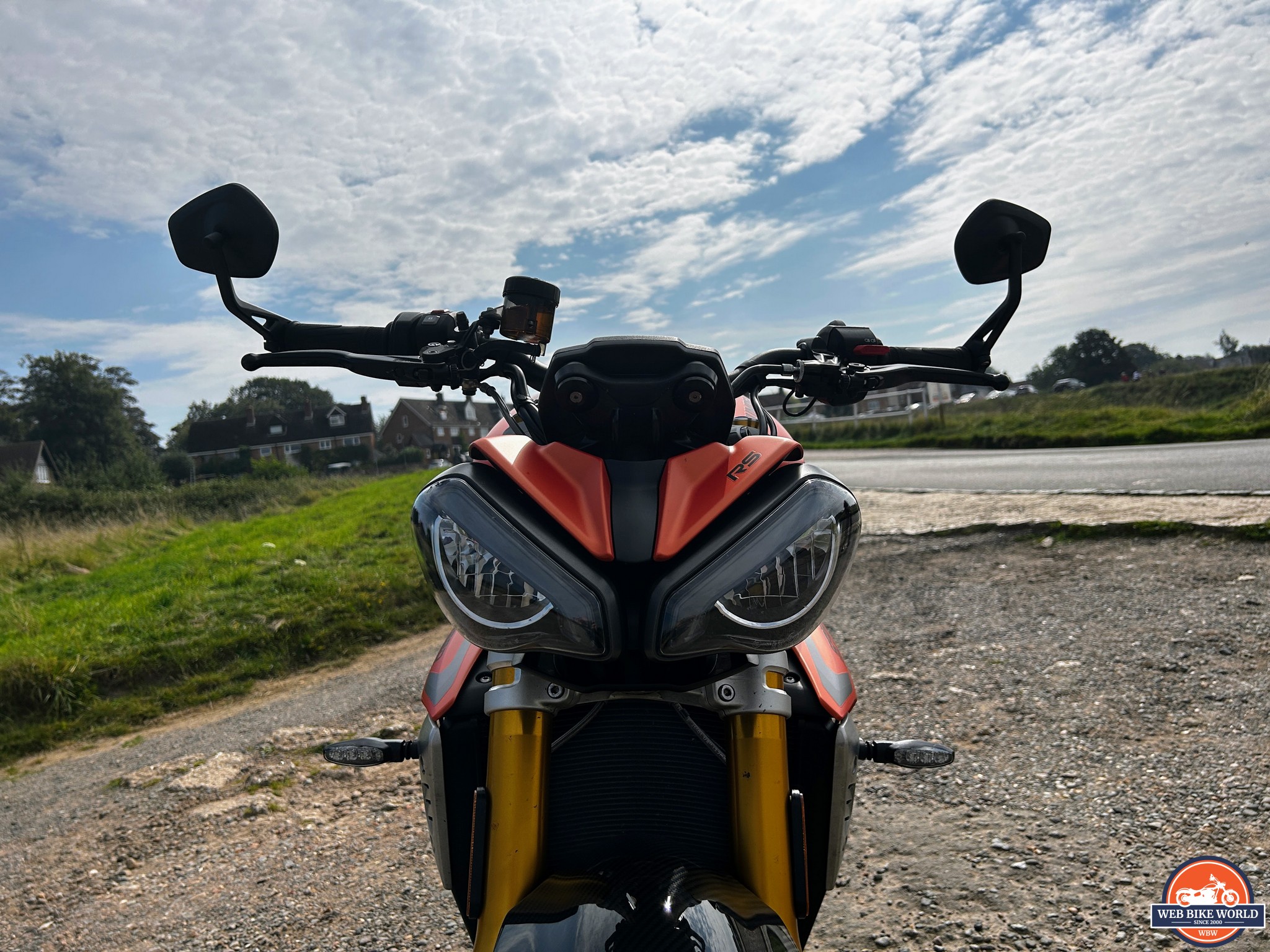 Personally, the headlights do not bother me, I think they just add to the character of the bike. Anyway, you can't see the headlights when you're riding the bike so does that matter?
Engine
The 1200 RS has a liquid-cooled, 12 valve, DOHC, inline 3-cylinder 1160 cc engine pushing out 180 PS / 177.5 bhp (132.4 kW) @ 10,750 rpm and a maximum of 125 Nm @ 9,000 rpm.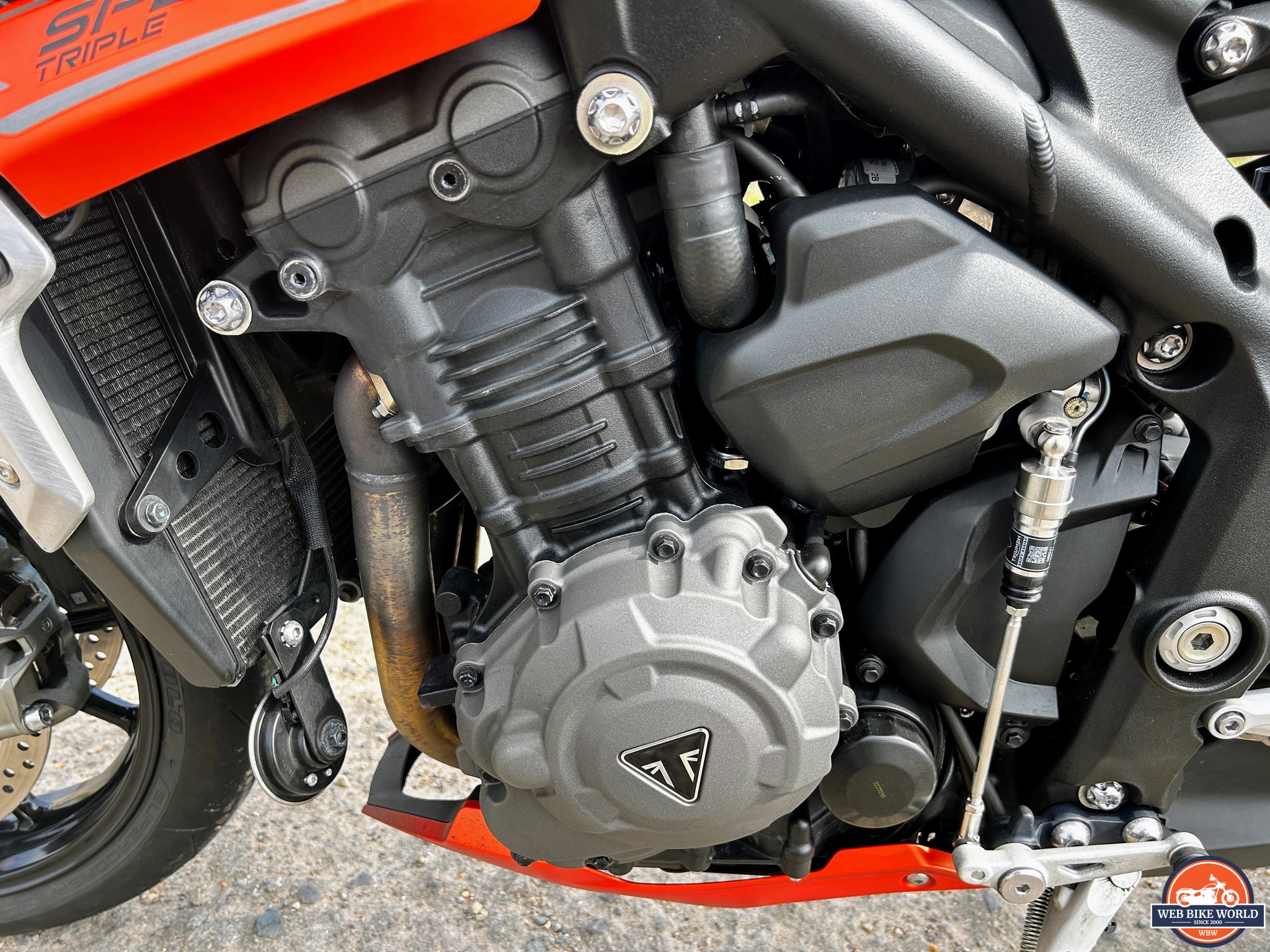 The 1200 RS feels like a nice bike to ride, the engine is smooth, shifting up and down the gears is effortless with the quickshifter and the engine performance is rapid.
I did think before I rode the bike that slow riding around town would be painful in that the 1200 RS being such a high performance bike would not be happy at lower speeds, but actually it was absolutely okay.
Obviously being such a high performance bike, it was absolutely ecstatic once you got out on an open road. The acceleration is amazing and the grin factor is off the scale. I quite often found myself chuckling under my helmet at just how much fun this bike is to ride.
When you do an overtake, because you have the performance, you are out and back in very quickly thus meaning you are spending less time on the 'wrong side' of the carriageway. That's definitely got to be a good thing, right?
The 1200 RS handles nicely around the twisties and feels like a solid bike to ride. You can feel that this bike has been nicely put together, it has a quality feel to it.
Chassis
The chassis is comprised of an aluminum twin spar frame with bolt-on aluminum rear subframe and single-sided swingarm. Together, this design is described by Triumph to provide "agile, precise and dynamic handling."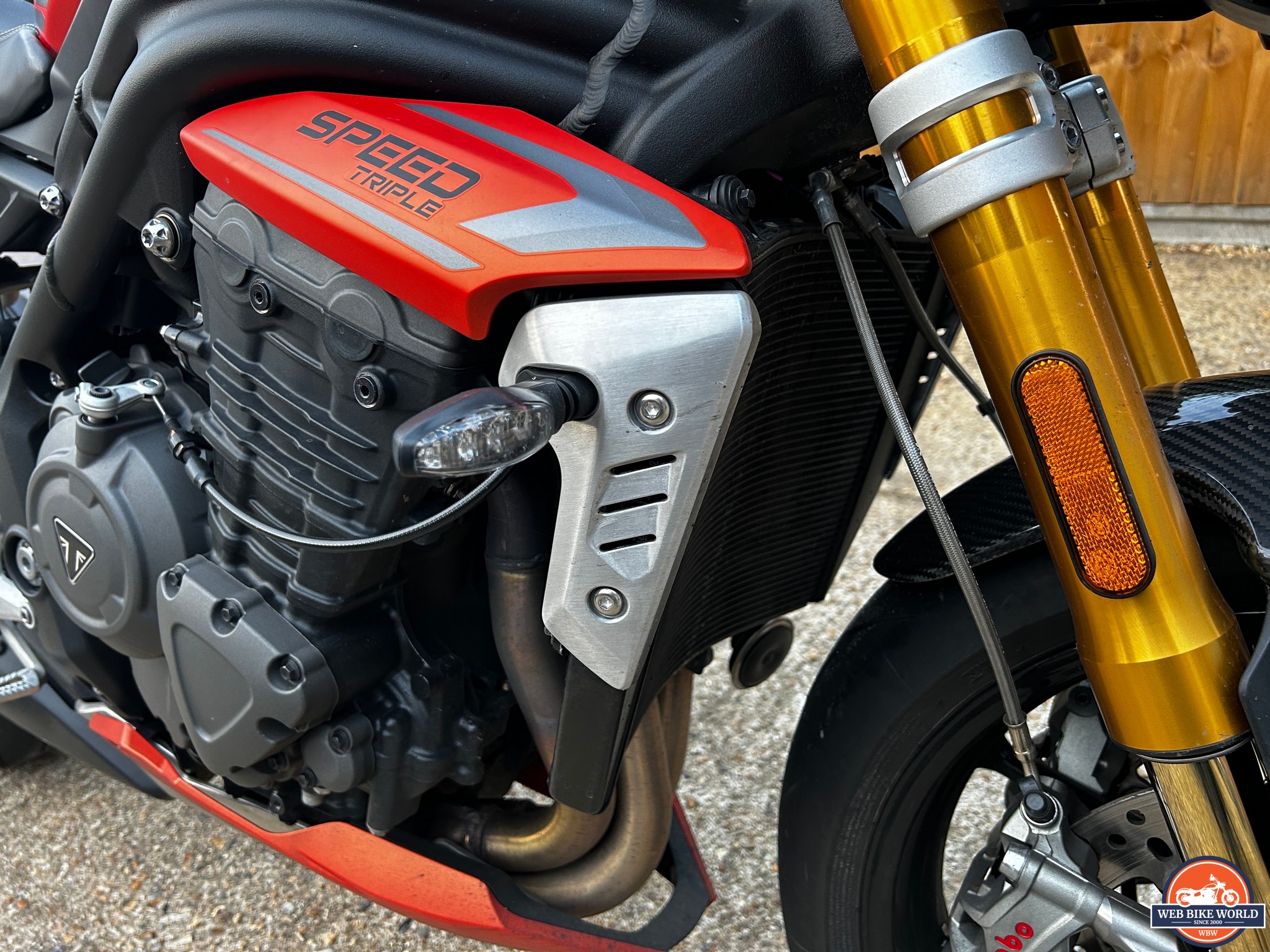 With a wet weight of just 198 kg, I found this bike incredibly easy to maneuver about and get in and out of the garage.
The 1200 RS also feels like a light bike when you are riding, the weight distribution is further forward and lower down than the previous generation.
The bars are wider also and I found the riding position really comfortable, it feels as though you are sitting in the bike rather than on it and you naturally lean with the bike through the corners.
The brakes on the front are twin Brembo Stylema radial monobloc front calipers, with 320mm floating discs and on the rear, a single Brembo twin-piston rear caliper with a 220mm disc.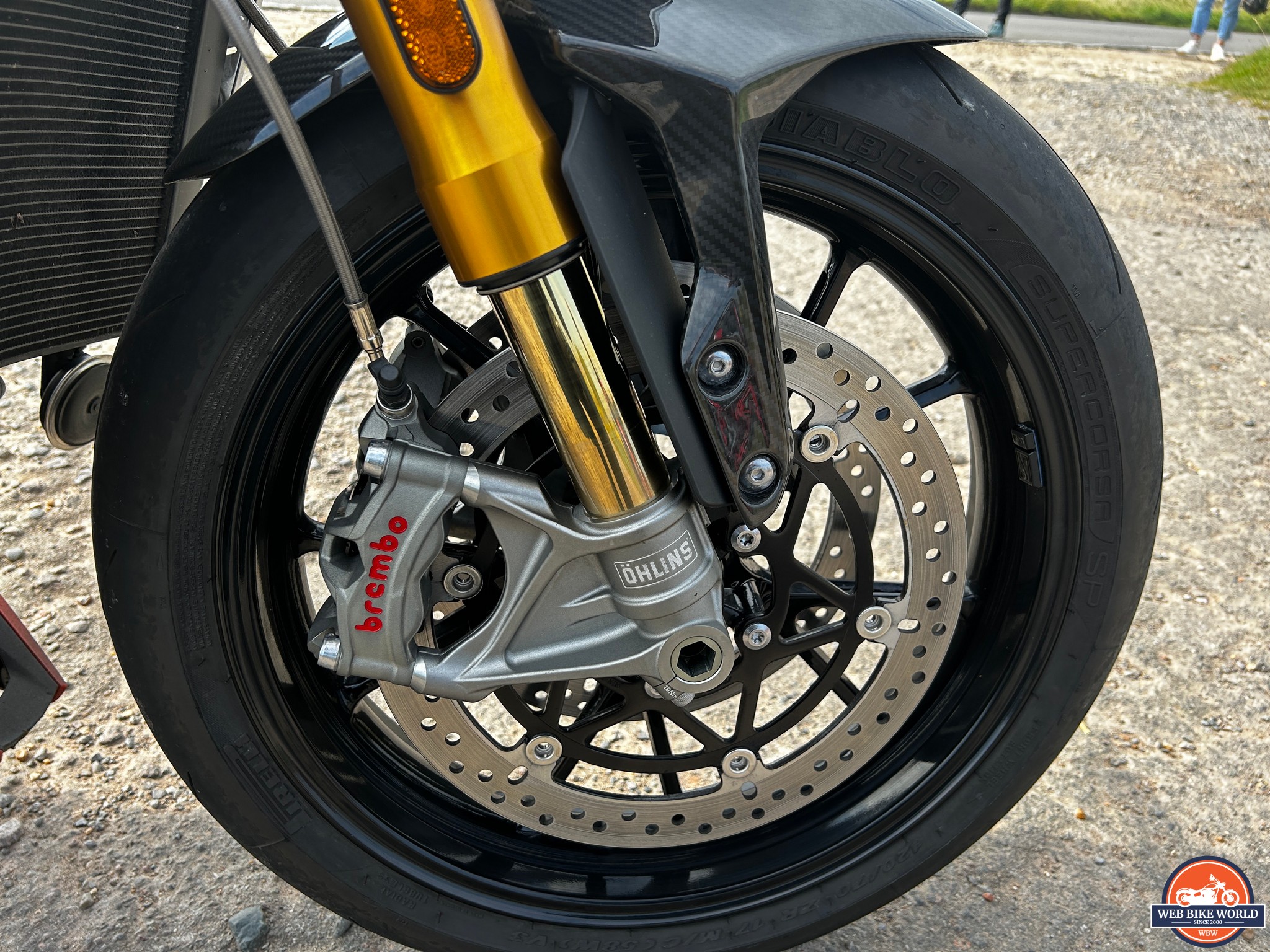 I found the brakes to be very responsive, you did not need to press the brake hard for it to have an impact. I also thought there was a lot of engine braking so just lifting off the throttle and going down the gears scrubs off a lot of speed.
There is fully-adjustable Öhlins suspension on both the front and rear. On the front are Öhlins NIX30 upside down forks, adjustable for preload, rebound and compression damping.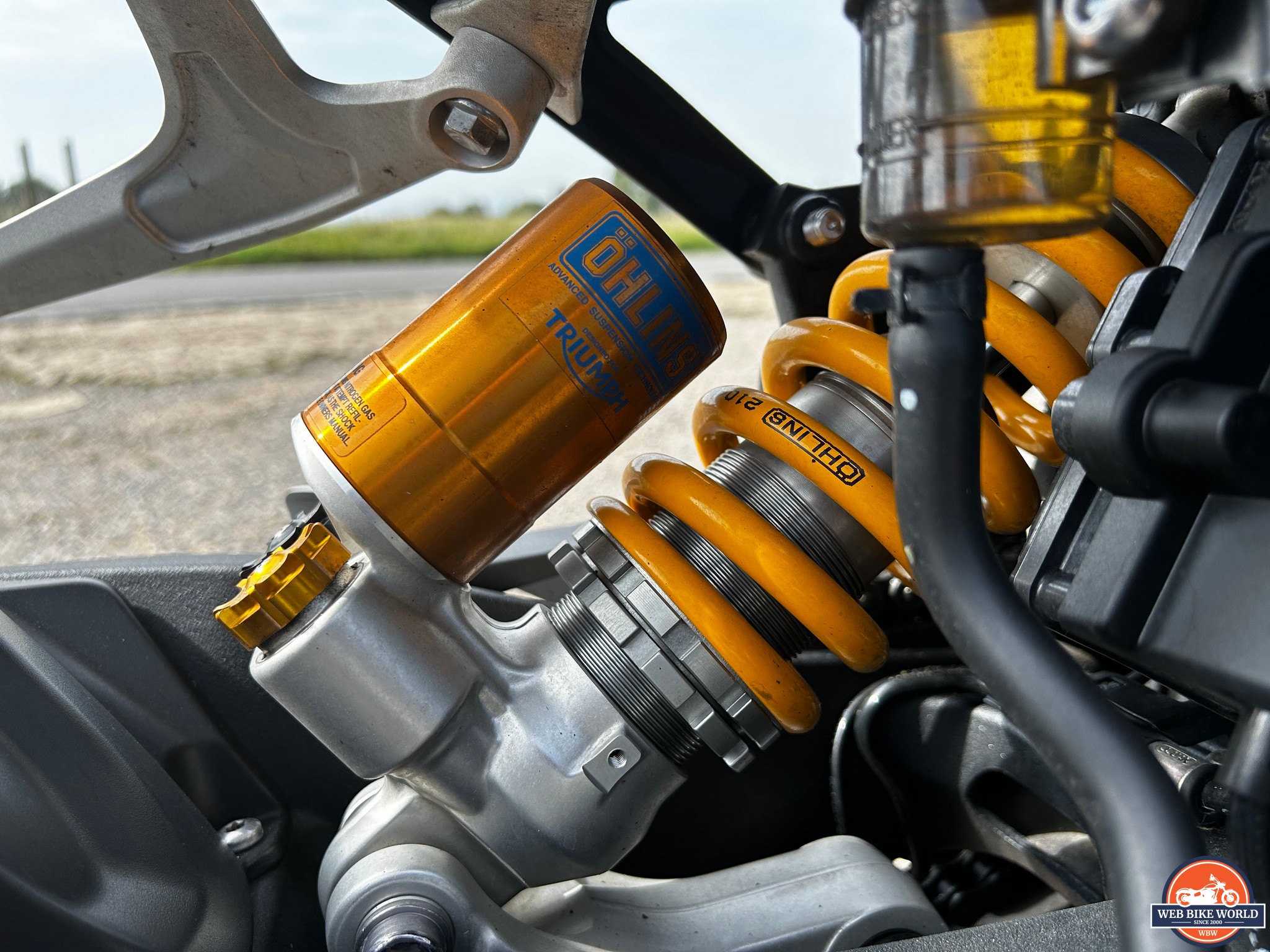 On the rear are Öhlins TTX36 twin tube monoshock, which are also adjustable for preload, rebound and compression damping.
I would have to adjust the suspension on this bike, I found this to be a little on the hard side and did feel the bumps. A little time setting up the bike to suit your height and weight is probably needed.
TFT Display
The 5″ TFT color display is a nice size screen which is clear and easy to read but you do get a lot of reflection on the screen so I think a screen would be a good idea to cut down on this.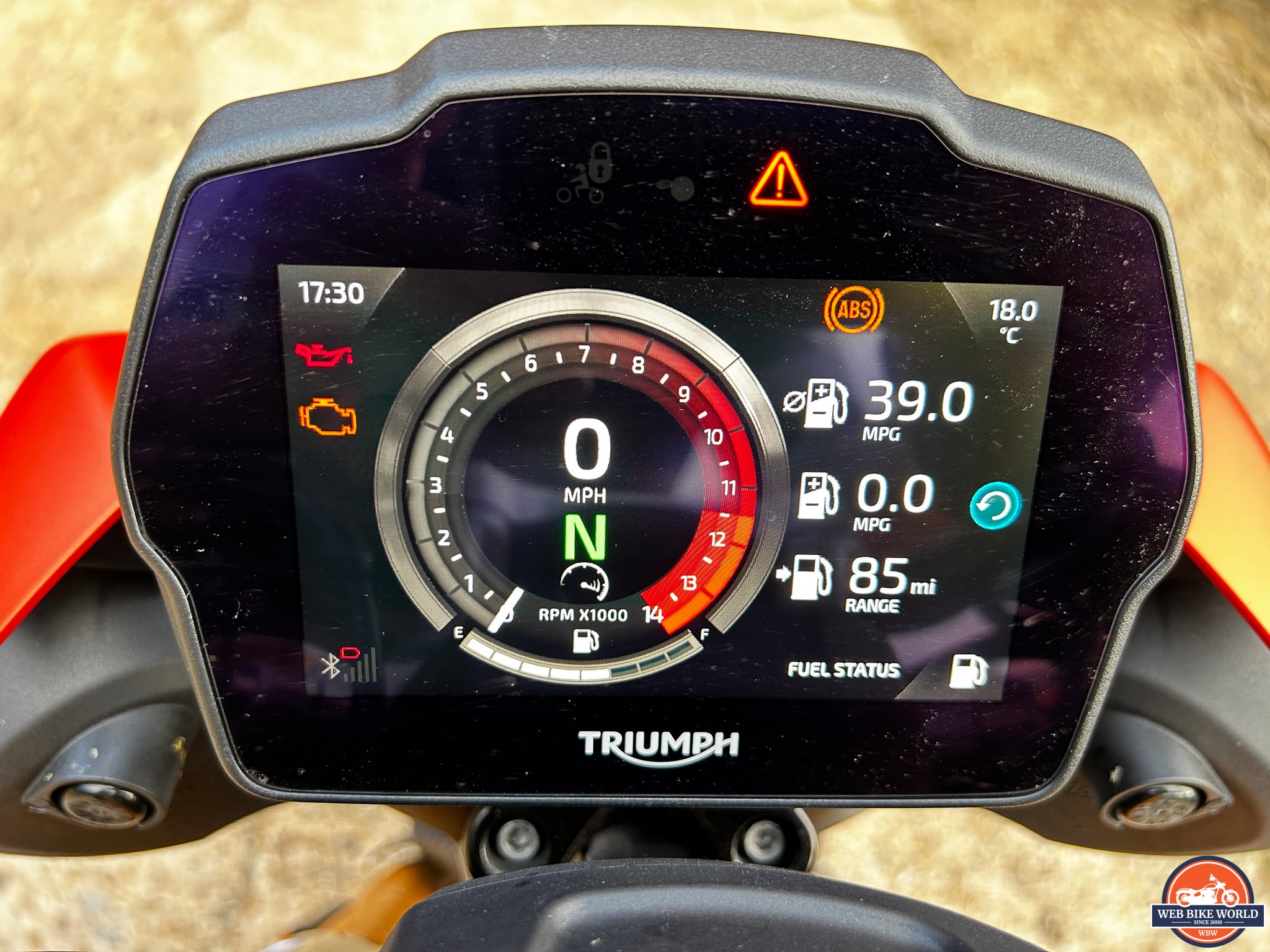 Prominently displayed in the middle of the screen is your speed and which gear you are in with the rev counter and fuel gauge around the outside.
On the top left you have the time and opposite is the temperature. The oil and engine lights appear when you turn the ignition on but disappear on start up.
Navigating your way around the screen is easy – there is a mode button on the left bar which you press and then simply use the toggle below to find your way around the settings. To change the modes, go into the mode setting and then use the toggle until you get to the mode you wish, then press mode again to confirm.
The My Triumph Connectivity System is fitted as standard so you can connect your smartphone for Google turn-by-turn navigation, GoPro control, music, phone and messages.
Riding Modes
There are five customisable riding modes: rain, road, sport, track, and rider with each mode adjusting the behavior of the bike to suit the intended use. With the ride-by-wire throttle system, the throttle response is adjusted according to the selected riding mode, as well as the traction control and ABS settings.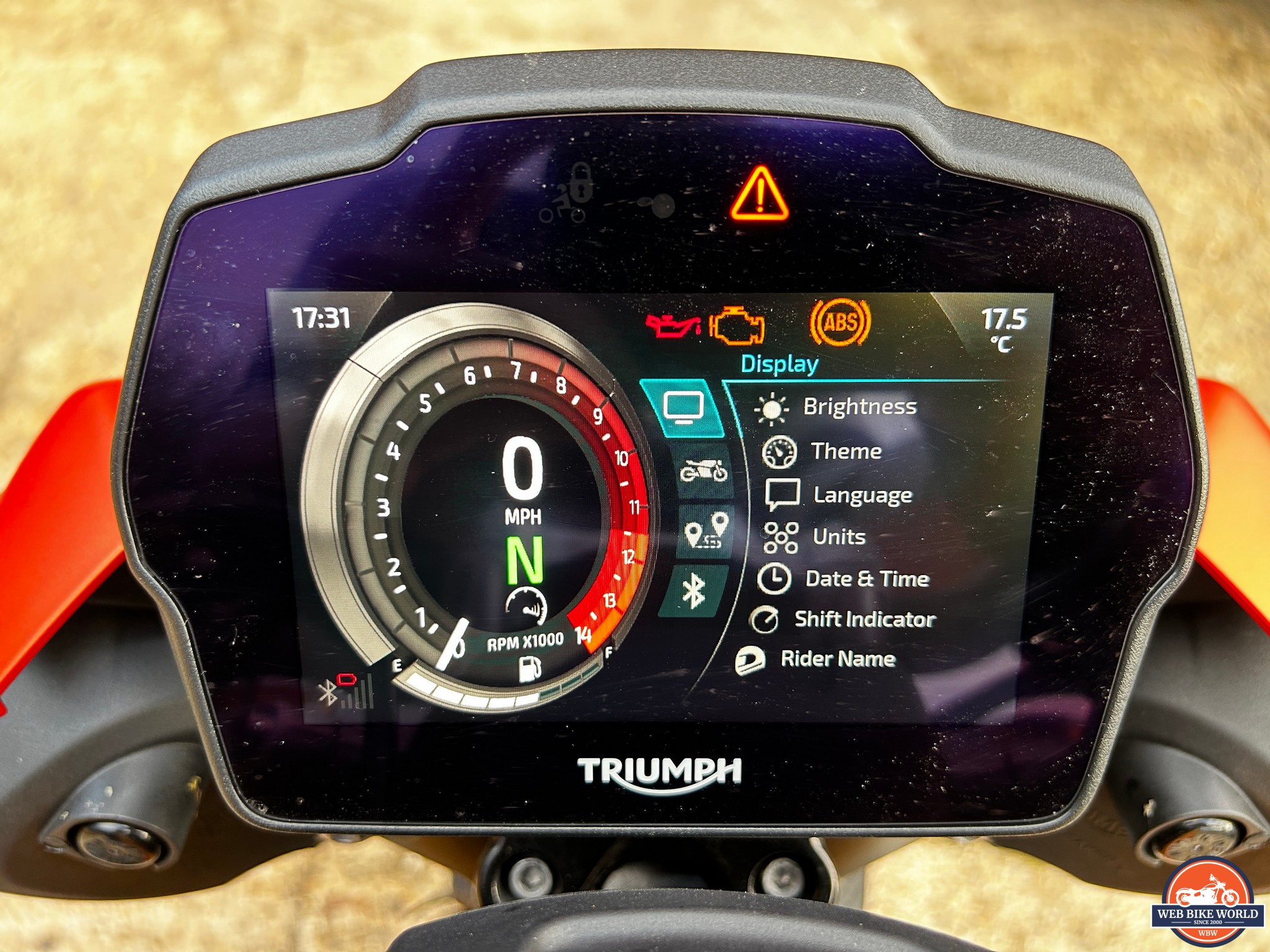 The new enhanced track mode has been designed to be as unintrusive as possible in track riding, while still providing the reassurance that the electronic systems are there to help in unexpected situations. A lap timer is also available on your screen for track use.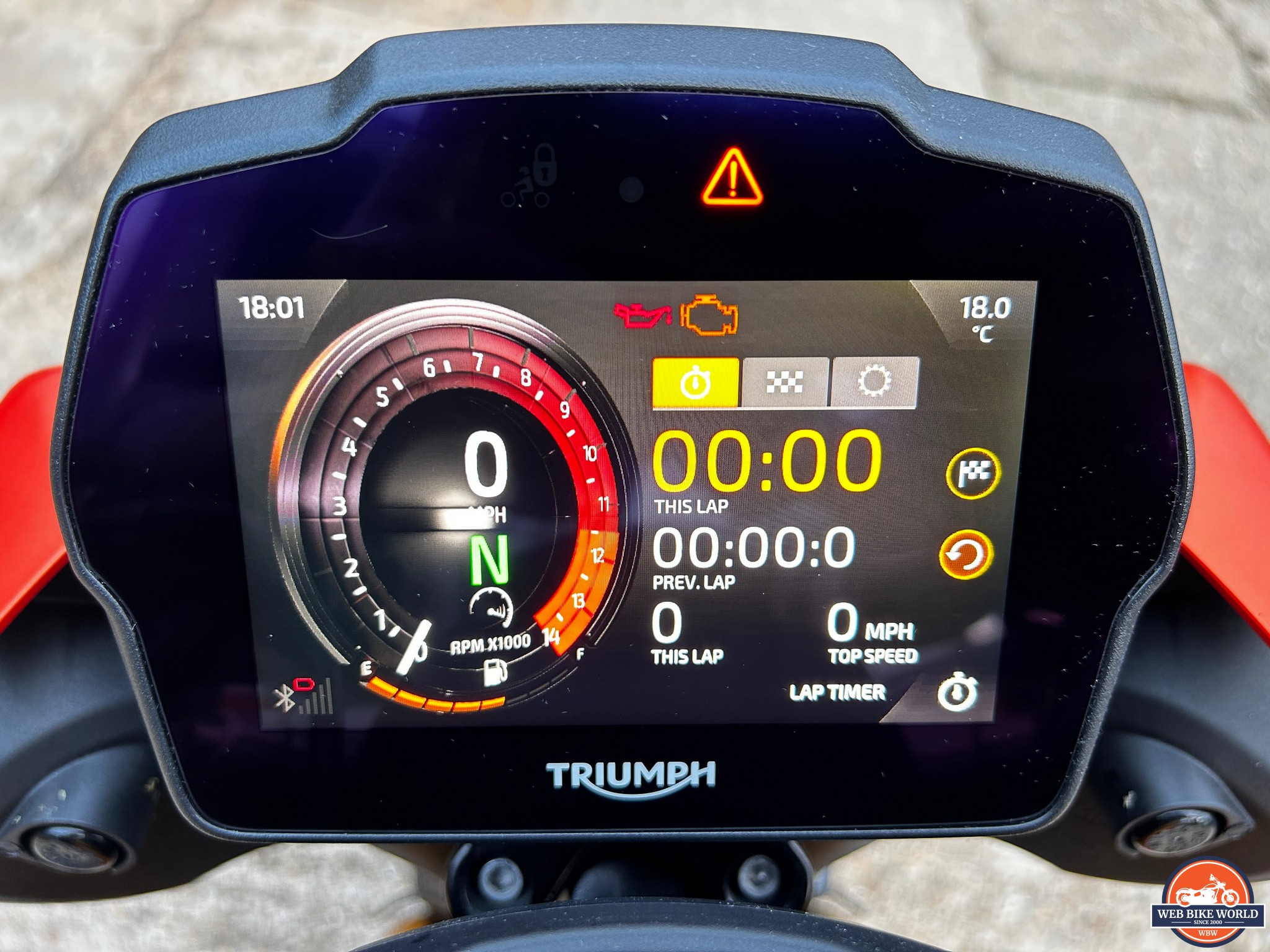 In rain mode, this reduces the power down to 100PS and increases the level of intervention of the other safety features.
The riding modes can be changed using the mode button on the left bar and the arrow keys and can be adjusted whilst riding.
Cruise control is also available and this is easy to use using the button on the left bar.
Optimised Cornering ABS
You can configure the Optimised Cornering ABS and switchable Optimised Cornering Traction Control (with IMU). This feature continuously monitors roll, pitch and yaw acceleration rates, to calculate the lean angle and ensure the optimum brake force for any situation.
This is adjustable through the TFT instruments and switches on the left bar and offer two selectable levels of intervention – road and track. The track setting has been tuned to be unintrusive and virtually unnoticeable during fast track riding.
Switchable Optimised Cornering Traction Control
The IMU, an integrated 6-axis inertial measurement unit, offers new Optimised Cornering Traction Control which ensures the optimum slip rate and torque control at any lean angle, improving acceleration and control in both straight lines and when cornering.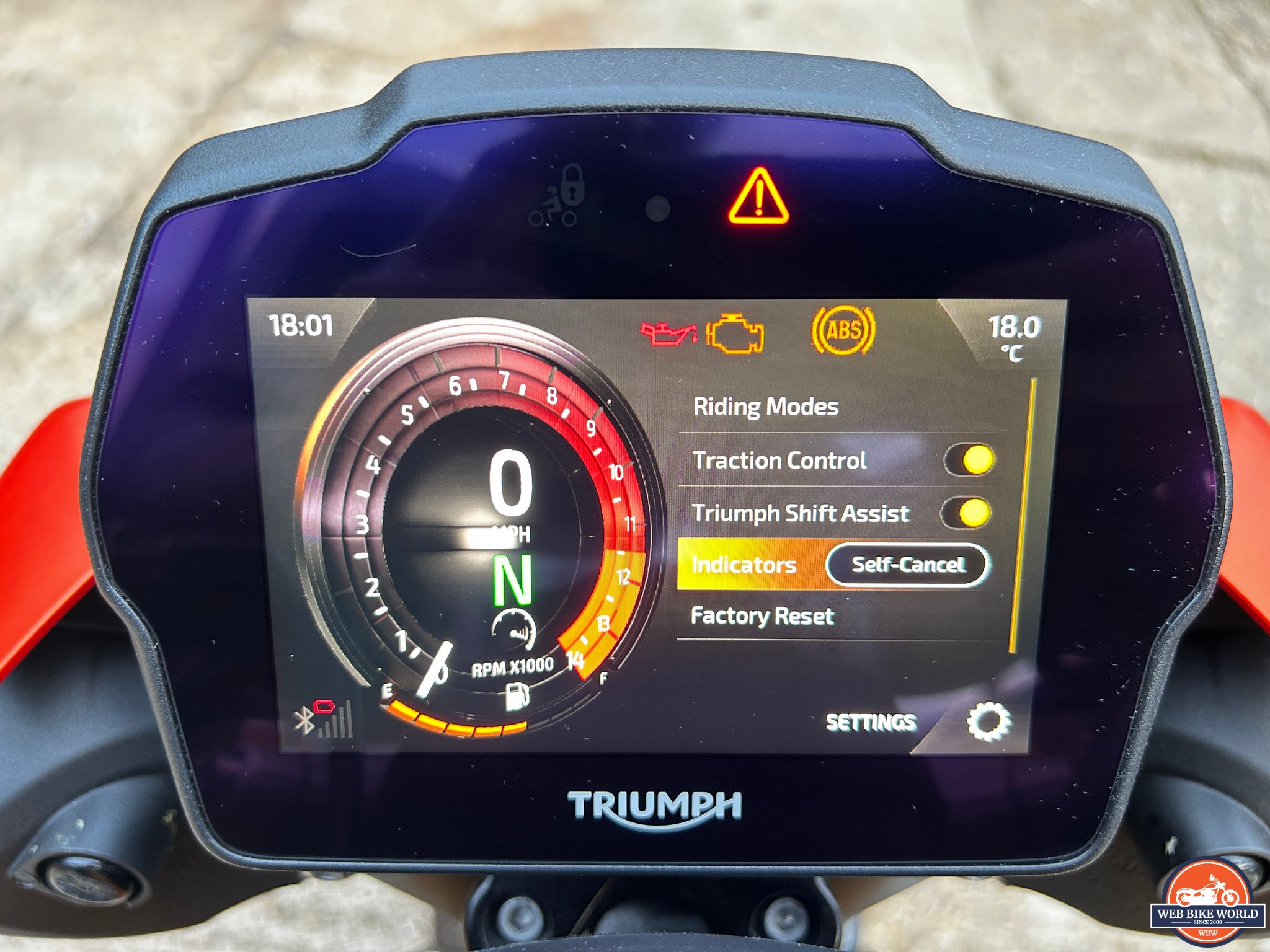 There are 4 levels of intervention to choose from: rain, road, sport and track, plus you also have the ability to turn the traction control off completely.
The track setting has been developed in order to maximize forward progress and minimize perceived intervention when riding hard. These settings are linked to the riding modes, but can also be independently adjusted.
Enhanced Front Wheel Lift Control
As someone who is really not a fan of wheelies, this is probably my favorite setting on the 1200 RS.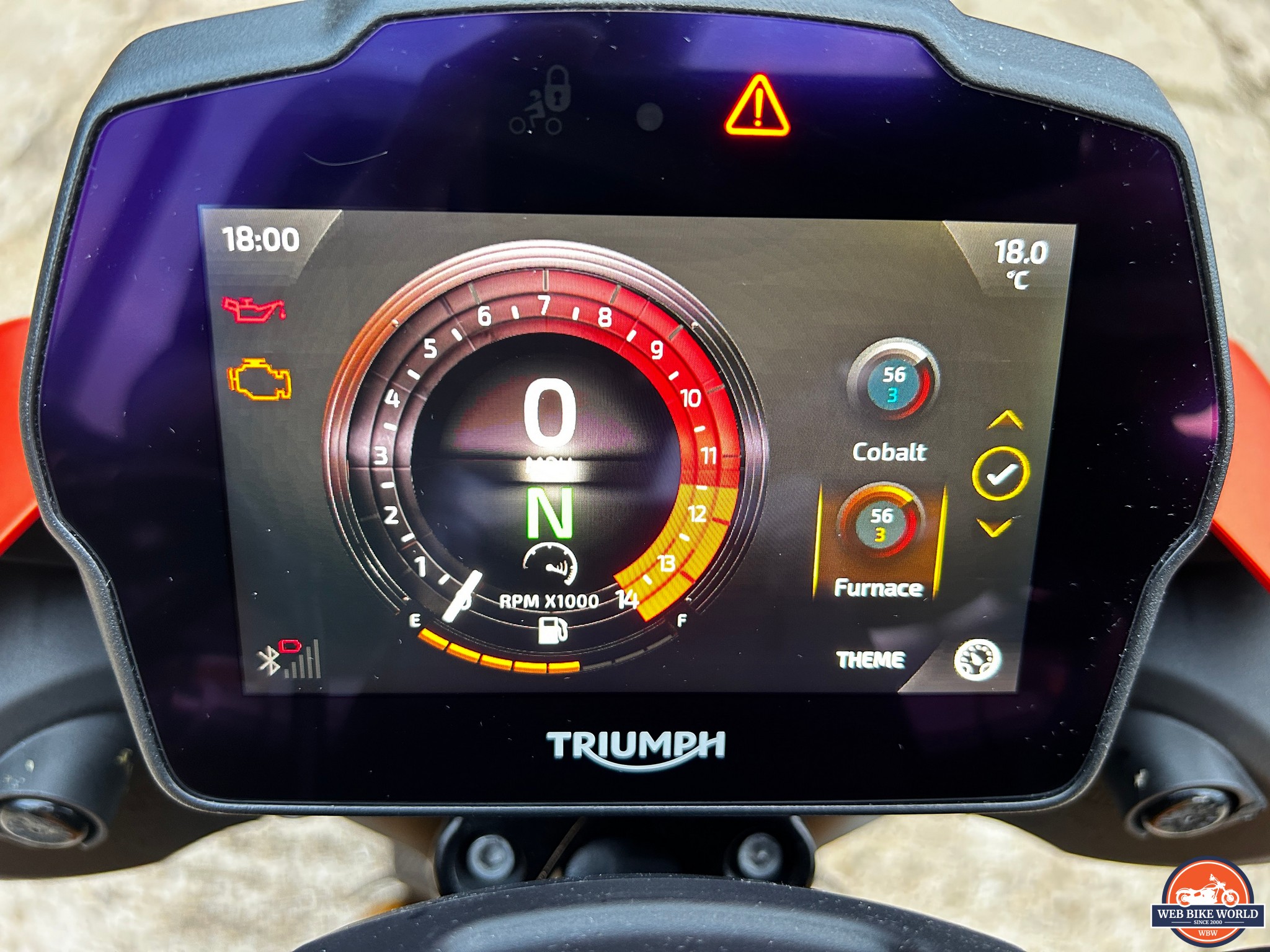 This mode is designed to enhance your control of the bike without it feeling intrusive. The advanced new algorithms continuously monitor the signals from the IMU to ensure smoother control and faster progress.
The settings are linked to and optimized for each traction control mode, allowing the level of intervention to be tailored to the conditions and riding style.
Triumph Shift Assist
As standard equipment on the 1200 RS, is the Triumph Shift Assist or quickshifter as I refer to it as which is both up and down.
The new models have an improved sensor enabling fast upshifts and smooth clutchless downshifts both while accelerating or decelerating which, according to Triumph, is 'Ideal for spirited riding and track use'. I absolutely love that term, 'spirited riding'.
I have to say this is one of the smoothest quickshifters I have used. There was no 'notchiness' on either up or down changes.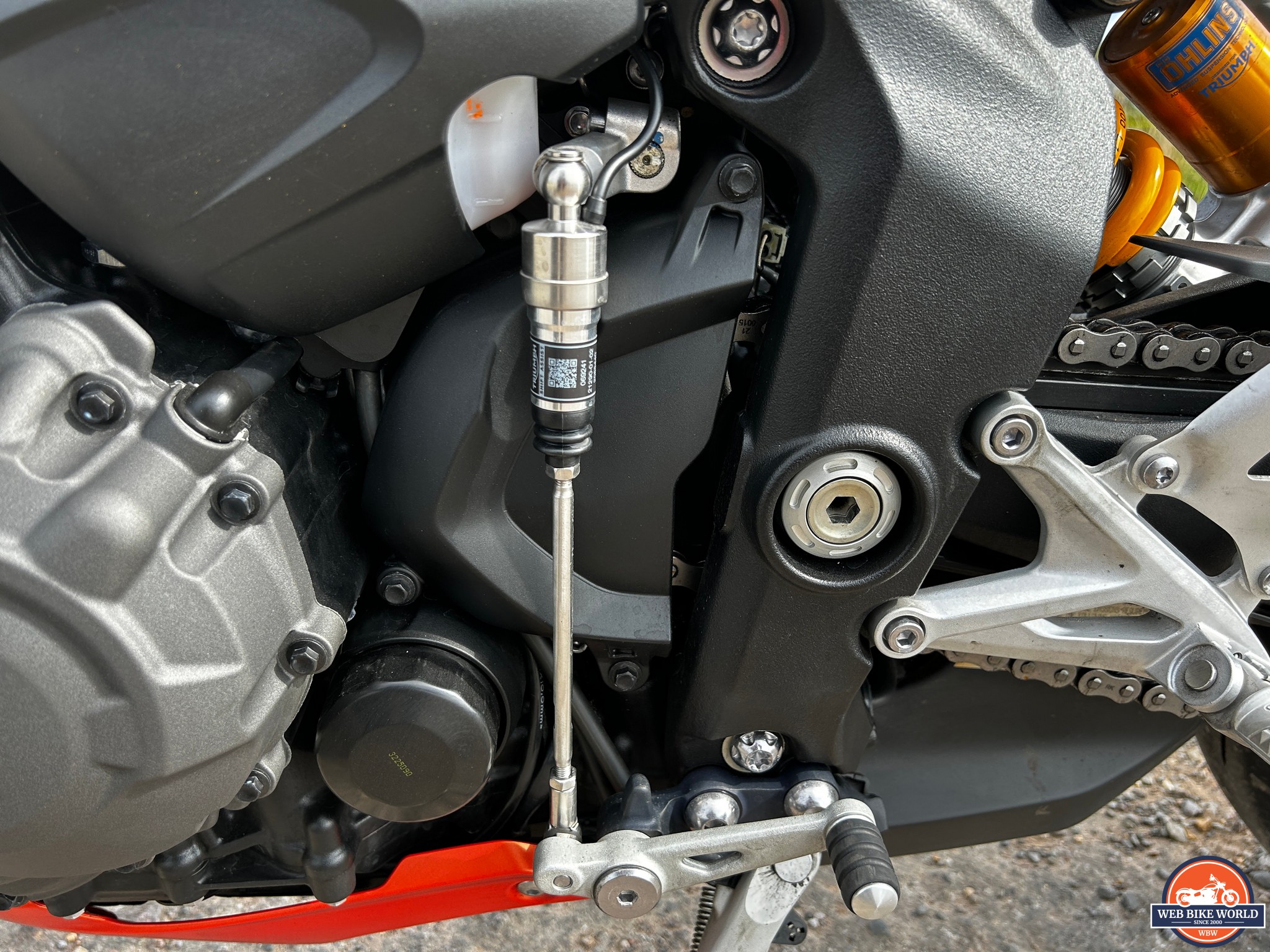 Tires
The tires on the 1200 RS are Pirelli Diablo™ Supercorsa SP which are race track/road tires.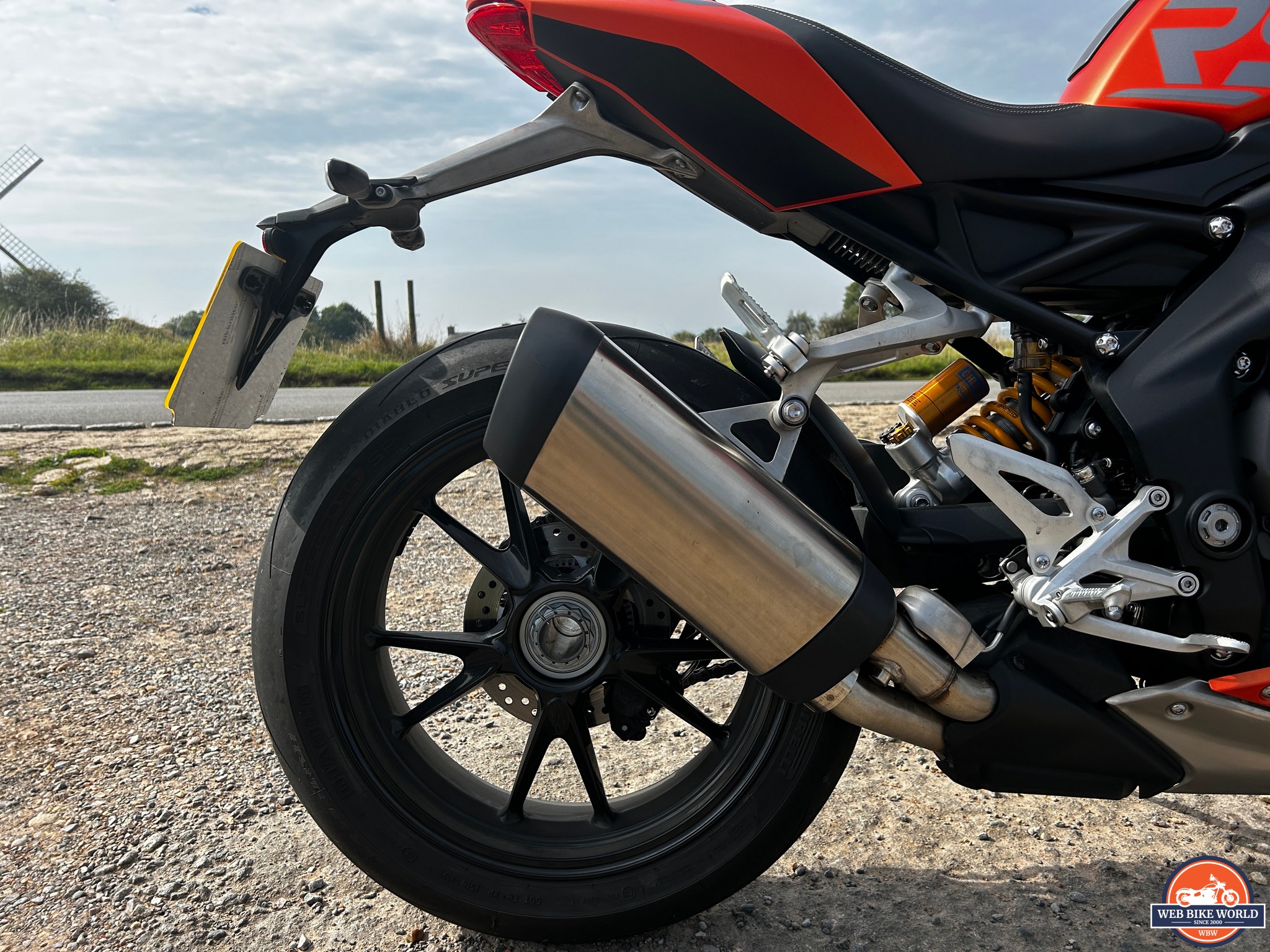 Pirelli describe these tires as: 'The ultimate racing replica generation. The Pirelli treaded racing tyre in (W) speed index to exploit the best performance of your motorcycle on both Race-track and road.'
Racetrack performance also for road use, delivered with a street legal tyre:
Racetrack performance delivered via a fully street legal tyre
New tread design geometry to better respond to the lateral forces and improve wear regularity
New racing compound on shoulder, developed in the FIM World Superbike Championship
New profiles to reach a new level of response, handling and grip both on racetrack and road
Bi-Compound rear to combine grip, stability and mileage
Personally, I have found these tires to be great on a warm dry road, the bike handles nicely especially in the corners and I have confidence in these tires.
However, I have also found these tires to not be so great on a cold, wet road. I would like to see a more all year, all round tire on a bike.
I ride all year round in sunshine and rain just stopping when there's ice and snow on the road so I need a tire that will perform all year round for me and a track/road tire is not the tire choice I would make.
I have on my personal bikes the Michelin Road 6's which are an all year round tire for all road conditions and offer good grip in the wet.
LED Lights
There is LED lighting all round on the 1200 RS. The LED front headlights have a distinctive daytime running light which makes the front of the bike look aggressive yet cool at the same time.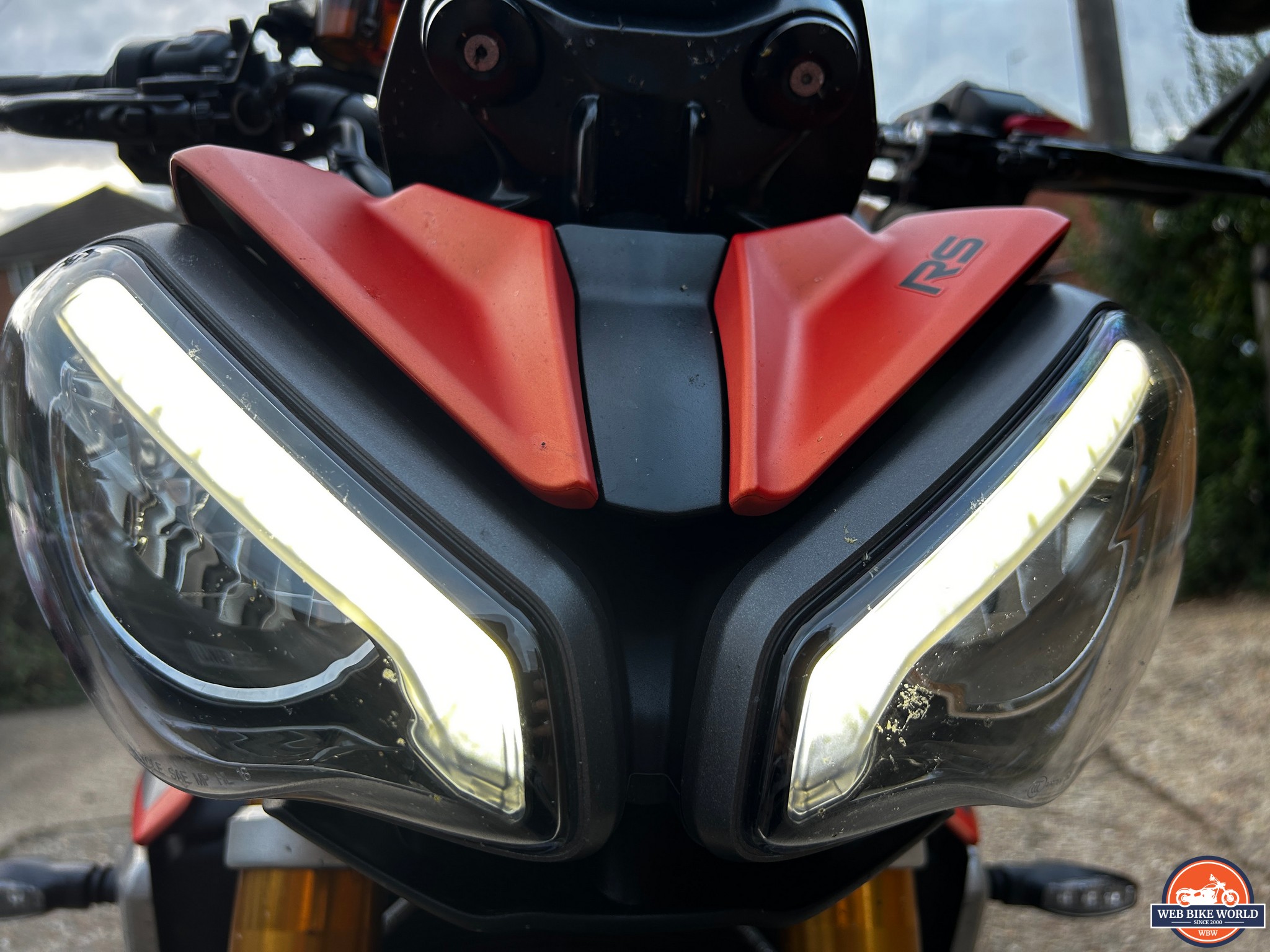 I had a lot of comments about the styling of the front headlights and they seem to be a marmite thing, people either love them or hate them.
Certainly at night, the lights offer great visibility when riding and the main beam is very effective offering a wide expanse of light.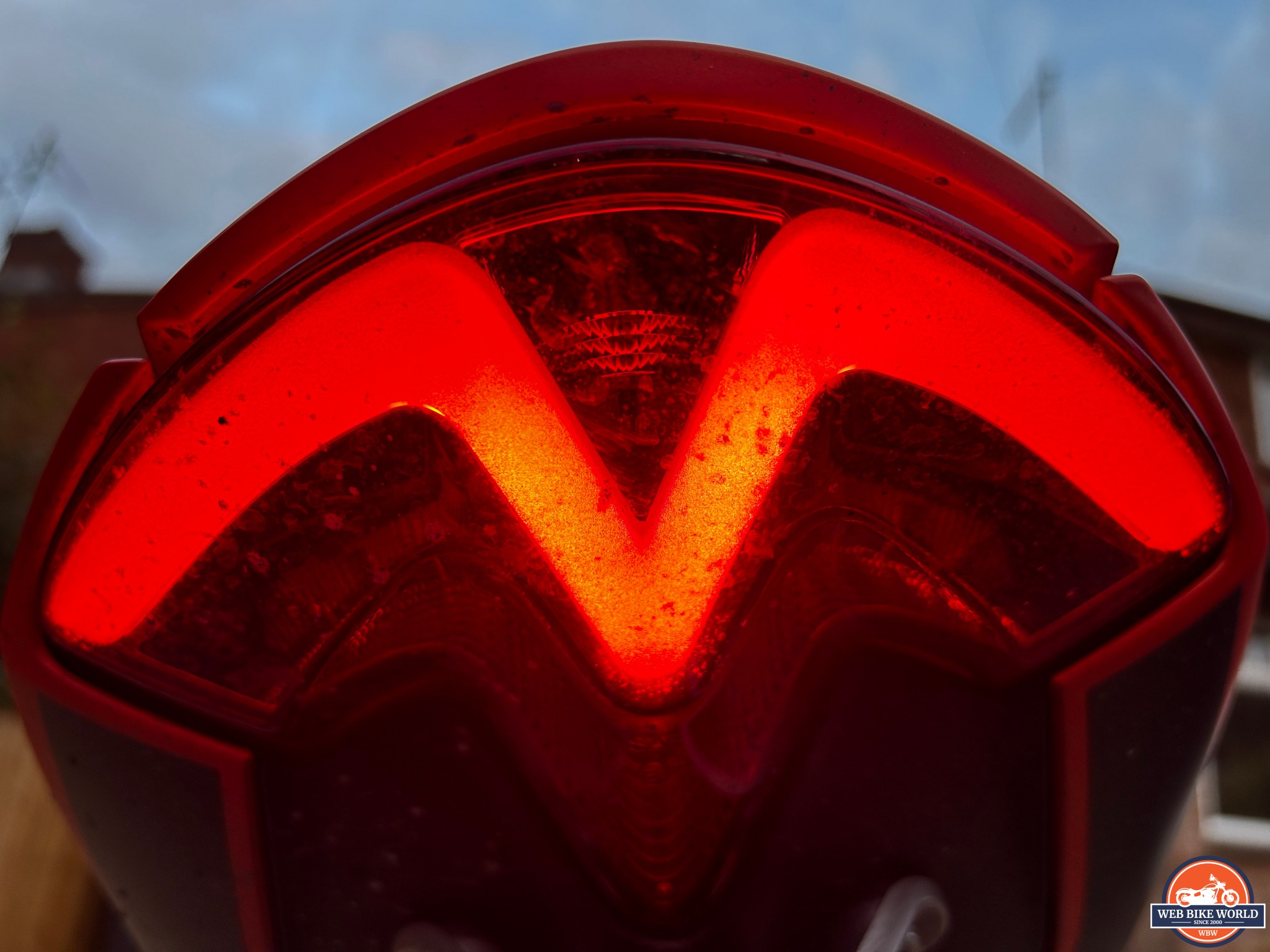 The rear light is just cool. I love the unique design of this light which is very neatly housed under the rear seat but equally can clearly be seen.
Full Keyless System
The 1200 RS has a full keyless system, including a keyless ignition and steering lock which can be disabled if needed with the press of a button on the key fob.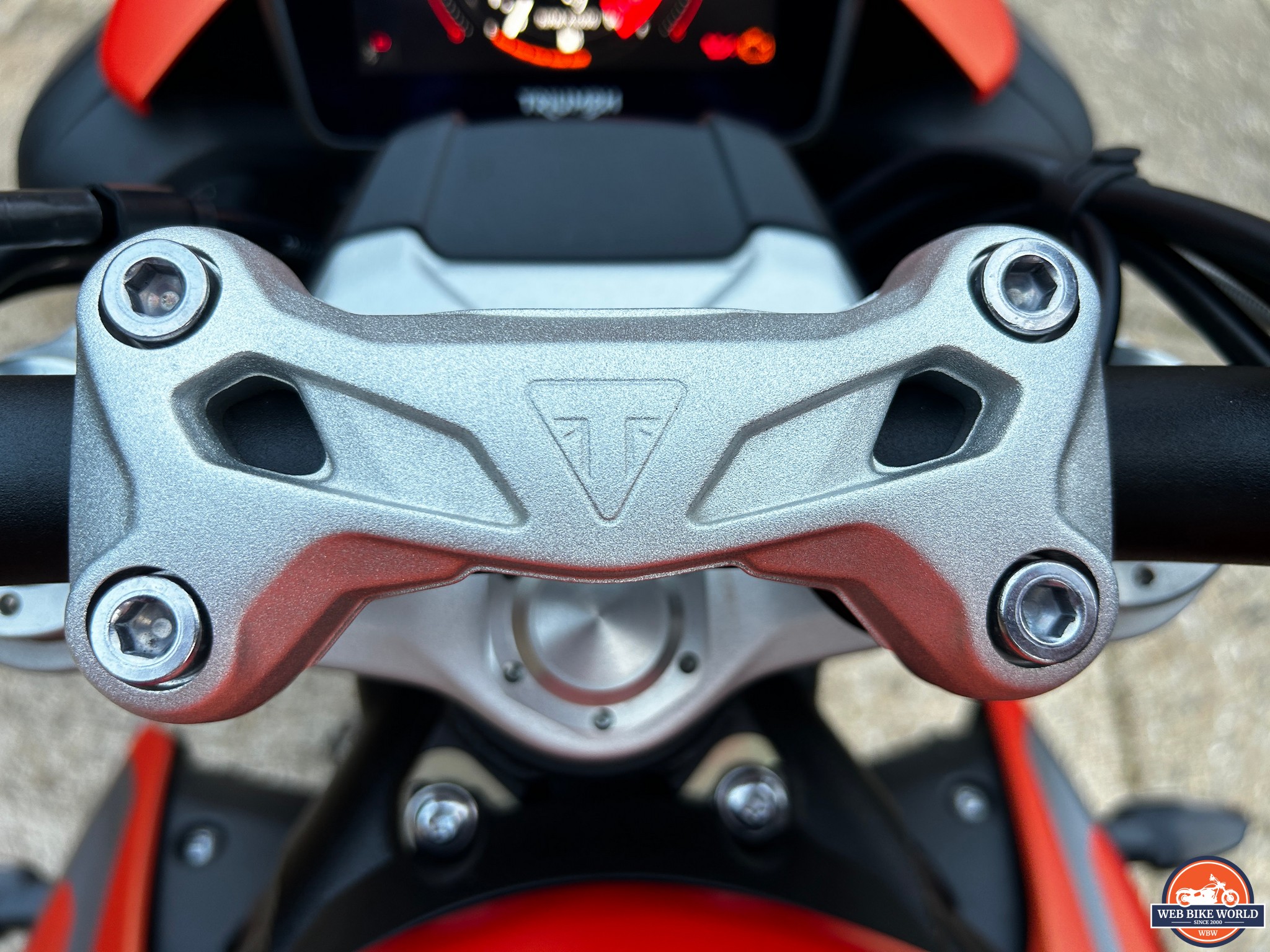 Having ridden the bike for a few weeks now I still can't decide if I like the keyless system as I have to find a secure place on me to house the key whilst riding. I am always so worried about the key falling out of my pocket and then being stranded. If a key is in the ignition, you know where it is.
The fuel filler cap is also keyless which is a plus as far as I'm concerned. On my personal Triumph I leave the filler cap unlocked as I find it so much quicker and easier.
So, What is the Triumph Speed Triple 1200 RS like to Ride?
In a single word: awesome.
The Baja orange endeared me to the bike straightaway. I absolutely love this color and the matte paint finish, which suits the bike perfectly.
As soon as I got to the bottom of my road I was grinning under my helmet, I knew I was going to love riding this bike.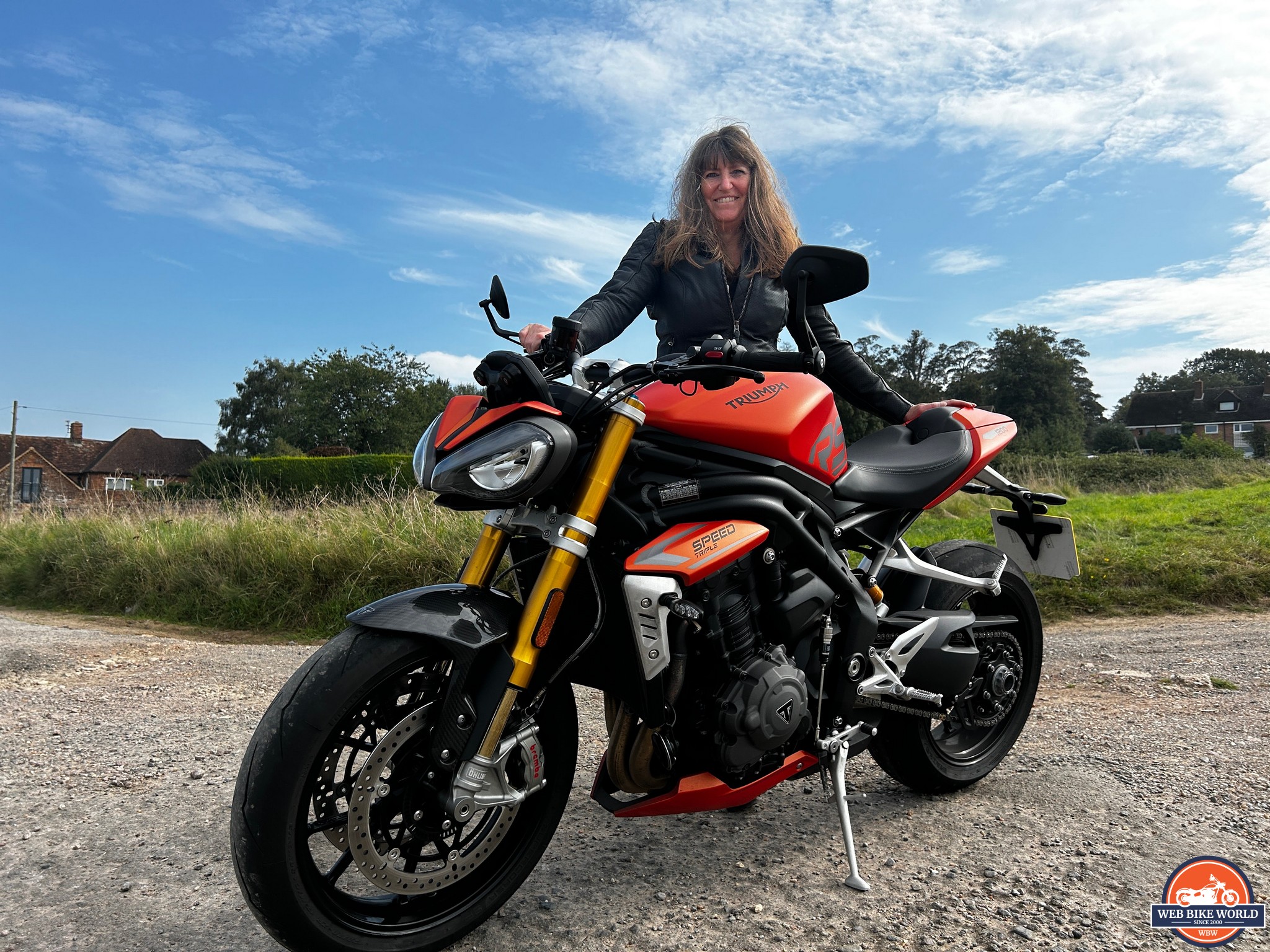 Being a Triumph you are getting a quality bit of kit. The bike is very nicely put together and the components feel nice, they do not feel at all cheap.
The seat height is 830 mm which, at 5'6", is my maximum seat height that I am comfortable with in respect of moving the bike around or getting it in and out of the garage.
I felt the riding position was very comfortable, I like the wide bars and the positioning of my legs. After having ridden the bike for a few weeks now on both long and short rides, I would happily go touring on the 1200 RS. I would strap my luggage on the rear seat, pop on a tank bag and set off. I really could ride this bike all day.
The 1200 RS is such an easy bike to ride. Okay, you have to set the bike up with its various modes and settings, but once you have done this, you can just ride the bike.
The bike is very torquey so although you have an abundance of power (177 bhp), the 1200 RS is very happy to be ridden around town at low speeds making this a great all round bike for local riding as well as all day riding.
Get the 1200 RS out of the town and onto twisty flowing roads, and the bike comes alive, you can feel its personality and character coming through in the riding.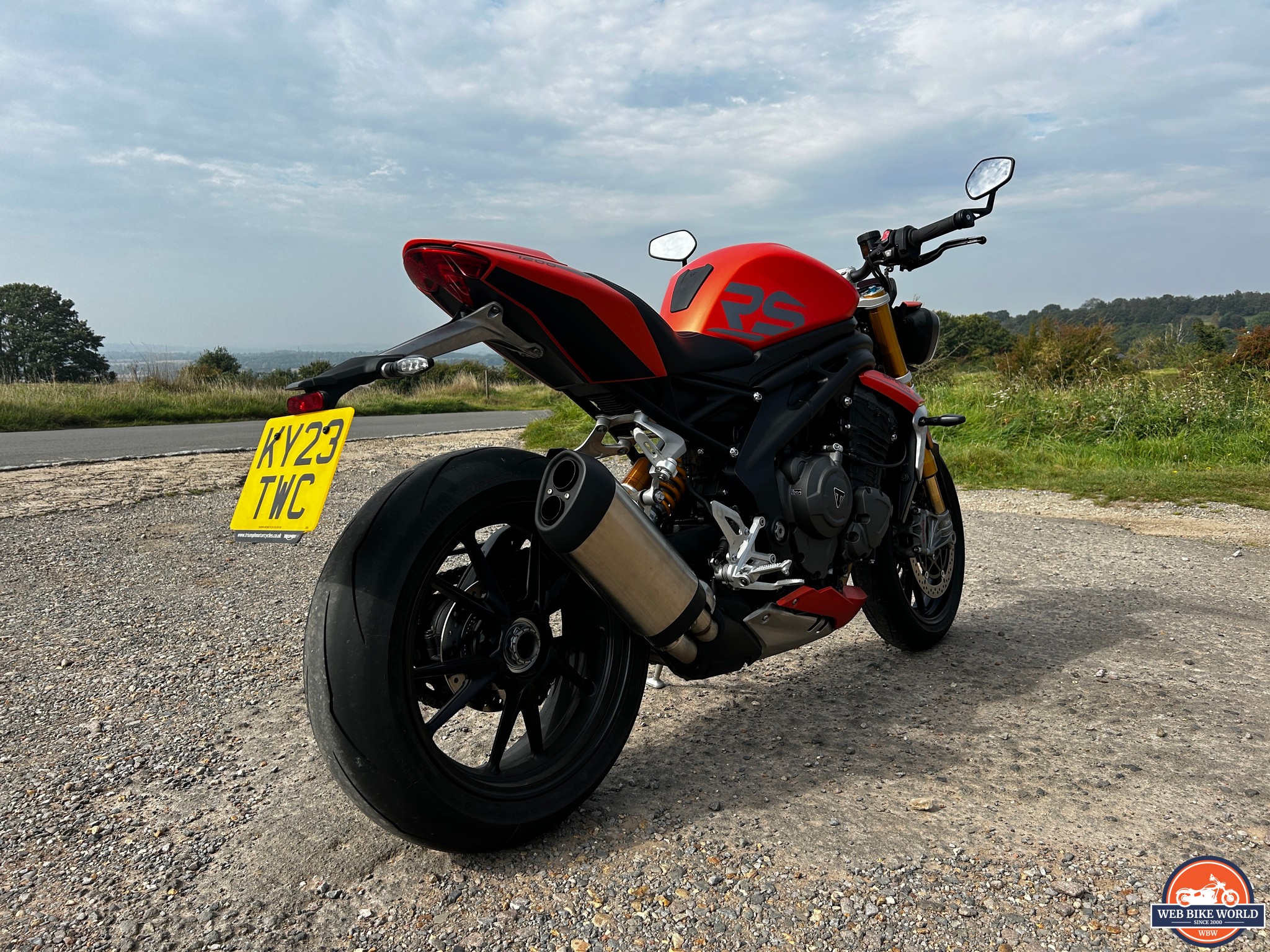 The acceleration is awesome especially on an overtake, you can get out, pass the car and be back in so quickly, it is effortless.
I would have to change the tires, on a dry warm road the Supercorsa's are great, and the bike performs as it should but on a cold, damp or wet day, they are not so good and you can feel the back end twitching.
As I ride all year round in most weather conditions, not snow and ice, I need a tire that will perform for me in all conditions and offer me the confidence I crave in a tire.
I would also put a screen on the front not only to stop the wind buffeting I experienced, but also to cut down on the reflections on the tft screen. I also think a screen would finish the front end off nicely, to me that is what is missing at the front.
I don't say this about many bikes, but the 1200 RS is a bike with soul, it loves to be ridden and I love the way the bike makes me feel when riding, it inspires confidence in its handling and is very smooth to ride.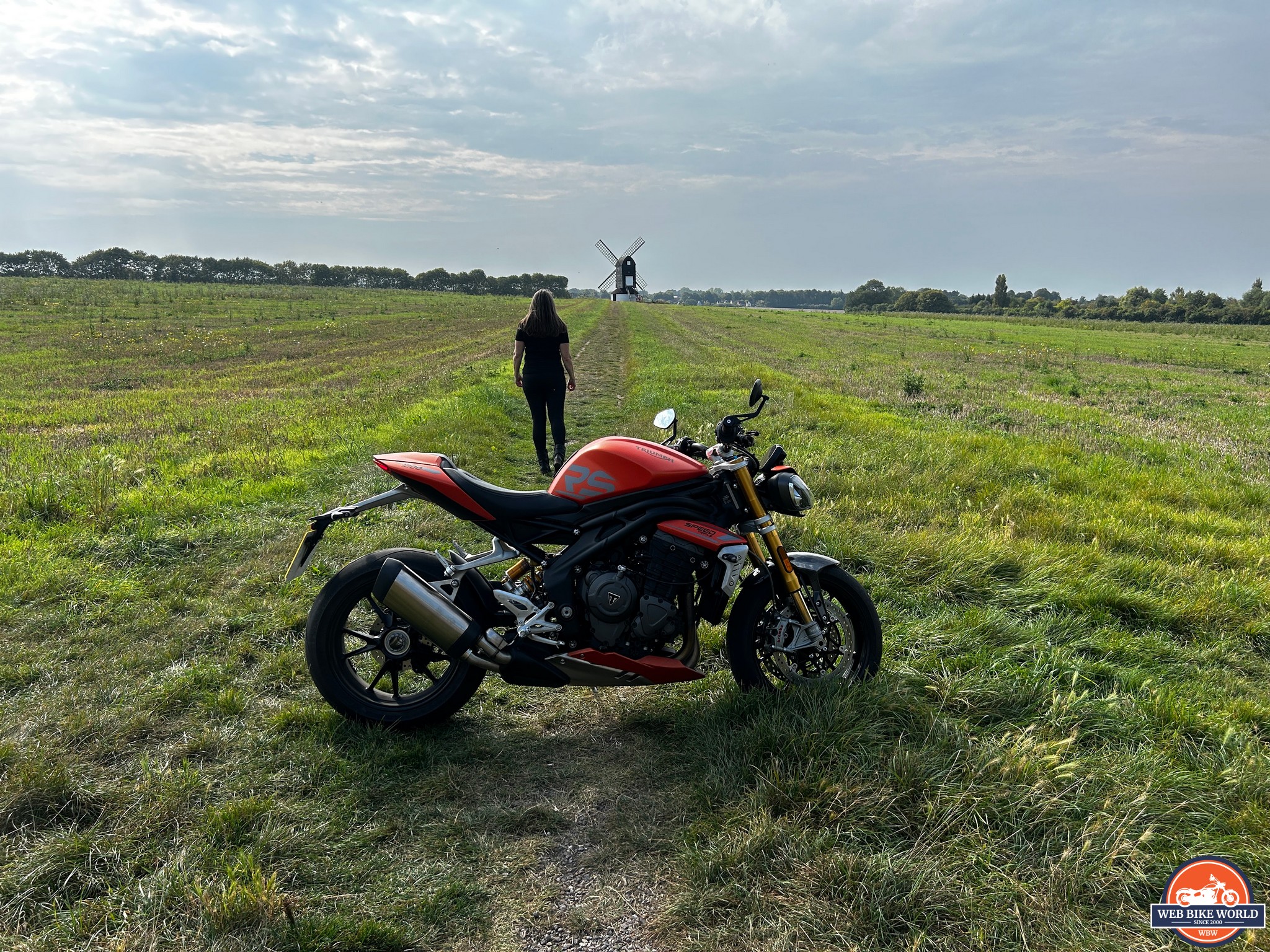 I don't think I will ever be ready for the 1200 RS to go back, this is one bike I definitely need in my garage.
Thank you Triumph UK for the loan of the Speed Triple 1200 RS.
2023 Triumph Speed Triple 1200 RS Video Review
Pros
177 bhp and weighing 198 kg, this feels like a light bike when riding and has so much grunt
Light bike making it easier for those of a shorter disposition to move about
Quickshifter comes as standard which is one of the smoothest I have used
Five modes are possible too many to have on any bike but I think you would find the mode that suits you and your riding and stick with this
Self-canceling indicators which, in my opinion as I am terrible at turning my indicators off, should come as standard on all bikes
5" tft display which is very clear to read and easy to navigate around using the buttons on the left bar, you can connect this to your phone via an app too for navigation
Triumph have absolutely nailed the color with this bike, the matte Baja Orange is even more gorgeous in the flesh
Cons
At $19,569 USD, the 1200 RS is a considered purchase but you are getting a lot of bike for your money together with the Triumph quality and reliability
A front screen is needed to cut down on the wind buffeting
The standard exhaust is too quiet and not particularly attractive either!
Definitely needs a tail tidy!!!
2023 Triumph Speed Triple 1200 RS Image Gallery