Himiway emailed us several months ago about sending us an eBike for review. We connected and asked to review all three of the eBikes they've got on offer for 2021 (see also: 2021 Himiway eBike lineup), and they agreed. You can read up on Joe's thoughts of the Himiway Cruiser unboxing and assembly if you're into the high-bar Cruiser vs. the Step-Thru I have here.
eBikes are rapidly gaining in popularity. A recent report shows sales volumes continuing to climb, expecting to reach near $20B globally by the end of the year. In the USA, eBikes sales soared 145% year over year.
However, with rapid growth comes considerable consumer risk. Not all brands are equal; not all bikes are safe; not every bike is worth investing in. Finding out which will survive in the half-decade to come is tough, but be assured that many of the brands we covered in our 2021 eBike model lineups will not be with us come 2026.
As we review more eBikes, I'm looking forward to looking back a decade from now and seeing who survived, who thrived, and who left us.
Himiway Bikes is among the many brands that have popped up recently (in the past half-decade or so, Himiway was founded in 2017), and like many of those brands, they operate on a direct-to-consumer model. Their designs are nice, but also not exactly original. If you've seen a RadPower eBike, you found the design inspiration for the Cruiser.
This is the first of several posts as we long-term review the Cruiser Step-Thru. For today, let's have a look at unboxing/assembling the Cruiser Step-Thru and a few thoughts after just 17 km (10.5 mi) of riding.
Himiway provided us with the Cruiser Step-Thru at no cost for the purposes of this (and future) reviews. We also have an affiliate relationship with Himiway and receive a small commission if you purchase an eBike via our links. Note that brands sending us gear/product for review must agree to our extensive review policies. Thank you for supporting us.
2021 Himiway Cruiser Step-Thru Specifications
The Cruiser Step-Thru is a value-priced urban comfort cruiser. Important specifications:
Motor:

750W Bafang rear-hub motor

Torque:

80 Nm

Battery:

48V 17.5 Ah (using Samsung cells)

Rage:

55 km – 95 km (35 – 60 mi)

Pedal-Assist Sensor:

Cadence, 5 PAS settings

Top Speed:

45 kph (28 mph) class-3, requires unlocking

Derailleur:

Shimano Altus 7-speed

Cassette: Shimano 14-28T
Shifter: Shimano Tourney
Brakes

: Tektro Aries 180mm disc

Tires:

26″ x 4″ Kenda puncture-resistant fat tire

Weight (w/ battery): ~33 kg (~75 lbs)
Himiway Cruiser Step-Thru Unboxing & First Impression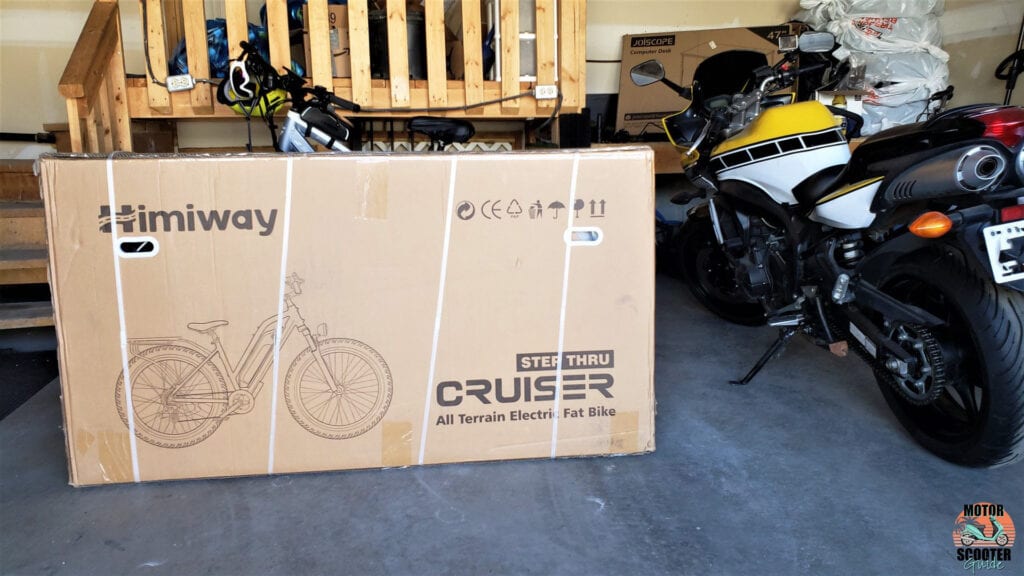 The Cruiser Step-Thru arrived here just over a week ago with no signs of damage to the box. Total weight was a hair under 80 lbs, and as you can see, it's not a small box so make sure you have a partner to help you move it.
I was very impressed with how well packed the box was.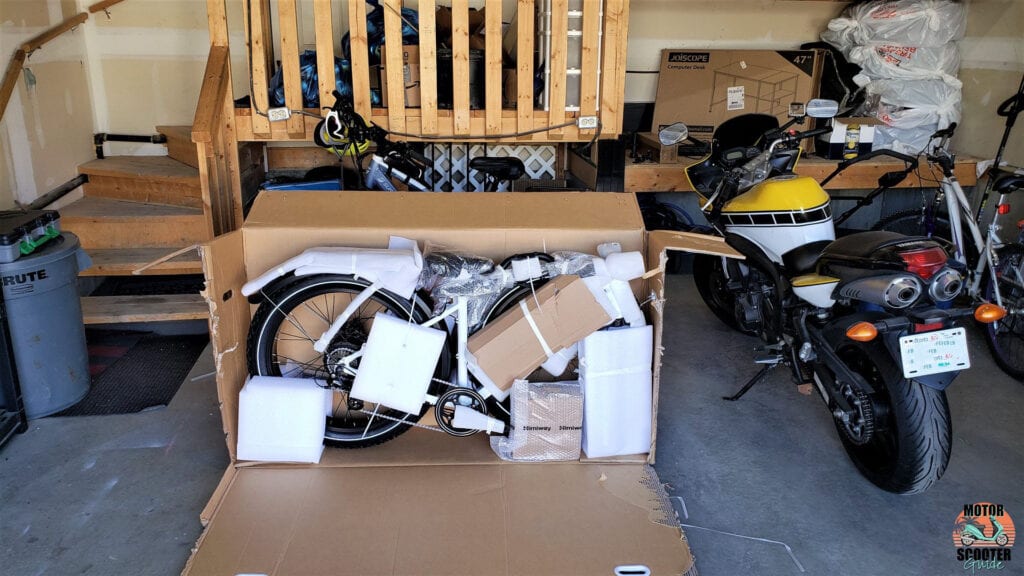 Melissa, Max, and I got to work unpacking the box and removing the packaging.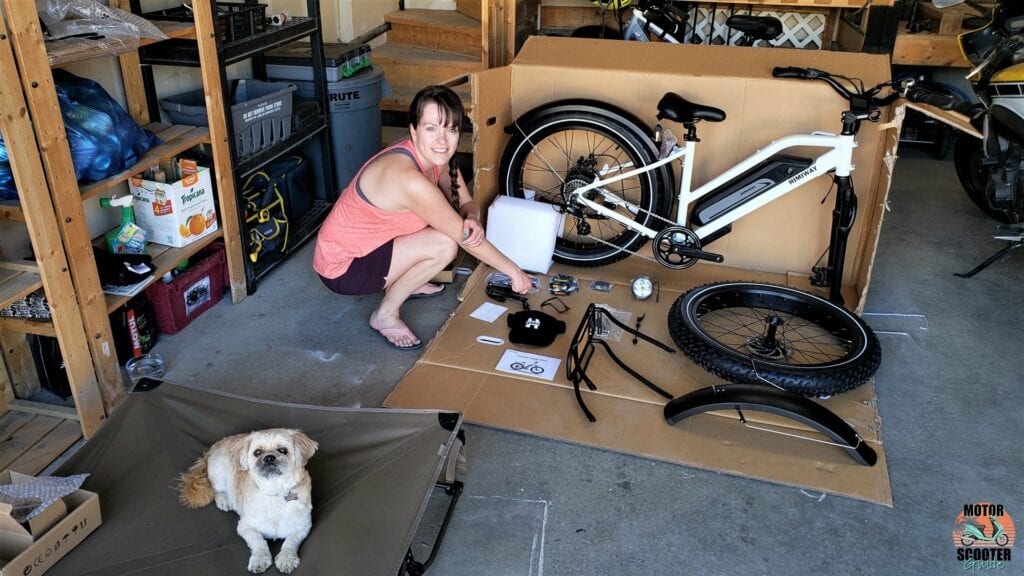 The Cruiser comes mostly ready to ride, requiring minor finishing assembly:
Attach the handlebars

Attach the front wheel

Attach the headlight and taillight

Attach the Wellgo pedals

Attach the front/rear fenders and rear rack

Ensure the tires are inflated
We used an inexpensive bike stand to make this process easier (it helped a fair bit), though you don't need it. Everything you need to assemble the bike comes in the box.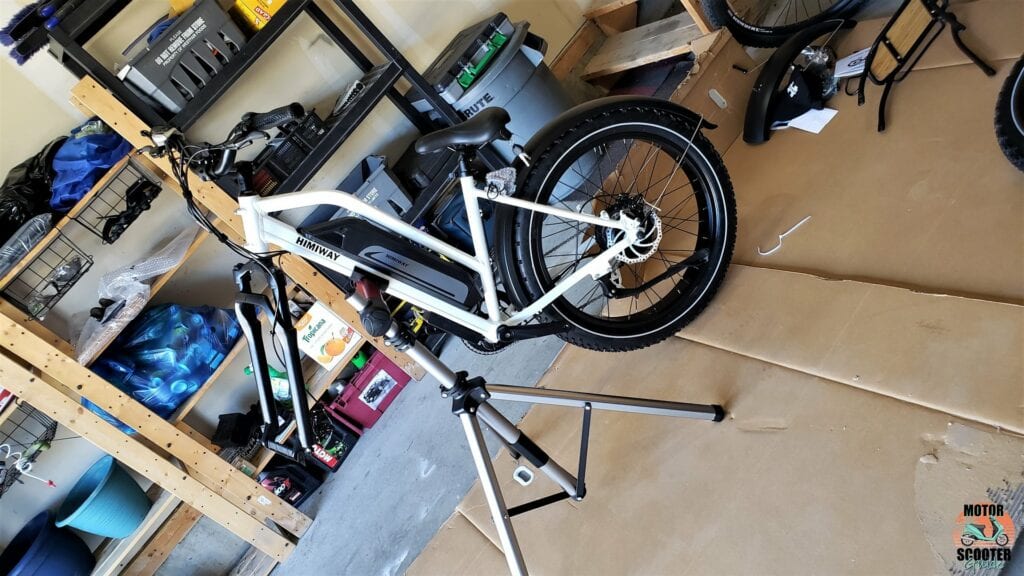 Assembling the 2021 Himiway Cruiser Step-Thru will take you and a friend between 60 and 90 minutes (unless you encounter a pedal problem, as we did).
Himiway Cruiser Step-Thru Assembly Video
The written instructions are… passable… at best. Their video is much better at walking you through the assembly.
This one is from Himiway:
This one is very thorough from a third-party:
Do yourself a favor and follow along with the video.
Himiway Cruiser Step-Thru Components
48V 17.5 Ah Battery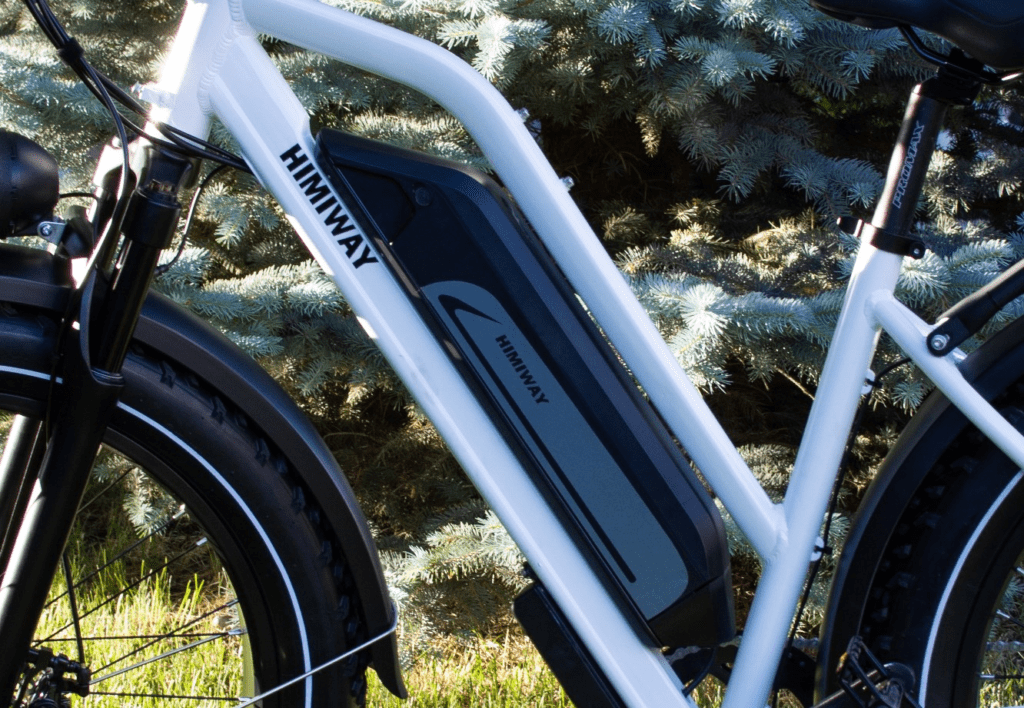 The 48V 17.5 Ah battery is a Himiway unit that uses Samsung cells. It's a pretty standard battery, looking not dissimilar from the 14 Ah battery that originally came with my '21 Surface 604 Shred (read my recent 2021 Surface 604 Shred review).
Estimated range is a very acceptable 55 – 95 kilometers (35 – 60 miles). I'm hoping that realized range is close, as those are good numbers considering the weight of the bike and its motor wattage.
The battery takes between 3 and 5 hours to charge.
Bafang 750W Motor + Controller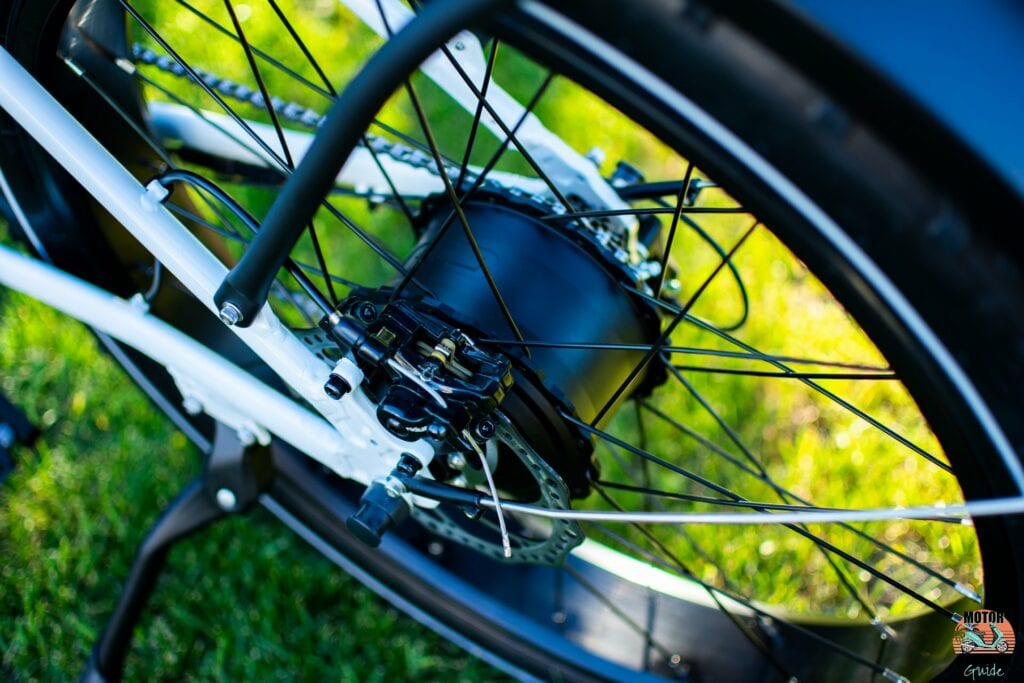 Seeing a 750W Bafang rear hub is a bit of a surprise given the $1,600 MSRP. Most bikes in this range are sporting 350W or 500W hubs. With the 750W hub putting out a healthy 80 Nm of torque, the Cruiser Step-Thru has plenty of torque to move you.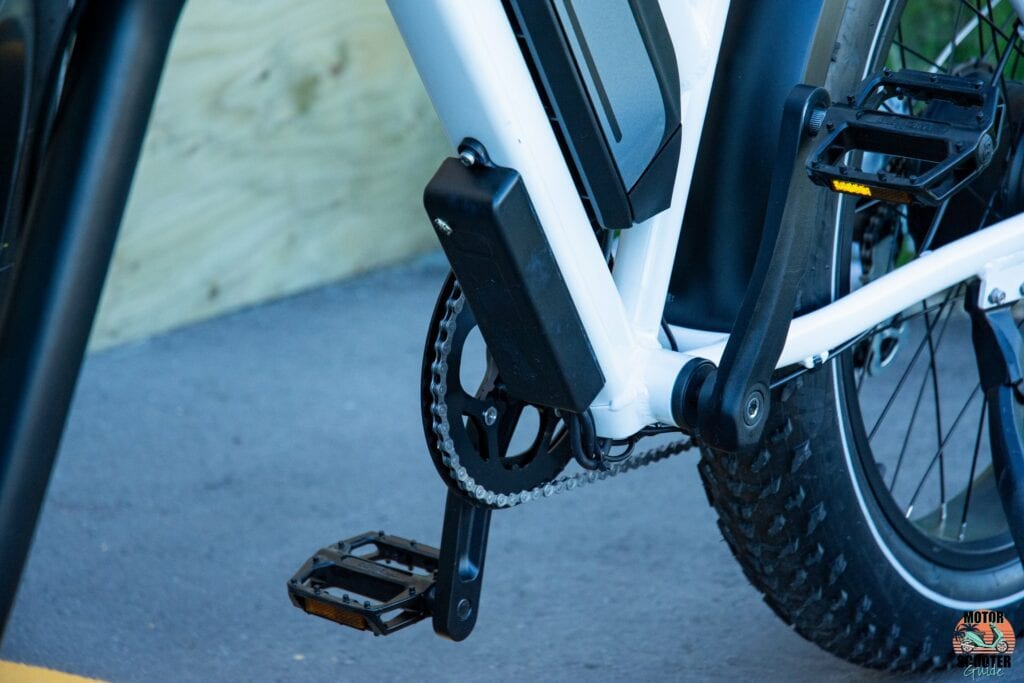 Unfortunately, the controller is mounted in a relatively vulnerable position. Also, note the wiring running along the underside of the frame. Assuming you're riding on pathways/groomed trails, this shouldn't be a problem, but it outright rules out the Cruiser from dirt/grass trails/etc.
26" x 4" Kenda Puncture-Resistant Tires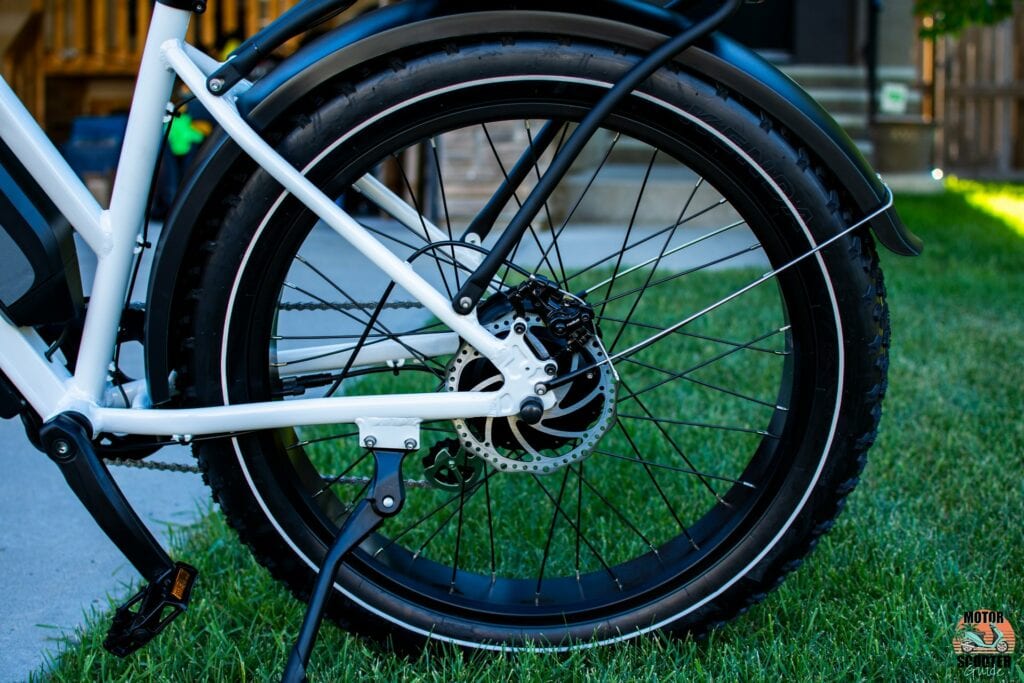 Given the on-road nature of its build, the presence of massive 26" x 4" tires is kind of funny. Himiway markets themselves as fat tire eBikes, and they are. These suckers are hefty.
The tires come underinflated, so be sure to have a bicycle air pump handy along with a pressure gauge. The manual recommends 20 – 30 psi; I filled both to 24 psi (they came at 3-5 psi out of the box).
LCD Display, Settings Menu, & PAS/Light Switch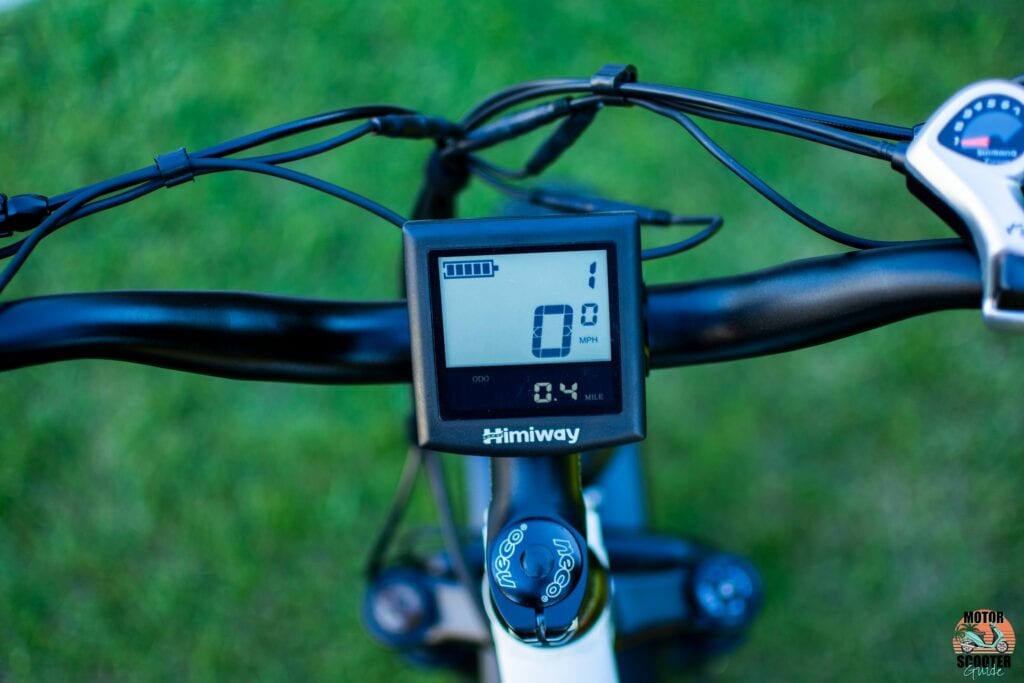 The LCD display is basic but competent, with easy-to-read numbering and a suitable user experience. It also has adjustable backlighting and does not seem to throw glare. It is operated via the left-handlebar inputs.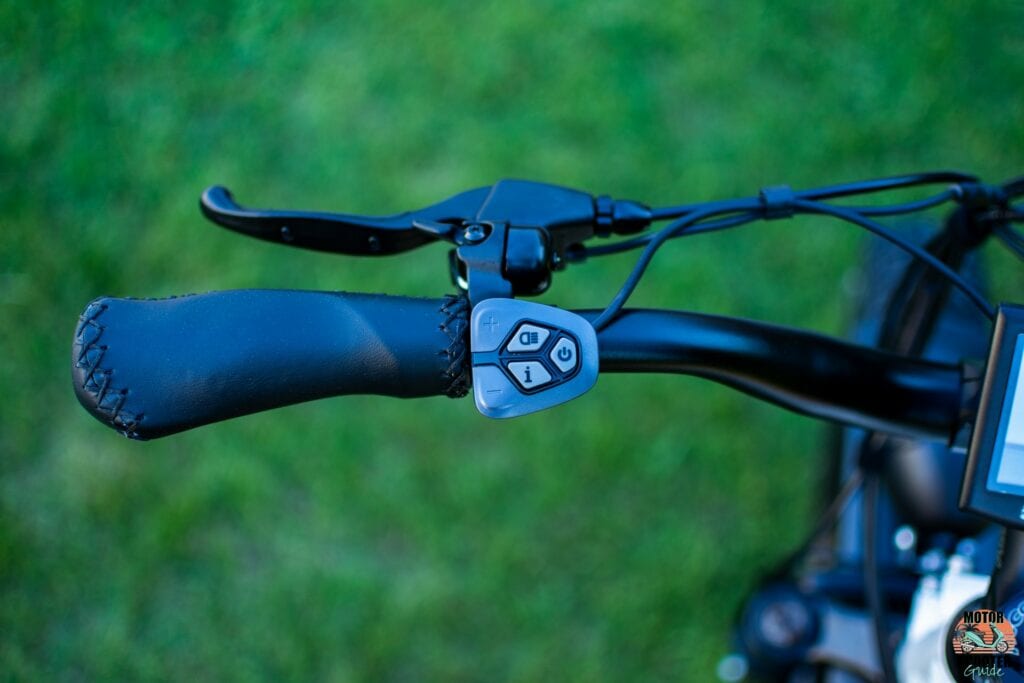 The screen, including the options menu (accessible by holding the "+" and "-" buttons for 2+ seconds), is easy to read and navigate.
To unlock the speed governor, you have to first enter the options menu (hold +/-), and then you need to hold the "-" and "i" for 2 or more seconds to enter the password-protected menu (the password is 0510 by the way). From there, you can raise the speed governor to 45 kph (28 mph).
Wellgo Pedals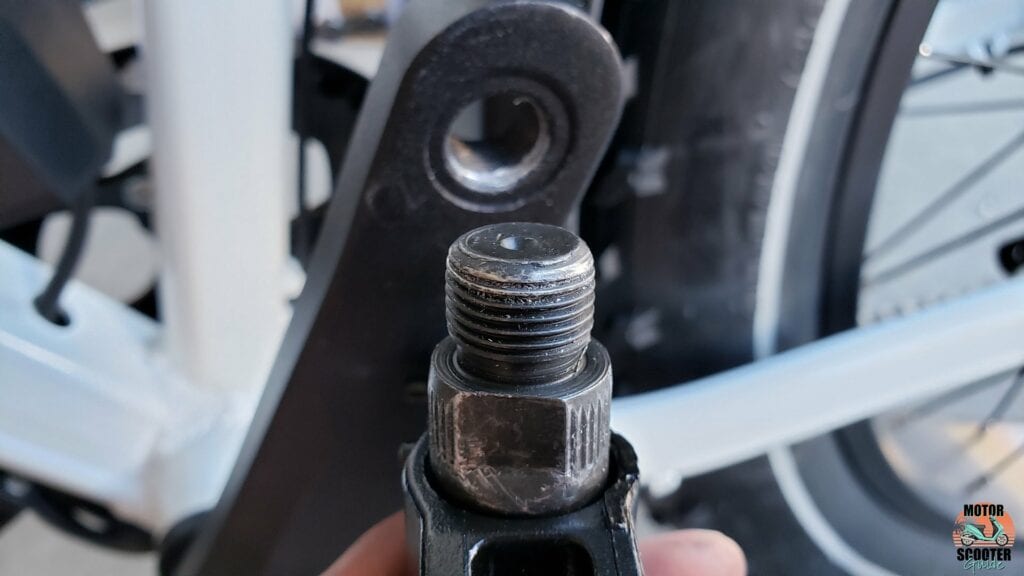 I nearly lost my mind trying to attach the left pedal. The right pedal went in no problem, but it took me nearly 25-minutes to get the left pedal to bite and finally thread. I tried WD40. I Brushed the inside of the pedal. I swore (a fair bit, too). It was a doozy.
I think the left pedal crank was improperly machined, as it came out of the box looking like this: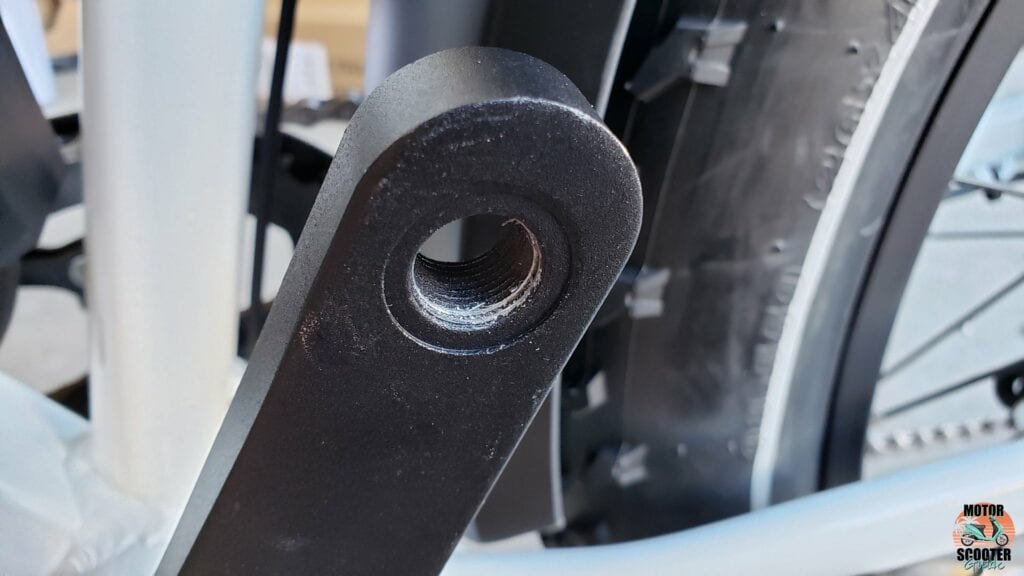 After careful coaxing, it finally found some bite and threaded in. Himiway recommends 35 Nm of torque when tightening. Note that Joe did not have any issue with the pedals on his Cruiser.
Front & Rear LED Lights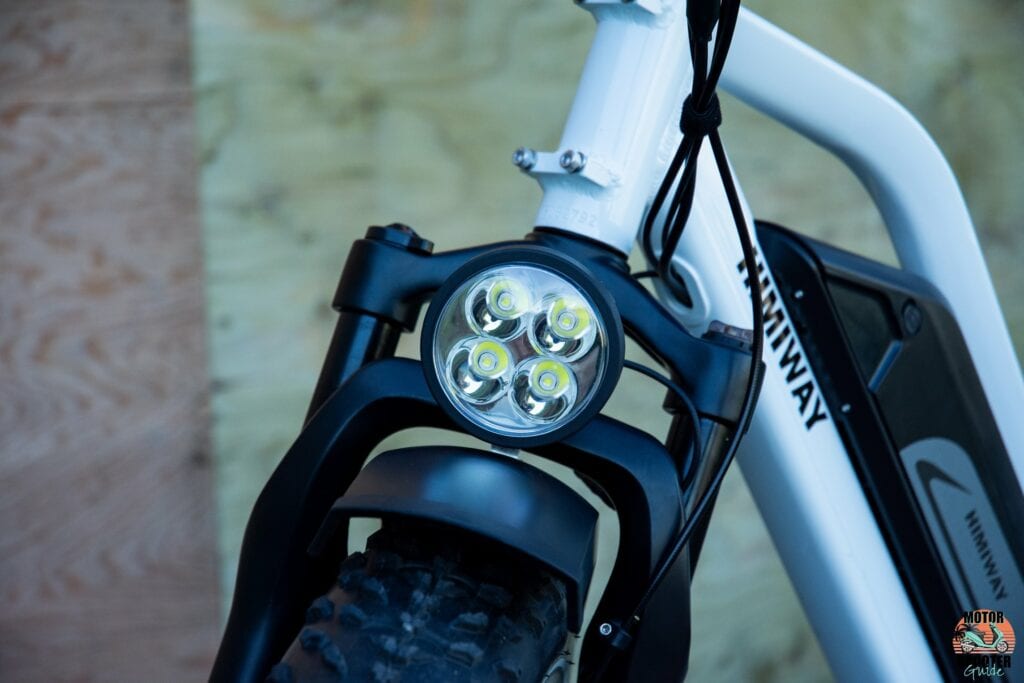 As with Joe, I didn't find the headlight to be anything special. It doesn't feel very robust in that it's very lightweight and made from plastic. However, considering the $1,600 MSRP, and that Himiway is using a 750W motor, Shimano drivetrain, Tektro brakes, etc… costs had to be saved somewhere.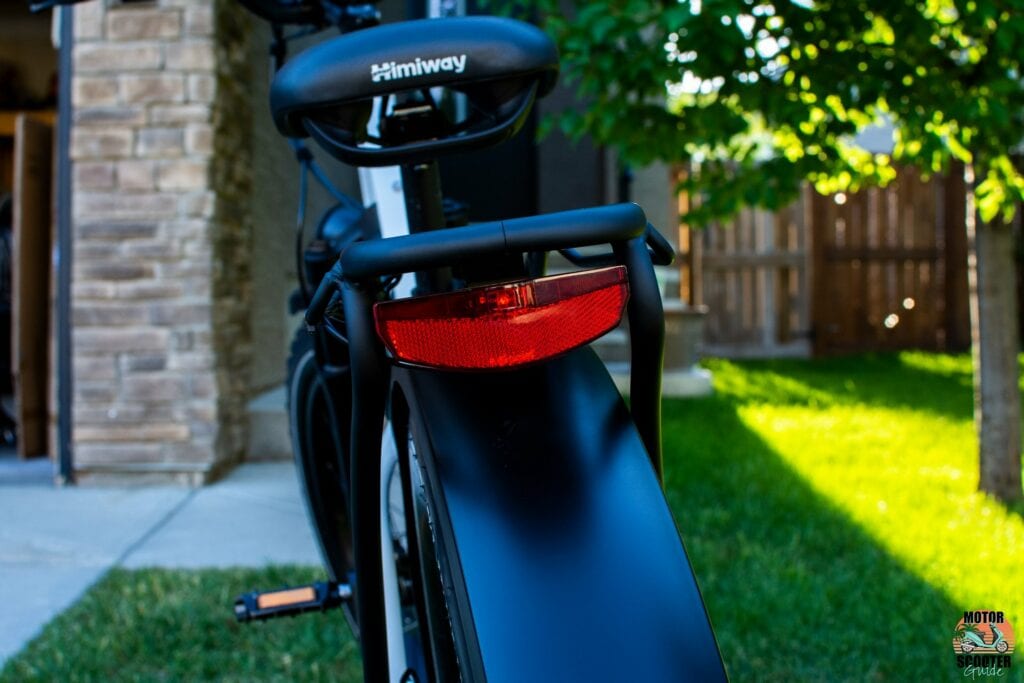 The rear light is fine, though Himiway gives you way more wire than you need. Thankfully, they also include some zip ties so you can make it all work. I went a step further and taped the excess wire that I couldn't zip tie to the underside of the rear rack.
The brightness on both lights is quite good.
Shimano Tourney Shifter + Shimano Altus Derailleur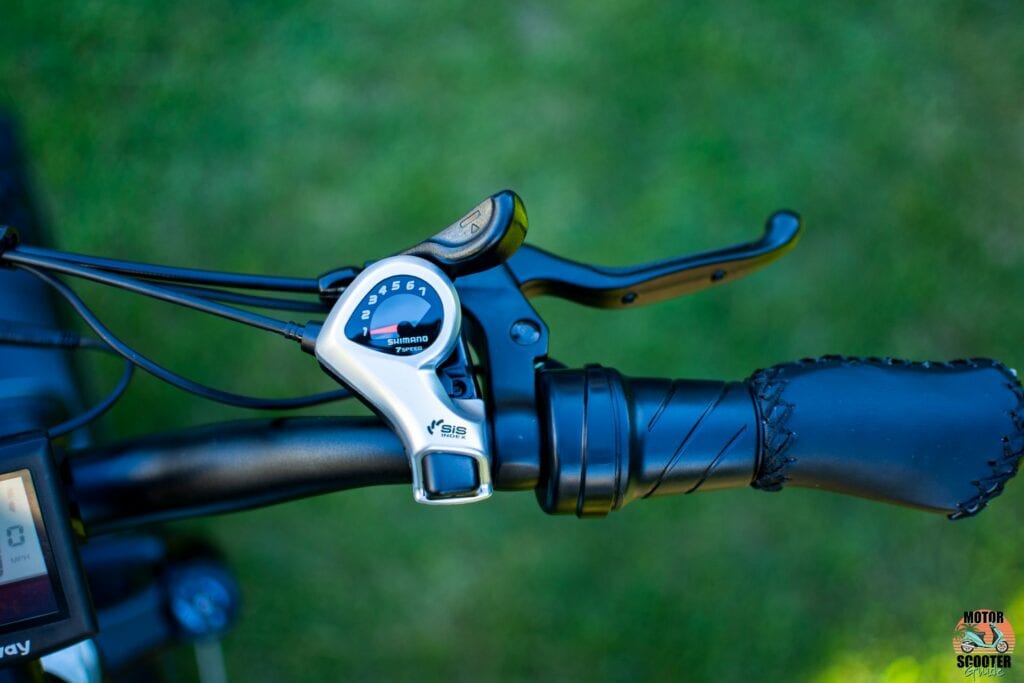 Like the Pedego Interceptor and Pedego Boomerang I recently reviewed, the Cruiser is using a Shimano Tourney shifting system (the SL-TX50-7R).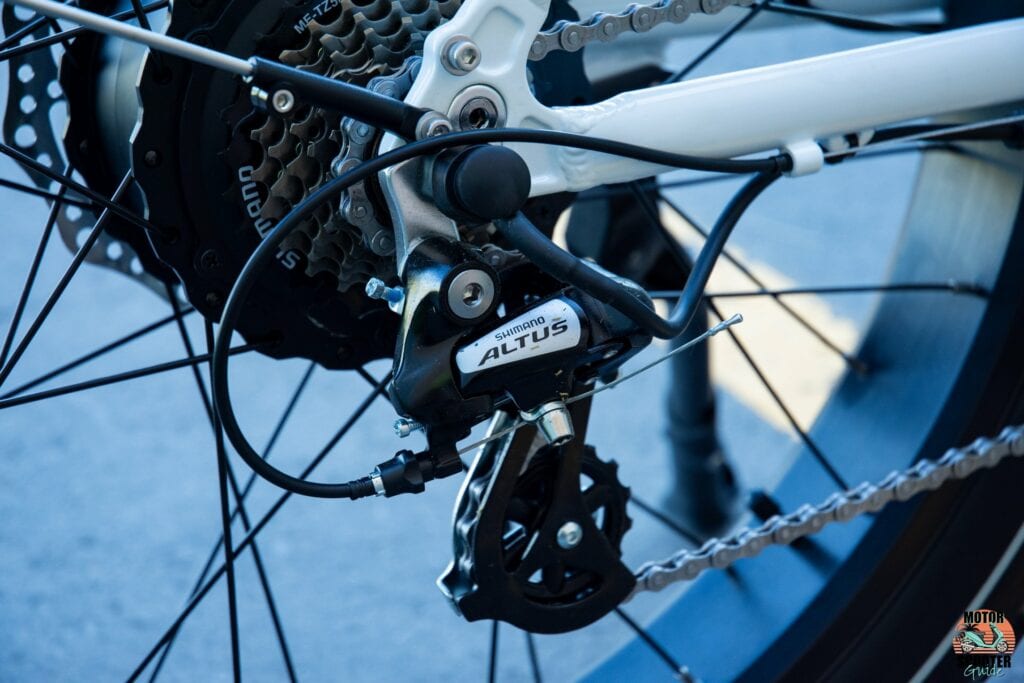 In the rear is a Shimano Altus 7-speed derailleur. This is an unsurprising combination as it's quite popular on entry-level eBikes.
Front Fork Suspension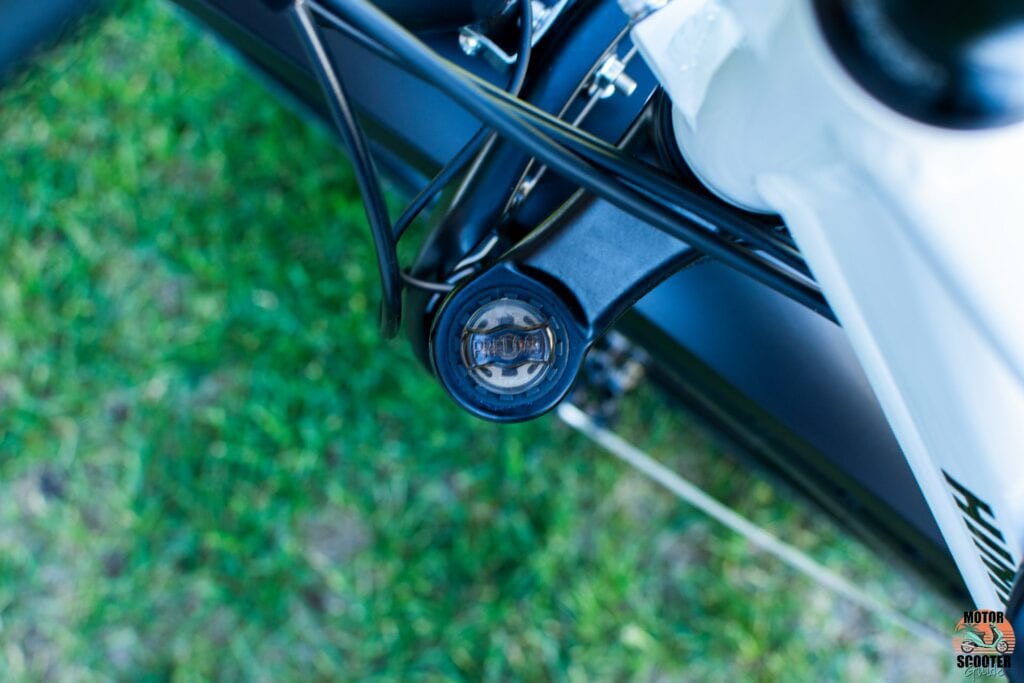 Surprisingly, the Cruiser Step-Thru has suspended front forks that offer preload adjustment and lockout.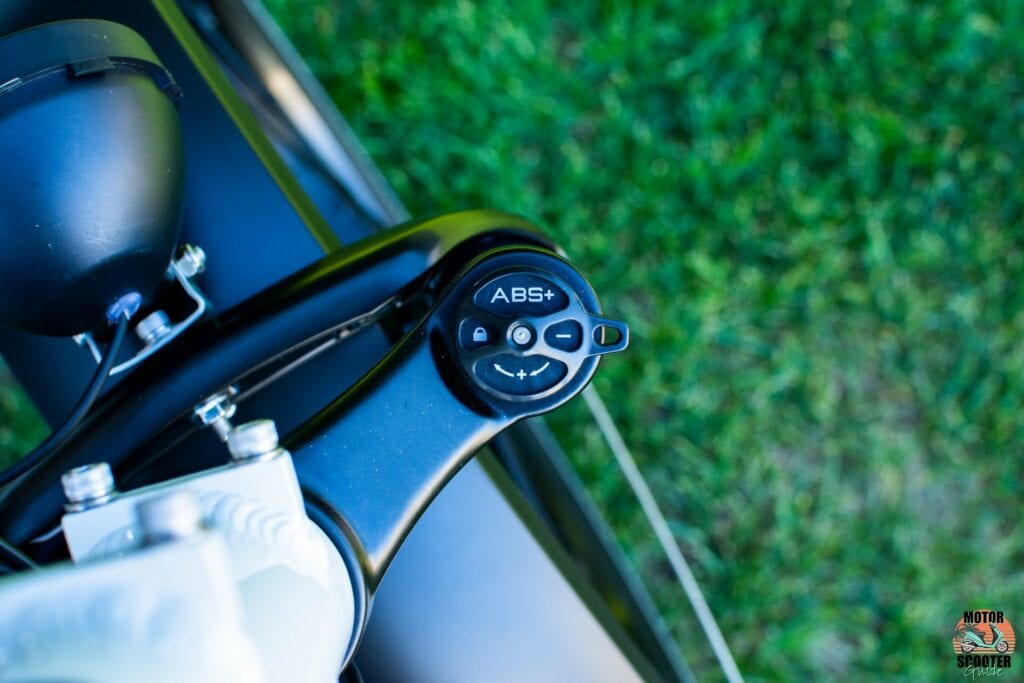 At this price, it's not surprising to see no-name components used, but that they are there at all is nice.
Himiway Extras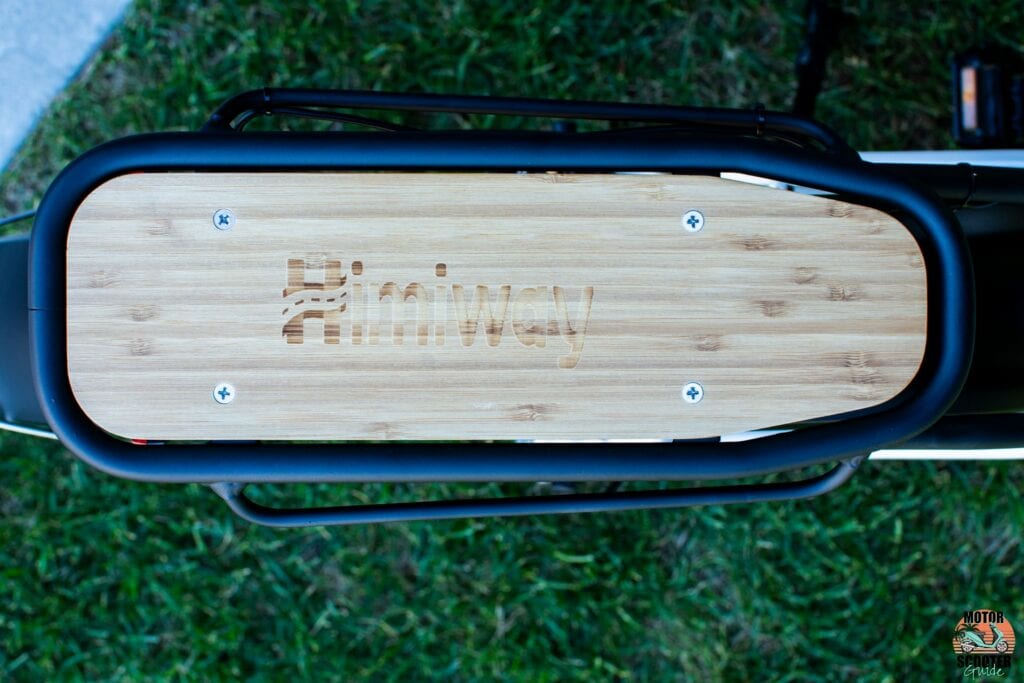 Himiway is very clear that they know that they are a better value than other entry-level eBikes. Inclusive of the $1,600 MSRP are front/rear fenders, a rear rack, a handy little multitool, and a HimiHat.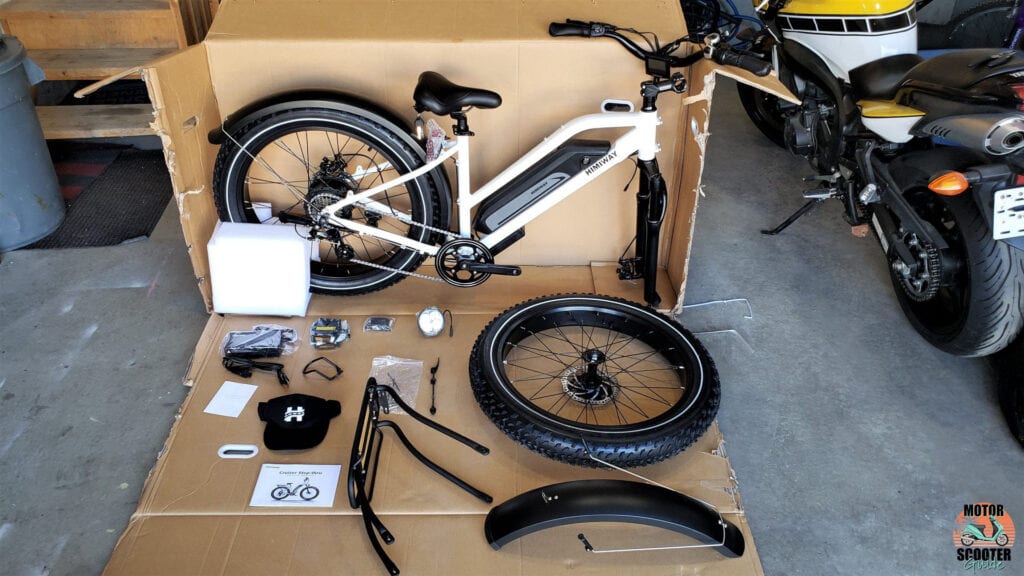 Let's be clear that none of these components are particularly high quality, but they are sufficient for the purpose they serve. The fenders are made of plastic, and the rear rack is a very thin-gauge metal with what feels like a balsa wood inlay (note the off-center laser engraving).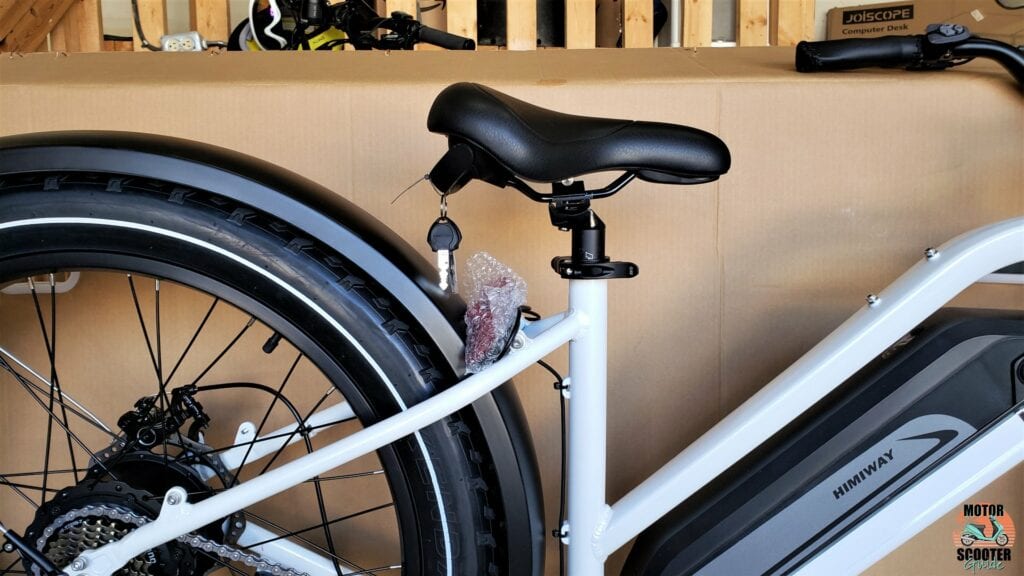 Again, these are nice-to-haves that should be sufficient assuming you don't abuse them. Be mindful of the rear rack, which looks much more robust than it feels.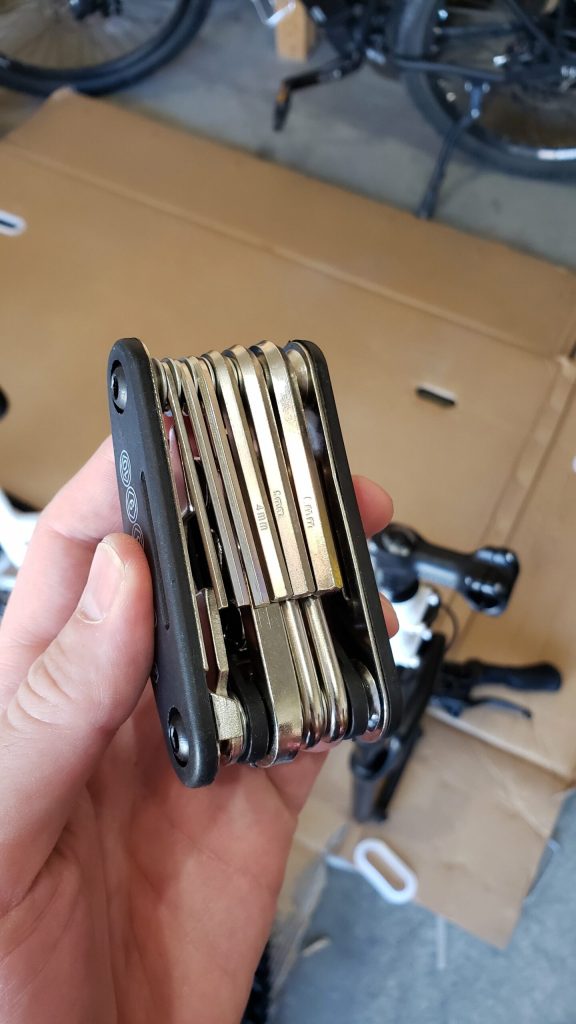 Attaching all the components is a trivial affair – use the tool they gave you and you're golden.
After 2 Hours, We Have a Fully-Assembled Himiway Cruiser Step-Thru!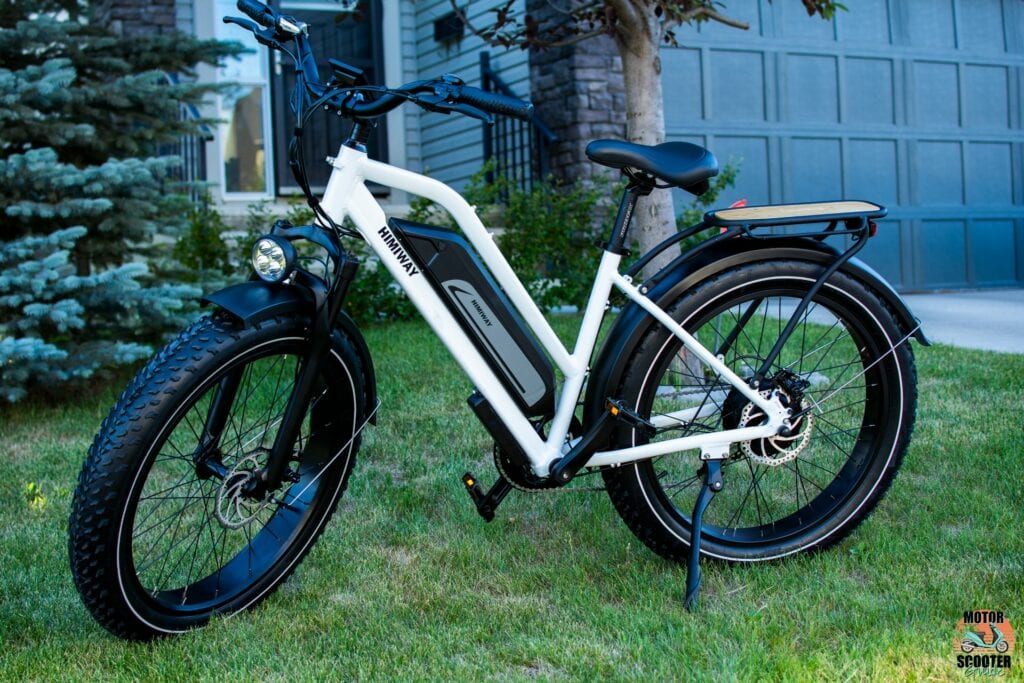 The Cruiser Step-Thru is a pretty decent looking eBike. I like that it's not obnoxious or "obviously an eBike". From a distance definitely looks like it wants to tear up some trails. So, let's take it for a ride!
The First Ride on the Himiway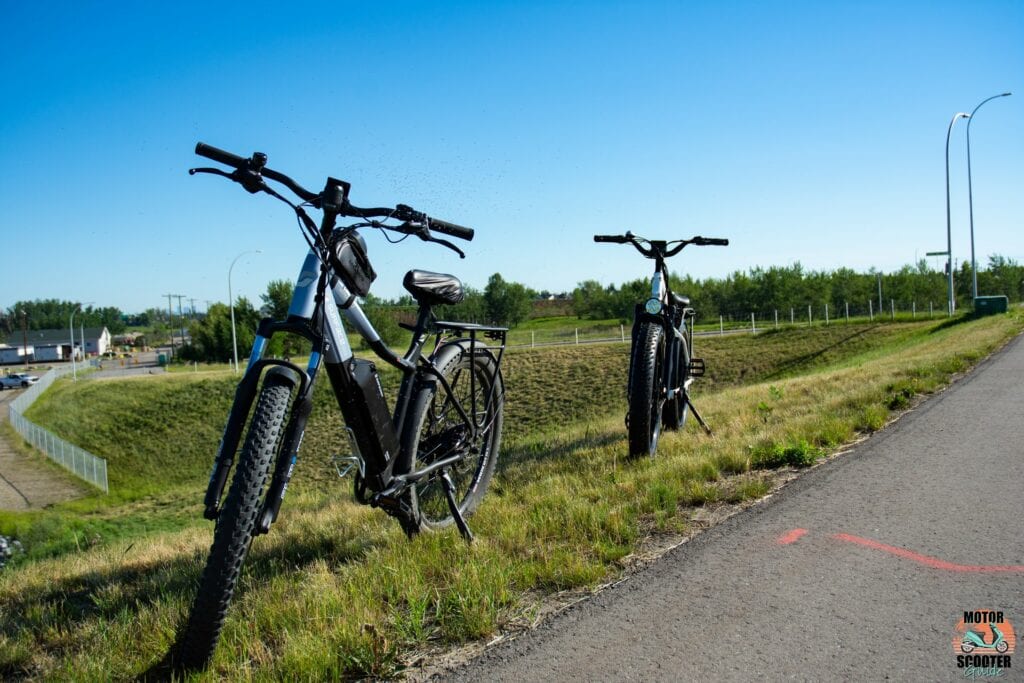 Melissa and I set out, swapping bikes mid-way through so we could do a side-by-side comparison. The 2021 Surface 604 Shred (front) is another long-term tester that happens to be equipped with a torque sensor.
Holy cow the cadence sensor takes some getting used to!
Mel calls out her surprise as an unexpected surge of power at PAS2 sends her quickly lurching forward. Riding the Shred back to back makes the differences between cadence and torque sensors very glaring. The sensor is not quite as good as the PedalSense units on Pedego eBikes (makes sense at half the price); it will take some time to get a feel for it.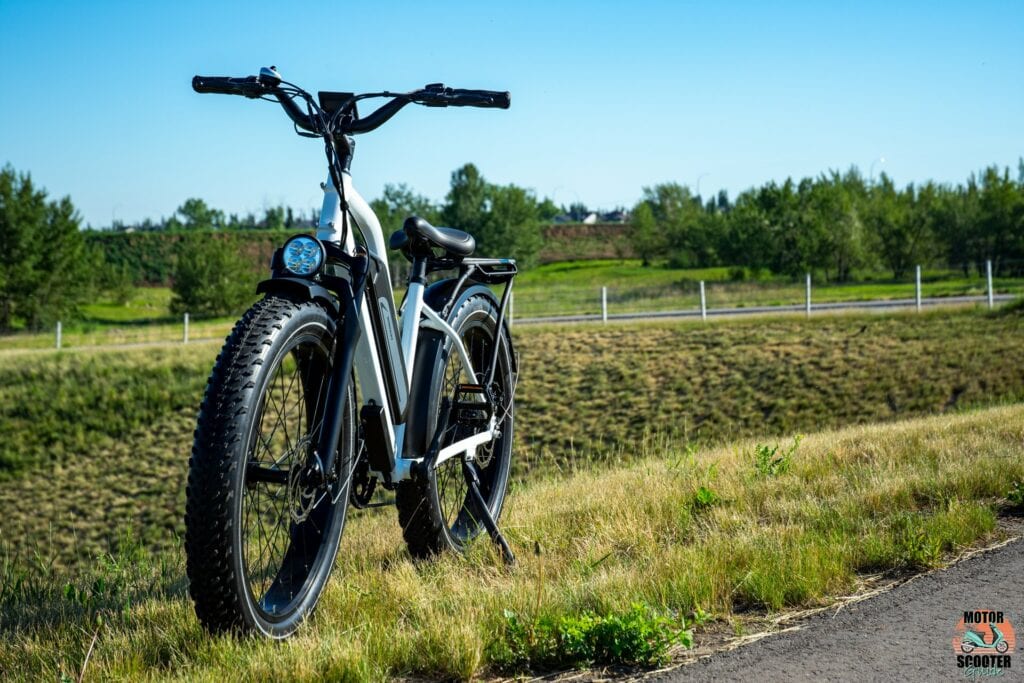 Our route was just 17 km (10.5 mi), but it featured a good mix of urban roads, bike trails, and some hills. Since we intended to use the opportunity as a photoshoot, we avoided anything off-road (unless it was grass) so that the bike wouldn't get filthy.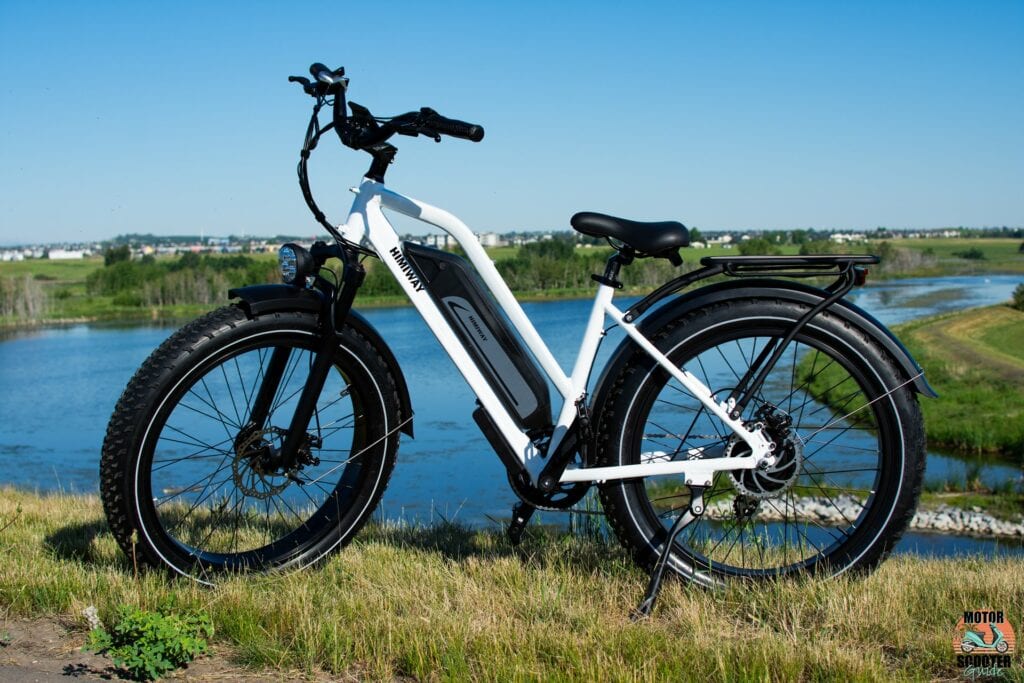 As the temperature hit 32℃ (about 90℉), I was glad that the Himiway has as much torque as it does. Having put the better part of 300 km on the Shred in the past month or so, I've been used to needing to give it grunt to get going (as the 500W motor just doesn't have the torque to move my 210lb self quickly from a stop unassisted). The Cruiser needs no assistance: 80 Nm of torque is plenty for a road bike.
The right-handlebar half-twist throttle isn't as nice to use as a thumb throttle, but it's easy enough to operate. I like the comfort-style grips, which are way more comfortable than mountain bike grips. Speaking of more comfortable, let's give the saddle a moment: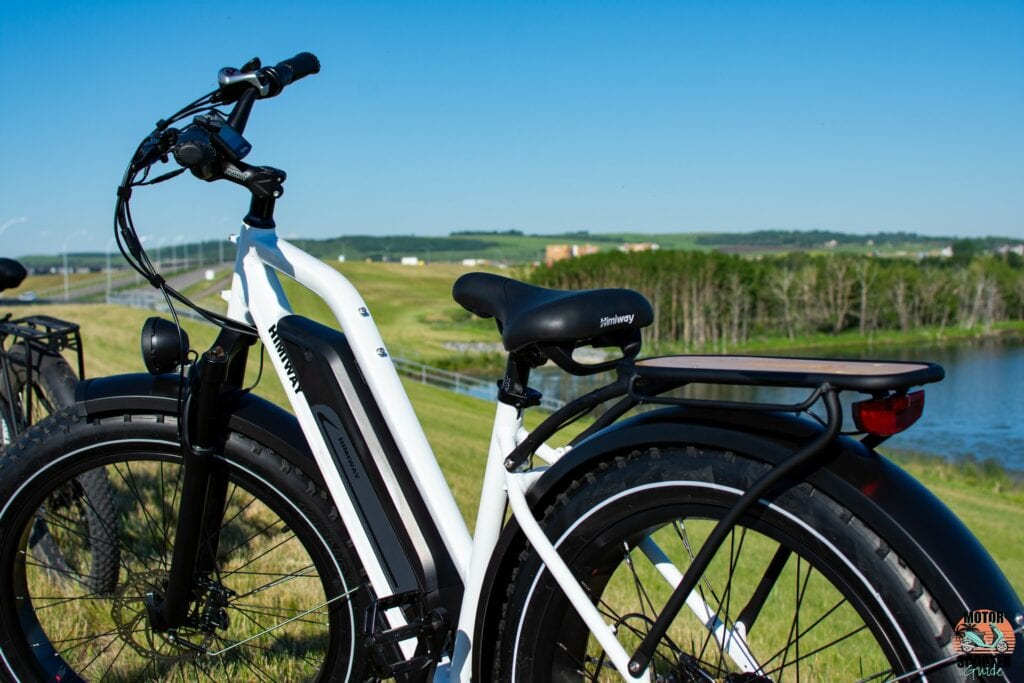 This beauty is shaping up to be quite comfy. Let's hope it holds true long-term, as the saddle on the Cruiser is very comfortable and conducive to lots of riding. It's a 30.4mm diameter seat post, and so happily, the Suntour NCX post w/ 30.4mm shim that I bought for the Shred also fits in the Himi.
The Long-Term Road Ahead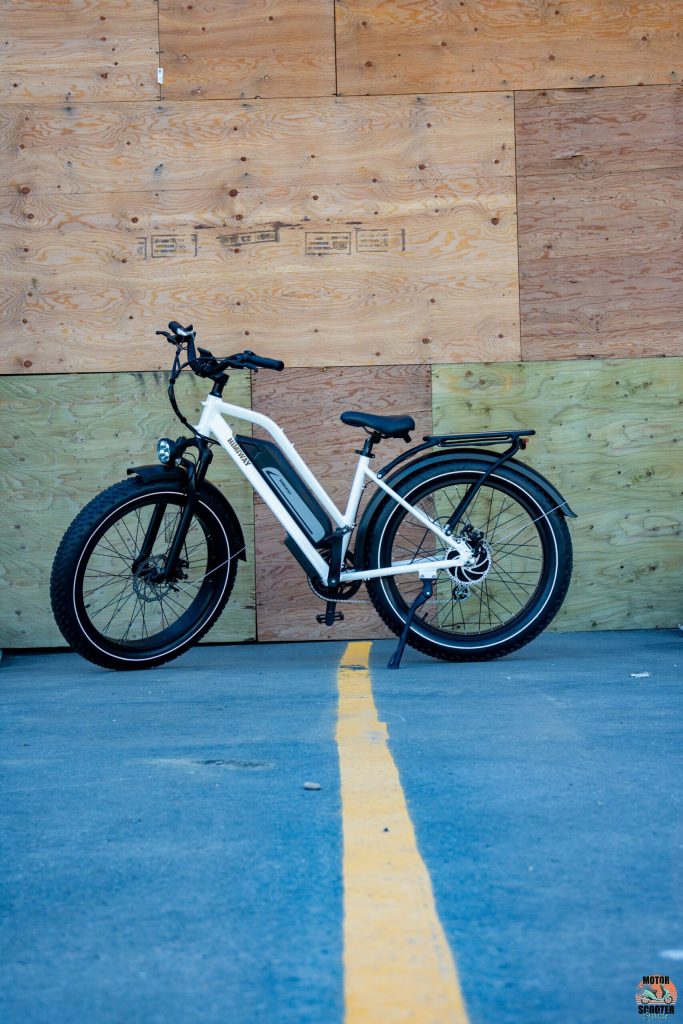 I'm fortunate to have a 2021 Surface 604 Shred as a side-by-side comparison bike to the Cruiser, as the 2021 Surface 604 lineup includes the Rook, which shares many of the same components as the Shred and is a close comparison to the Cruiser in terms of intended use case (fat tires aside). I see it as the "step-up" in tech from the Step-Thru (ha). It's not a direct comparison, but the technology slots almost directly above what's on the Escape in both ability and price.
Despite the small gaps and frustrating pedal, the Escape is looking like a good value. I'm looking forward to seeing how it treats me in the months and miles to come.
---
If you've come this far, then know that our reviews are made for you. They're deep, picturetastic, and meant to share the "tribal knowledge" that you can only gain using something. We are not beholden to brands and are unafraid to call out things that work, don't work, and need to be improved.
We're bringing webBikeWorld's comprehensive reviews to eBikes – I hope you enjoy the ride!