It appears Ducati has taken steps to become even more Italian. Introducing the 2021 Ducati Diavel 1260 Lamborghini. With a price of $31,995, the Diavel 1260 Lamborghini is about $9000 more than the base model. Not a bad price considering it's your safest bet to get your hands on a "Lamborghini". Per motorcyclistonline.com, deliveries will begin in January 2021.
After Ducati had witnessed the 2019 reveal of the Lamborghini Sian, an 819hp V12 N/A and electric powered monster. The idea to produce such a bike was rather easy for Ducati and Lamborghini to come up with as Mitja Borkert, Lamborghini's Head of Design is also a "Ducatista". This made for an exciting project between the sister companies.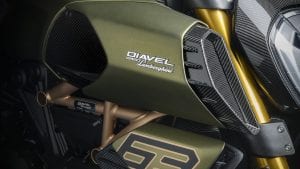 Ducati has certainly paid homage to Lamborghini by flourishing the "63" decal, referring to the number of Sian's produced and also referring to 1963, the year Lamborghini was founded. Not to mention, the Lamborghini Sian exhibits 3 hexagonal (6 sided) taillights, you see what they did there? Ducati also used the hexagonal design when creating the exhaust.
You may also be wondering, "How many will be available to purchase?" Ducati will only have 630 Diavel's available for purchase. They will also have matching helmets available with this special edition Ducati.
Sporting matching paint scheme and carbon fiber fairings aren't the only things being considered in it's almost $32,000 price tag. Ducati has also equipped the bike with Lamborghini styled wheels, full Ohlins suspension, up/down quick shift, and 162hp with 95ft-lbs of torque.