European motorcycle clothing company Macna makes some advanced technology gear with a lot of street smarts, although some of the colours and designs in their 2019 range might be a little adventurous for some riders.
Bright blues and yellows are not your typical motorcycle fare. But there is also some basic black and charcoal colours for the more traditional male rider.
There are also hoodies, semi-hoodies and army-style designs.
If these men's jackets are half as clever as the Aytee all-season jacket we love to use on tour, then they should be worth the money.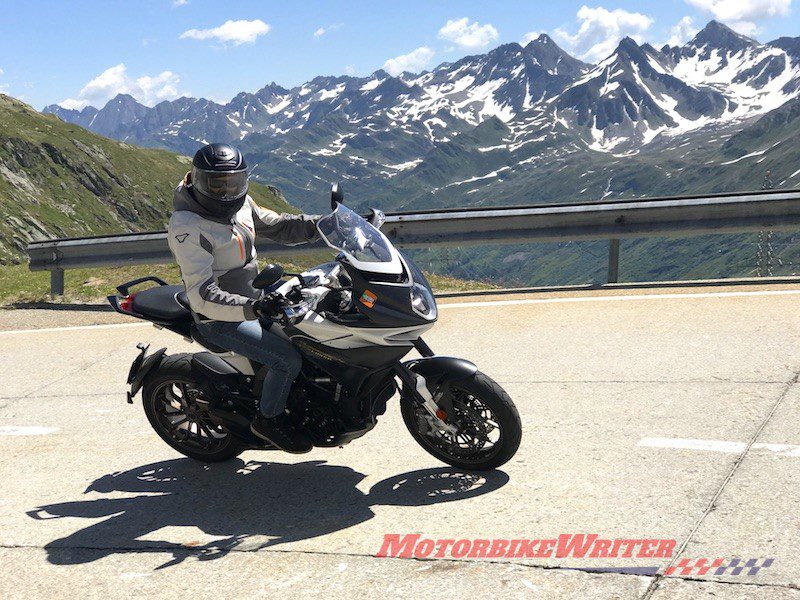 Some are suitable for summer and some for winter and a few for all seasons.
Prices are not high, either. The eight new jackets range in price from $249.95 to just $429.95.
All European gear now has to be properly certified and these jackets contain a lot of protective materials for abrasion and impact resistance.
While Macna has added eight new men's jackets, there are no new women's jackets.
Their current women's jackets include four in the Core range and four in the Graphite lineup.
Here are the product descriptions as supplied by Macna importers Link International.
Macna 2019 men's racket range
Soft, yet abrasion resistant 500 D Polyester.

Detachable mesh liner, including Raintex waterproof membrane.

Shoulder Safetech CE level 2, Elbow Safetech CE level 1.

CE back protector prepared, fitted with 12 mm EVA back pad.
Hoody holder, air vents chest & back, rear belt loop & Easy Cuff light.

Zipgrip, straps on waist and cuff.

Blue/ Yellow or Green/ Black.

Men's sizes S-3XL
Soft shell windproof and water repellent Polyester.

Detachable thermal liner can be worn separately with Raintex waterproof membrane.

Shoulder Safetech CE level 2, Elbow Safetech CE level 1.

Night Eye reflection on chest back and sleeves.

CE back protector prepared, fitted with 12 mm EVA back pad.

Hoody holder, Air vents chest, back & sleeves. Rear belt loop.

Zipgrip, Straps on waist & cuff, Coat hanger loop & Easy Cuff light.

Dark/Grey/Camo, Black or Dark Grey.

Men's sizes S-3XL
Heavy Duty Cotton Twill with Kevlar panels.

Soft mesh liner with DuPont TM Kevlar® on impact areas.

Betac CE level 1 perforated shoulder and elbow armour.

CE back protector prepared, fitted with 12 mm EVA back pad.

Hoody holder, hoody is zip off removable.

Straps on waist & cuff and Coat hanger loop. Rear belt loop.

Olive Green or Black.

Men's sizes S-3XL
Satin finish Polyamide Nylon.

Soft polyester mesh liner with fixed Raintex waterproof membrane.

"SCS Lite" ventilation system.

Shoulder Safetech CE level 2, Elbow Safetech CE level 1.

Night Eye reflective panels.

CE back protector prepared, fitted with 12 mm EVA back pad.

Hoody holder, Air vents sleeves & back. Rear belt loop.

Zipgrip, Phone pocket, Sunglasses holder Coat hanger loop.

Olive Green.

Men's sizes S-3XL
Heavy Duty Cotton and Polyester mix with Kevlar panels.

Soft polyester mesh liner.

Betac CE level 1 perforated breathable shoulder and elbow armour.

CE back protector prepared, fitted with 12 mm EVA back pad.

Hoody holder, Coat hanger loop and cuff straps. Rear belt loop.

Dark Camo, Dark Grey or Black.

Men's sizes S-3XL
Heavy Duty Polyester Ripstop Mesh.

Soft polyester mesh liner.

Betac CE level 1 perforated breathable shoulder and elbow armour. Reflective panel on the back.

CE back protector prepared, fitted with 12 mm EVA back pad.

Straps on waist & cuff and Coat hanger loop. Rear belt loop.

Olive Green/Black & Black Camo. 

Men's sizes S-3XL
Comfortable abrasion-resistant 500 D Polyester.

Detachable thermal liner, including Raintex waterproof membrane.

Betac CE level 1 perforated shoulder and elbow armour.

CE back protector prepared, fitted with 12 mm EVA back pad.

Chest and back air vents. Air vents chest & back.

Zipgrip, Straps on waist & cuff, Coat hanger loop & Easy Cuff light. Rear belt loop.

Black/Yellow/Blue or Black/Grey/Red.

Men's sizes S-3XL
Heavy Duty 500D Polyester Mesh.

Soft polyester mesh liner.

Betac CE level 1 perforated breathable shoulder and elbow armour.

CE back protector prepared, fitted with 12 mm EVA back pad.

Waist & cuff straps, Coat hanger loop. Rear belt loop.

Black/White/Red & Grey/Black/Blue.

Men's sizes S-3XL