The 2019 Indian Chieftain, Chieftain Dark Horse and Chieftain Limited will arrive late this year with  streamlined styling, candy colours, LED lighting and the company's loudest audio system.
It's a bit of a design departure for Indian which has traded on its traditional looks, although the "warhead" on the front fender is retained.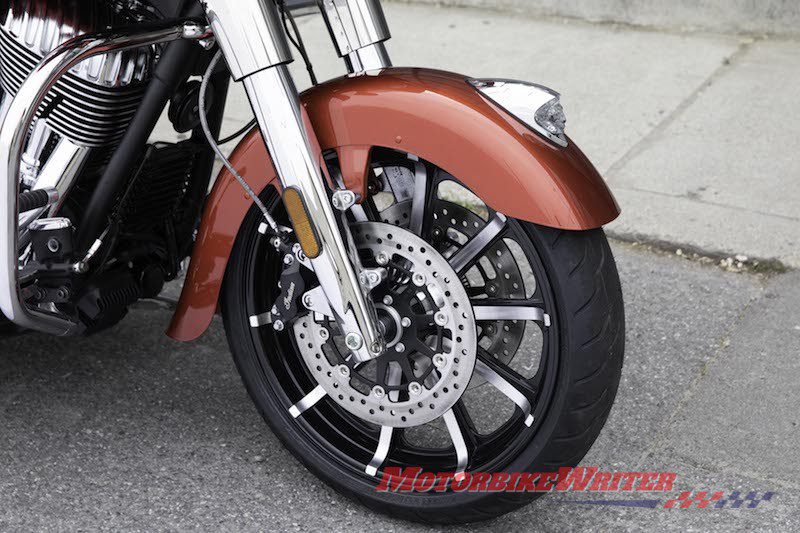 Indian Motorcycle Australia and New Zealand spokesman Christopher Gale says the bikes will arrive "late this year with pricing yet to be confirmed.
This follows recent 2019 model announcements of updated colours and a USB charger for the Scout and Scout Bobber and rear-cylinder deactivation and lower fairing ventilation on their other Thunder Stroke 111 models.
Streamlined
This new streamlined styling features a trimmed fairing and sharper lines and edges.
"As we continue to evolve the Indian Motorcycle brand, we want to expand our lineup with more aggressive style options, while still maintaining the availability of our more classic style options," says Reid Wilson, Senior Director for Indian Motorcycle.
"What's most important to us is developing motorcycles that meet a wide variety of customer style preferences, and Chieftain's new look does just that."
The Chieftain also now comes with full LED lighting, a new "Rogue gunfighter" seat, new fork guards, deeper saddlebags, and new badging.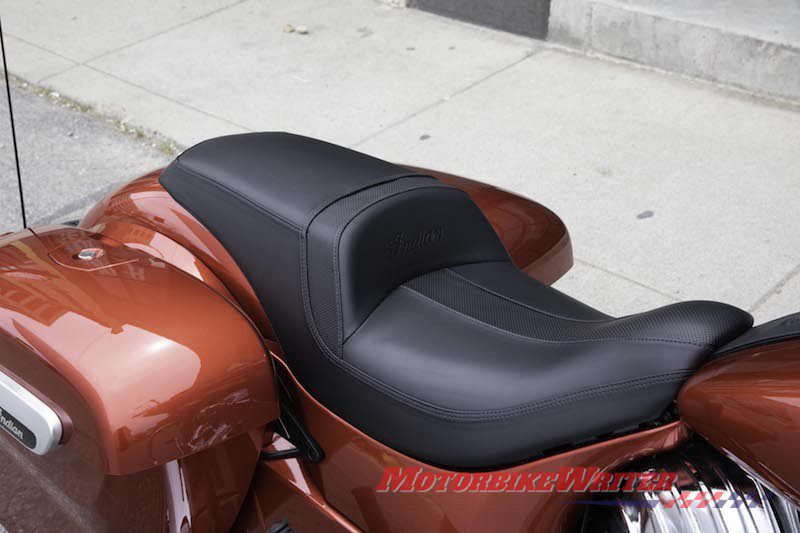 Engine modes
They also get the rear-cylinder deactivation and engine modes announced in the rest of the Thunder Stroke fleet.
When the engine reaches operating temperature and the ambient temperature exceeds 15C, the rear cylinder will automatically deactivate when the bike is at a standstill.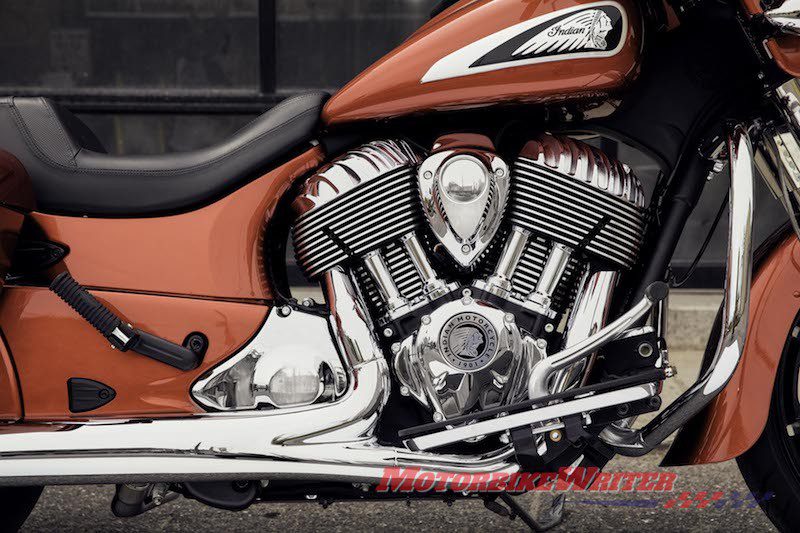 The rear cylinder instantly reactivates when throttle is applied for a "seamless transition to full power".
Harley-Davidson introduced the feature in 2014 in their Rushmore range and it is now available in all their Milwaukee Eight engined models. On the Harley models, you have to roll the throttle forward twice to engage the deactivation feature.
Indian's three engine modes are Tour, Standard and Sport.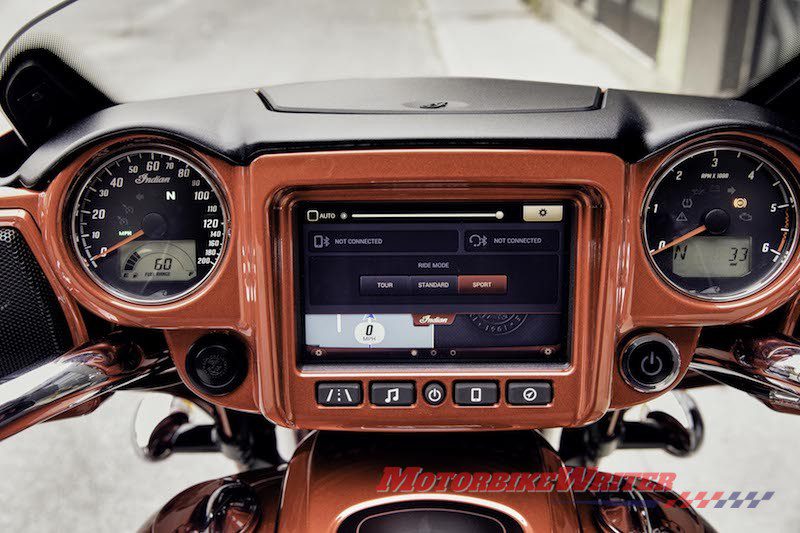 Tour mode features a smooth throttle response for relaxed cruising.
Standard mode has a crisp throttle response and "well-balanced power delivery for responsive passing power and predictable, slow-speed handling".
Sport mode features full power and instant throttle response for "aggressive power delivery for head-snapping acceleration".
Chieftain Dark Horse
White Smoke, Bronze Smoke and Thunder Black Smoke are the new matte colours for the Dark Horse range.
They also feature black ceramic exhaust and gloss black finishes on the primary cover, valve covers, push-rod tubes, cam cover, and saddlebag hinges.
Louder audio
Indian's 100-watt audio system has aways been one of the clearest and loudest on any bike.
It now gets separated tweeters for more clarity and a dynamic equaliser that adjusts specific frequencies at higher speeds to compensate for road, wind and engine noise.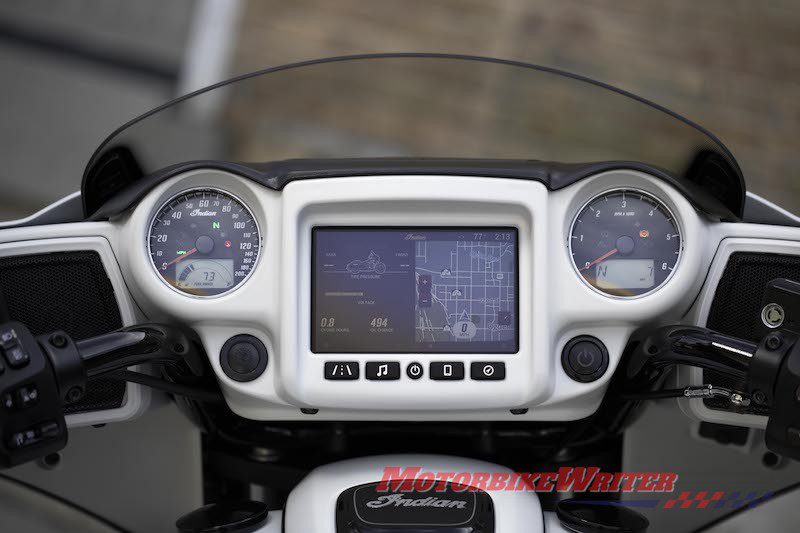 There are also new PowerBand Audio speaker options that are up to 50% louder than the stock audio.
The speakers each have an integrated amp, so they do not require additional amps.
PowerBand integrates with their Ride Command system to increase the equaliser from five bands to nine bands with additional pre-set options and volume control.
Riders can choose from three kits – PowerBand Audio (fairing upgrade), PowerBand Audio Plus (fairing and saddlebag upgrade) and PowerBand Audio Plus with accessory trunk (fairing, saddlebag and accessory trunk upgrade).
Accessories
Owners can update the exhaust system wth Stage 1, 2 and 3 kits, 116 cubic-inch big bore kit, extended and reduced-reach seats, mid-rise handlebars and reduced-reach handlebars, and colour-matched hard lower fairings, saddlebag audio lids and quick-release top box.
Chieftain Classic owners can also get a 10-spoke 19-inch contrast-cut wheel with an open fender.