I've now ridden the Indian Scout mid-weight cruiser in three countries and my impressions of this bike have hardly changed … I still love it!
At $17,995 it competes well, even with the metrics, and the build quality is far and away better than any of the other bikes in this section of the market.
Just look at that engine with its artistically pressed cases and the lack of unsightly plumbing hanging out. And even though Indian has had some problems with paint, you won't find any problems here.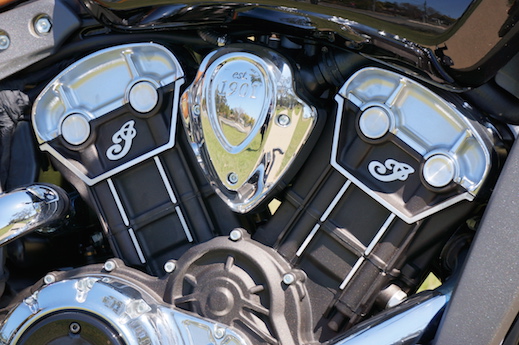 In fact, they stalled the delivery earlier this year to resolve a paint problem around the tank. Fixed and now it is perfect.
I rode the Scout at its world release at the 2015 Sturgis Motorcycle Rally on the billiard-table-snooth roads of South Dakota just over a year ago and then again late last year at the Australasian launch in Burt Munro territory in the beautiful South Island of New Zealand.
For the 2016 model year, the only change is the addition of a new redder red warpaint, so the gloss black bike I tested last week when I rode it on the horrible bumpy roads of South East Queensland has not changed my mind about this motorcycle.
I've always said the first thing I would change if I bought a Scout was the rear shocks and I stand by that.
They are basically springs. There is no compression or rebound damping and the spring is too soft.
Regardless, the mechanics at Indian Motorcycle in Brisbane tell me that hardly any owners swap out the shocks.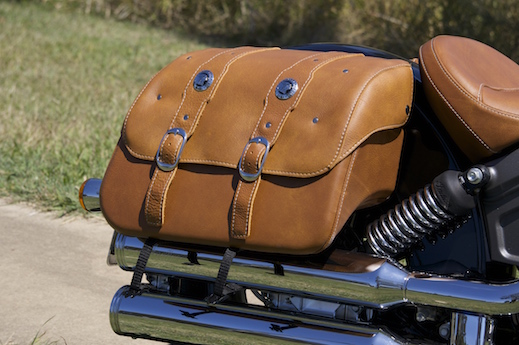 I find this strange as I've had it bottom out and bounce around over big bumps. A $500 set of Gazi shocks would make this such a better bike.
The only other concerns I have are a fair bit of heat from the rear cylinder, a wide turning circle and the unfinished look of the aftermarket saddlebags. The bottom part of the bag clip should be leather and the back of the bags looks unfinished. This stands out because the brown leather contrasts against the black plastic backs.
Everything else is brilliant.
In fact, I will now apologise to readers and largely plagiarise myself by running my previous review with some added comments along the way.
First off, the engine is the main attraction here. It not only looks brilliant with its high-quality sparkling and retro-style ribbed casings, but it's also a firecracker unit that will send the opposition scurrying.
The Indian Scout has more power and torque than its opposition, is more refined, quieter and far more flexible. It will pull strongly from about 2000 revs and hits the meat of the torque about 3500.
The six-speed transmission has a tall first gear and a short top gear making it a close-ratio box which is unusual for a cruiser.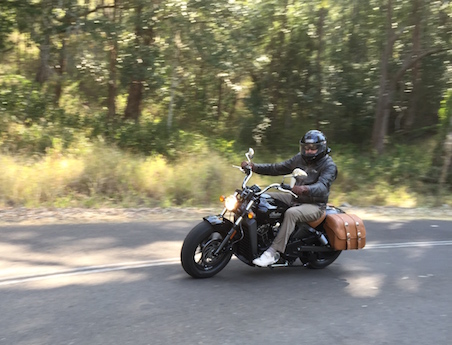 You will find yourself taking most city corners in first rather than second gear. Thankfully the fuelling is very smooth, so this is no drama.
The short sixth gear actually suits Australia's speed limits because at 100 or 110km/h it is right in the meat of the peak torque for easy-as roll-on overtaking manoeuvres.
The transmission  is quiet, smooth, clunk free and fault free. You can whip through the cogs with ease.
The engine is also torquey enough to flick through to sixth at 80km/h without labouring the mill.
Top end is stratospheric for a cruiser and you'll never really need to go there unless you want to take it to the drag strip.
Riding position is also fairly aggressive for a cruiser, with the rider sitting on it, rather than in it. For my 185cm frame, it offers plenty of control and comfort. However, its low seat height and ergonomic rider triangle also make it appealing to a wide range of rider heights.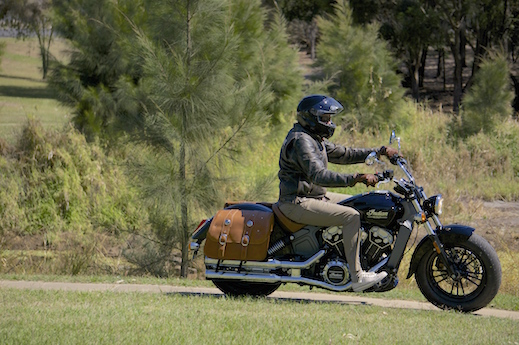 Optional handlebars, foot controls and seats will make it even more suitable for both taller and shorter riders.
It also feels very slim with no air filters or protruding engine components forcing splayed legs. The handlebar grips are a little on the narrow side, but that should cater for smaller riders and women who are finally catered for by the venerable Indian brand.
On past tests I worried about the comfort of the seat. When you first mount up it feels like there is a ridge under your bum.
However, after prolonged tank-full stretches in the saddle, I am happy to report it actually is quite comfortable for a long haul. So if you fit a quick-release screen, rack and saddlebags, you could happily take this touring.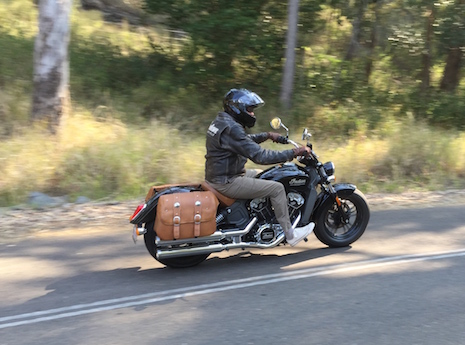 If you're heading to the Northern Territory with its stretch of unlimited speed zones you may notice a windsock effect at 120km/h-plus. However, there are three optional windscreens to protect most rider heights.
The Korean-made Kenda tyres should be long lasting, but they are not the best for grip on wet roads. In the dry, they feel fine.
The steel-braided brake lines give the front lever plenty of feel and the single disc seems to have enough effect for my 75kg weight.
If you weigh a bit more and option up to the dual seat and saddlebags, it may feel underbraked.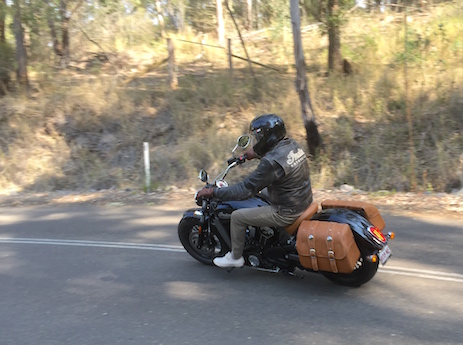 The rear brake feels wooden, but I still haven't locked up the rear wheel, even under hard braking and downshifts thanks to the combination of ABS and a low-compression engine.
The classic instruments are a single round unit with analogue speedo and an LCD screen that includes a clock and toggles between rev counter, odometer, trip meter, engine temperature and low fuel warning via a handy switch on the front of the left switchblock. A fuel gauge would be nice, though. The self-cancelling indicators work very well.
After road tests in three countries I can now say this is a quality bike with plenty of character and an engine that will win your heart.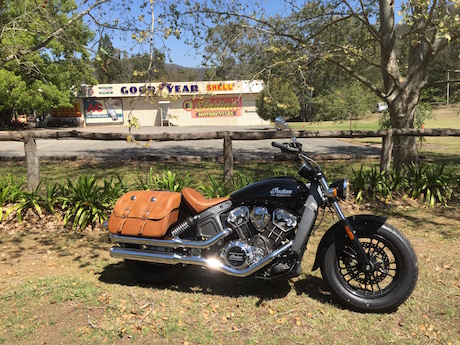 2016 Indian Scout tech specs
Price: $17,995 ride away

Engine: liquid-cooled 1133cc V-twin

Dry weight: 244kg

Power: 74.7kW

Torque: 97.7Nm at 5900rpm

Transmission: 6-speed, belt drive

Suspension: telescopic fork with 120mm travel; dual rear shocks, 76mm travel

Brakes: 298mm single discs, ABS

Tyres: 130/90-16 72H; 150/80-16 71H

Wheels: 16×3.5", 16×5"

Fuel tank: 12.5L

Clearance: 135mm

Height: 1207mm

Width: 880mm

Rake/trai: 29°

Seat: 635mm

Wheelbase: 1562mm

Length: 2311mm

Lean angle: 31 degrees

GVWR: 449 KG