2016 BMW C 650 GT Final Thoughts
That was the fastest 30 days ever!
My time with the new 2016 BMW C 650 GT is unfortunately over, but was it ever fun!
First, a big thank you to BMW Motorrad USA for the loan of a brand-new scooter so I could compare new vs. old!
A month isn't a heck of a lot of time, especially with the vagaries of autumn weather, but there were a few things that stood out right away.
Major Updates and Improvements
The updated drivetrain is definitely the most immediately noticeable update on the "Version 2" maxi-scooter.
I don't think the engine has changed from Version 1, because it's still a 647 cc DOHC parallel twin, putting out 60 HP at 7,500 RPM and 46 ft. lbs. of torque at 6,000 RPM.
But BMW took a tip from the scooter tuner community and tweaked the CVT variator or pulleys (or something) to improve responsiveness.
Whatever they did, it works — the C 650 GT now feels much more responsive at any RPM and especially when first taking off from a stop.
This gives the rider a lot more confidence and it brings the scooter into a whole 'nother world of fun.
Back in 2012, when the first BMW scooters were released, who knew it could be this good?
It felt OK then, although the original version was far from fast.
In comparison, the simple CVT tweaks really do make a world of difference in performance for this latest version.
Combine that with the new lighter-weight dual-tip exhaust, which gives a bit of a growl as you give it the boot, and other than the fact that you're lifting your leg over the tunnel, you're on a motorcycle, not a scooter.
Now it may be possible for Version 1 owners to swap out the stock variator and CVT parts for a performance version; in fact, some of the 500+ members of our BMW Scooter Community on Google+ have done just that.
Then add something like an Akrapovič exhaust system for the BMW scooter and you'll be there.
Besides the CVT tweaks, the other major changes from V1 to V2 on the C 650 GT are:
Revised suspension feels more firm, although BMW said that the "spring rate of the fork springs and the rear spring strut has been reduced by 10%". Handling is noticeably sharper, albeit at the expense of bump stiffness.
Revised center stand that reduces lift effort by 30% (claimed). It does feel like the scooter is easier to lift, so that's a bonus.
Automatic Stability Control (ASC) is now standard, along with ABS.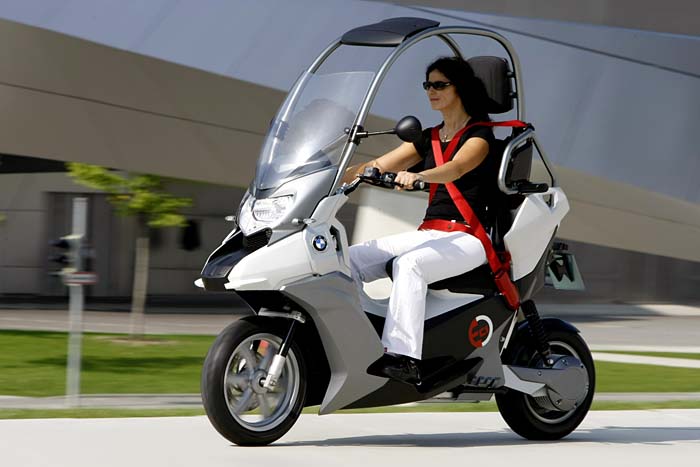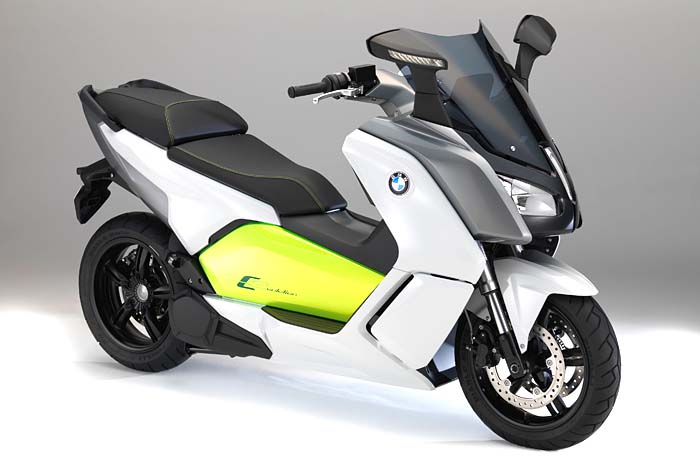 Other Updates and Changes
The CVT and suspension changes are a dramatic difference between old and new, but is there anything else?
The C 650 GT bodywork is essentially the same, other than color choices and the new rear end, although the C 600 Sport did get the benefit of some bodywork updates for Version 2.
The Sport has now become the cool-looking member of the BMW scooter family and it's 26 lb. lighter and a slightly narrower version of the C 650 GT.
It doesn't have an electrically adjustable windscreen and the mirrors are different and the front is narrower, so there's less wind protection. But it sure looks cool…
Other minor changes and updates to the C 650 GT include:
Redesigned mirrors help to improve rear visibility and reduce vibrations (that I never noticed on the original).
Revised tail section and rear brake lights, running lights and turn signals.
New "high-gloss" center section for the handlebar cover and (supposedly) a new instrument panel, but I don't notice a difference.
Revised seat with stitching.
Windscreen revisions were apparently made; I've read that the windscreen was revised but I don't notice much of a difference.The windscreen now moves to the lowest position when the ignition is turned off and raises to the last set position when the ignition is on…I don't remember that on the original?
Features and Details
Here is a collection of brief video clips we made to describe some of the features of the 2016 BMW C 650 GT in more detail.
w

BW

Video: 2016 BMW C 650 GT Details
Picks and Pans
So let's get right down to it; here's what I like about the updated C 650 GT and a few "cons" that are more like minor issues actually:
Pros
CVT: The updates to the CVT have made all the difference in the world. The GT is now responsive and it's fun to give it all the throttle you can.
It no longer dogs off the line while the CVT ramps up and the new exhaust sound adds to the fun. There's a world of difference between the two versions.
Suspension: The GT now has sharper motorcycle-like handling, although you pay the price on bumpy roads.
The long wheelbase and the weight mean you'll feel like you're leaning over way more than you should in the corners, but the Metzeler Feelfree tires do a good job at keeping you stuck to the pavement.
Brakes: Nothing's changed here as far as I can tell, but the GT stops hard when you want it to, with good feel from both the front (right lever) and rear (left lever) brakes. It's easy to cover both brakes with two fingers at all times, which is a safety factor.
And by the way, the scooter is a perfect platform for a braking tip I learned at Lee Parks Total Control rider training course (review):
As you're braking for a turn using front and rear brakes, keep some pressure on the rear brake (left lever) while you start rolling on the throttle before you enter the turn, then slowly release the brake as you roll on the throttle.
It takes some practice to coordinate both hands, but this technique really helps smooth the transitions and works a charm with the CVT, which does take longer to spool up. So this trick really benefits a scooter rider.
Fun Factor: It's subjective and kind of hard to describe, but riding the GT is different and fun. Not having to worry about shifting, clutch work and sitting on the "throne" with freedom to move your legs and feet gives a whole new meaning to two-wheeling.
Cons
Yes, there are a couple of things BMW can still improve.
Weight: The C 650 GT still feels all of its 575 lbs. claimed wet weight. BMW's goal should be to have it lose about 50-75 lbs. and add another 10 HP and then we'd really be cooking with gas.Or, how about an "S" model with, say, a turbo? Why not? And while we're at it, make a stripped-down GS model, like a Honda Ruckus Maximus.
GVW: Speaking of weight, the C 650 GT has a maximum permitted total weight of 981 lbs. That means a max load of only 406 lbs. (184 kg) can be carried.Throw on a couple of big fully outfitted beef eaters and some luggage and you're dangerously close to maximum…or more.
Windscreen: It's almost there, but could be better. I actually like the Version 1 windscreen better I think — although I'm not 100% sure there's a difference. It just seems like the new windscreen is maybe thinner?It wobbles a bit more and doesn't seem to raise as high or block as much wind as the original. There are probably aftermarket solutions for this, however.
Cruise Control: Several of you have emailed me about this. To be a real GT touring machine, BMW needs to offer an electronic cruise control.Should be easy-peasy on the scooter with a CVT, no? In the meantime, there's always theKaoko throttle control for BMW scooters (review).
Suspension: Back to the suspension again. It now does kind of pound over sharp bumps, even with the rear shock damping dialed out all the way.I wish there was more adjustment or maybe a happy medium between V1 and V2 settings?
Storage: I really like the drop-down helmet holder under the seat of the C 650 Sport. Why not add the same to the GT?Granted, the drop-down storage in the Sport can only be used when the scooter is parked…but that's the time when you want to store your helmet anyway.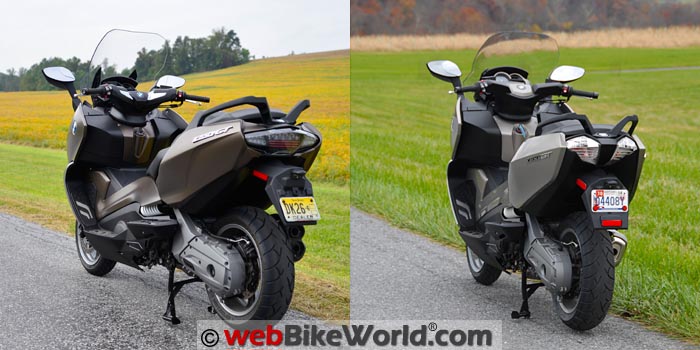 Finding New Owners?
I've said it before and I'll say it again: if only BMW could get motorcycle owners to get over the "scooter thing" and take a ride on a C 650 GT. I'll bet they'll get more than a few converts.
There's a built-in bias against anything called a scooter — at least in the U.S. — and that's a shame, because the C 650 GT lives up to its name and really does make a "Grand Tourer".
I found myself jumping on the GT every chance I could get, rather than any of the 18 or so motorcycles I can choose from around here.
It's faster, easier and actually more enjoyable to jump on the C 650 GT for quick trips, mostly due to the built-in storage capacity but also because it just seems easier and less stressful to ride.
More fun is to be had by freaking out the local proles, who have no idea BMW makes motorcycles, much less a scooter.
I actually had one guy roll down the window at a stop light and shout "Did you stick that BMW logo on there or is that for real?"
I lost track of how many people have asked me "What is that?" and added "Is it a motorcycle?"
So you're not just riding around on any old scooter. After all, this is the BMW of scooters! That has to count for something.
Conclusion
As you can tell, I really enjoyed my all-too-brief time with the updated BMW C 650 GT. I was as much of a scooter skeptic as anyone, until I took a chance on the original.
The updated version is even better and the revised CVT makes a big difference in responsiveness and feel.
Do yourself a favor: forget your preconceived scooter notions, visit a local BMW motorcycle dealer and take a test ride. I bet you'll be surprised!
Publication Date: November 2016
Master Listing of All wBW Motorcycle Product Reviews
Note:
 For informational use only. All material and photographs are Copyright © webWorld International, LLC since 2000. All rights reserved. See the webBikeWorld® 
Site Info page
. Product specifications, features and details may change or differ from our descriptions. Always check before purchasing. Read the
Terms and Conditions
!
Owner Comments and Feedback
---
From "R.D." (November 2016): "I really like what BMW has done here. Nice improvements over the previous version and a pretty compelling buy in the maxi-scooter category.
But I must say, with the new Yamaha T-Max DX due to arrive next year, I'd have a hard time buying the BMW.
The Yamaha is 100 lbs. lighter, has the cruise control the BMW lacks and most of the nice extra features this new BMW has. And since it's a Yamaha, the dealer servicing will likely be much cheaper.
For those of us who enjoy scooters, the future looks good!
I can't wait for the forthcoming comparo between the BMW and the new Yamaha!"
---
From "B.P." (November 2016): "Nice summary of your month with the 650 GT: concise, clear, and thorough.
I'll be attending the cycle show in NYC next month. If anyone from corporate BMW is around and will listen, I plan on chatting about my winter project of adding a Rostra cruise control to a 2008 Burgman 650…and that I hope that BMW engineers are working on a similar mod.
I hope to outlast that Suzuki, at which point I'll be looking for a replacement scoot.
"I found myself jumping on the GT every chance I could get, rather than any of the 18 or so motorcycles I can choose from around here."
I only have one other bike, but having owned two Burgmen, I know what you mean. It just seems easier, more convenient, or something, to roll that out of the garage for a grocery or hardware-store run.
On the handling front, I took the Total Control class back in 2005, in Troy, New York. Lee Parks himself was the lead instructor.
I don't recall concentrating on throttle usage; mostly I was concentrating on lean angle, body positioning, and not dropping(!) the Valkyrie Interstate I was riding at the time.
Fast(?) forward to this year, and I found myself on a Burgman, for one of Tony Iannarelli's Non-Sportbike Track Days.
Similar to your point about the use of the rear brake, lead instructor Ken Condon had spoken about right-hand throttle and brake overlap — while slowing down and while speeding up — during one of the classroom sessions.
For the last few on-track sessions that was what I was working on.
I found that the 650 scooter was a great tool for this training, because I didn't also have to worry about a clutch, shift lever, rev matching, etc. — I could concentrate solely on that throttle and brake overlap work.
And you're right about U.S. rider perceptions.
At Americade one year, I rode a T-Max (lots of fun) early one morning; when the demo ride was over, no one had signed up for the next time slot…but most (or possibly all) of the other Yamahas were reserved for the rest of the day.
I think BMW needs to bring a bunch of their scooters with their demo fleets to assorted rallies, and maybe they'll change some minds."