The 2015 Victory Magnum is an audio system on wheels, ready to roam the countryside, blasting out heavy rock.
The Magnum is a slammed custom bagger version of the Victory Cross Roads, which means it has a lowered rear end, hard panniers and a large front 21-inch wheel.
Custom baggers are all the rage in the US and are just starting to take off here where people want a practical touring bike, but with some attitude.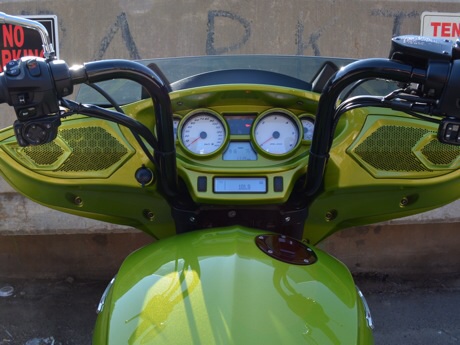 The Magnum comes with "attitude by the amplitude" having the world's loudest standard audio system on a production bike – all 100 watts and six speakers of it. And, if that isn't enough, you can also buy speakers for the pannier lids.
The Victory Magnum costs $29,995 ride away, which parks it price-wise between the Cross Country Tour ($28,495) and the full-dresser Vision Tour ($30,495). It's also about $5000 cheaper than the Harley-Davidson Street Glide.
For that you get a tricked-up bike that will turn heads and includes such features as ABS, Bluetooth, LED headlight, and one of the best paint jobs on any bike which even wraps around on to the dashboard.
It comes in four colours – Metasheen Black Over Supersteel Grey, Plasma Lime, Sunset Red Over Supersteel Grey and Ness Midnight Cherry for an extra $1000. All feature metal flecks with more sparkle than a junior dance eisteddfod.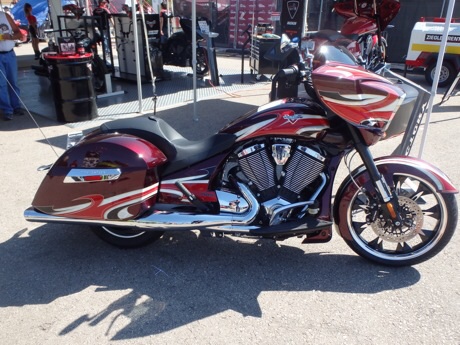 The only problem is the sparkly paint on the dashboard can be a bit of a distraction for the rider in the glaring sun. But after experiencing the fine paint finish it is difficult to go back to a plain black plastic dash.
Aesthetics aside, it still handles and performs well, despite the lowered suspension and radical 21-inch front wheel.
I would have suspected that clearance would be a huge issue and cornering would be vague and heavy. However, I'm surprised that it still has more clearance than similar touring Harleys and the front wheel doesn't flop into corners or track on the highway as I thought it might.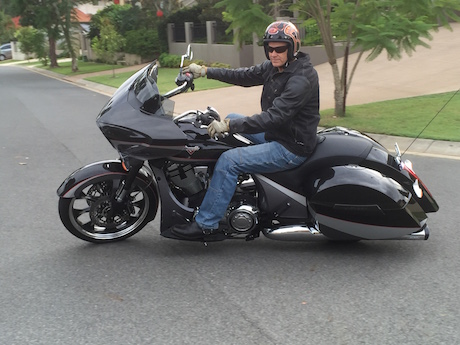 It's not as precise in the steering as the Harleys, but it isn't vague or heavy around town, either. It feels relatively nimble for a 345kg bike.
The Magnum steers slowly as expected and loads up a bit on high-speed sweepers, but it steers confidently and you can adjust your line in a corner without fuss.
The ride is plush without being sloppy and the air shock has a little more travel than on the Harley models, which means it copes better with the big hits on country roads.
Clearance is always an issue with any big cruiser/tourer and the 25mm lowered bike doesn't have as much cornering angle as the Cross Country or Cross Roads with which it shares a frame.
However, there are hero blobs under the floorboards to protect them as they scrape along the ground through tight corners.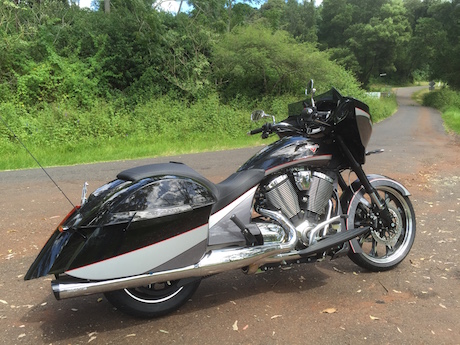 Those batwing-shaped floorboards are also the biggest on any production bike, allowing about 45cm (18 niches) of movement forward and back. That means they act like highway pegs, but also allow you to move your feet back and "weight the pegs" for more cornering control.
Riding position is – like the Cross Country and Cross Roads – one of the most comfortable I've experienced with a very supportive seat that includes lumbar support.
It has a spacious cockpit with acres of room to move around, yet it's an easy reach to the adjustable mini-ape-hanger bars.
Both short and tall riders will be accommodated by the low seat and generous floorboard room.
However, pillions will find the rear seat rather uncomfortable while the grab sash tucked away under a flap doesn't provide much confidence. A padded sissy bar accessory would be a must if you plan to do a lot of two-up riding.
I found a fair bit of heat pours out of the rear header in slow traffic, but you can move your legs to avoid it. A removable heat shield or flange to redirect heat would be handy. You could take it off in winter to allow the heat to keep you warm.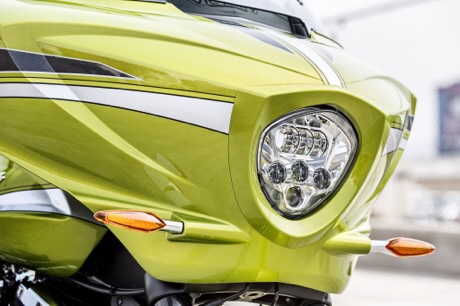 The LED headlights are bright, white, piercing and have an even spread. Once you've experienced them, you won't want to go back to the yellow glow of standard lights.
The switchgear is a little clunky and cruise control and audio controls look like add-ons. The cruise control is also a little ponderous, taking a split second to engage and then hunting around in a vain effort to keep a constant speed.
The cable clutch is outdated and heavy, especially in stop/start traffic. Meanwhile, the hydraulic brakes with ABS and big 300mm discs are strong, with good initial bite and a nice feel.
Like all Victory motorcycles, it is propelled by the grunty 106ci Freedom engine with 1731cc of air-cooled V-twin and 149Nm of torque from way down low.
It pulls effortlessly from low revs and throbs right through the rev range without any noticeable dips or lags. However, it has a bit more vibration than the new Project Rushmore Harley tourers and doesn't feel quite as refined or lively in the top end.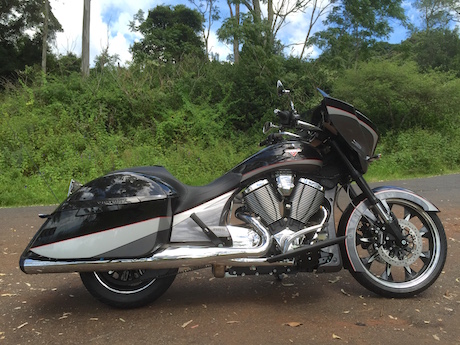 The engine vibe does blur the mirrors on occasions, but they are set high and wide for safe rearward vision.
At cruising seeds in sixth gear, the engine settles down into a gentle massaging throb. It's geared a bit high for our highways, so you will have to drop a cog or two for snappy overtaking, but generally it responds well to the throttle at most revs.
Victory has gradually been refining its six-speed transmission from very agricultural a decade ago to quite smooth and quiet now. Together with the carbon-fibre reinforced belt drive, it is a relatively quiet drivetrain.
However, the sporty windscreen on the test bike creates annoyingly loud buffeting over 80km/h which makes it difficult to hear the audio system, even at top volume. There are optional taller screens which would make more practical sense.
The removable and weatherproof hard panniers are huge and swallow loads of luggage. They also have a convenient, one-touch latch. They open from the inside with the hinge on the outside which means you can access the bags without the rider and/or pillion having to get off the bike.
There is a 12V plug on the dash and a USB plug in the right pannier to power and connect your music player or phone. Unfortunately, the velcro holder in the pannier is too small for the new large-sized iPhone 6 and similar Androids.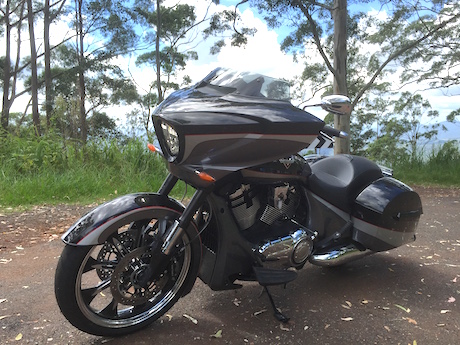 If you plan to do a lot of touring in comfort, with head-turning style and a loud audio system to while away the hours, then the Victory Magnum is ideal.
2015 Victory Magnum tech specs
Price: $29,995 rideaway

Service intervals: 8000km

Warranty: 2 years, unlimited km

Engine: 106 (1731cc) air-cooled V-twin

Bore x Stroke 101 x 108 mm

Compression: 9.4 : 1

Torque: 149Nm

Transmission: 6-speed, wet, multi-plate clutch, carbonfibre-reinforced belt

Fuel: 22 litre tank, 91RON

Suspension: USD 43mm forks, 130 mm travel; single adjustable air shock, 113mm travel

Dry weight: 345kg

Clearance: 134mm

Length: 2657 mm

Rake/trail: 29.0° / 142 mm

Wheels: 21 x 3.5″, 16 x 5″

Seat: 654 mm

Wheelbase: 1670 mm

Brakes: ABS, 300mm discs

Colours: Metasheen Black Over Supersteel Grey, Plasma Lime, Sunset Red Over Supersteel Grey, Ness Midnight Cherry

Victory Magnum in Sunset Red over Supersteel Grey