The Victory High-Ball is a badass machine full of aggression and attitude.
With its ape-hanger bars, matte-black paint, hot rod graphics, bobber fenders, wire wheels and white-wall tyres the Victory High Ball certainly stands out. Styling wise it's somewhere between a '50s bobber and a Sons of Anarchy machine.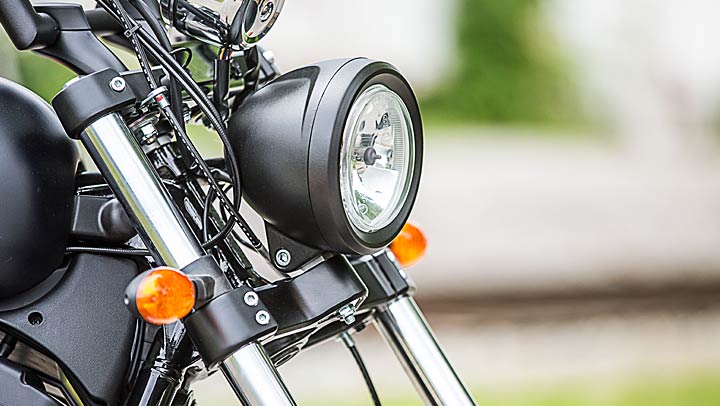 It comes in two models: matte black with mag wheels for a very competitive $19,495 and flame paint with wire wheels for $20,495. The mags are still pretty cool and much easier to clean, but I'd prefer the optional laced rims. Having a solo seat also means cheaper registration in Queensland, but you can option a pillion seat and pegs.
If you're worried about the comfort of the ape hangers, it depends on your height from your butt to your shoulders. If you have a short torso, your hands will be up fairly high, which could be uncomfortable. Anything above your heart and your hands will start to tingle in about 15 minutes at which time you will have to take them – one at a time, for legal reasons – off the handlebars to get the blood flowing again.
However, I'm 185cm (just over 6ft in the old school) and my hands silt at heart high which is surprisingly very comfortable. You can also adjust the bars back for a closer and lower reach.
The high bars give you surprisingly good control, especially for low-speed maneuvres such as feet-up u-turns. It also puts the mirrors in a very handy position and they don't vibrate, even at low revs.
However, once you get above 90km/h, you have to hang on tightly as the riding position is a typical windsock shape. Your feet are out in front, but not quite as far as some other similar cruisers. It's a comfortable position until you hit those highway speeds and turn into a human parachute. I lasted about an hour before I had to rest, so this is definitely a cruiser, not a tourer.
Despite its name, the High Ball sits menacingly low. Victory's lowest seat at 63.5cm gives you the feeling of brushing your butt across the road that's whipping close by in a blur.
Therefore, it scrapes the hero blobs quite easily on corners. You have to plan your corners, brake hard and early, set it up and then swoop in, making sure you don't run out of clearance before the apex. The good news is that it handles quite well, despite the long bars. They must be very rigid as they don't flex or vibrate at all. I've ridden cruisers with shorter bars than this that flex and vibrate.
With its shortish 1647cm wheelbase, you can flick the High Ball into a corner, putting a lot of faith in the wide front contact patch and the matching-size rear wheel won't try to stand the bike back up again like a wider tyre would.
Ride is great for such a short rear near-vertical spring. It takes a lot of the "crash" out of sharp hits and it is nicely damped with no pogoing effect.
The brakes are solid with some initial bite up front where the forks dip and the rear brake has plenty of feel and effect. However, be very careful on downshifting when also braking as the rear wheel will lock quite easily. Shame Victory only has ABS on its big tourers.
It starts with an old-school key in the side which will scratch the side covers if you dangle anything off it. In front of you the beautifully blue backlit speedo lights up in all its functional simplicity. There is a speedo with an LCD screen that shows enough info to keep most cruiser riders happy and you can toggle between the functions with a convenient left handlebar switch.
However, there is no fuel gauge for the 17-litre tank. When the fuel light comes on you have about 3 litres left which is good for about 70-80km, depending on your riding style.
The balanced engine kicks into life with a soft bump, rather than a heavy clunk and it idles at about 900rpm without any nervous vibrations or shuddering that you might get from rubber-mounted unbalanced twins.
Victory's six-speed transmission is getting better and better every year. It clicks into gear without any nasty clunks, although finding neutral is a bit difficult. You can flick quickly through the gears with the relatively light clutch and deliberate shift action, but you really won't need to. The 106ci (1731cc) V-twin is a lump, torquey beast that you can drive with grunt from very low revs.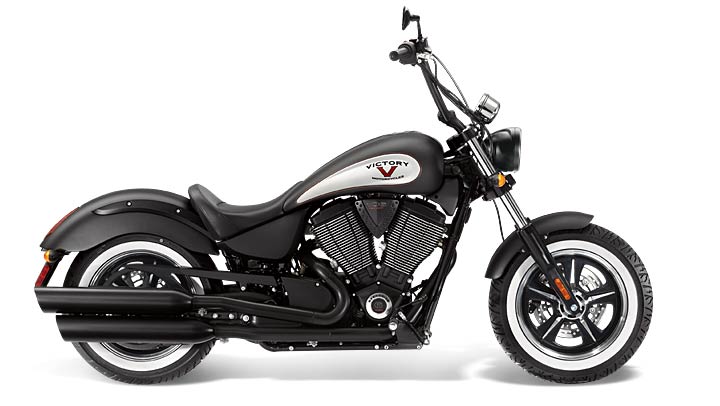 Just click it right through to fifth for around town or sixth for the open road and when you need some extra oomph for passing or just for kicks, simply roll on the throttle. It will pull from as low as 1800 revs in sixth gear which is about 80km/h. In just a couple of seconds you will be going 100km/h and revving just 2300rpm.
You can hear the raw and macho dual shotgun exhausts clearly because there is little mechanical noise from the air/oil-cooled engine and none from the carbonfibre-reinforced belt drive.
So if you want to turn heads when you go cruising, think High Ball.
2014 Victory High Ball tech specs
Price: $19,495 ($20,495 wire wheels and flame paint)
Engine: 106ci (1731cc), 4-valve, 50-degree V-twin
Bore x stroke: 101 x 108mm
Compression:     9.4:1
Transmission: 6-speed overdrive constant mesh; wet, multi-plate clutch; carbonfibre-reinforced belt
Fuel: 17L
Suspension: 43mm forks, mono-tube gas rear shock with preload-adjustable spring
Weight: 300kg
Clearance: 120mm
Length: 2372mm
Rake/trail: 32° / 170mm
Seat: 635mm
Wheelbase: 1647mm
Brakes: 300mm floating rotor with 4-piston calliper (front), 2-piston (rear)
Wheels: 16×3.5
Tyres: 150/90 B16 (front), 150/80 B16 (rear), Metzeler ME880
Colors: Suede Black with graphics or flames