Australia is one of the top five markets in the world for Ural motorcyles and sidecars.
It makes sense since the tough outfits suit our tough environment.
Although small in numbers, Ural says 2013 was a great year with 1206 bikes sold worldwide, more than half in the US, followed by Germany, France, Canada and Australia.
Ural also says the average age of its customer has dropped 1.5 years in the past years to 51, with the youngest Ural buyer in 2013 being only 22 and the oldest, 85. Meanwhile, female Ural customers have increased to 8% from 5.6% in 2010.
Australian Ural spokesman Jonathan Taylor says there is a lot of interest with the revamped 2014 Ranger with electronic fuel injection (EFI) which arrives on April 1.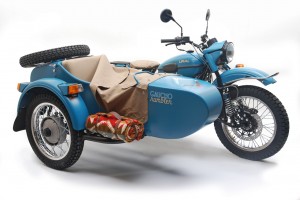 "A few buyers are sitting on the fence trying to decide whether to wait and pay more for EFI, or grab one of the faithful carby machines for near $3000 less while we still have a couple," he says.
The last of the carby-fed Urals is the limited-edition Gaucho Rambler ($19,415 plus on-road costs) which comes in a matte blue with canvas upholstery and blanket, a camping kit, luggage rack and spare tyre.
The new Russian-made EFI Ranger has an electronic fuel injection system developed and built in Michigan that is claimed to improve fuel economy, lower emissions, increase torque by 15% and provide a better throttle response.
The lighter Ranger comes with all-wheel disc brakes with Brembo calipers, adjustable hydraulic steering damper and a new airbox.
It also gets modern lamps for the dashboard, a new engine cover, revised kneepads and badges on the fuel tank, and improved preformed hoses for fuel lines, breather and reservoirs.
2014 Ural EFI Ranger
Price: 21,600 (+ on-road costs)
Engine: 749cc flat twin
Power: 30kW @ 5500rpm
Torque: 57Nm @ 4300rpm
Weight: 331kg
Economy: 6.3-7.1L/100km