2012 Teknic Clothing Image Gallery
February 18, 2012 – A lot of time has passed since we last reviewed any Teknic gear — too much time.
There's no reason for this — it's just an oversight.
The brand sort of disappeared off our radar for some reason, even though the company can always be counted on for innovative, unique designs.
The Teknic Freeway jacket caught my eye as I was strolling down an aisle at the 2012 Dealer Expo, and I stopped to take a look.
Turns out, the designer and owner were there and we had a good conversation.
They showed me the latest Freeway jacket (photos below), which comes in black or a "Day Glow" yellow that's so bright it completely fooled my camera.
The Freeway jacket has an attached waterproof/breathable liner and Teknic gives a lifetime waterproof guarantee on the jacket, which is pretty impressive. The liner is claimed to have been tested to resist water in a 10-meter tall column and it breathes 6,000 grams per square meter in 24 hours.
There's a list as long as your forearm — literally — attached to the jacket, filled with acronyms and specifications. The Freeway is the high-end Teknic jacket, yet the 2011 versions are selling for only $199.95 at RevZilla, a webBikeWorld affiliate.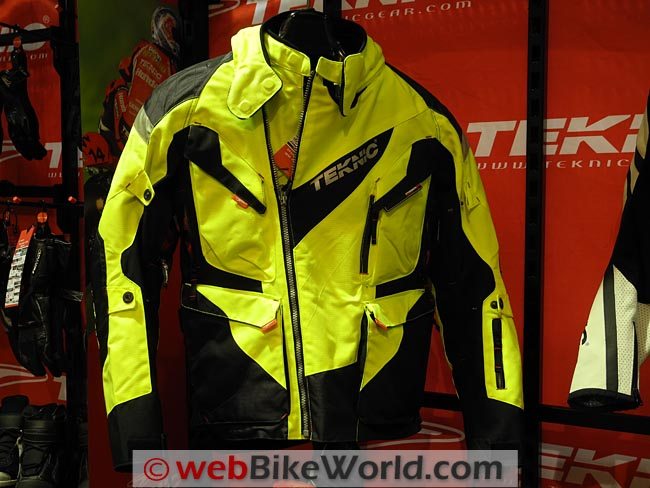 The unique Teknic touches are there, like the offset front zipper, which makes sense to keep the cold air off your chest; plenty of retro-reflective tape; genuine Knox armor; and a magnetic collar closure instead of hook-and-loop. Hey — why didn't I think of that?
The "Poor Man's Freeway" is the Sprint — a distant relative of the original Sprint jacket we reviewed back in 2006. It doesn't have all of the features of the Freeway but it still looks like it will do the deed. And, it also has the lifetime waterproof guarantee.
I was also shown the new Teknic Supervent Pro mesh jacket. It comes in black only but it has probably the most heavy-duty mesh I've ever seen. It's some type of special weave that is claimed to be 6 times more abrasion resistant than "normal" mesh. It has hidden stitching, dual layer reinforcements, built-in elbow and shoulder sliders and even an aerodynamic hump. Matching mesh/textile hybrid pants are also available.
I'll have to get one for a summer review and match it with the Teknic Kicker high-viz vest.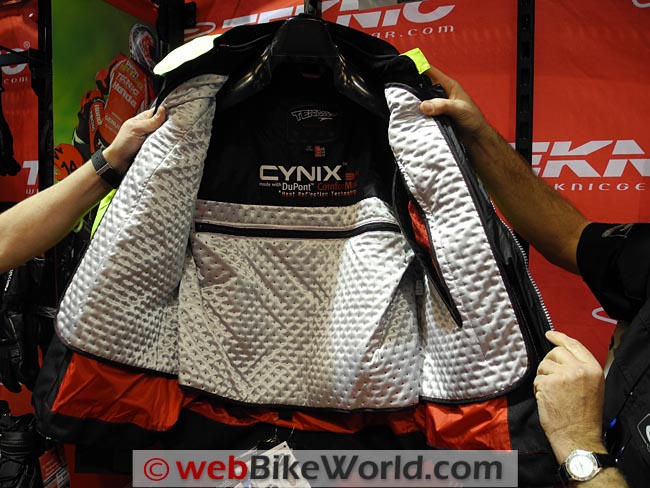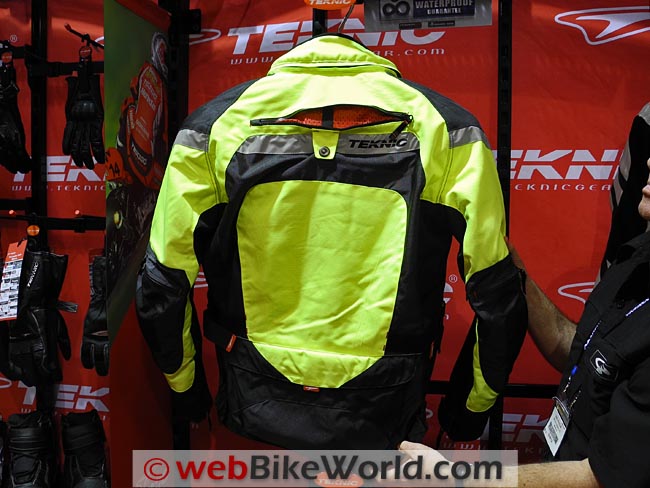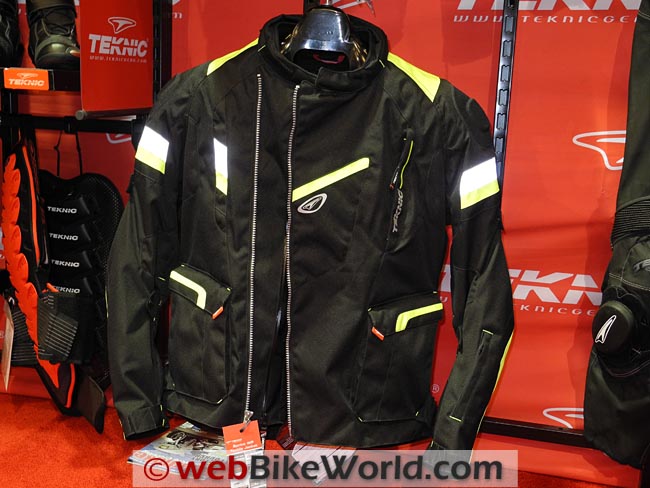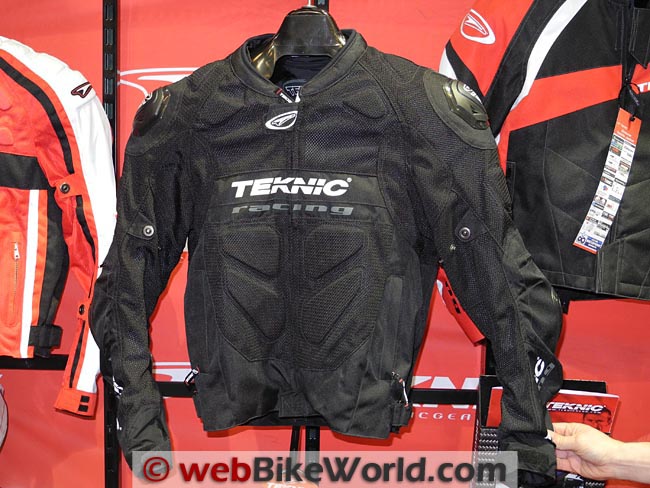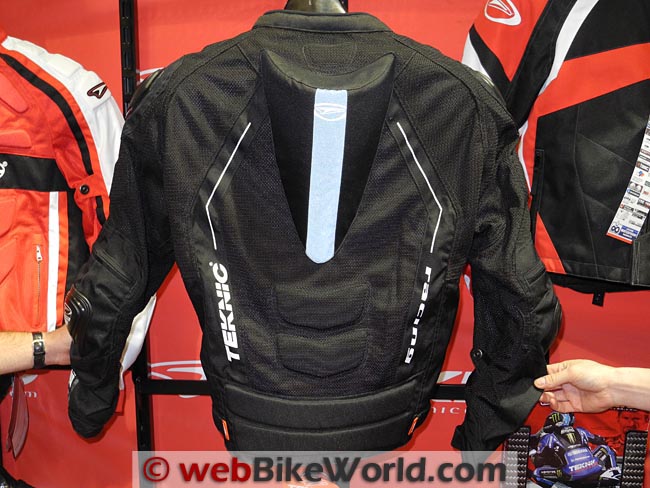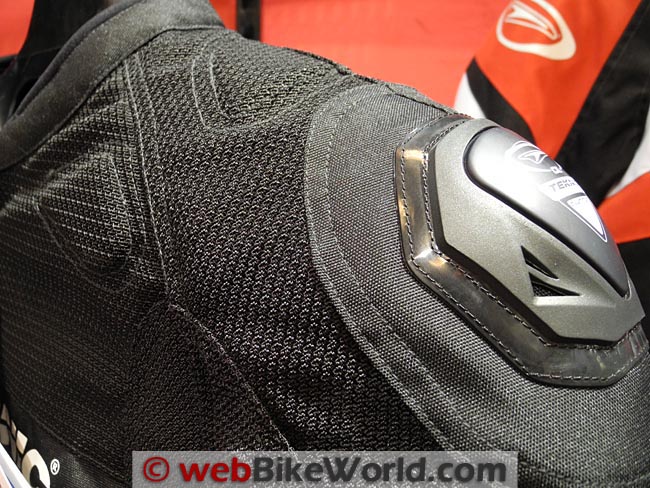 More: 2012 Dealer Expo Live Reports
Publication Date:  February 18, 2012
Note: For informational use only. All material and photographs are Copyright © webWorld International, LLC since 2000. All rights reserved. See the webBikeWorld® Site Info page. Product specifications, features and details may change or differ from our descriptions. Always check before purchasing. Read the Terms and Conditions!
Owner Comments and Feedback
---
From "S.K." (February 2012):  "Just wanted to add some comments to your review… I'm using the 2011 Freeway jacket and can easily say it's the best dedicated riding jacket I've worn in my 40+ years as a tour rider.
The older style neck closure, although not magnetic, is still something that can be easily adjusted, and once adjusted, closed while wearing winter gloves! The "storm collar" that zips onto the jacket actually works! (I no longer need to wear a neck gator when I ride in the winter).
The pocket waterproof zippers really are, and the multiple air vents let me use this jacket even in the summer for tour riding without wishing I was wearing my mesh jacket. The cuffs are nicely adjustable, and there are more pockets than I can find use for! It's a very comfortable and functional jacket that I would heartily recommend.
But there are a couple of negative points that really stand out… I can't tell from the review if the liner has been redesigned, but they REALLY need to remove that silver foil stuff. Body moisture actually condenses on it and drips down! The jacket breaths nicely but that zip-in liner does NOT!
And when inside the jacket, the combination is so stiff that I have trouble bending my arm to raise my helmet visor. I eventually stopped using the included liner and opted for a thin polar fleece over-shirt. The outer jacket seals so well that with everything buttoned up and the fleece used as a liner, I'm more than comfortable riding for hours when the temps are hovering at the freezing point (I can ride about 360 days here, with a few days down for snow flurries or snow on the street).
The second (and there are really only two) negative aspect is the sleeve length. Perhaps a street racer who's lying flat on the tank with arms stretched out in front might not find this too much of a problem, but as a cruiser rider with somewhat shorter arms (not unduly short, but shorter…) the sleeves are almost three inches too long for me.
With my arm hanging straight down, the sleeve completely covers my entire hand a half inch past my finger tips!
The rest of the jacket is a very snug but accurate fit … for people with normal bodies. (I have a rather big neck and nothing has ever fit that correctly out of the box. I always do a collar modification to anything that needs to close)."
Editor's Note: I followed up with Teknic on this and here's their response: "The 2012 jacket does NOT have the silver foil ( this was in the prior / older version jacket ( and yes agree it did not breathe and the very reason why we replaced it with the new system)."