Ducati Streetfighter 848
---
Background
October 31, 2011 – The Streetfighter 848 delivers pure motorcycle enjoyment with the sophisticated combination of a brand new and brilliantly engineered 848 Testastretta 11° engine and the enhanced geometry of a frame that ensures optimum agility with confidence-inspiring feel.
With user-friendliness now enriched by a smooth and flexible power delivery, revised ergonomics and DTC, Ducati's unique fighter style is set to create more excitement than ever.
The Ducati Streetfighter scored a round one knock-out when it entered the ring for the first time at the Milan show back in November 2008.
Its supreme elegance stole the "Most Beautiful Bike" award and raised the bar for extreme streetbikes.
Its asphalt-ripping reputation became the desire of sport naked connoisseurs throughout the world and the Streetfighter 848 now widens that desire with sophistication and everyday accessibility.
The 848 Testastretta 11° engine is a masterpiece of Desmodromic engineering. 132 hp and an exhilarating 69 lb-ft of torque is delivered with silky smooth precision by using innovative cam timing solutions proven on the now legendary Multistrada and Diavel power plants.
The new engine lives and breathes Streetfighter-style excitement, while revised chassis ergonomics and race-derived, eight-level electronic Ducati Traction Control ensure enhanced rider comfort and a confident ride.
The new fighter weighs in at a dry 169 kg (373 lbs.) dressed in red with a red frame for Ducati traditionalists, while yellow makes a comeback and the stunning dark stealth scheme underlines the Streetfighter's aggressive image, both with frames finished in racing black.
With the exciting new Streetfighter 848, Ducati have combined state-of-the-art technology, skeletal styling and contemporary design to create authentic Italian performance at its very best.
---
Where to Buy 2012 Ducati Streetfighter 848 – EICMA 2011 Live Report
Check Reviews & Prices on Amazon
See More Motorcycle Helmets at RevZilla and Amazon
---
Editor's Note
November 20, 2011 – The Ducati Streetfighter 848 was formally presented at the EICMA 2011 show in Milan, Italy.
Photos and video from that even are included below, along with the official Ducati press announcement and studio photos illustrating the new Streetfighter 848.
Streetfighter 848 Details
More attention to detail than ever before went into creating the Ducati Streetfighter. Repositioning many of the components usually hidden by bodywork and continuing to keep them out of sight was a major challenge for the design and engineering teams, but they pulled it off with impressive results.
Add details such as the perfectly formed passenger seat cover, a rear hugger fitted as standard equipment and the pre-minimalized license plate holder, and it's plain to see that Ducati have gone that extra step to achieve the highest level of finish.
w

BW

 Video: Ducati Streetfighter 848
---
Where to Buy 2012 Ducati Streetfighter 848 – EICMA 2011 Live Report
Check Reviews & Prices on Amazon
See More Motorcycle Helmets at RevZilla and Amazon
---
Traction Control Standard
The original Ducati Streetfighter S (report) was Ducati's first ever naked sportbike to be fitted with the awesome Ducati Traction Control (DTC) system. Now, the Streetfighter 848 is armed with full eight-level DTC as standard equipment.
Accessible from the left-hand switchgear and displayed on the digital instrumentation, the system offers a choice of eight profiles, or "sensitivity levels", each one programmed with a wheel-spin tolerance matched to progressive riding levels of skill, graded from one to eight.
While level eight administers a confidence-building, high level of interaction from the system by activating upon the slightest amount of wheel-spin, level one offers a much higher tolerance, resulting in less intervention for highly competent riders.
Once the level is selected and DTC activated, both are displayed on the Streetfighter's instrumentation. The system then analyses data sent from front and rear wheel speed sensors to detect wheel-spin. Should the system recognize wheel-spin above a certain threshold, the DTC ECU instantly evaluates the many possible wheel-spin scenarios before administering two types of interaction in varying amounts.
From slow mid-corner acceleration with considerable vehicle inclination to high speed corner exits while almost upright, DTC is intelligent enough to react according to each and every situation. It's even smart enough not to intervene during a burnout or a wheelie.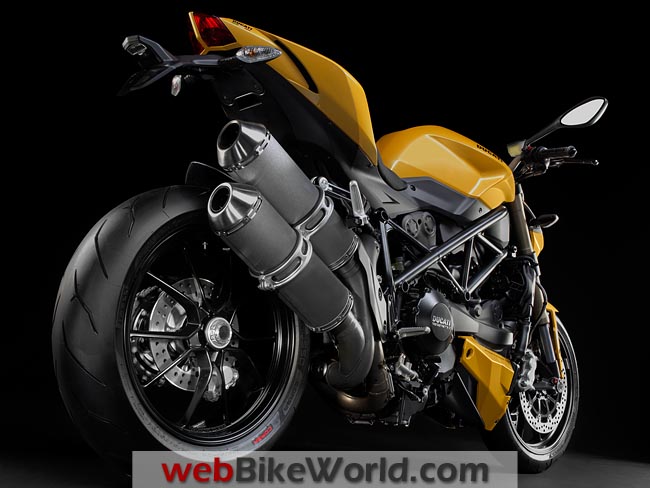 Streetfighter 848 Chassis
At a class-leading 169 kg (373 lbs.) dry weight, the Streetfighter 848 boasts the highest power-to-weight ratio in its class. The beautifully built Trellis frame uses the same 24.5° of rake as the Superbike 848EVO to provide optimum agility, while the trail is increased to 103 mm to give the confidence-inspiring feel of a well-planted front-end.
At the rear, the brand new, black-finished, single-sided swingarm is beautifully cast in aluminum — 35 mm longer than the Superbike — bringing the total wheelbase to 1,475 mm (58 in) and ensuring the Streetfighter's acceleration is never compromised.
The Streetfighter 848 is armed with fully adjustable 43mm Marzocchi forks up front and a fully adjustable Sachs monoshock at the rear, giving the bike high performance handling and the rider absolute confidence and a comfortable ride.
The matte champagne colored fork bodies house natural chrome finished sliders, are fully adjustable in spring preload and compression and rebound damping and feature radial mounts for the Brembo brake calipers. The lower triple-clamp is formed in a strength-enhancing gull-wing shape for increased rigidity, it maintains a vice-like grip on the fork legs, giving a precise and solid feeling through the bars on fast direction changes.
On the rear, the single Sachs unit operates through a progressive linkage and is also fully adjustable in spring preload and damping in both compression and rebound.
The new Streetfighter uses Brembo's powerful four-piston radial calipers gripping twin 320 mm discs on the front and a two-piston caliper on the rear with a 245 mm disc to provide user-friendly and dependable braking performance.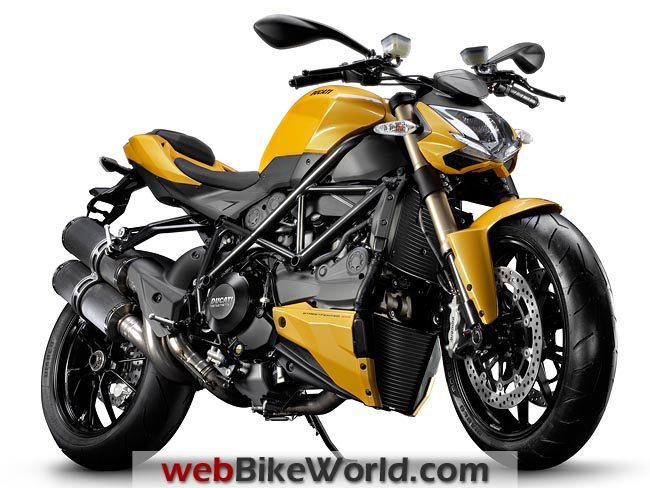 ---
Where to Buy 2012 Ducati Streetfighter 848 – EICMA 2011 Live Report
Check Reviews & Prices on Amazon
See More Motorcycle Helmets at RevZilla and Amazon
---
Wheels and Tires
10-spoke wheels with a rear rim width of 5.5 in and 3.5 in on the front are made in black-finished, lightweight aluminum to help keep the overall motorcycle weight down and maintain an all-important control on unsprung weight.
This weight is made up of all the components between the suspension and the road and includes tires, brake discs and calipers, but when rotating at high speed, it is the wheels that store most of the kinetic energy and offer the most resistance when steering, accelerating or braking.
Their weight saving, therefore, is a serious contribution to both the handling and performance of the motorcycle and the Streefighter pulls out all the stops achieve the best results.
The Streetfighter 848 confidently relies on Pirelli Diablo Rosso Corsa tires, created using technologies developed in the Superbike World Championship and perfected for street use; the ideal methodology for bringing race technology to performance street products.
The construction and profiles ensure optimum agility and control by providing enhanced support during vehicle inclination. The 120/70ZR17 front tire uses a 0° steel belted construction that guarantees maximum support under heavy braking and corner entry.
The new 180/60ZR17 sized rear tire is constructed with three compound zones, featuring a softer compound on the shoulders (25% on each side) for performance in cornering and a harder compound on the center section for longer tire life.
The 180/60ZR17 rear tire implements an aspect ratio used in World and National Supersport competition and offers a larger contact patch compared with the 180/55, further enhanced with an increased "slick" area when at maximum lean angle.
The higher and slightly wider profile improves riding comfort and the larger contact patch spreads road stresses throughout the contact area for reduced wear of both rear compounds. Transversal grooves between the rear tire's central and side shoulder sections quickly disperse residual water, providing excellent grip in wet conditions, while the central non-grooved rib ensures maximum rubber on the ground for traction under acceleration and improved straight line stability.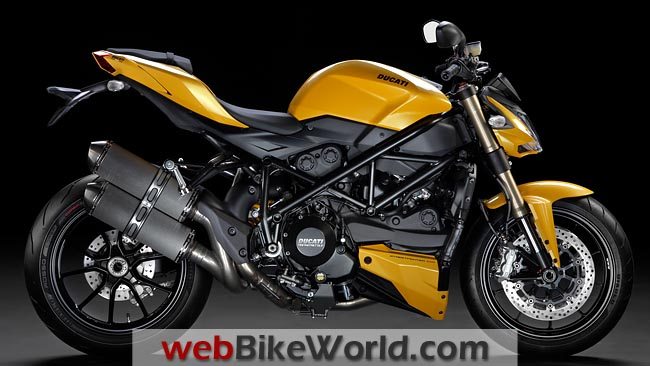 Publication Date: October 31, 2011 and November 20, 2011
Note: For informational use only. All material and photographs are Copyright © webWorld International, LLC – 2000-2013. All rights reserved. See the webBikeWorld® Site Info page. NOTE: Product specifications, features and details may change or differ from our descriptions. Always check before purchasing. Read the Terms and Conditions!
Other WebBikeWorld ducati motorcycles Reviews
wBW ducati motorcycles Info