(2012 Aprilia V4 Tuono review by MBW reader Dan Mickan)
Early in 2013 I was looking for a bike to replace my big-bore supermotard. I had a few criteria to fill. I was looking for a V-twin sports/naked bike, one with unique style and with performance well beyond my human capability. It would also need to accommodate a 100kg, 6ft bloke without cramming my knees up around my ears.
I had read about the new Aprilia V4 Tuono in various publications, however I had not paid particular attention to it until one day when I accidentally bumped into one in the flesh at a bike shop. I was immediately taken by the look of the bike. It is much more alluring in real life than any camera angle seems to be able to capture.
I booked a test ride and shortly after I was pulling out of the dealership on a bright yellow Aprilia V4 Tuono. Having previously owned a 2005 Aprilia Tuono (powered by the Rotax twin-cylinder engine) the riding position was immediately familiar and comfortable for my size and build. I felt at home and very comfortable in the saddle. The bike behaved well while idling around the back streets before I turned on tho the onramp of the highway and opened the throttle.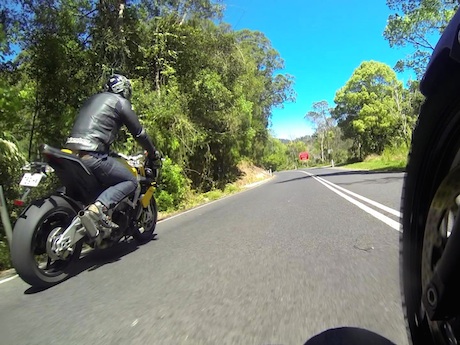 The acceleration of this bike was like nothing I have ever experienced. It was powerful and then some. The torque made pulling hard low-down effortless until it hit about 6000rpm when it felt as though someone had given the four gorillas in the engine amphetamines and the V4 was instantly trying to pull my arms out of their sockets while ever so politely separating the front wheel from the pavement.
As soon as I thought about changing gears, I touched the gear shift lever without rolling off the throttle and the bike let out a small cough and the quick shifter landed me in third gear then fourth with precision and what seemed to me as no loss of power. The quick shifter works perfectly and is a really superb feature on the bike.
The sound of the engine was a brutal symphony, a growl turned into a roar with the twist of the wrist and from that moment I was hooked. There was no going back now. I had to have one!
Needless to say, this experience was etched into my brain and although I tried to consider purchasing other bikes I could not find anything that could match the power, feel sound and ergonomics. I bought this bike over the 1090 Ducati streetfighter because in my opinion it did everything better. The only other bike I would have considered is the 1290 KTM Superduke however this was still a pipedream concept.
Since purchasing the bike I have clocked up 5000km which has been a combination of commuting, scrapping through mountain roads and a few 500km-plus overnight jaunts and the bike has hardly broken a sweat when completing these duties. When commuting through the city the bike is well-mannered but a real licence killer. When out on the highway the bike is comfortable and stable although a taller screen would be a welcome modification if I were to tour any further than I do.
When steering the bike through the best twisties that SE Queensland has to offer I find myself short-shifting in second and third to keep below the 6000rpm crazy power range and using the oodles of torque to pull me through the corners.
The engine behaves as though it is a twin cylinder in the way that the torque is delivered low down however, keep the throttle pinned and the V4 will roar and behave similar to an inline four-cylinder supersport. The high rev power range is probably too twitchy and intimidating for everyday riding on public roads however it is just begging to be taken to the track in order to utilise the seemingly infinite power.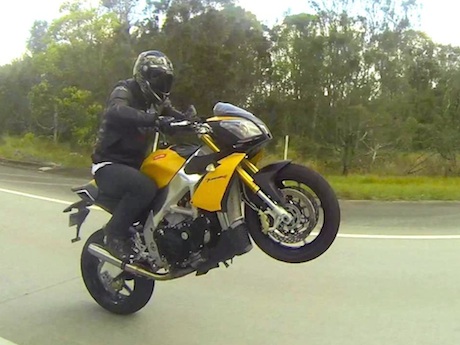 The World Superbike-derived Aprilia Performance Ride Control (APRC) electronics package is top notch, however I find some if it unnecessary and not useful for normal use. The Tuono comes with the APRC package which I'm sure you have read about in every review but here is my take on the usability of these electronic aid functions.
The three different engine modes are T (track), S (sport) and R (road). Track mode is the full power mode and I ride the bike in this mode for full power and use my wrist to regulate how much of that power is send to the asphalt instead of letting the ECU do it for me. I have never even tried the other two power maps. T mode has it all.
I also keep wheelie control turned off, however I can see that this would be a very useful tool at the track as the bike tends to do slow controlled wheelies under heavy acceleration in second and third gear and this control would help to improve lap times by keeping the power on the back wheel.
Launch control is a useful feature for traffic light drag racing but is more so intended for use on race starts. It has three different levels of setting and I leave this on the least intrusive. Initially I found it weird as the engine retards the bike. It's a similar feeling to a carburettor bike being fed too much fuel. However I have become used to it and it allows you to take off using more throttle than you need. The engine retards for a short period as you release the clutch and provides the right amount of power. I did get caught out one day when I had too much throttle on when the launch control turned off and I was still releasing the clutch. The bike launched into a wheelie but I wrangled her back to earth.
I have not experienced the traction control kicking in and I leave it set to 1 or 2. Even so, I was experimenting with how much spin it would give me by trying to do a stationary burnout and the rear wheel only spun about ¾ the way around before the computer stopped the hooliganism.
This Aprila is the best bike I have ever owned. It does everything really well from commuting to touring and from weekend warrior to track monster (to be confirmed).
What's hot:
Heaps of power
Torque like a V-Twin and very usable
Comfortable riding position
Excellent suspension
Do-it-all sportsbike
Spectacular design
Amazing and addictive sound
What's not:
Rear indicators both broke under their own weight. Had to be glued back on.
Not great for pillion, seat is high and uncomfortable. I have taken the rear pegs off the bike.