2011 AFX Helmets
New AFX Helmets for 2011
Just two more reports from the 2011 Dealer Expo and then I'll wrap it up for another year.
In the Klim clothing report I noted the absence of many clothing manufacturers from the show, which made the numerous motorcycle helmet displays seem even more obvious.
The show was reorganized this year, with much better lighting, wider aisles and a completely new layout that located products by type.
I had my doubts about how this would work but I think it turned out to be an excellent idea.
Somehow, the AFX helmet booth ended up right across the aisle from the Shoei display. Now while this may sound like a mismatch, I think it actually worked out very nicely for AFX.
Yes, they're both motorcycle helmets, but they're also in two distinct segments of the market. People looking for Shoei helmets couldn't help but walk right by the bright, open and distinctive AFX display and I'm sure this brought some attention to the brand.
And who knows? Maybe some of those customers decided they'd rather spend half (or less) of what it would cost to buy anRF-1100 (review) and end up with a pretty nice helmet — or two — from AFX.
Interesting Facts About AFX Helmets
Walk into the AFX booth and you'll talk to the owner, Doug Hill. This is a family-run company, with Doug's wife, daughter and even his son-in-law all working the booth.
Doug has been in the industry since the 1970's, "long enough to remember how to adjust points!" he said. His background also includes working in product development for HJC and Shoei.
I'll admit that previous AFX helmets reviewed on webBikeWorld might not have been rated as highly as other brands. But the company has been busy revising the entire lineup and I've been impressed at what I've seen.
In fact, just by coincidence we have an upcoming 5-part review series in the works, covering a range of AFX helmets including the completely redesigned and brand new for 2011 AFX FX-39DS enduro helmet (photos below), a very modern evolution of the AFX FX-37DS we reviewed.
I mentioned the improvements in quality and designs and Doug responded that "For sure the AFX of today is a much different line then the AFX of even a few years ago".
I also discovered a few interesting facts about the company regarding their business strategy, which is much different than average. AFX helmets are specifically designed for the U.S. market and they are sold only in the U.S.A. They work with a single distributor, Parts Unlimited, who has slotted the AFX helmet lineup between other brands they handle, such as Icon, Thor and Z1R which, I learned, are all made by HJC.
Parts Unlimited has given AFX a strict price range of $50.00 to $150.00 to work within; any higher than that and AFX will start competing with other Parts Unlimited brands. That's a pretty tough segment of the market and while AFX doesn't claim to be the equivalent of, say, an Arai, they want to be the best at what they do, offering quality helmets at a good price but most of all, protecting rider's heads.
Doug said that AFX considers itself as a "safety helmet company" and they have a have a no-questions-asked accident replacement program in place that provides a replacement helmet to any AFX owner that has had an accident while wearing an AFX helmet. Return the helmet to the AFX office and you can pick any current AFX helmet as a replacement at no charge. AFX then uses the "survivor" helmets at shows, events and schools to promote helmet use and teach helmet safety.
He said that "in the past 14 years we have taken back and replaced over 70 helmets" and they have many letters posted on the walls of the shop that are testimonials from riders who were protected by AFX helmets.
It's also interesting to note that 90% of the helmets that were returned are a dark color, one more reason to buy bright colors! Some of the latest AFX helmets are available in high-visibility yellow, as you can see in these photos, and we'll have more on that also in the reviews.
The helmets have a 5-year warranty, which is unusual at this price range and Doug said they keep parts in stock for 10 years for every helmet model they sell. And get this: Doug said that the replacement parts are provided at no charge to both dealers and end users! That's pretty amazing.
To run the business as efficiently as possible, AFX does not provide endorsements or sponsorships for riders or events. Doug said they do donate a significant amount of money each year to charities and other fund raising events however.
Here are some teaser photos of just a couple of the latest AFX helmets, including the brand new AFX FX-39DS in the "MARPAT" (MARine PATtern) style graphics (Wikipedia entry) and also in the "High-Visibility Neon Yellow" color. We'll start posting the 5-part series within the next couple of weeks, so be sure to watch for it. Enjoy!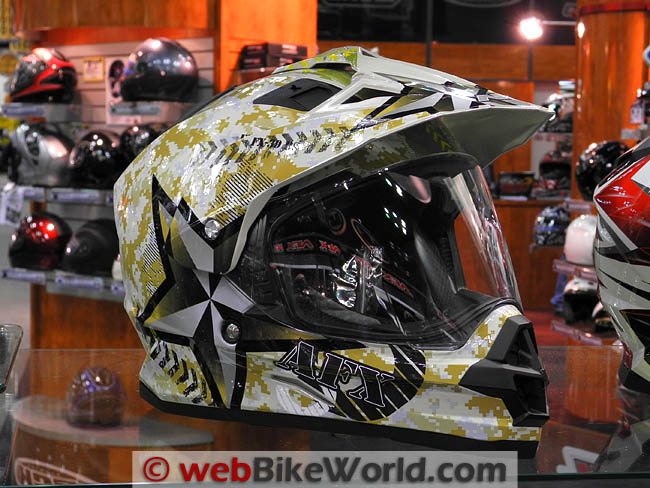 AFX FX-39DS Dual Sport Helmet Specifications