World Exclusive!  The 
web

BikeWorld

 Live Report From the 2009 Powersports Dealer Expo
Indianapolis, Indiana – February 13-16, 2009

Indy Live!
Port-A-Chopper Folding Trailer
Ceramic Bearings
Speedway Shelters
Heidenau Tires
EZ-Cruz Cruise Control
Road Warrior Paint Protection
Forcefield Sub-Pro 4
Wacky Wheels
Teiz One-Piece Suit
Xena Security
HJC Helmets
Knox Armor
Expo Comments
Caberg Helmets
Marushin Helmets
Tourmaster and Cortech
Lazer Helmets
Sym Scooters
Streetfighter MID
Akuma News

Page 8 (This Page):  Monday, February 16, 2009 AM

Wheels 4 Tots
Marketing 101
Thermafur Vest
Special Report: Fulmer Helmets!
Special Report: Suzuki TU250!

Monday, February 17, 2009 – Final Reports

Shark Helmets
Rev'it 2009 – In Process
Wheels 4 Tots
Wheels-4-Tots are basically training wheels for a small motorcycle.  The company makes various models to fit standard 50cc minis and also a universal unit that will fit other small bikes.
The wheels bolt to the foot pegs and it seems pretty sturdy.  A video showed kids riding in all sorts of terrain.  The idea is to give kids time to learn the controls without having to also concentrate on staying upright.  When riding in a straight line, the side wheels are off the ground.
The device lists for $129.99 and has a 30-day guarantee.  The Dealer Expo is all about Powersports dealers connecting with products to generate more business, and if I was a dealer, it would sure makes sense to have something like this on hand to help sell mini-bikes.  More info from Wheels-4-Tots.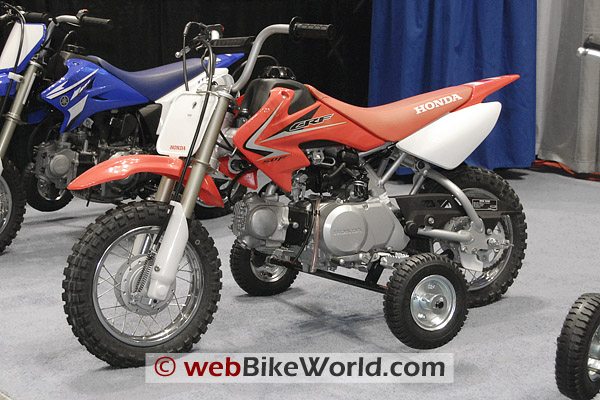 Marketing 101
OK, time out for a little lesson here from a marketing guy.  I'm standing on a corner here at the intersection of some displays and all of a sudden it struck me.  The organizers did a very good job of allocating space to maximize floor usage, but…
Here we are in the midst of one of the worst economic downturns in the last…what, 80 years or so?  So you'd think the marketers would think of unique, interesting and exciting ways to attract customers.  Not to mention that you'd want to do the same even in a good economy.
So there are some basic rules to the game.  Let's see by these examples — nothing against these companies; I'm just using them to illustrate a point.
First, take a look at the Alpinestars booth: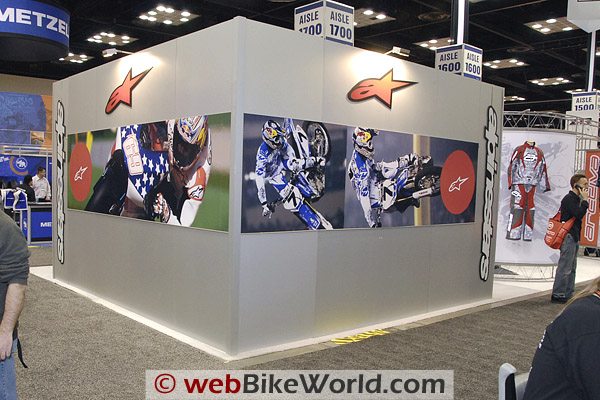 Notice anything?  Of course you do!  It doesn't look very inviting or open to customers, right?  There's an opening on the other side, but there were no visitors during any of the times I walked by.  The booth is a small room on the inside, and people don't like to feel trapped at these shows.
Open and friendly is the name of the game.  You want people to see, feel, touch and smell.  This Alpinestars booth is probably the worst example of marketing and show etiquette, but unfortunately, it's not the only bad example.
Also, they're wasting two whole entry points and many potential customers with those two walls, right at a big aisle intersection.  If you were walking down this aisle, like I was, would you even know where the opening is?
If you didn't know who Alpinestars was, would you know there were boots, leathers, jackets, gloves and clothing inside?  Who designed this debacle?
OK, next case.  This Metzeler booth is better, right?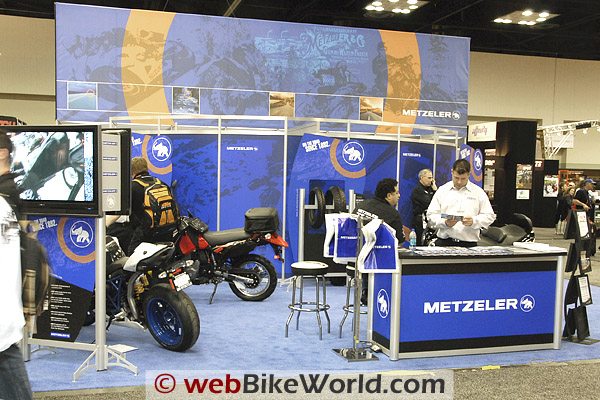 It's open, but is it inviting?  Where the heck is the product??  If you didn't know Metzeler made tires, would you know Metzeler made tires by looking at this booth?  And even if you did, it always pays to reinforce your marketing message.
I teach the "FDR" method, named after my favorite President.  FDR = Frequent, Diverse and Repetitive.  The marketing message — any message, for that matter — must be delivered frequently.  It must be delivered using diverse channels; for example, some people like email, some like visuals, some like the personal touch, some are ISTJ's, some are ENTJ's.  And the message must be repeated, over and over, for it to sink in.  Basic stuff here.
Also, notice how many customers are in the Metzeler booth?
Here's another important and very basic point that too many exhibitors don't understand: I can't tell you how many displays I walked by where the staff were sitting in a corner, talking to each other, texting, talking on the phone, playing with a computer, drinking coffee…
Company representatives need to be on their feet, smiling, quickly and politely greeting new visitors and, of course, answering questions.  Don't expect interested visitors if you don't look interested in helping.  Sorry Metzeler, you just happened to be in the wrong place at the wrong time!
Next is the Acerbis booth.  What do you notice here?: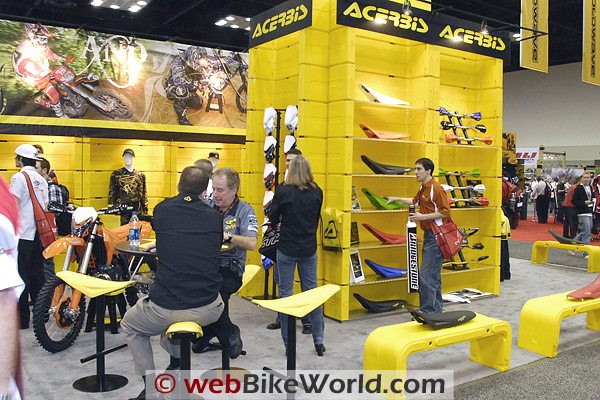 We're almost there — it's very open.  It's inviting.  It has seats!   It's…yellow — maybe a bit too much so.  But they're definitely on the right track.  And look — customers!
The goods are on display and look at the guy on the right — he's touching the product!  Almost unconsciously, but that touch is right now reinforcing the Acerbis brand in his mind.
Notice something else?  There are customers.
Finally, here's the Smith Optics booth.  Don't forget — these four booths were within spittin' distance of each other, and I was completely struck by the obvious differences here: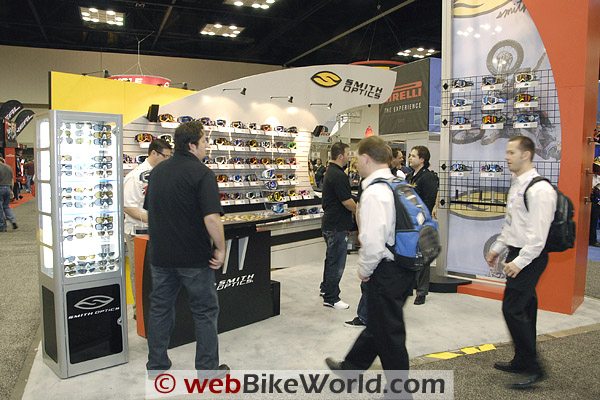 It's open.  It's simple.  It's inviting.  You know exactly what they make.  You can handle the goods (except the sunglasses, probably behind glass to prevent theft).  And look at the customers, they're piling in!  This is the name of the game, right?
I'm not saying that the Smith Optics booth is the best example in the world, but what a difference from the other displays, no?
OK, free lesson and diatribe over.  But wait until you see what I have in store for you next!  The absolute killer booth of the show, I'll have that coming up soon!
Thermafur Air Activated Heating Vest
We've reviewed many heated garments, wired and wireless, but here's another: the Thermafur Air Activated Heating Vest by Techniche International.  It holds up to 8 of those little heat packs (found in places like hunting catalogs or farm stores) in pockets on the inside; the heat can be controlled somewhat by the number of activated packs that are inserted and the insulation in the otherwise basic fleece vest holds in the heat.
I arrived at the booth just after they inserted the packs and I stuck my hand inside (the vest, that is) and it felt nice and warm and cozy.  They said that once opened, the packs can be reused if they're put in a zip bag with the air squeezed out.
The vest has a list price of $49.99 and the heat packs are $0.69 each.  We have one on order for a review, so stay tuned…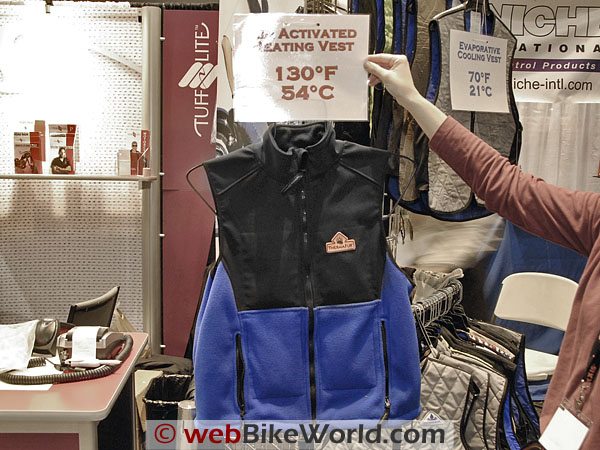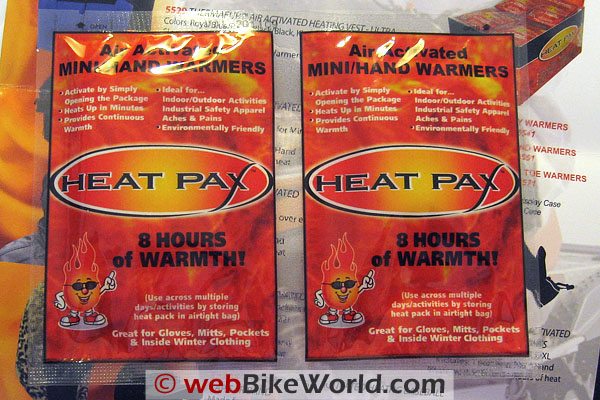 2009 Expo Report Home  |  More to come…
Note:  For informational use only.  All material and photographs are Copyright © webWorld International, LLC – 2000-2011.  All rights reserved.  See the webBikeWorld® Site Info page.  NOTE:  Product specifications, features and details may change or differ from our descriptions.  Always check before purchasing.  Read the Terms and Conditions!