World Exclusive!  The 
web

BikeWorld

 Live Report From the 2009 Powersports Dealer Expo
Indianapolis, Indiana – February 13-16, 2009
 
Indy Live!
Port-A-Chopper Folding Trailer
Ceramic Bearings
Speedway Shelters
Heidenau Tires
EZ-Cruz Cruise Control
Road Warrior Paint Protection
Forcefield Sub-Pro 4
Wacky Wheels
Teiz One-Piece Suit
Xena Security
HJC Helmets
Knox Armor
Expo Comments
Caberg Helmets
Marushin Helmets
Tourmaster and Cortech

Page 5 (This Page):  Saturday, February 14, 2009

Lazer Helmets
Sym & Homage
Streetfighter MID
Akuma News
Wheels 4 Tots
Marketing 101
Thermafur Vest
Special Report: Fulmer Helmets!
Special Report: Suzuki TU250!

Monday, February 17, 2009 – Final Reports

Shark Helmets
Rev'it 2009 – In Process
Lazer Helmets
Andrew de Vos van Steenwijk is the CEO of Lazer Helmets and he brought some Superskin and other Lazer helmets to see about finding U.S. distributors for this renaissance brand.  The Lazer Superskin helmet was described in this webBikeWorld article last week, and I can say that the real thing is quite interesting.
The "skin" is stiffer than you might think.  It was developed by Bayer in Switzerland and was tested in the UK's Transport Research lab using ECE equipment.
I've added a short video on our Superskin page showing Andrew "squeezing" the Superskin on the helmet.  Some readers asked about the consequences of having a stone hit the helmet or if the Superskin helmet was inadvertently dropped.  All I can say after seeing it is "no worries".
A "normal" helmet, if dropped, may crack and I see no difference in the Superskin helmet.  The same care should be taken and as far as I can tell, if the helmet was damaged enough to compromise the Superskin, a normal helmet would also have been shattered.  The skin is very tough.
Andrew promised more technology in upcoming Lazer helmets.  If the Superskin mimics the protection provided by human skin, the shell of a helmet could mimic the human skull, with air pockets and a "sandwich" layering system to provide longer duration, lower G-force impact spread.  So expect some news regarding helmet shells coming soon…
Lazer Helmets is also undergoing a design evolution, and the Lazer Kite helmet is a very cool-looking angular helmet to match current motorcycle styling trends.  The angles are molded into the shell, a first.
By the way, Lazer is also known for a couple of other innovations.  The helmets have a unique face shield visor system, which allows the visor to seal tight against the eye port gasket.  The rotating mechanism on the side is made from a solid block of aluminum, and Alexander said all of the visors are interchangeable across all of the same type Lazer helmets, as are the liners!
The helmets also have a special brow reinforcement band under the shell to increase protection.
More from Lazer soon…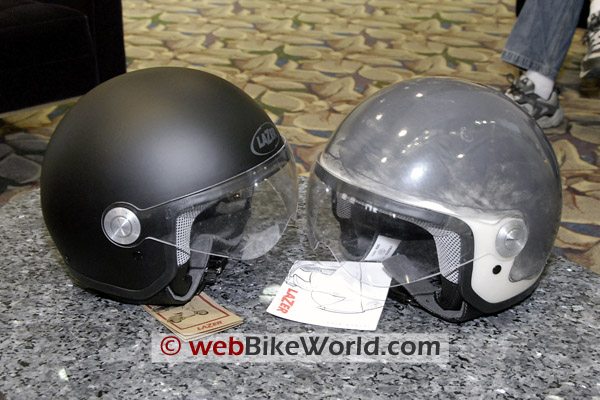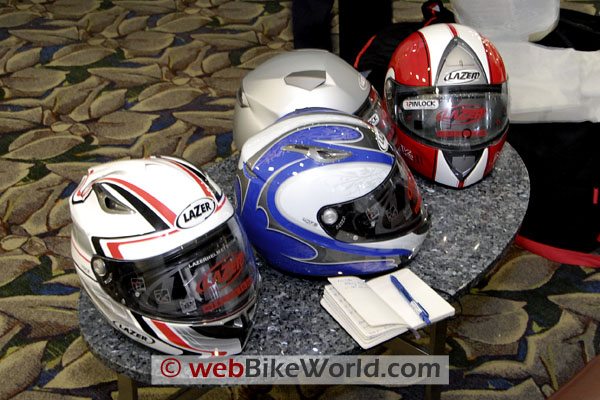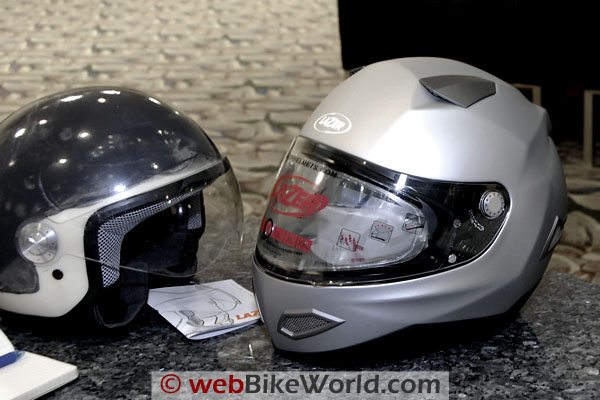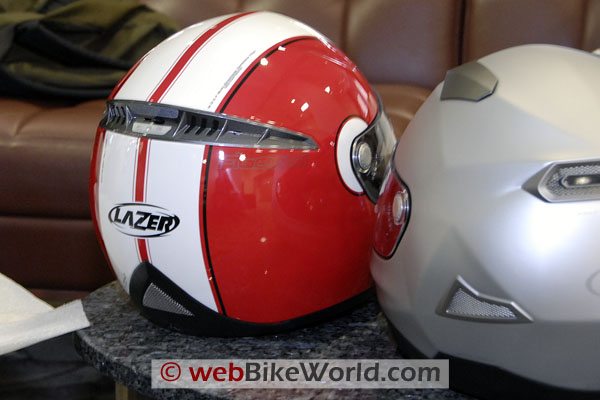 Brembo Brakes
Brembo leverages the opportunities at the annual Powersports Dealer Expo to make new product announcements, and they are always kind enough to give us photos and information on the new goodies.
This year, Brembo is releasing a new master cylinder brake system for unfaired bikes, along with accessories for some of their previous brake systems.  Also, check out the cool nickel-coated brake caliper, all in this special one-page Brembo 2009 report in our Motorcycle News section.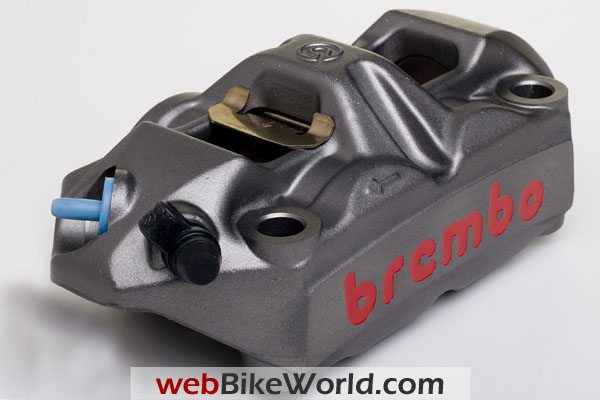 2009 Expo Report Home  |  Next: Page 6
Note:  For informational use only.  All material and photographs are Copyright © webWorld International, LLC – 2000-2011.  All rights reserved.  See the webBikeWorld® Site Info page.  NOTE:  Product specifications, features and details may change or differ from our descriptions.  Always check before purchasing.  Read the Terms and Conditions!