Photos From the 2008 European Stunt Riding Championships
No Hands, One Handed Crossover, Candybar, Fender Grab, Touchdown, Look Back, Coaster, Combos, Circles, One-handed Circles…and these are just the wheelies!
Then you have stoppies and strange names like Nac Nac, X-over, One Handed, Can Can, Kiss, One-eighty! Maybe you could simply summarize them using one generic term: Don't try this at home!
The 26 stunt-riding gladiators will certainly laugh about this well-meant advice.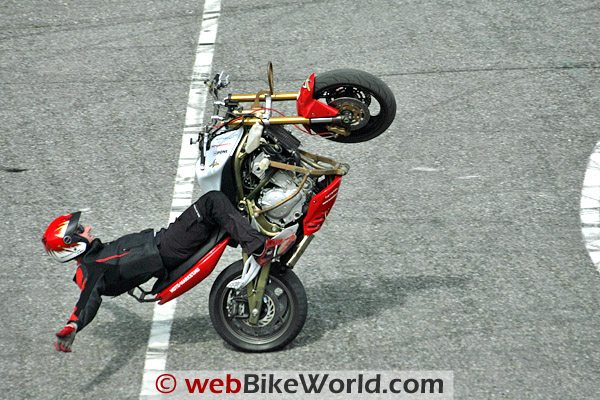 They finally came to the Austrian town of Röthis, about 25 kilometers South of the Bodensee, to fight for the title of Europe's best motorcycle stunt rider and for a sweet 13,500 Euros in prize money.
Acrobatics on two (or mostly on one actually) wheels has become more and more popular over the last three or four years.
While the freestyle motocrossers with big-time sponsors already fill big stadiums with their risky jumps, stunting has been more of an underground activity, with riders seen usually at venues like dealer grand openings or biker parties.
Bernd Eberle has been a successful motocross rider in the past.
Back in 2004 he gave up his sport because of one injury too many. But the now 34-year-old Austrian hasn't lost his passion for motorcycling and as a result he is organizing different types of bike events.
Since he's also working as a riding instructor at the ÖAMTC driving center in Röthis he had the perfect location available for the stunt riding championship.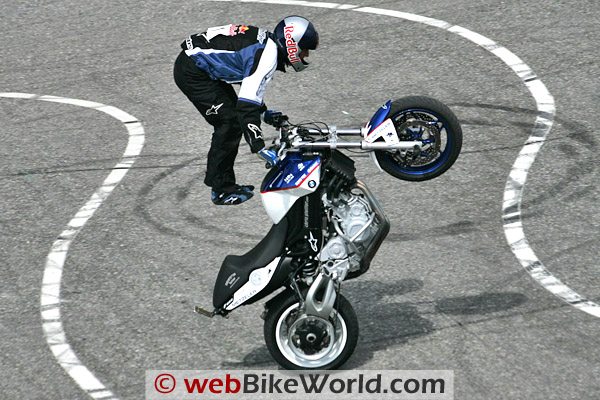 More than 5,000 spectators came to see a competition that was a perfect combination of excitement, sports and show.
The 2008 European Stunt Riding Championship demonstrated very well that less regimentation can certainly have a stimulating effect on the sport itself and especially for the crowd.
The rules are written on just two pages and they also include important details such as any competitor can get three free drinks and meals per day.
The technical rules for the bikes only have three cornerstones: A capacity of at least 500 cc, two cylinders and a street-legal sport exhaust (but, of course, nobody takes that too seriously!).
Simple, eh? Maybe this is an example for FIM and Dorna to design the rules for the successor of the 250 cc street racing world championship?
The majority of the riders rely on 600 cc supersports bikes from Japanese production, alternatively with or without fairing, some of them even with a license plate — after all, you do also need a set wheels to travel back and forth.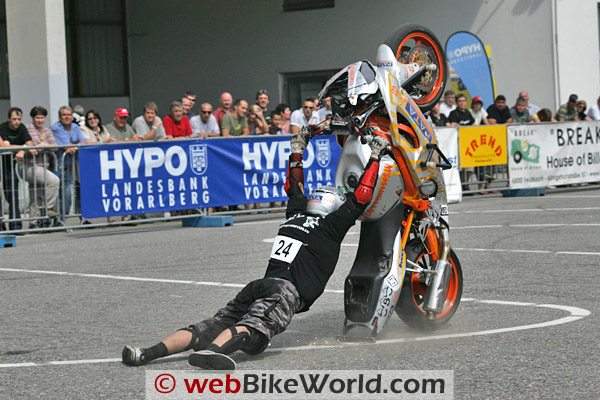 More displacement was favored only by French rider Rodolphe Briche, who failed to be in the final with his Honda CBR 900, and top favorite Chris Pfeiffer.
He's been a BMW works rider since 2006 and he is doing things with his F 800 which would drive normal riders of the BMW brand close to a heart attack.
Is it an advantage to have 200 cc plus and as a result a better torque from low revs?" we asked Mr. Pfeiffer.
"No, not really. The 600 cc bikes are about 20 kilograms lighter and also have more power. But the two-cylinder engine of my BMW perfectly matches my riding style", the world's most popular stunt rider, who nearly could be the father of some of his competitors at the age of 38, explained.
It's interesting to note that most of the stunters are from France. "It is unbelievable how stunt riding is booming there in the moment", Chris Pfeiffer says.
"In this country, stunt riding seems to go the same way as skateboarding or BMX in the past."
This can be easily seen from the results: Seven from eleven starting riders of the Grande Nation made it to the final, although they were only able to reach the podium at the separate "Longest Stoppie" competition.
But the riders of the Equipe Tricolore didn't only convince the crowd with wild show effects, they also demonstrated especially immense talent.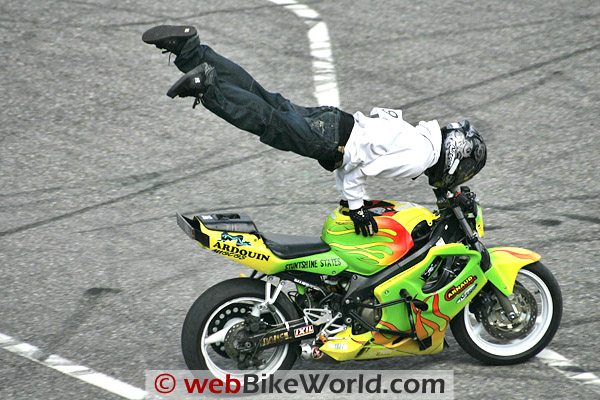 Simon Martinez definitely attracted the attention of the spectators in Röthis.
After just 50 meters of run-up he didn't only make the third longest stoppie with 57.50 meters — he also showed a strong freestyle performance with his Kawasaki ZX6 R.
In contrast to the other competitors, this bike was nearly standard.
It only had a quite subtle black paintjob with green accents, no side mirrors, crash pads and a second handbrake control for the rear wheel.
While all other riders had equipped their bike with chain wheels up to pizza plate size to reach a shorter transmission Martinez relies on masterly balance which made him reach seventh position at the 2008 European Stunt Riding Championship.
The jury of four judges, which consisted of high-grade stunt riders such as Swiss guy Slim Gruber; "Cyrilslider" Aguilera from France; German Ronny Rothe and Jurrien Hillen from the Netherlands, had to choose the new European Champion after three runs from qualification on Saturday over the semifinals on Sunday morning and the final later the same day.
The three top listed riders — Chris Pfeiffer from Germany, Hungarian Angyal Zoltan and Bart van den Eynde from Belgium — even had to run their full program from three to four minutes during practice on Sunday.
A heavy rain shower had caused abnormal conditions in the final minutes of qualification on Saturday evening.
But the three skilled protagonists couldn't be concerned with that: They fought out the title amongst themselves.
Nevertheless, Chris Pfeiffer didn't have a perfect run in qualification: "I have tried a bit to hard, rode very aggressively and nearly came off the bike on an extremely tilted donut . Then I stalled the engine because I unintentionally engaged the side stand, which has never happened to me before."
A stunt bike with a working side stand?  Incredible!
But the public didn't care about the faults, because Pfeiffer returned to his rhythm quickly and demonstrated his competitors in the semi-final and the final that there was nobody out there on the track to stop him during the weekend. His winning prize of 5,500 Euros were well-deserved.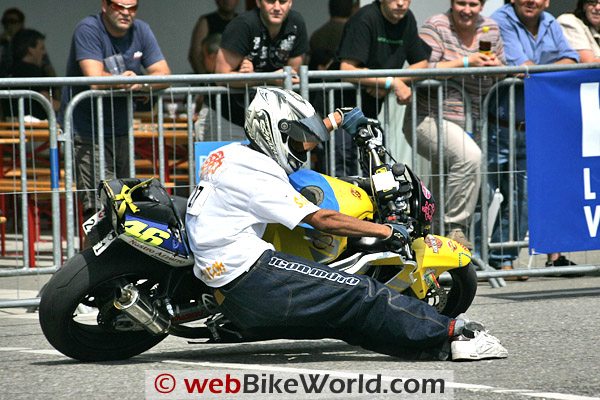 The Chris Pfeiffer unit, including both rider and bike, is a perfect match and he shows enormous self-confidence.
This combination didn't only make "C.P.", how his fans call him, the European Champion for the fourth time with a 47 points lead — it also makes him the Michael Schumacher of this sport.
But although he doesn't necessarily earn millions of Euros per year with his shows, his professional appearances have paid off. He's not only a BMW works rider, but he also has a well-paid sponsorship with Red Bull.
In addition, his shows around the globe make the German the stunt scene's highest-paid artist.
But he certainly deserves this status: in Austria he always had an open ear for every fan and wrote masses of autographs.
At least in this point he is superior by far to the multiple Formula 1 Champion and recently amateur motorcycle racing rider…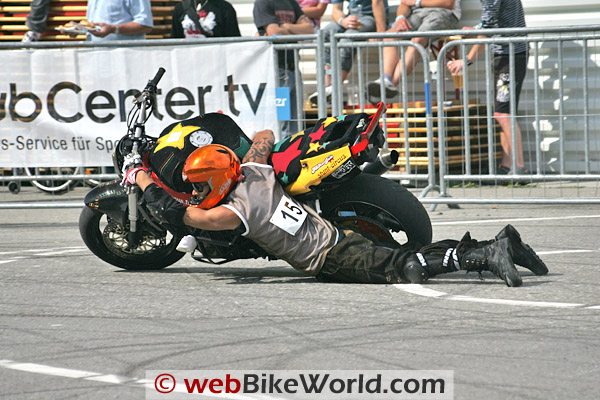 Angyal Zoltan, 2007 World Champion, was again Pfeiffer's toughest challenger in 2008.
The Hungrian, who rode his stunt program with two different motorcycles, showed a strong performance over the whole weekend and also took the crown and the 500 Euros money for the longest stoppie with his 64 meter run.
But he felt unfairly treated from the beginning at the stunt riding competition.
On Saturday they didn't want to let him start in the qualification run with his Kawasaki EN6R, and on Sunday there were a lot of discussions about his Suzuki GSX-R with fairing.
Zoltan also was at odds with the jury: he didn't see a reason why his final program got 20 points less than the one of Chris Pfeiffer although he had included especially difficult elements with his Kawi that had no front wheel!
The 23-year old artist may not be completely wrong but his German competitor was the better balanced and more perfect rider over all three runs.
Bart van den Eynde entered the podium in third place, 16 points behind Zoltan.
He spiritedly pushed his black and gold Honda CBR 600 FS over the 100×15 meter rectangular stunt area and outpaced French rider Thomas Sagnier for the final place on the podium.
His beautiful, orange Kawasaki 636 with fairing was an eye-catcher as was his strong riding performance.
The entire field of stunt riders demonstrated an astonishingly high level of skill.
Crashes were absolutely rare and that was fine, because in contrast to the written rules, some of the young wild French stunters started in T-Shirts and three-quarter length street trousers.
But with protectors on arms and legs they still couldn't be stopped from dragging a leg along the ground!
2008 European Stunt Riding Championships Results
Pos.
Rider
Manufacturer
R1
R2 (Semi-final)
Final
Overall
1
C. Pfeiffer
BMW
193
201
207
601
2
A. Zoltan
Kawasaki
182
185
187
554
3
B. van den Eynde
Honda
187
178
173
538
4
T. Sagnier
Kawasaki
167
155
174
496
5
K. Favrou
Honda
157
167
171
495
Master Listing of All wBW Motorcycle Product Reviews
Other WebBikeWorld
Articles

 Posts