Page 5: More live reporting from the 2006 Powersports Dealer Expo in Indianapolis, Indiana.
Home  |  Page 2  |  Page 3  |  Page 4  |  Page 5  |  2005 Dealer Expo
All text and photos © webWorld International, LLC 2001-2007. All rights reserved.

The Suomy Vandal is another new helmet for 2006 which was released at the show.  It will hopefully lead a new direction in motorcycle helmets; its "back to basics" design promises low noise levels.  See our report on the Vandal, which includes some additional photos.
The Italians have a big display every year, with various manufacturers from Piaggio to STM showing their wares.  I love to stop by the STM booth; they always have some beautifully machined works of art on display that look too nice to get dirty!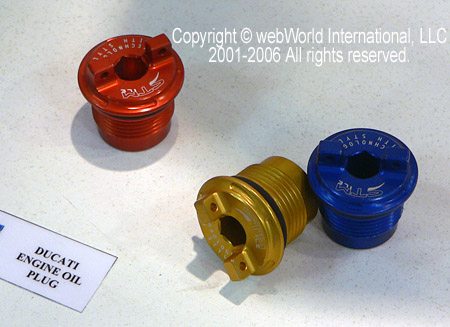 Here's another example of a part too nice-looking to get dirty! Anodized Ducati engine oil drain plugs by STM.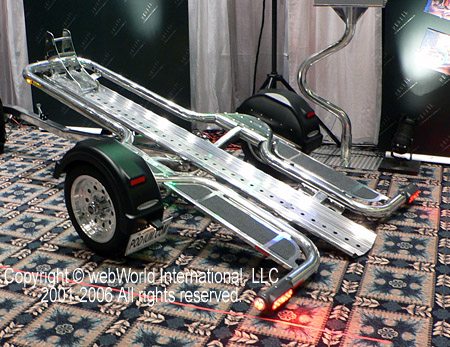 Here's a beautiful new motorcycle trailer by Podium in Canada.  It's has a patented feature that allows the owner to ride the motorcycle up on to the trailer, and the front slowly lowers to the level position. It has an aluminum frame with stainless steel hardware.  The frame is completely polished on this model, which also includes chrome wheels.  The trailers also include LED lights and an independent torsion suspension, which is used in horse trailers to give a smooth ride for the animals.  It retails for around $3,000.00.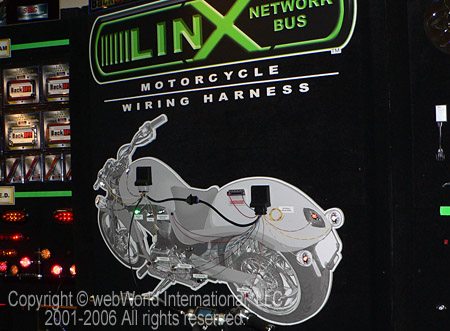 The Linx network bus is manufactured by Signal Dynamics, better known to motorcyclists as the makers of LED blinking lights.  The network bus concept is now being used on some new bikes, like BMWs and the Ducati 999.  It replaces the traditional wiring harness and greatly reduces complexity and weight.  There are two processing units, seen as the black boxes in the photo above. Each one is connected, and they control, in this case, the lights and electronics at the rear and front of the bike.
A digital LED display is used for the speedometer and other instruments.  Even the directionals, starter button and other controls are run through the bus, allowing all sorts of electronic configurations.  The Linx network bus is available to independent bike builders or hobbyists.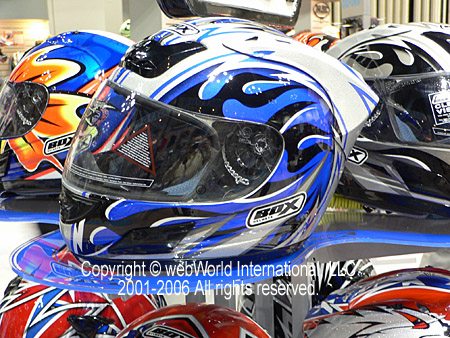 Box brand helmets are new to the U.S. market and are distributed through Oxford Products Ltd. in England to a company called Keyport Lock Co. in Canada and then to the North American market.  Looks like a relatively decent helmet and I would place it as a competitor of something like the KBC range.  The Box helmet line is priced aggressively and I would expect them to retail around $120.00.  The styling, however, looks dated, especially compared to the new Shark RSi or CMS helmets (Page 4, bottom).
That's about it, I hope you enjoyed this 2006 Powersports Dealer Expo preview!