Page 4: More live reporting from the 2006 Powersports Dealer Expo in Indianapolis, Indiana.
Home  |  Page 2  |  Page 3  |  Page 4  |  Page 5  |  2005 Dealer Expo
All text and photos © webWorld International, LLC 2001-2007.  All rights reserved.
GMax modular helmets are distributed by Hap Jones and others.  The GMax regular street helmets weren't impressive, but their new modular version has potential.  I'm not sure of the name of this helmet model or its price.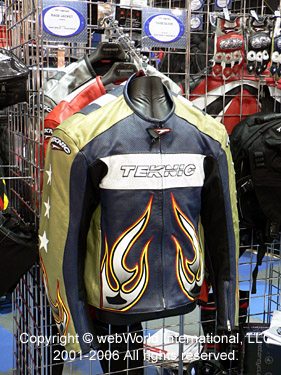 New for 2006 is the Teknic "Rage" jacket, which comes in gold, red and silver. Looks pretty cool! It lists for $499.00 and has a zip-out liner, full perforation in the front, YKK zippers and reflective piping.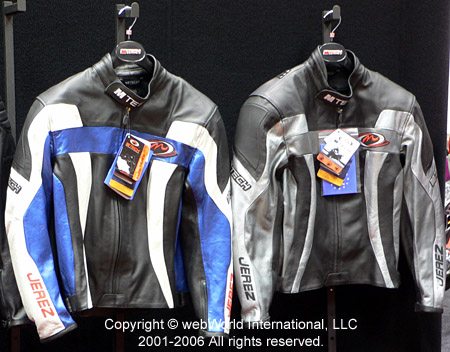 M-Tech may be a name that will become more familiar this year.  They have a relatively complete line of leather and textile clothing.  They claim to be an outfitter to MotoGP, but I'm not sure what that means.  These leather jackets and a couple of one-piece suits they had on display look serious.  We're trying to get some through their distributor in Canada.
Here are a pair of KBC VR-2 helmets.  KBC seems to be making only incremental changes in this model, which isn't that different from the VR-1 we reviewed a long time ago.
Remember the MotoGrafix tank pad we wrote about after last year's show?  The MotoGrafix blokes are back, this time as "Death Industries England".  Kind of dark and gloomy, but they are releasing this line of embroidered shirts with pretty incredible graphics.  The shirt on the right is completely embroidered, but notice there is no puckering and the colors and stitching look like photographic quality.
We reviewed the CMS GP-4 helmet a while back.  CMS has updated the GP-4 and is releasing a very nice looking line of open-face helmets aimed at the touring and scooter crowd.  All of the CMS helmets now have an upgraded liner that feels very comfortable.  Their motocross helmets have a nice sharper styling also.
That's it for now, more on Monday…