On just my second ride on a 1980 Honda CX500 that I recently bought as a project bike, it broke down. And already I've learnt my first lesson in restoring old bikes.
It was going fine, then suddenly the bike had no electrics. I checked the battery and whatever I could that didn't require any tools because I had stupidly ridden off without any. I was stranded 3.3km from home with seven big hills between me and my toolkit.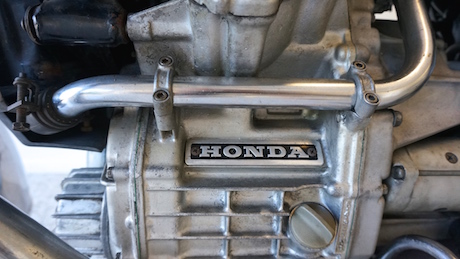 So lesson number 1 is: Don't stray too far from home and always take a toolkit.
At 57 years of age, pushing a 34-year-old, 216kg bike uphill in the burning midday sun, you would think someone would offer me a push. I thought you met the nicest people on a Honda!
I borrowed a screwdriver from a nearby house to remove the fuse box lid, but the fuses were ok, so I pushed on. I did eventually get some help from two lots of two young men who pushed me about 30m on two occasions to the crest of a couple of steep hills.
After two hours I finally arrived home at the bottom of our steep driveway where it stayed until Mrs MotorbikeWriter came home to help me push it into the garage. And there she now sits, waiting for me to pull apart the wiring loom to find that elusive pinched wire, or whatever else it is that is causing the problem.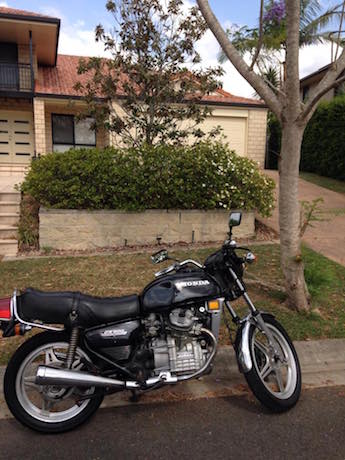 But you know what? I'm not disappointed in my acquisition. In fact, I'm looking forward to the challenge of finding a solution.
I'm more worried about becoming a bore. You know, that guy at the party who goes on and on for hours about carby slides and spends hours in the garage tinkering with his bike instead of tinkering with his wife!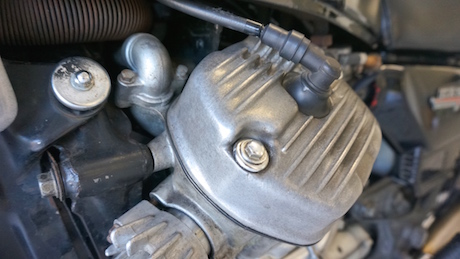 Like many mature-aged riders, I've long dreamt of buying an old bike with grand plans to customise, modify or restore it to its former glory.
Over the past few months I've been checking websites for donor bikes, but I've been disappointed to find that there are obviously a lot of riders just like me who are interested in old bikes because we have pushed up prices to stupid levels.
I've considered old Italian bikes but I don't have an electrical engineering degree. I've considered old British bikes, but I've just had my garage floor painted. And I've considered old Harleys, but I don't have a large enough hammer.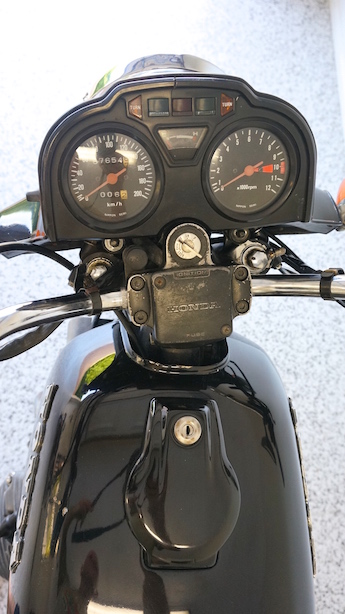 So I took the "easy" option and went for a supposedly reliable Japanese bike – albeit a replica of the Moto Guzzi Le Mans with transverse V-twin and shaft drive. So I bought this unregistered Honda CX500 with an eerie 87654km on the odo for $1500.
It's now cost me an extra $100 for a safety certificate (thanks Brian of Motorcycle Roadworthys) and $509 for the number plate, registration, third-party insurance and stamp duty. I'd be ignorant if I didn't think it was going to cost me a whole lot more to restore it and keep it running.
The Honda passed the safety certificate with flying colours and had been running ok. That is, until its second legal test run.
After I sort out the electrical problem, there will be a bit of mechanical work to do on the gears as well as plenty of cosmetic surgery. First thing to go will be the ridiculous chopper-style handgrips!
Importantly there are plenty of spares available on eBay for old Japanese bikes.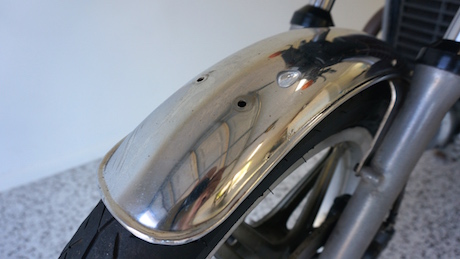 Typical of matured-aged riders who buy old bikes, I bought a model I used to own and very much enjoyed. The 1980 Honda CX500 I bought in 1986 cost me only $500. What a shame I didn't keep it!
My next problem is, what do I do with it?
Do I perform a full and faithful restoration, leaving that nice patina of age on the engine, or do I go the full custom route and turn it into a bobber, cafe racer, scrambler, or street tracker? Over to you!