1970 Norton Commando
ABOVE: The 1970 Norton Commando came in a new guise: The Norton Commando Roadster, or Type R. A new tank & seat, conventional rear fender & those voluptuous upswept pipes! Establishes the 'Commando look' in the public mindset.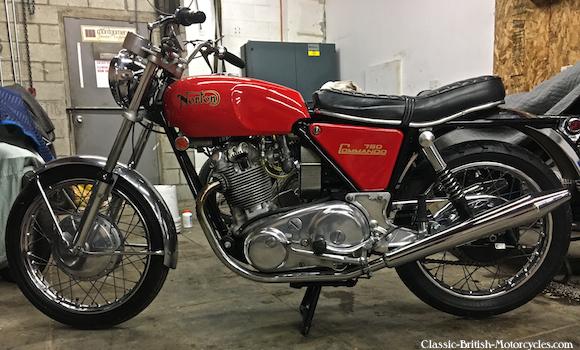 NEW ROADSTER
The 1970 Norton Commando line grew to three models, then shrunk back down to two again by years end. What started in 1968 with one model, the Norton Commando (with Fastback styling, but not yet using that name), then grew in 1969 to two models, the Commando Fastback (now using this name to differentiate itself from other Commandos) & the Commando Type S (Street Scrambler) with high pipes on the left side. Now for the 1970 model year, a third model was added, and the one that would come to symbolize the Norton Commando & Norton Motorcycles as a whole. The Commando Type R, was called the 1970 Norton Commando Roadster. It had the same tank & seat at the Type S, but with attractive down pipes & tastefully upswept reverse-cone silencers. The whole package looked fantastic. In fact, after all these years, the Norton Commando Roadster still looks great.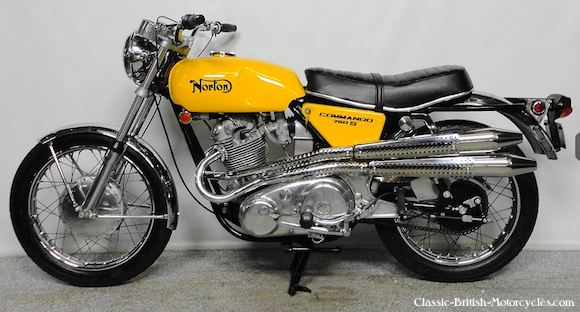 MODEL DESIGNATIONS RESHUFFLED
Part way through the 1970 model year, the Type S was dropped from the lineup. The Fastback got the same upswept reverse cone mufflers as the Roadster & became the Fastback MkII. The Roadster, now the only other model, was still considered a MkI. These designations would all be reshuffled again for 1971.
1970 NORTON COMMANDO FASTBACK
The Fastback was the first Commando released to the public. All Commandos are basically mechanically-identical (with a few notable exceptions), so it all came down to the bodywork. In the case of the Fastback, it had a stylish tank and that cute little fiberglass ducktail fender over the stainless mudguard.
BELOW: This is a fine example of a 1970 Norton Commando Fastback. Note that this particular one has a front disk brake, which is not correct for a 1970 Norton. It is however a correct disk brake for a 1972-or-later Commando.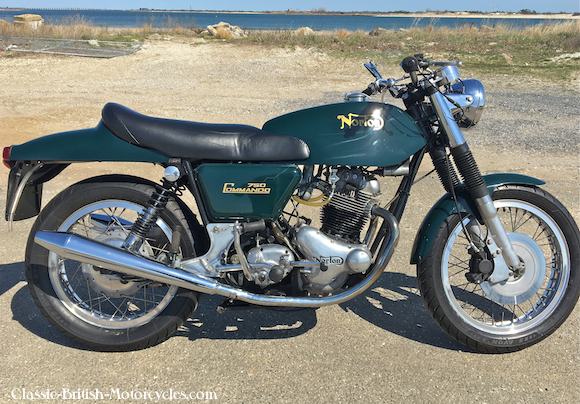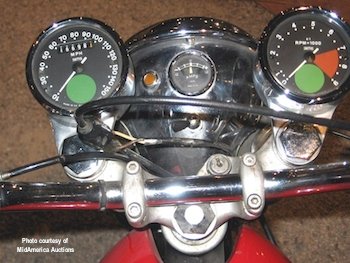 RUNNING GEAR
Both bikes came with slimline Roadholder forks without gaiters. The Lucas handlebar controls were now integrated into the lever pivot blocks. Sealed ball races were now used for the headstock, which worked extremely well.
MACHINE OF THE YEAR
Motor Cycle News awarded its prestigious "Machine of the Year Award" to the 1970 Norton Commando, based on a poll of their readers. Today, we'd call this the "Peoples' Choice Award". The Commando won this honor every year from 1968 to 1972.
---
1970 Norton Commando SPECIFICATIONS
Model designation:

Original Price:

Engine type

Displacement

Bore & Stroke

Compression

Carburetors

Ignition

Engine output

Oil system

Oil capacity

Primary drive

Clutch

Gearbox

Ratios, overall:

1st, bottom

2nd

3rd

4th, top

Final drive

Frame type

Suspension, front

Suspension, rear

Brake, front

Brake, rear

Wheelbase

Seat height

Weight

20M3, Fastback

Type S, Scrambler

$1,449.00, Fastback

$1,450.00, Scrambler

Air-cooled OHV parallel twin

746cc / 45 ci

73mm X 89mm / 2.875″ X 3.503″

9.0:1

2- Amal Concentric, 30mm

Battery & coil, Lucas

58 bhp @ 6500 rpm

Dry sump

6 pts

Triplex chain

Multi-plate diaphragm, wet

4-speed constant-mesh, right-foot shift

12.40:1

8.25:1

5.90:1

4.84:1

Chain

Welded double cradle, Isolastic Suspension

Telescopic fork, hydraulic damping

Swing Arm, 2 dampers, Isolastic mounts

8″ TLS drum, full width

7″ SLS drum, full width

57.1″

31.3″

431 lbs