1966 Velocette Thruxton
1966 VELOCETTE THRUXTON
Velocette has a proven design in their 500cc Velocette Venom. Big singles had sort passed from grace in the 1960s with the advent of all the twins pouring out of Britain, and now the high-revving, and totally-reliable twins coming out of Japan. Velocette didn't have the funds to design a totally new bike with a modern engine. Finances forced them to do with what they had. Fortunately, the Venom had proven to be fast, reliable, and robust. Velocette designer Bertie Goodman put together a "racing kit" that included an extensively-modified cylinder head with bigger valves and a downdraft intake port, an Amal GP carburetor and special cam followers, in 1965. The new carb was so big that they had to hollow out the underside of the fuel tank to make room for it. The following year they named the new bike the 1966 Velocette Thruxton, also known as the Venom Thruxton. The new Thruxton was a bona fide race bike capable of 120 mph with handling to match.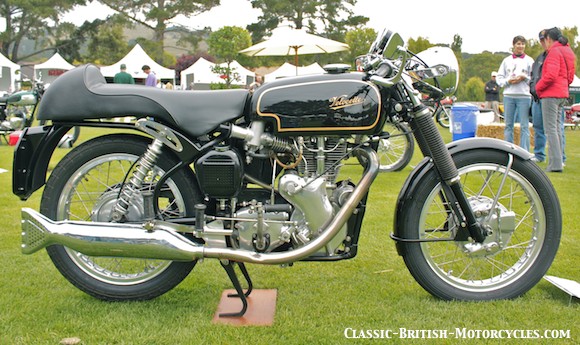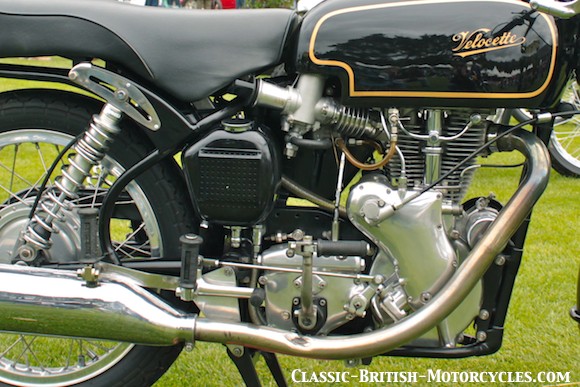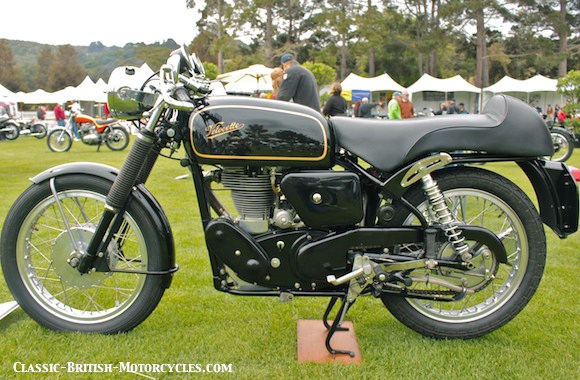 ---
1966 Velocette Thruxton SPECIFICATIONS
Model designation
Engine type
Displacement
Bore & Stroke
Compression ratio
Fuel system
Ignition system
Battery
Power output
Primary drive
Clutch
Gearbox
Ratios
Final drive
Suspension, front
Suspension, rear
Brake, front
Brake, rear
Tire, front
Tire, rear
Steering head angle
Wheelbase
Seat height
Fuel capacity
Dry weight
Top speed
1966 Velocette Venom Thruxton
Air-cooled OHV single
499cc / 30.5 ci
86mm X 86mm
9.0:1
1- Amal 5GP2 carburetor
Miller D6 magneto
6 volt, 60 W
41 hp @ 6,200 rpm
Chain
3-plate, dry
4-speed, right-foot shift
1st 8.4; 2nd 6.3; 3rd 4.83; 4th 4.4:1
Chain
Telescopic fork, hydraulic damping
Swing arm w/2 shocks
7.5″ X 1.5″ TLS drum
7″ X 1″ SLS drum
3.00″ X 19″ ribbed, Dunlop
3.50″ X 19″ studded, Dunlop
27-degrees
53.75″ / 1365mm
30.5″ / 775mm
5.1 US gal / 19.3 L
375 lbs / 170 kg
120 mph / 193 km/h