1966 Matchless G12
1966 MATCHLESS G12 BACKGROND
In the 1950s, Matchless and AJS were the diamonds in AMC's (Associated Motor Cycles) crown, but by the 1960s, their fortunes had turned for the worst. Matchless had launched the G12 and AJS Model 31 650 twins in 1958, with high hopes for big sales in the US market. Unfortunately, they never materialized, at least not in the volumes it would have taken to save the company. 1966 would be the last year for the Matchless and AJS twins. Matchless would soldier on with the G80 for a couple more years, as owner AMC collapsed in 1967. All that would ultimately remain out of the once-might AMC stable of brands was Norton, at least for a few more years. The 1966 Matchless G12 was actually a pretty nice bike, and a solid, able performer. But it was hopelessly mired in ancient technology. 6-volt electrics, magneto ignition, and non-unit construction looked positively antique when compared to the modern bikes pouring in from Japan.
---
1966 Matchless G12CSR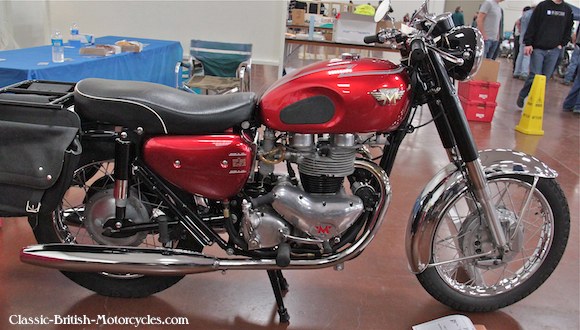 THE MATCHLESS G12CSR
The CSR was the high-end street version within the G12 lineup. This one has aftermarket saddle bags. It was on display in the recent 2017 Clubman Show in San Jose CA.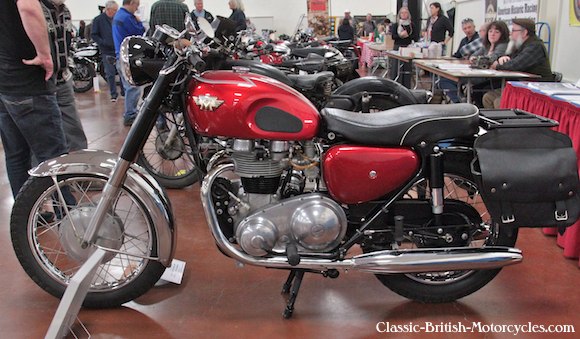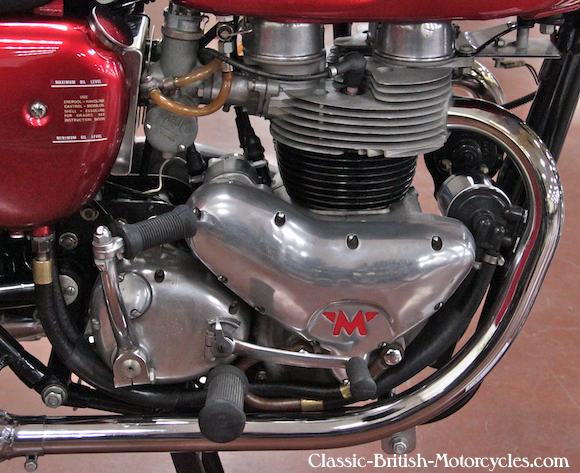 MATCHLESS G12 ENGINE
AMC's 650 twin was its premium engine and when it was designed in the mid-1950s, it incorporated the best of traditional British motorcycle engine design at the time. That mean pushrods actuating 2 valves-per-cylinder, with a semi-hemispherical combustion chamber, grossly undersquare bore and stroke, and non-unit construction. It was designed from the outset to be stout and reliable, and just a little bit better than the competition. And it probably was when it was launched in 1958. But hopelessly undercapitalized AMC didn't have the money to further develop it, let alone convert it to unit construction when Triumph and BSA did it in the early 1960s. To go past the 1966 model year, they would have had to convert it over to left-foot shifting, as mandated by US law, which was probably not financially possible for the beleaguered AMC.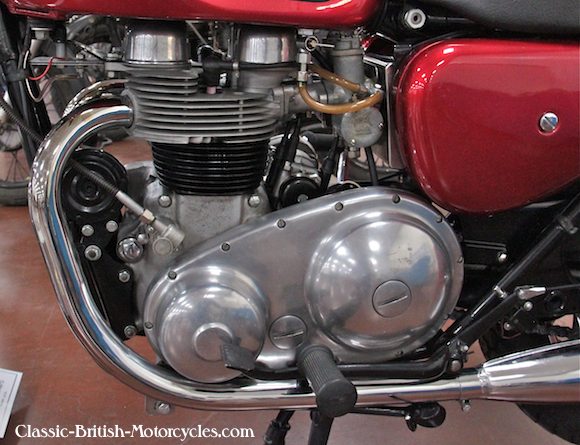 ---
1966 Matchless G12 SPECIFICATIONS
Model designations
Years in production
Engine type
Displacement
Bore & Stroke
Compression, G12
Compression, CS & CSR
Fuel system
Ignition system
Battery
Lubrication system
Oil capacity
Engine output
Primary drive
Clutch
Gearbox
Final drive
Frame type
Suspension, front
Suspension, rear
Brake, front
Brake, rear
Tire, front
Tire, rear
Fuel capacity
Dry weight
Top speed
1966 Matchless G12, Deluxe, G12CS, G12CSR
1958 through 1966
Air-cooled, OHV vertical twin
646cc / 39.4ci
72mm X 79.3mm
7.5:1
8.5:1
1- Amal 389, 1-1/8″
Lucas K2F magneto
Lucas 6-volt, 12Ah
Dry sump
2.5L / 5.3 US qts
35hp @ 6500
Chain
Multi-plate, wet
4-speed constant mesh, right-foot shift
Chain, 97 links
Steel tube, double cradle
AMC Teledraulic fork
Swing arm w/2 Girling dampers
8-inch TLS drum
7-inch SLS drum
3.25″ X 19″ Dunlop
3.50″ X 19″ Dunlop
17L / 4.5 US gal
396 lbs / 180 kg
95mph / 153 km/h