1965 Rickman-Triumph Background
This 1965 Rickman-Triumph was the culmination of years of development. After years of racing motorcross in the 1950s in England and Europe, brothers Don and Derek Rickman decided to design their own frame. At the time, most dirt bikes were simply stripped-down street bikes, which were too heavy and not ideal for racing in the dirt. They designed their first frame in 1959, the Rickman Metisse MkI (Mark 1). "Metisse" is a rather unsavory French word for mongrel, and refers to the Rickman frame's ability to accept almost anyone's engine. They made improvements and came out with the limited-production MkII Metisse in 1960, followed by the full production version, which is still with us today, the MkIII in 1962. By this time, they had perfected the frame's ability to accept most common engines. From that point on, you might spot a Rickman Metisse with almost any engine (almost always British-built).
THE RICKMAN LEGACY
Don and Derek Rickman were motocross racers in the 50s, honing their skills not only as expert riders, but also as designer/fabricators constantly in pursuit of greater performance out of their motorcycles. However, at the time, the typical MX bike was something like a BSA Gold Star, with maybe 35 horsepower toting nearly 400 pounds of weight! And most of these bruisers were running frames that started out life as production street bike frames. The Rickman Brothers wanted far more for their bikes that these antiquated relics could offer. So in the winter of 1958-59, they built their first Rickman frame. It was light, rigid, and handled incredibly-well, so much so in fact that when they hit the 1959 racing circuit, they took win after win. No one had ever seen a frame like this before. It was all-welded, with no brazed lugs, it was made out of high-strength, lightweight chrome moly tubing, it was nickel-plated, and it was gorgeous! Soon they were producing the frames that buyers could drop almost any engine into, hence the name "Metisse". Mettise is an unsavory French word for for "mongrel", and refers to the Rickman frame mating with nearly anyone's engine, Triumph, BSA, Matchless, you name it. This was their main stock in trade throughout the 1960s. By 1971 they were building entire MX motorcycles with Hodaka 100, Zundapp 125 and Montessa 250 engines, through 1975. By this time, they'd also moved into road racing and cafe racer frames. Rickmans have always been regarded as premium bikes, probably the best MX bike on the market in the 60s and early 70s.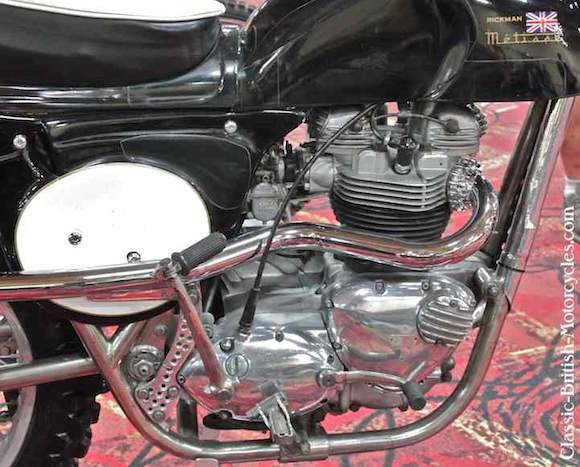 1965 Rickman-Triumph Engine
This particular bike was very typical of Rickman motocross machines from the mid-1960s. The classic Rickman Metisse frame was now in its 3rd-generation, perfected to a high degree, and able to take almost any engine, with the right adapter plates, all provided by Rickman. In this case, the engine of choice was a 1963-65 unit-construction Triumph TR6 650 twin. Because of the way the frame was configured, only a single-carb would fit. No Bonneville heads with their splayed twin carbs. But for most purposes, the single carb actually worked better. Far easier to tune and better at low speeds, they only lacked a small amount of power at max RPMs. Not missed on the dirt track or ripping across the desert.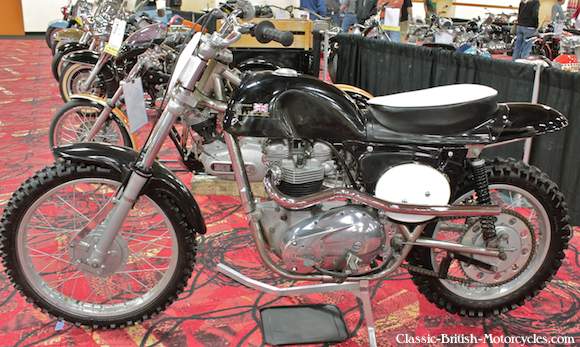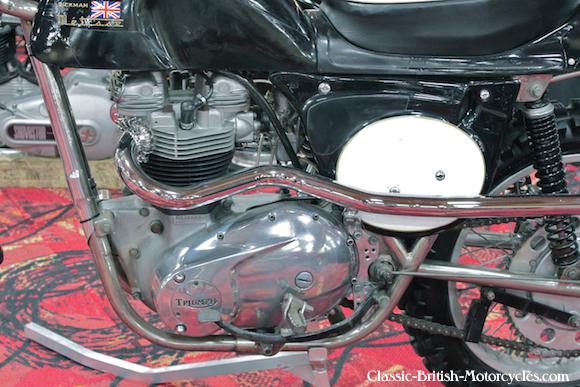 ---
Check out these
RICKMAN MOTORCYCLE BOOKS
---

Derek & Don Rickman: The Metisse Story
---

Post War Independent Motorcycle Framemakers
---