1965 BSA A65
1965 BSA A65 LIGHTNING
The Lightning was the high-performance roadster in the 1965 BSA A65 lineup, with twin Amal Monobloc carburetors and downswept pipes. In 1965, it was still running 6 volt electrics, its last year before converting over to 12 volts in '66. The new-for-1962 unit-construction engine had started out rocky, with lots of serious teething problems. The factory was working through them slowly, and some they never got quite right. But, the bikes were handsome enough, and when they were running, they were quite fast, capable of speeds approaching 120 mph.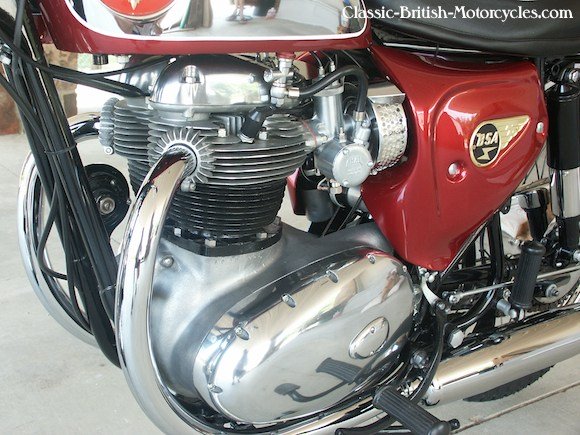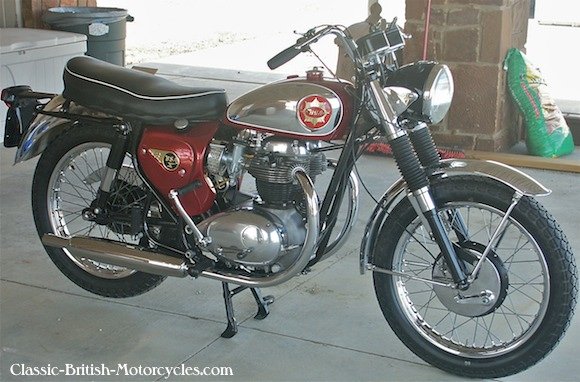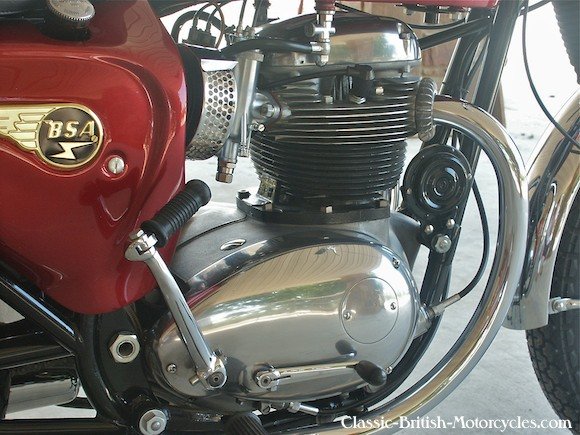 Back in 1965, BSA had both East Coast and West Coast US distributors, and so some of the advertising materials weren't 100% consistent. Here we see the name "1965 Lightning Rocket", while some ads simply said "1965 Lightning".
PROUD OWNER
Special thanks go out to Jim Stromberg of Ochelata OK who owns this incredible machine. He had the bike restored by Mike Howard of Trinidad CO back in the 90's as a daily rider. But over the years, Jim has brought it well beyond that into a fully-restored, very correct, concourse-grade bike. Nice job Jim. Thanks.
If you have a fairly original British bike, Send us pictures.
---
1965 BSA A65 SPECIFICATIONS
A65 Thunderbolt

A65 Lightning

A65 Spitfire Scrambler

Engine type

Displacement

Bore & Stroke

Compression

Carburetor(s)

Ignition

Engine output

Primary drive

Clutch

Gearbox

Ratios, overall:

1st, bottom

2nd

3rd

4th, top

Final drive

Frame type

Wheelbase

Seat height

Ground clearance

Suspension, front

Suspension, rear

Brake, front

Brake, rear

Tire, front

Tire,rear

Fuel Capacity

Curb weight

Single-carb Roadster

Twin-carb Roadster

Twin-carb Street Scrambler

Air-cooled OHV vertical twin

654cc

75mm X 74mm

9.0:1

Amal Monobloc, 1-1/8″

Breakers & coils, Lucas

38 bhp @ 5800 rpm

Triplex chain

Multi-plate, wet

4-speed constant-mesh, right-foot shift

—

11.1:1

7.18:1

5.13:1

4.35:1

Chain

Welded & brazed lug, full double cradle

54″

33″

7″

Telescopic fork, hydraulic damping

Swing arm, 2 Girling dampers

8″SLS drum

7″ SLS drum

3.25″ X 18″ Dunlop

3.50″ X 18″ Dunlop

2.4 gal (US models); 4.8 gal (UK & export)

406 lbs