More:  wBW Moto Guzzi Page has a downloadable sound file of the Moto Guzzi V8 in action!  |  Lots of photos on the V8 at MG Cycle including a photo of the V8 engine
Here's a photo of a beautiful illustration of a print created by Stephen Handley of the Moto Guzzi V8 motorcycle.  Steve has just a couple more of these motorcycle prints signed by world champion Bill Lomas, who also helped by providing details for the artwork.  The size of the original is 594mm x 420mm.
Steve has provided a smaller .jpg version for you to download (see below). Steve has been selling some prints to help fund the rebuild of his Magni; feel free to contact Steve at guzziart@dsl.pipex.com for more information.  Also be sure to check out the webBikeWorld review of Bill Lomas' autobiography.
Windows users can right-click on the photo below and save it in your "My Pictures" folder; it makes a great Windows Desktop background photo!  Thanks Steve for allowing us to post this great photo!  P.S. Steve is also working on a new print of the Falcone!
View and download the 654×469 pixel version of this print by clicking here.  When the photo appears, right click and select "Save As" to save it to a location on your computer.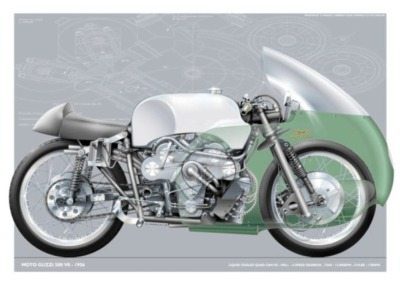 Other WebBikeWorld Articles Posts