1955 Vincent Black Prince
1955 VINCENT BLACK PRINCE BACKGROUND
By the early 1950s, Vincent the company was struggling. Founder Phil Vincent, always the innovator, the risk-taker and creative genius, had been steadily improving the Vincent line through several successive 'series'. The Series C, 1951-1953, had failed to spark much-needed sales, so for the Series D, Vincent redesigned practically the entire bike. The frame was reworked, the oil tank relocated, the fuel tank made larger, the wheels shrank in diameter, one of the 2-sided rear brake drums was removed for simplicity's sake, the electrics were improved and new Amal 389 carburetors installed. In Vincent's continuing quest to find sales and open up new markets, Phil Vincent designed two fully-enclosed touring bikes out the the bones of the Black Shadow, to create two new models, the Black Knight and the Black Prince, seen here.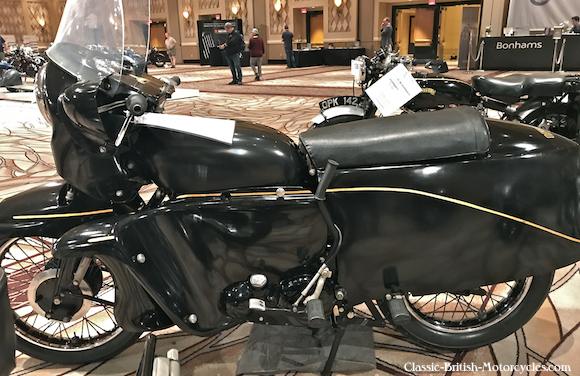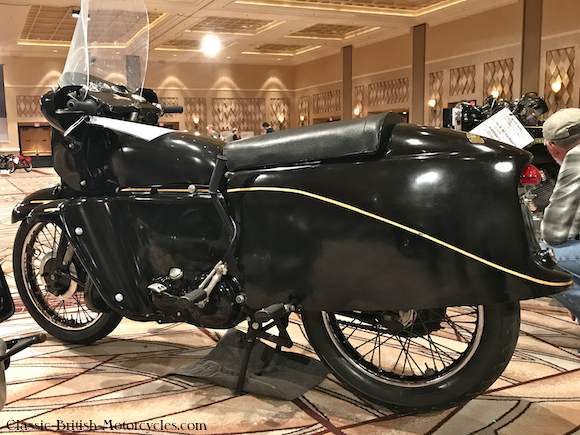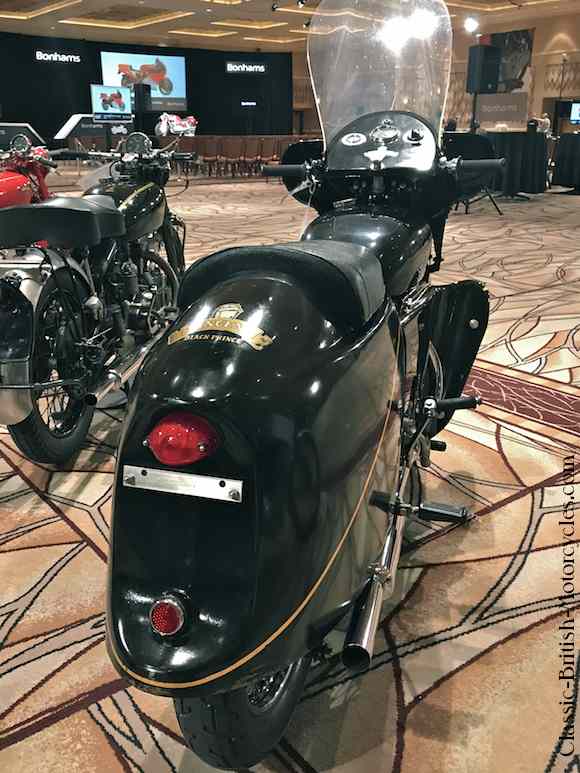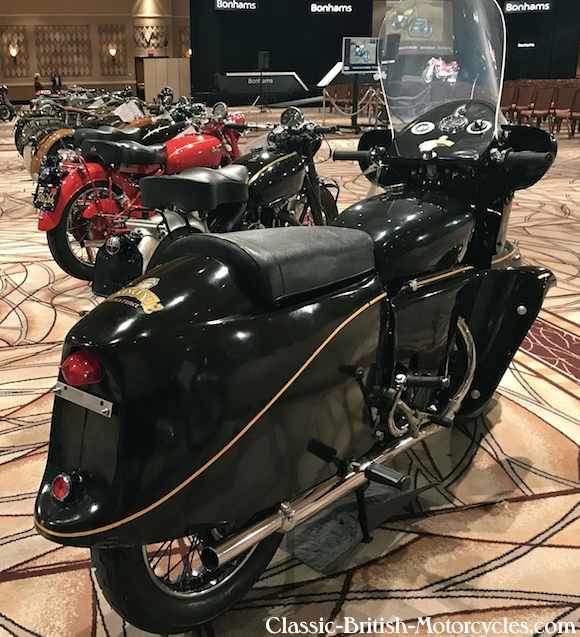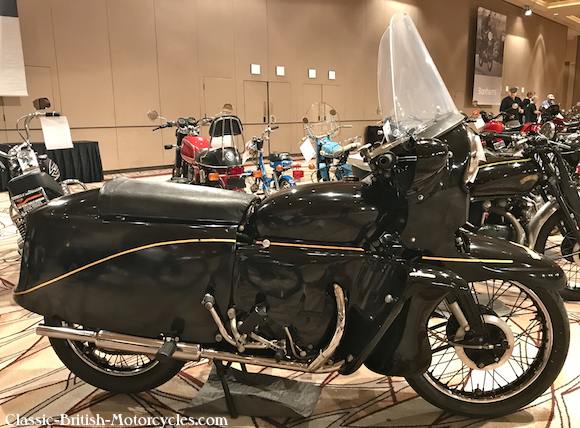 1955 VINCENT BLACK PRINCE DESIGN
Both the Vincent Black Knight and the Black Prince used fiberglass bodywork to enclose the bikes. This was rare at the time. Triumph was just about to launch it's "Bathtub-Bikes", the 3T 350 twin and 5T 500 twin with partially-enclosed bodywork made entirely out of sheetmetal. The fiberglass was certainly lighter, but it wasn't particularly aerodynamic. In fact, the Black Prince was 10 MPH slower than the Black Shadow upon which it was based. But it was never meant to be fast, it was meant to be comfortable. And remember, the Vincent Black Shadow as THE fastest bike that money could buy in 1955, so there was plenty of power to spare. Instead, Vincent carefully designed the bodywork to accommodate and coddle the rider in daily use. At the time, many Brits were commuting to work on their motorcycles, because cars were still beyond the reach of many families. British riders had to endure horrible weather, riding to work in complete riding suits, then having to wipe down the bike and change into their business clothes. The 1955 Vincent Black Prince is designed to shield the rider, including his legs, from the elements. In theory, it was possible to ride to work in your business suit. Weather it worked out that way or not is subject to debate. But they went to great lengths to not only make the bike comfortable, but also easy to live with. While fully hidden, the engine is easily accessible with removable panels for maintenance and repair. The entire rear section of the body hinged upwards to provide access to the rear wheel and chain. And to make it easier to get the fairly heavy bike on its center stand, a long hand-operated handle on the left side of the bike provided added leverage. To cope with the added weight, the single rear shock absorber was replaced by dual units under the seat.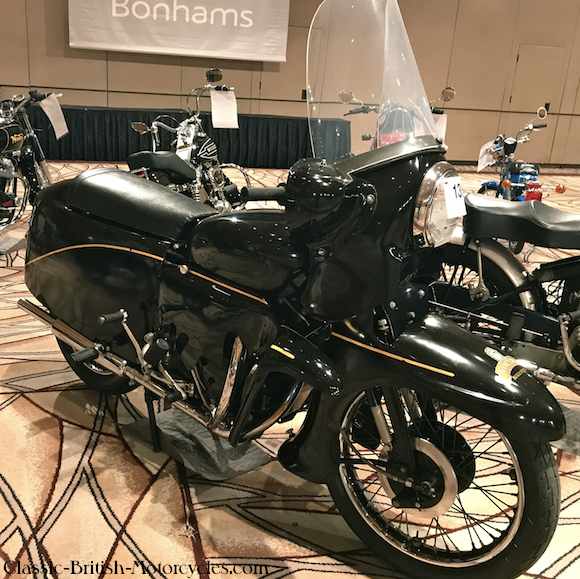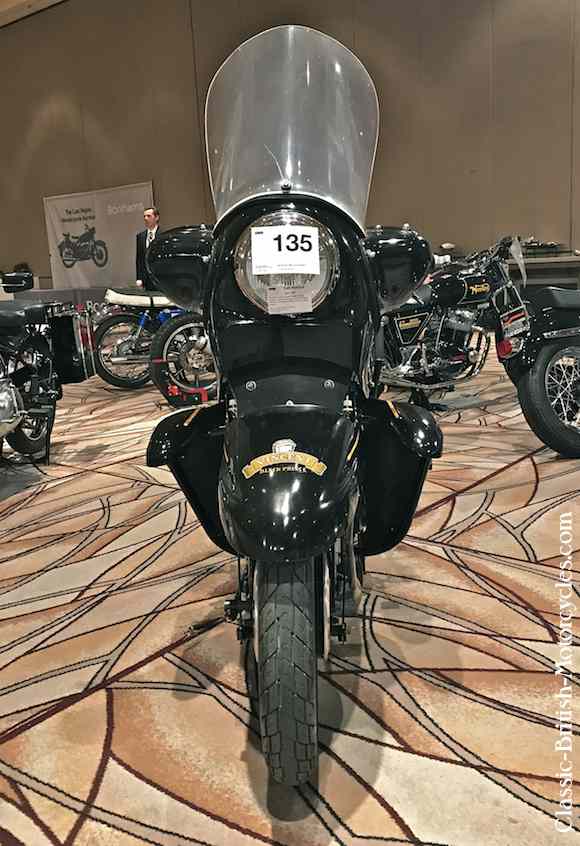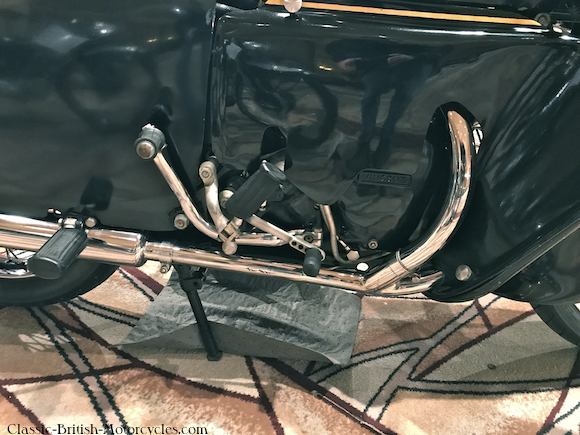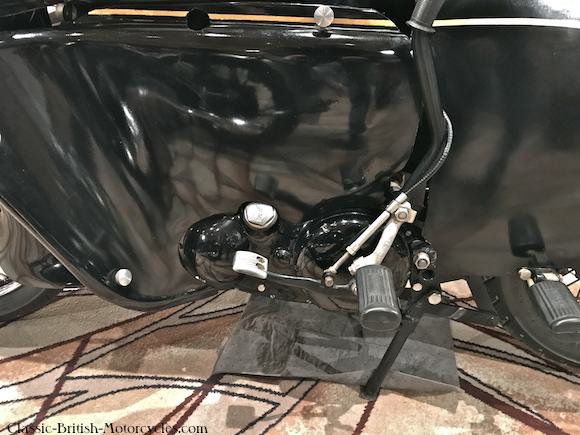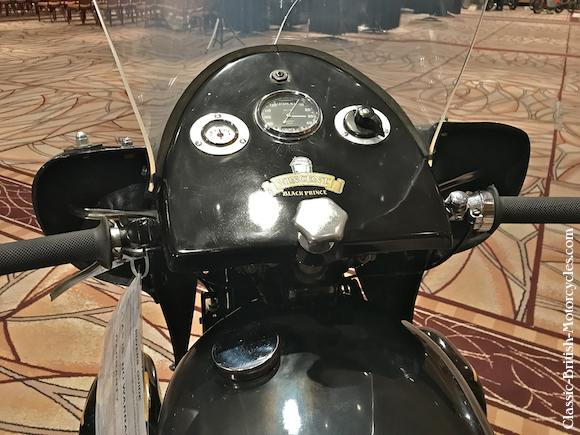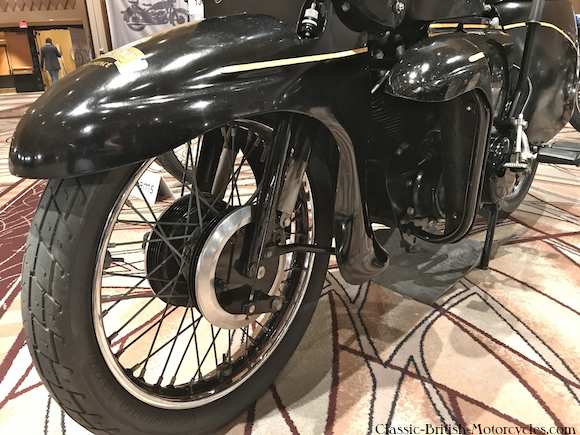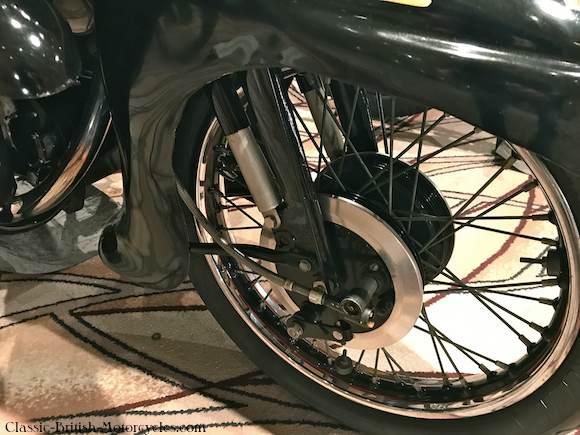 ---
1955 Vincent Black Prince SPECIFICATIONS
Engine Type

Displacement

Bore & Stroke

Compression

Carburetors

Ignition

Engine Output

Primary Drive

Clutch

Gearbox

Final Drive

Frame type

Wheelbase

Seat height

Suspension, front

Suspension, rear

Brake, front

Brake, rear

Tire, front

Tire, rear

Fuel capacity

Dry weight

Top speed

Air-cooled OHV 50-degree V-twin

998cc

84mm X 90mm

7.3:1

2- Amal Type 389, 1-1/8″

Lucas magneto

55 bhp @ 5500 rpm

Chain

Multi-plate, wet

4-speed constant mesh, right foot shift

Chain

Cantilever w/engine as a stressed member

56.5″ / 1435 mm

32.5″ / 826mm

Girder-style sprung fork, Girdraulic

Sprung rear sub-frame, 2 dampers

2-sided 7″ / 180mm SLS drums

7″ / 180mm SLS drum

3.50″ X 19″

4.00″ X 18″

4.22 gal / 16 liters

462 lbs / 210 kg

125 mph / 201 kph