1955 Matchless G9B
1955 MATCHLESS G9B BACK STORY
The 1955 Matchless G9B has an interesting history, that is also very telling about the British motorcycle industry at the time. Frank Cooper was the US distributor for AMC (Associated Motor Cycles) who produced Matchless, AJS and Francis-Barnett motorcycles. In the late 1940s, America was quickly becoming the world's largest market for motorcycles. To survive, every brand needed a 500 parallel twin to compete with Triumph's game-changing 500cc Speed Twin, launched in 1937. Matchless was late to the party with its own 500 twin, the G9, launched iin 1949. But by 1950, Triumph had already bored-and-stroked its own 500 out to 650cc with their 6T Thunderbird. Once again, everyone scrambled to respond in kind. Cooper wanted more.
LIVING IN A BUBBLE
Typical of the thinking within Matchless and AMC in particular, and the whole of the British motorcycle industry in general, they were slow to respond, slow in fact to even recognize the need to respond. AMC had cut its teeth in the depressed pre-war British home market laced with tiny roads, and didn't appreciate or understand the very-different marketplace in America. The US was incredibly affluent after the war, things were booming, and the country itself was huge with wide, long, expansive roadways that beckoned to be driven fast. Americans wanted power, more power, and then even more power. Triumph led the way in the horsepower wars throughout most of the 1950s.
FRANK COOPER CREATES THE MATCHLESS G9B
Frank Cooper just wanted to sell Matchless and AJS motorcycles to American riders through his expanding network of US dealers. To do this, he needed something more to offer them than "just a 500", and he was afraid of not only losing customers, but also US dealers, who might jump ship for another brand that had a 650 model. He had to do something quick. By this time, Cooper was more or less a California legend for nearly founding the desert-racing genre there and kicking off the off-road boom. He was a very resourceful guy. Cooper devised a plan to quickly, easily, cheaply bore out the 500 to 545cc and call it a 550. This would be done with a 3mm overbore ( to 69mm) and new pistons. The added power would require better oiling, so the oil hole supplying the center main bearing was chamfered and a larger timing-side main bearing was added to cope with the additional loads.
AMC PROVES HARD TO CONVINCE
He traveled to England with a prototype engine to meet with AMC execs and Matchless engineers. At best it would be a stop gap until AMC could come up with a factory-built 650. It makes perfect sense…to us. But it made no sense at all to the bewildered Brits. Their bikes worked just fine for their intended purpose, shuttling Brits around crowded streets in utilitarian fashion. They didn't understand the US market, its unquenchable thirst for speed, and showed little interest in learning. So, Cooper was forced to modify the bikes on his own. Starting in 1953, new G9s were uncrated in Cooper Motors' Los Angeles location and the engines disassembled. The prescribed modifications were made and the bikes were redesignated by Cooper for the US market as the 550 Matchless G9B. The 69mm bore became the standard US-specification. By 1958, Matchless did its own bore job to 72mm creating the 600cc G11 in 1958, and again to a full 650cc in 1959.
AMC SCREWS OVER FRANK COOPER
Frank Cooper had built up his AMC distributorship to a point that the US was by far their biggest market. But true to Brit thinking at the time, if it's doing well, try to find a way to screw it up. AMC bought Indian Motorcycles, itself on life support, in 1960 and decided to use Indian's US dealer network to distribute Matchless and AJS bikes. This meant they didn't need Cooper anymore, so they unceremoniously pushed him out. Of course, they still had not a clue about the workings of the US market or the mind of the American buyer. And they paid dearly for it. AMC, Matchless and AJS were irrelevant as motorcycle brands in the US by 1965.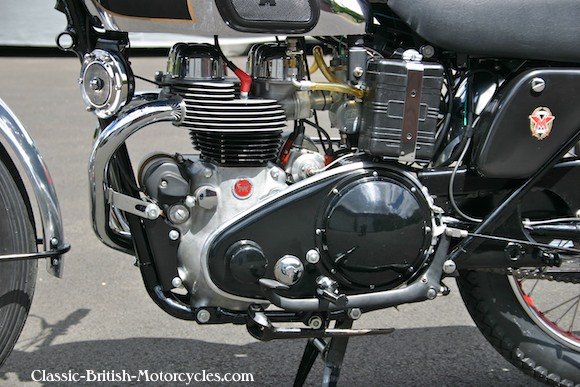 PROUD OWNER OF THIS 1955 MATCHLESS G9B
Special thanks goes out to Mark Grover of Brightwood OR who owns this lovely machine, took these fantastic pictures for us all to enjoy, and even included a scan of an old Classic Bike Magazine article from October 1995 that outlines the whole story of AMC, Frank Cooper, the early years of off-road and desert racing, and the details about the 550 Matchless G9B. He says he got in as "a very incomplete basket case" and spent years chasing down parts before putting it back together himself. Great job too. Thank you Mark.
WHERE'S YOUR BIKE?
We invite you to submit pictures and written word on your bike. If it's something we can use, we'll build a page around it, just like this. Think of the bragging rights. Hope to see your bike here soon.
---
1955 Matchless G9B SPECIFICATIONS
---
Engine type:
Displacement:
Bore & Stroke:
Compression ratio:
Horsepower @ RPM:
Fuel system:
Ignition system:
Spark plugs
Charging system:
Battery
Primary drive:
Clutch:
Gearbox:
Ratios:
1st gear (low):
2nd gear:
3rd gear:
4th (high)
Final drive:
Frame type:
Front suspension:
Rear suspension:
Front brake:
Rear brake:
Front tire:
Rear tire:
Wheelbase:
Seat height:
Dry weight:
Fuel capacity:
Top speed:
Air-cooled OHV vertical twin
498cc / 30.4 ci
66 x 72.8 mm
7.7:1
33 hp @ 6800 rpm
1- Amal 76 carburetor, 1 in.
Magneto, Lucas K2F
2- KLG FE80, 14mm thread
Lucas Generator, 6V
Lucas, 6V 12 Ah
Chain
Multi-plate, wet
Burman 4-speed, right-foot shift

2.67:1
1.77:1
1.35:1
1.0:1
Chain
Steel tube, full-cradle
"Teledraulic" forks
Swing arm w/2 "Jampot" shocks
7-inch SLS drum
7-inch SLS drum
3.25″ X 19″
3.50″ X 19″
55.25 " / 1403 mm
30.0″ / 762mm
394 lbs / 179 kg
4.5 US gal / 17L
87 mph / 140 km/h