1955 BSA A7
Pre-Unit 500 Twin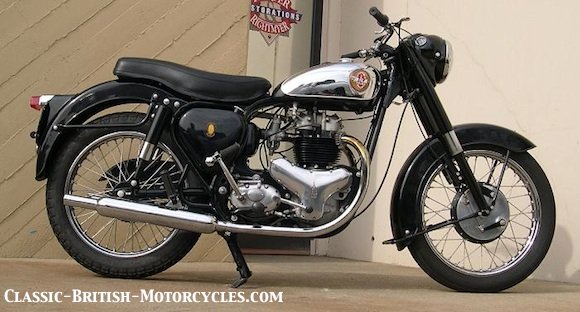 1955 BSA A7 BACKGROUND
The 500cc A7 was BSA's first vertical twin and marked its entry into that very lucrative market, started by the Triumph Speed Twin just prior to the war. At war's end, virtually every British motorcycle manufacturer fielded their own vertical twin, usually starting out at around 500cc. That's exactly what BSA did, launching the 500cc A7 twins in 1946. It was a strong-seller from the start and was continually improved and developed, gaining rear suspension in 1953. By 1950, BSA followed Triumph's lead and punched their 500cc A7 out to 650cc, giving it the model designation A10. At this point, the A7 became BSA's entry-level twin, and there it remained for the rest of its career, until it, and the A10 were replaced by their unit-construction descendants, the 500cc A50 and the 650cc A65 in 1962.
THE BASIC LAYOUT OF THE 1955 BSA A7
The engines never changed their basic design from their inception in 1946 through their replacement by the A50 in 1962. It was basically an air-cooled vertical twin, with both pistons rising and falling together on a 360-degree crankshaft riding on two main bearings (bushings on the timing side in the early bikes). The single cam lived behind the cylinder with its pushrods passing through a tunnel cast into the cylinder block. The timing gear along with the magneto drive are on the right side, with the primary chain and clutch on the right. The clutch is hand-operated, and the 4-speed constant-mesh gearbox is shifted with the right foot (the way God intended). All of this is of non-unit construction (crankcase, primary chain case and gearbox all are separate components bolted together with brackets). It was fed by a single Amal carburetor. The frames and running gear were state-of-the-art for 1955, with swing-arm rear suspension, telescopic front forks with hydraulic damping, and 7-inch single-leading shoe (SLS) brakes front and rear. Overall the 1955 BSA A7 was a very competent machine, capable of keeping up with modern traffic and providing years of reliable service. This was indeed BSA's Golden Age and the 1955 BSA A7 was a bona fide hit for them.
---
1955 BSA A7 SPECIFICATIONS
Engine type

Displacement

Bore & Stroke

Compression

Carburetor

Primary drive

Clutch

Final drive

Gearbox

Ratios, overall:

1st, Bottom

2nd

3rd

4th, Top

Wheelbase

Seat height

Ground clearance

Tires, front

Tires, rear

Fuel capacity

Curb weight

PERFORMANCE

1/4 mile

Top speed

Air-cooled OHV vertical twin

497cc

66mm X 72.6mm

7.2:1

1- Amal

1/2″ X .305″ chain

Multi-plate, wet

5/8″ X 3/8″ chain

BSA constant-mesh 4-speed, foot shift

—

13.6:1

9.0:1

6.38:1

5.28:1

54.25″

30″, unladen

4.5″, unladen

3.25″ x 19″

3.50″ x 19″

4.0 gal

416 lbs

15.7 sec @ 77 mph

84.5 mph