1938 BROUGH SUPERIOR SS100 BACKGROUND
The SS100 (SS stood for "Super Sports") was built from the very best components available at the time from a wide range of suppliers. The engines that Brough selected for his 1924 through 1936 SS100s was the twin-cam KTOP V-twin built by JAP (named for the initials of its founder, J.A. Prestwich). It was one of, if not the most advanced and powerful motorcycles engines at the time. Gearboxes were the 4-stud, 3-speed Sturmey-Archer gearbox.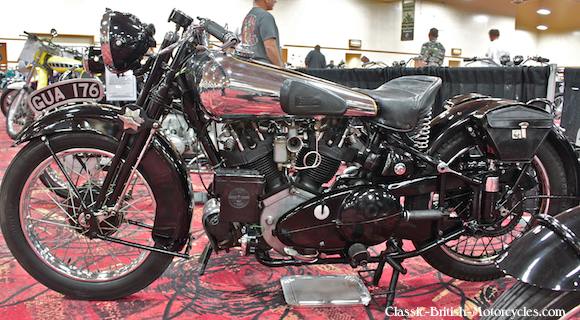 CONSTANT EVOLUTION & IMPROVEMENT
Every owner was encouraged to offer suggestions on how to improve Brough Superior Motorcycles, which led to continuing improvement, development and evolution. One result was the upgrading of the Sturmey-Archer gearbox in 1929 to a 3-speed "super-heavyweight" unit to cope with the 50+ horsepower that the big JAP engine produced. In 1928 rear suspension was added, and in 1934, the Alpine Grand Sport received JAP's new 75-horse overhead valve (OHV) V-twin famous at the time for "having two of everything: two magnetos and two oil pumps". Foot-operating shifting was added in 1935, and they upgraded to a 4-speed Norton gearbox in 1936.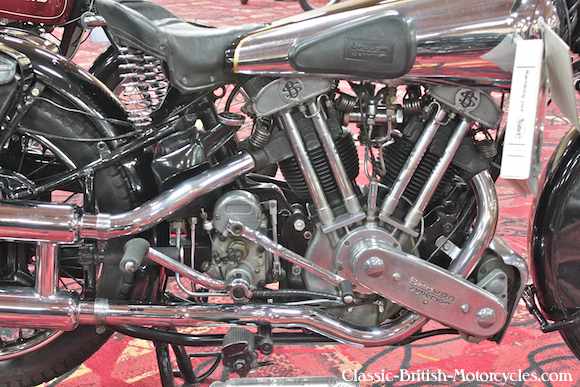 NEW ENGINE & FORKS
Starting in 1936, Brough Superior Motorcycles switched over to Matchless V-twin engines. Brough admired some of the features of the American Harley-Davidson, and copied their front forks, forming a new company to do so called the Castle Fork & Accessory Company. The new forks were lighter and stronger, and became a hallmark feature of Brough Superior Motorcycles, and helped the SS100 gain a reputation for excellent handling (by the standards of the day).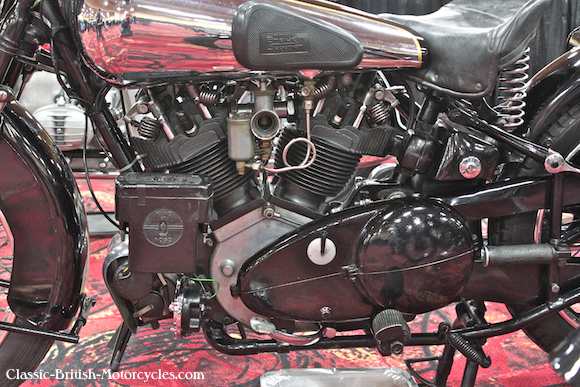 A WORK IN PROGRESS
In our efforts to complete our online index, and make this the world's greatest website about classic British motorcycles, we're building pages as fast as we can. The first thing we add are the pictures. Then come the specifications and then the history. So, if you see a page that just has only pictures on it, or just pictures and specs, please check back in a few weeks to see if we have it done. Thanks for your patience. And thanks for visiting Classic-British-Motorcycles.com. Please tell your friends about us.
---
1938 Brough Superior SS100 SPECS
Engine type

Displacement

Engine supplier

Output

Gearbox

Wheelbase

Brakes, F/R

Suspension, F/R

Dry Weight

Air-cooled 50-degree OHV V-twin

998cc / 60.9ci

Matchless

50hp

4-speed Norton

59.0″

SLS drum / SLS drum

Springer-style / Rigid

320 lbs