Victory has surprisingly beaten Harley to the custom bagger market with its radically slammed Victory Magnum.
When I first saw the abundance of custom baggers in the show and shine at the Harley-Davidson 110th anniversary in Milwaukee last year, I suspected Harley may be watching and launch a custom bagger of their own. But they've been busy with their new Street family and the electric LiveWire.
Instead, it is Victory Motorcycles who have been watching this flourishing trend which is bringing young riders to the motorcycle scene. Custom baggers with their lowered rear end, low seat, extended panniers, bright paintwork, ape-hanger bars, painted dashboards and loud stereo systems were also everywhere at this year's Sturgis Motorcycle Rally in South Dakota.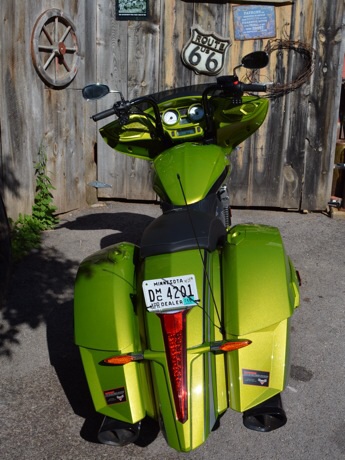 Some of them are almost comical with their 24 or even 30-inch front wheels and road-scraping extended panniers. However, Victory has managed to make the Magnum a more presentable and acceptable custom bagger with a 21-inch front and reasonable rear clearance.
As I found from a half-day ride through the beautiful Black Hills, that 21-inch front wheel also means it handles quite well. It doesn't flop into corners or track on the highway as I expected.
It steers a little slowly, but confidently, and I was able to hustle it along at a brisk pace through the beautifully smooth esses of Spearfish Valley, up into the hills, down through Deadwood with a loop over several ranges, finishing with an Interstate blast back to Sturgis. Yes, it scraped the standard floorboards which are the same massive size as the Cross Country and Cross Roads on which it is based, but it didn't scraped the rear panniers as also expected with the lowered rear end.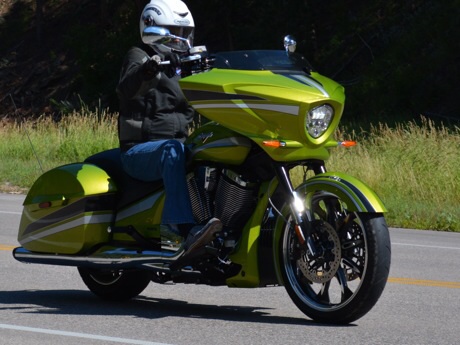 Over the few potholes and surface irregularities, the minimal travel suspension feels a bit abrupt, but nothing bone rattling. However, Aussie roads may challenge the ride comfort.
Despite the shorty tinted windscreen, the fairing sits up high because of the big front wheel and 2.5cm lower rear suspension, so it actually offers a fair amount of weather protection. At 75mph on the Interstate there was only buffeting at the very top of my helmet and when riding behind big trucks there was minimum high-speed wobble.
That buffeting didn't interfere with the sound from the 100 watt audio which blasts through loud and clear. It's Victory's loudest yet, but it's not as clear or distortion-free as the Boom Box on the Harley Touring range, but it's pretty good. You can also get pannier-mounted speakers among the vast range of accessories.
The Victory Magnum also comes with Bluetooth connection and is the first in the Victory range with a USB connector instead of the old iPhone 4 connection.
Victory has also added to the aural experience with a lovely baritone exhaust that won't annoy the neighbours, but certainly let them know you are there and you have big kahoonas!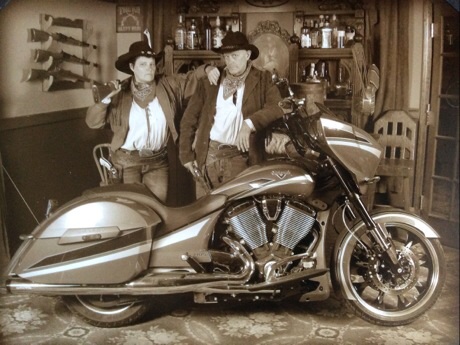 The low seat not only gives the Victory Magnum attitude, but means it will appeal to a wider range of rider heights. The mini-ape bars are also within easy reach. I'm 6ft (187cm) tall and my hands were just above shoulder height, which is illegal in South Dakota, but I wasn't stopped by any of the state troopers I saw monitoring the busy rally roads.
The mini-apes sit about the same height as the windscreen and surprisingly, they make it very easy to control the bike at low speed and feet-up u-turns are a breeze.
Pillions are only on board for a short time on a boulevard cruiser like this and that's a good thing, because the ridge-shaped seat is not comfortable and the only pillion handle is a strap that pulls out from a hole between the front and rear seats. But I enjoyed having Mrs MotorbikeWriter wrap her loving arms around me for our half-day blast.
It is powered by the same Freedom 106ci V-Twin as the rest of the fleet, but it feels livelier, probably because it is a little lighter. Together with the six-speed transmission and carbon-fibre reinforced belt drive, this drivetrain just gets more and more refined each year.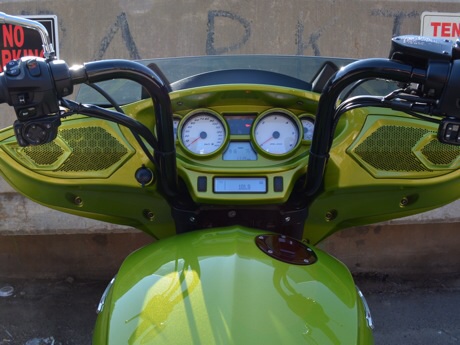 The gearing may be a bit tall for what is essentially a boulevard cruiser, so most riders won't experience the overdriven sixth gear. It only comes into play well above legal highway speeds. I snicked it at 75mph on the Interstate and it still pulls sweetly.
We didn't ride into the night, but I'm assured the LED headlights are brighter with a longer reach than the standard headlights. They look pretty cool in the daylight, too.
However, the lime green – or Plasma Lime as they call it – colour-matched dashboard glares in the sun and can be a little distracting.
There is a vast range of accessories available including a rear cylinder cutout that reduces radiated heat on to the rider in slow traffic. No one at Victory seemed to know how or when it operated, except that it is automatic and controlled by the ECU. It's not like the Harley tourers where you have to be stopped and roll the throttle the opposite direction to activate it.
The cut-out accessory is a good example of the type of thought that has gone into this factory custom bagger. Together with acceptable handling, reliability and a solid warranty, it's the best and easiest way to join the new custom bagger scene, rather than doing it yourself.
And at $29,995 ride away when it arrives in Australia in late November, it's a lot cheaper than a DIY custom. It's based on the Cross Country frame and it sits neatly between the Cross Country Tour ($28,495) and the full-dresser Vision ($30,495).
Like the other Victory tourers, it comes standard with cruise control and ABS, something you also may have difficulty adding to your DIY custom bagger.
Other accessories including higher ape hanger handlebars, Extreme Audio Saddle Bag lids with speakers and the new Beveled Collection by Arlen Ness (Pegs, Engine Covers, Mirrors,Brake/Clutch Levers, Floorboards and Ignition and Engine Covers).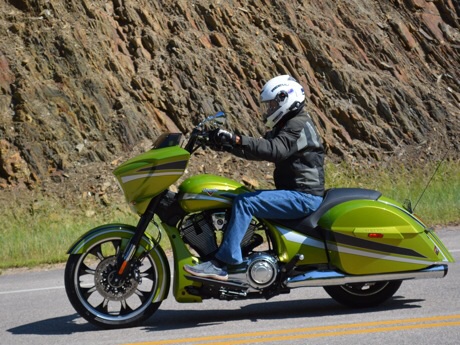 Victory Magnum tech specs
Price: $29,995
Engine: 106 (1731cc) air-cooled V-twin
Bore x Stroke 101 x 108 mm
Compression: 9.4 : 1
Transmission: 6-speed, wet, multi-plate clutch, carbonfibre-reinforced belt
Fuel: 22 litre tank, 91RON
Suspension: USD 43mm forks, 130 mm travel; single adjustable air shock, 113mm travel
Dry weight: 345kg
Clearance: 134mm
Length: 2657 mm
Rake/trail: 29.0° / 142 mm
Wheels: 21 x 3.5″, 16 x 5″
Seat: 654 mm
Wheelbase: 1670 mm
Brakes: ABS, 300mm discs
Colours: Metasheen Black Over Supersteel Grey, Plasma Lime, Sunset Red Over Supersteel Grey, Ness Midnight Cherry