The Sydney rider who crashed in slippery molten tar on shoddy Mt Glorious roadworks on Tuesday rode 1000km home not realising he had broken his leg.
Former Kiwi Stephen Thomas, 69, says he has been riding since he was 15 and this was his first motorcycle crash.
He also says he saw the advisory 50km/h electronic speed sign and swears he was only going 50km/h when he lost traction in the front tyre of his 2011 Honda VFR800X Crossrunner.
Treacherous roadworks
"That's the worst roadworks job I've ever seen," he says.
"It was treacherous. That is incompetency at its worst. You just can't leave molten star on top of the road. It's as simple as that."
Queensland Main Roads says they are trying to source a "specialised contractor" to fix the road.
They expect repairs to be completed by the end of next week, "weather permitting".
The roadworks feature sticky tar that is slippery even at 21C. Stephen admits it was about 30C when he crashed.
"I accept it was a warm day, but not a hot day. It wasn't 45 degrees, so I didn't expect to hit molten tar," Stephen says.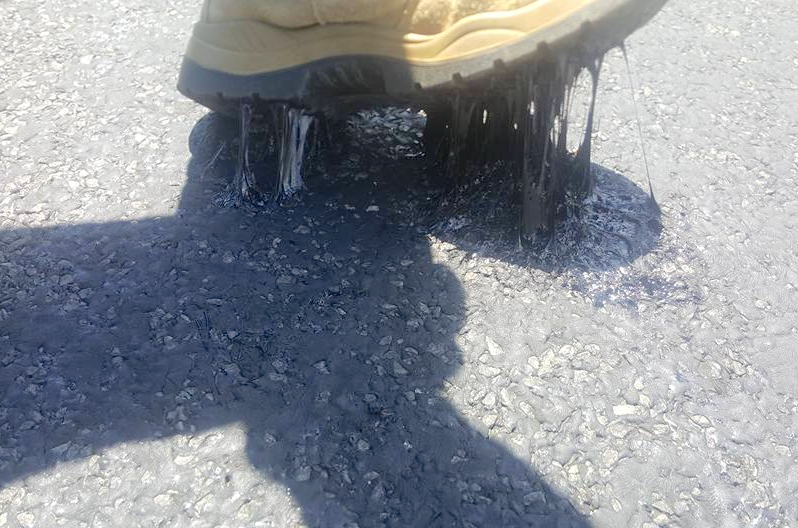 Riding on 'ice'
"I saw the advisory sign and I went around the corner carefully, but the front wheel went into the soft tar and from then on I was like a passenger," he says.
"It just felt like I was on ice. I thought I had a puncture in the rear tyre so I was just trying to slow myself down with the back brake.
"I didn't even touch the armco barrier but at the last second the bike just fell over on my leg."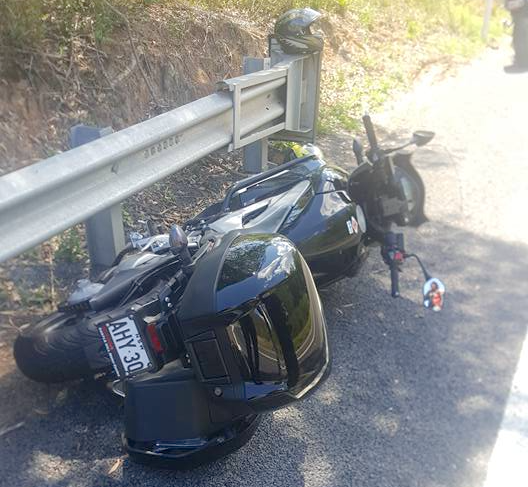 Local rider Alastair McDonald arrived on the scene and offered assistance and a rest at his house.
After some recuperation, Stephen decided to press on to Murwillumbah where he knows an orthopaedic nurse.
"She suggested an x-ray, but I thought that if anything was broken I would not be able to ride home," he says.
"I still had my boot on which was effectively strapping it into position, so I decided to ride home."
Broken leg
In Sydney today, he visited his doctor and had an x-ray.
"It turns out I've got a broken fibula (calf bone) and they couldn't believe I'd ridden 1000km to get back to Sydney with a broken leg.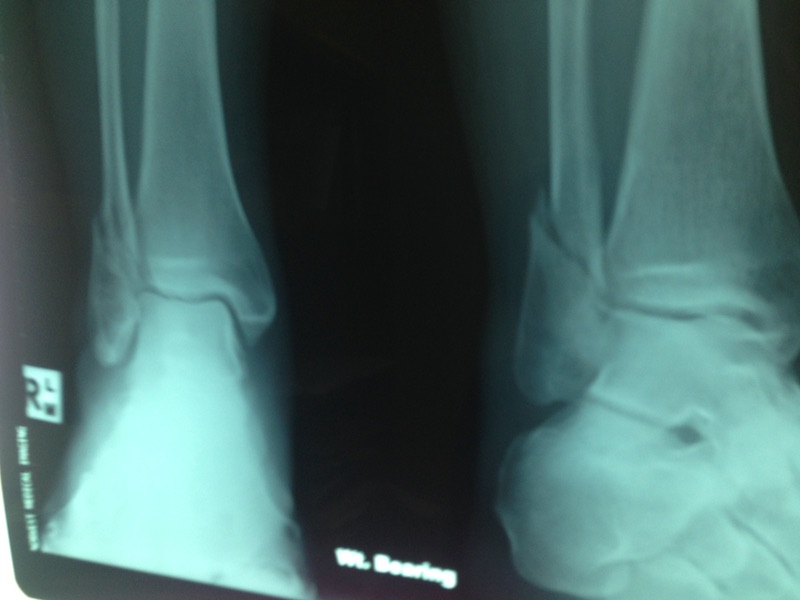 "My leg's a bit sore and I have to get the bone manipulated and pinned tomorrow because it's moved out of position.
"The annoying thing is I have the surgeon's bill, hospital bill and whatever else and I will have to lodge an insurance claim and get a black mark against my name.
"That's wrong because I had nothing to do with it."
Damaged boots and bike
Stephen says he will need new boots and his bike has damage to a pannier, brake lever, crash bars and fairing. He estimates it will cost about $2500-3000 to repair.
He says he is a safe rider who always wear safety gear including RST adventure jacket and pants, a hi-vis vest and hi-vis helmet. His bike is also fitted with LED driving lights.
"l'm always so safety conscious, especially when riding by myself as there may not be anyone there to pick me up if I crash," he says.
"I had no idea that corner was a hazard. I'd stopped to have something to eat at the Mt Glorious Cafe and didn't talk to anyone so no one said to look out for that corner.
"I wasn't in a hurry; it was just a beautiful day's ride."
Despite his crash, Stephen still says the road over Mt Glorious is the best he has ridden.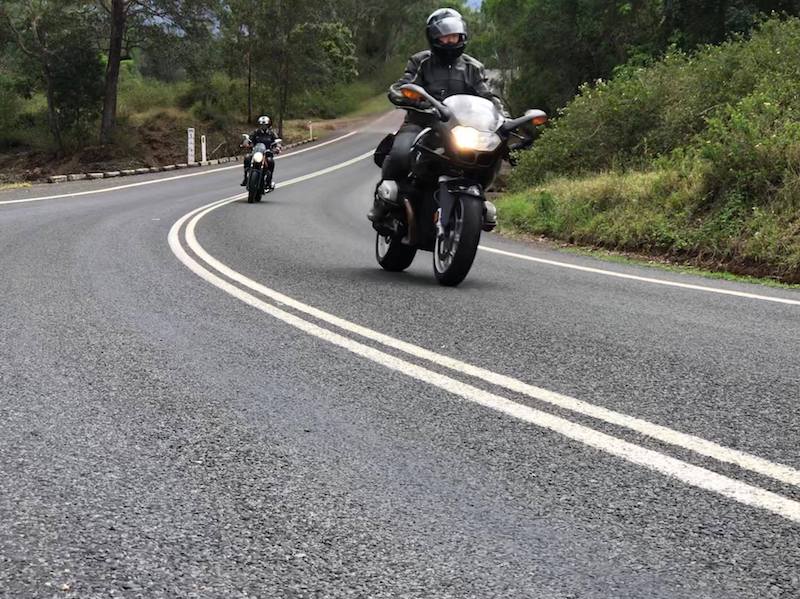 "It's aptly named Mt Glorious," he says.
"It's the second time I've done that road. It's the nicest road I've ever been on. It's just beautiful."
Stephen says he will contact Maurice Blackburn Lawyers to consider his legal options. Read their legal opinion about crashes in roadworks.
How far have you ridden with broken bones, not realising they were broken? Leave your comments below.