Cortech LNX Women's Jacket
by Kim C. for webBikeWorld.com
Winner: webBikeWorld 2007 Motorcycle Product of the Year award for Women's Motorcycle Clothing!
---
Editor's Note: This jacket and other gear that will be featured in upcoming reviews was purchased with funds from the webBikeWorld User Group donation program at New Enough. When you choose webBikeWorld.com just prior to checkout, New Enough donates $1.00 for us to use!
---
WOW! What can I say – the Cortech LNX Leather Jacket is not your typical women's motorcycle jacket.
Let me start with a couple of confessions; I just started riding motorcycles (as a passenger ONLY).
What is my other confession? I am addicted to fashion. I love clothes, especially clothes that look like they are made for my body. Who would have thought that a whole new world of fashion would open up before me? Does this mean I am a back-of-the-saddle poseur?
It is obvious before even putting the jacket on that was designed specifically to fit a women's shape.
The jacket is contoured to be figure-flattering and is shown here in a Ladies XS (Size 6) Leopard and White print. An added touch of femininity is the mandarin collar.
Animal prints are not my typical style; however, I just love this pattern! Unfortunately, pictures do not do this jacket justice. Most leopard prints used in fashion tend to follow nature and are brown spots outlined in black. Cortech has added some zing to the traditional color scheme with its own interpretation of a leopard print, using a light caramel color outlined in vibrant medium blue.
In my opinion, the jacket runs on the small side, especially with the liner attached. I typically wear a ladies size 4 or Small. Even if a smaller size was offered, size 6 seems about right for me. When I take out the liner, the jacket becomes significantly roomier.
The leather on the Cortech LNX jacket varies in texture from the white to the leopard print. The texture of the white leather is thicker and appears to be more durable, while the leather with the leopard print is somewhat softer and more supple. The white leather down the arms is perforated, with the leopard print leather used for the gussets. Inspection of the jacket reveals a well constructed product with solid seams and straight hems.
Other features include zippered closures at the wrists, two zippered pockets that lay flat and accordion-style leopard print articulating panels at the shoulders and waist to better individualize the fit.
In addition to the leather construction, the jacket has thick removable CE-approved armor at the shoulders and elbows. It was easy to remove and reinsert the armor in the Velcro sealed pockets. Cortech also added an unexpected feature in a removable back protector as an extra safeguard.
As noted above, the jacket has a removable insulated liner that easily zips in and out. Two buttons on each sleeve attach the liner to the jacket at the cuffs. And here's a bonus: the liner has removable sleeves so that the it can be worn as a vest!
The jacket is well vented under the arms and it includes a large 10 inch vent on the back, near the neck. Also, the two zippered vertical pockets in the front double as vents. All of the zippers are YKK stainless steel and not Nylon.
A permanently attached mesh liner that continues down the sleeves adds to the jacket's breatheability factor. On a fairly warm day in early fall, the vents definitely improved my comfort level.
Quality construction is evident in some of the less obvious places. At the top of the jacket just below the mandarin collar and on both sleeves at the wrists are nice detail flaps with Cortech signature metal snaps. The Cortech logo is tastefully embossed on the front-left panel near the bottom of the jacket. The front zipper also has a Cortech zipper pull for an added touch of style.
The Cortech LNX jacket is made from Grade A Aniline drum dyed leather, claimed to run about 1.2 to 1.3 mm thick. It is stitched together with high strength bonded Nylon thread. Other details include 3M Scotchlite reflective piping and both a full circumference and 8" zipper in the jacket, which enables the jacket to connect to a pair of women's Cortech pants.
The Cortech LNX women's jacket was released at the 2007 Powersports Dealer Expo, and the leopard print version is becoming scarce, as Cortech (Tour Master) may be planning on an update for 2008.
The LNX retails for approximately $200.00 which is, in my opinion, a great price for the blend of style, comfort and protection this jacket affords. If leopard print is not your taste, the LNX is also available in black, pink/white, and blue/white. Pair this jacket with some nice form-fitting jeans or leather pants and you can expect to see heads turn!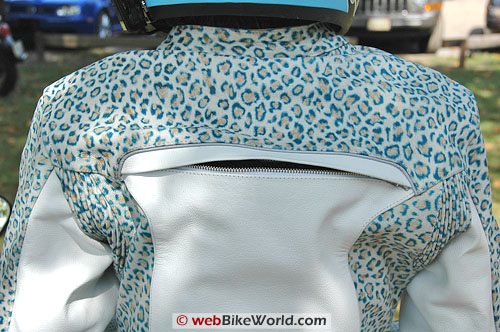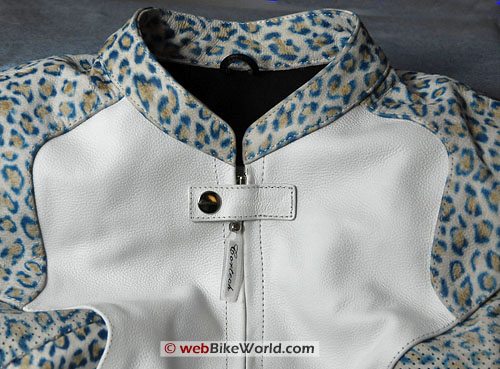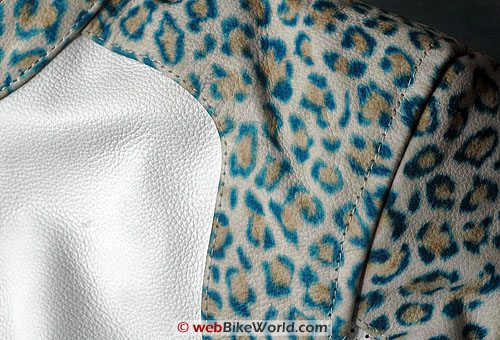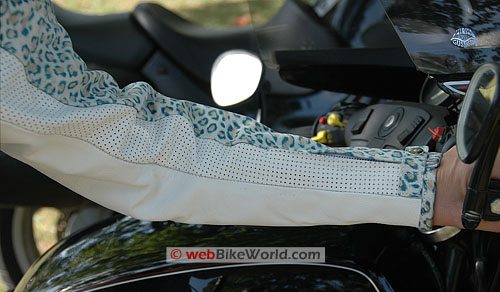 Cortech LNX Jacket - wBW Lightbox - Click photo to view.
Rear Shoulder
Front Hem
Mesh Liner
Insulating Liner
wBW Product Review: Cortech LNX Women's Motorcycle Jacket

Available From: Motorcycle Gear
Suggested Retail Price: $199.00
Colors: Leopard print, blue/white, pink/white, black
Made in: Pakistan
Product Comments: Get one soon; the 2007 LNX is apparently becoming scarce! New Enough has some left on closeout for $139.00. Sizes available are XS to XL and Plus Large.
Review Date: October 2007

Note: For informational use only. All material and photographs are Copyright © webWorld International, LLC - 2000-2011. All rights reserved. See the webBikeWorld® Site Info page. NOTE: Product specifications, features and details may change or differ from our descriptions. Always check before purchasing. Read the Terms and Conditions!
Please send comments to
Comments are ordered from most recent to oldest.
Not all comments will be published (
details
). Comments may be edited for clarity prior to publication.
---
From "H.W.": "I wanted the LNX jacket but was dragging my feet, because I wasn't going to be riding for months after being hit from behind (by a 93 year old driver!). But your review convinced me to go ahead rather than risk missing out on it.
It looks fabulous on and looks top quality. I can hardly wait to try out the features on it. How wonderful to see it as one of the Products of the Year! I've bought tons of stuff from motorcyclegear.com and can't recommend them enough. They are THE best internet company to do business with, including returns and exchanges. And, of course, I always donate my $1 to WebBikeWorld! Thanks for all your wonderful reviews. I rarely buy anything without checking in on your site first."
---
From "P.L.": "I had just read the review of the LNX jacket and then happened to see one at my friend's shop in the Leopard skin pattern by coincidence so I bought it, it was on sale for $159.99, which I agree is a steal.
One thing that wasn't said is that the combination of the pattern with the white in front and back is a good way to make me look like I lost 10 lbs.! I think the review is accurate as to this jacket. I do wonder if the leather will get softer over time, it is kind of stiff. I'm not sure about the way it's sewn together, but it is a great jacket for the money."