Reevu MSX1 Helmet Preview
"World's First Helmet With A Built-In Rear-View Mirror"
by Rick K. for webBikeWorld.com
More:
▪ wBW Reviews Home
▪ Owner Comments (Below)
▪ wBW Motorcycle Helmet Reviews
UPDATE: wBW Reevu MSX1 Review!
Background
About one year ago we received a mysterious delivery of a Reevu helmet.
I wore the helmet and took photos and started the process for a webBikeWorld review.
Then I received a just-as-mysterious note asking us to return the helmet immediately and not to say anything about it.
Strange... I'm not sure what happened.
But the Reevu MSX1 "rear view" helmet is now in production (and you can read our Reevu MSX1 Review) and the MSX1 will formally be announced at the Milan show this month.
A Reevu press release for the announcement is included below.
Reevu claims that this is the "world's first motor-sport helmet with a built-in unbreakable rear-view mirror system".
The photos we took look very close to the recently announced production version (the Reevu MSX1), but there may be some minor differences. If the latest version is anything like the one we tried, it will be a red-hot seller.
The Reevu MSX1 Helmet
I went back to my notes on the Reevu helmet to refresh my memory. The helmet fits, for all practical purposes, like just about any other helmet.
I'd say it's very similar in fit and feel to an HJC CL-14. I'm not sure if the Reevu folks would take umbrage with that or not, but you could do much worse than emulate HJC with your first helmet.
The liner was not as plush as an Arai Quantum II (review) or the Shark RSR (review), but it felt very similar to the AGV TiTech Rossi (review) we reviewed recently.
My notes say that it had decent air flow and was relatively quiet. It also has a "standard" quick-release visor.
The helmet was, in all respects, a quality item, very nicely put together and turned out, with a great metallic gray paint job that really sparkled.
I can't find my notes regarding the weight of the Reevu, but I recall that it didn't feel any heavier or lighter than normal for its size.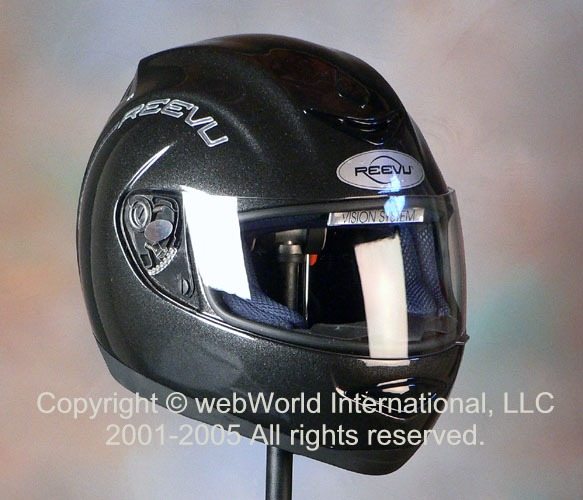 The Reevu Rear-View Mirror System
The most interesting feature of the Reevu helmet is, of course, its built-in rear-view mirror.
I had read about the Reevu before it appeared on our doorstep, and I assumed it included some type of battery operated device to allow the rider to see behind. But this is not so - or at least it was not so with our sample.
The rear-view mirror is actually very clever. The mirror is permanently located just above the rider's eyes in the brow of the helmet, hanging down above the eye opening (see Photo 1).
The top of the helmet liner is sculpted so that there is a line of sight back from the mirror through the clear top section at the rear of the helmet (see Photo 2). The rider can see behind by glancing up into the rear-view mirror.
Although our sample came in what appeared to be a final production box and appeared to be a final production version, it may have been a pre-production sample, so the current versions may be completely different.
The image in the rear-view mirror was slightly fuzzy, only because the mirror itself was made from coated plastic and not glass.
The view to the rear could be changed by the rider moving his or her head.
The system worked much better on an upright motorcycle, like the Triumph Tiger or BMW K1200LT rather than a sportbike. When the rider was leaned too far forward, only the sky was visible in the mirror.
Nevertheless, it served its purpose by allowing the rider to see directly behind.
One of the biggest problems that we found was that if the helmet did not fit the rider's head exactly right, the alignment of the mirror would be off, and there was no way to adjust it.
It was really a shame, if only there was an adjustment wheel to move the mirror front-to-back, it could be adjusted for a much wider fitment range.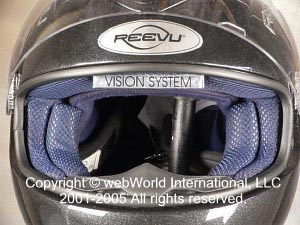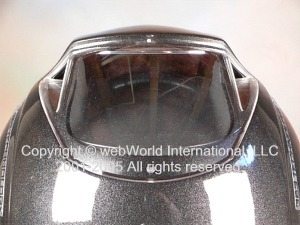 Helmet Fit Impressions
My notes also show that the top of the helmet felt slightly oversized; that is, the XL that we normally order (because two of the reviewers wear that size helmet) felt slightly too large.
I'm not sure if the mirror adjustment issue has been addressed or if the fit of the latest versions has changed.
We'll try to get a production MSX1 version for a full review, but in the meantime, if you have a chance to try one of these, you should go for it. It's really very interesting and hopefully is a harbinger of the future of motorcycle helmets.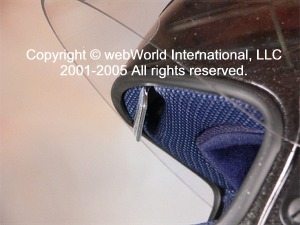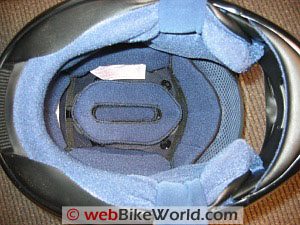 Reevu MSX1 Information
FYI, here's the Reevu press release:
"The world's first motor-sport helmet with a built-in unbreakable rear-view mirror system,* is being launched by Global brand leader Reevu at the world's biggest motor sport show in Milan this November.
The helmets, which are a revolutionary new development, will be unveiled at the EICMA show in Milan on November 15th.
They have been designed and created by innovative UK brand leader Reevu, and are being hand-assembled by specialist helmet manufacturers in Italy.
The team behind Reevu has spent ten years developing the helmets, which are designed to save lives on the roads by preventing accidents, as well as protecting the wearer during an accident. This is a helmet plus rear view vision.
The innovative and world-leading technology allows the wearer to see the road behind as well as in front of them by utilising a system of unbreakable mirrors constructed out of polycarbonate, which are fitted inside the helmet mould.
The helmet has been designed to ensure that it meets all international safety standards, and is of a similar size and weight to conventional helmets.
Reevu expects this tri composite hand made helmet to retail at circa $399, putting it in the mid-price bracket when compared with the traditional helmets currently available.
Depending on the demand from retailers and distributors, the rear-view motor-sport helmets are expected in the shops by early 2006."
Reevu, which is based in the North East of England, was established in 1999. The company now has an international distribution network across 27 countries.
The launch of the motor-sport helmet is the culmination of ten years of European research and development and an investment of around £2million. Its long–term aim is to establish Reevu as the most technically advanced Sports goods manufacturer across a wide-range of sports and leisure equipment.
Billy Morgan, Chief Executive of Reevu, said: "This is a world first that has been ten years in the making. Reevu have created a helmet that could potentially prevent an accident from happening by giving the wearer that all-important peripheral vision.
The world-leading technology we have incorporated in to the Reevu motor-sport helmet will make this product a complete revolution compared with what is currently available."
The helmet has been specifically designed to incorporate a low wind noise feature something apart from the rear vision system that motorsports enthusiast are entitled to expect from a leading manufacturer.
He added: "We are making a conscious decision to ensure that Reevu helmet arrives on retailers shelves with an affordable price tag.
I believe that this safety innovation is so important that it will transform the way people ride motorbikes, and significantly reduce deaths and accidents on the road."
"Every other vehicle on the road has to have rear view mirrors, but with motorbikes it's very difficult to mount the mirrors in a successful way. This helmet removes that problem, and that is why it will be such a revolution across the world."
Notes
*The Reevu unbreakable mirror is an integral optic system known as MROS (Multiple Reflective Optic System). The optic system itself is made from bulletproof polycarbonate, which is much lighter and safer than glass or metal, yet is virtually unbreakable.
UPDATE: Reevu MSX1 Helmet Review!
w

BW

First Look: Reevu MSX1 Helmet
Manufacturer: Reevu
List Price (2005): TBD
Colors: White, Black or Silver.
Made In: Italy
Publication Date: November 2005
Note:
For informational use only. All material and photographs are Copyright © webWorld International, LLC since 2000. All rights reserved. See the webBikeWorld®
Site Info page
. Product specifications, features and details may change or differ from our descriptions. Always check before purchasing. Read the
Terms and Conditions
!
Please send comments to
Comments are ordered from most recent to oldest.
Not all comments will be published (
details
). Comments may be edited for clarity prior to publication.
---