Folding Motorcycle Trailer

"Rocket" Folding Motorcycle Trailer Review

wBW Reviews Home | Owner Comments (Below)

See Also: Diamond C Motorcycle Trailer Review | Flatbed Motorcycle Cargo Trailer Review

by Rick K. for webBikeWorld.com

Background
I've learned a lot about motorcycle trailers since purchasing this Rocket Fold-Up trailer, no doubt about it.

I hadn't anticipated a couple of semesters at the webBikeWorld College of Motorcycle Trailers, but that's about the way it turned out. Well, maybe not college actually, but certainly the School of Hard Knocks.

One thing I did learn is that after all is said and done, there's nothing at all wrong with a flatbed trailer and, in fact, I now realize that a flatbed is probably the most versatile and least expensive motorcycle trailer types around. Let me restate that: as far as I'm concerned, a flatbed is the only way to go. That's just my opinion; feel free to disagree if you wish.

A flatbed has nearly unlimited options for attaching tie-down straps, wheel chocks and other accessories and gadgets and it also makes for a stable platform for both the motorcycle (or motorcycles) and the person doing the loading.

I had our flatbed trailer nicely configured with the Bike-Grab front wheel chock (review), a pair of quick release Cargo Buckles (review) and the Tyre Down (review) rear tire holder and I could easily load up a big bike like the Tiger all by myself in less than 3 minutes without breaking a sweat.

And don't forget the extra bonus -- a flatbed trailer also has many uses around the old homestead, like hauling the riding lawnmower for repair, carrying leaves and brush to the dumps, helping to move the brother-in-law...uh, scratch that, maybe that last one isn't such a bonus after all...

Its 13" diameter wheels were shod with super-heavy-duty tires that could hold a ton. Literally. As far as I can tell, the only disadvantage of a flatbed (and the only reason I sold ours) is its size. I just didn't have a place to store the big guy.

So the idea of a buying a folding motorcycle trailer to save a bit of space in the backyard may sound intriguing -- it did to me anyway. I was taken by the idea without really thinking logically about it. But that's me -- thinking with the heart and not the brain!

The Rocket Folding Motorcycle Trailer
I looked at several folding trailers prior to settling on the Rocket, but I see now through the miracle of hindsight that a folding motorcycle trailer really doesn't save all that much space. Think about it -- it's not like the thing is going to fold down to the size of a six-pack or anything.

Sure, a folded trailer may ultimately have a smaller footprint than a flatbed, but when assembled, any folding motorcycle trailer that's sturdy enough to safely carry a motorcycle is going to have to be a fairly big guy to begin with, folded or not. Think about it...

And yes, I've seen some of those really tiny foldable motorcycle trailers; there's even one that fits in a bag. After trailering a few bikes for more than a few miles on different trailers, I'm not sure I would trust one of the real tiny versions to carry a bike down the driveway, much less across state lines.

My feeling is that a motorcycle trailer must at least have 13" or greater diameter wheels. Those miniscule 10" donuts rotating at about 4 times the speed of sound just don't cut it with 600 pounds of bike at 70MPH. At least not for me.

But most motorcycle owners don't get a chance to own and compare different trailer types, which means that they normally don't have enough data and experience about the subject to make an informed decision. I'm no different. I didn't realize how much I would miss the flatbed until it was gone.

That's why we're here, to spend the time and crunch the numbers and report back to you so that you don't make the same mistakes.

To Fold or Not?
I was first attracted to the Rocket Fold-Up Motorcycle Trailer because it's made from aluminum, it's foldable, it has 13" wheels and, in a unique twist, it can be configured to transport on a Class 4 hitch without touching the ground. That's right -- the entire trailer can be carried on the hitch itself; see the photos below.

As it turns out, although that feature makes for interesting copy in the marketing brochure, in reality I'm now unconvinced that it provides a meaningful advantage for me. Notice I said for me -- I'm fully open to the probability that there's some advantage that I'm missing.

I did carry the trailer home mounted on the hitch, but it was more of a novelty than anything else. I guess it saves some wear and tear on the tires and bearings, but it's also a relatively dangerous way to carry the Rocket fold-up; besides all that weight out over the rear of the vehicle, the brake and tail lights on our 2006 Explorer are blocked when the trailer is carried in this position, as you can see in this photo: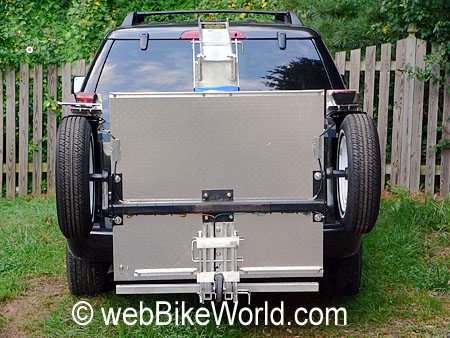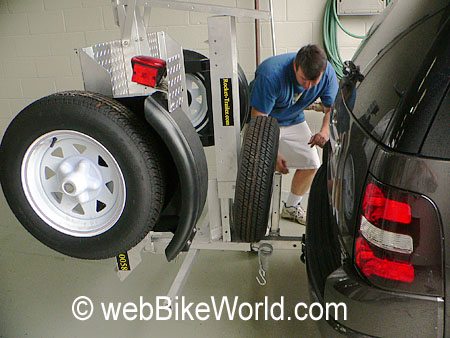 The dealer's recollection of the Rocket design story goes something like this: the designer was upset that a hotel was charging him extra for a vehicle with a trailer when parked overnight, so he designed the fold-up trailer so that it could be transported on the hitch.
In reality, the thing bounces around so much when it's mounted on the hitch that I had to strap it down to keep things steady, because the entire weight of the trailer rotates back and forth on the single focused point of the weight, which is at the hitch. The aluminum square tubing seems strong, but not that strong.
Another lesson that was learned with this particular folding trailer relates to the spare tire. Rocket offers the spare tire as an option, but unlike the rest of the clever folding design, the spare is mounted on a welded-on aluminum fabrication and it completely changes the balance and the weight of the trailer and my ability to assemble the pieces.
Accessories
If you look at the photos of the Rocket folding motorcycle trailer on their website, you'll notice that they don't show the optional spare tire. If I had to do it over, I would only order the spare as a separate item and keep it in the back of the tow vehicle, rather than having it semi-permanently mounted to the trailer itself.
I think this is good advice for any motorcycle trailer; if you can afford the space in the trunk, the pickup bed or the back of the SUV, I think you're better off keeping the spare separate. It helps avoid theft, keeps the spare out of the weather and helps prevent oxidation. And it probably will change the balance of the trailer for the better, in addition to saving some wear and tear on the bearings due to the extra weight.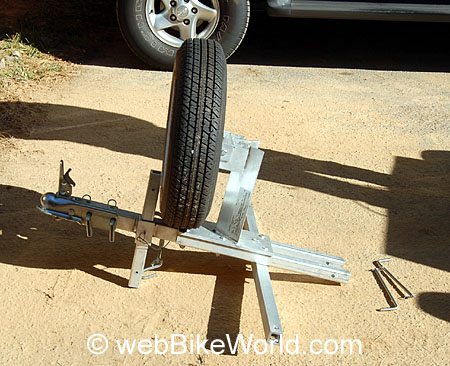 On this Rocket trailer, the weight of the semi-permanently mounted spare has an affect on the way the trailer is assembled. Rocket provided a pretty awful set of assembly instructions, which are just a series of small photos printed in color on what appears to be an inexpensive printer. No text or narrative -- just photos.
Assembling the Rocket Folding Trailer
The photos show the trailer being assembled without the spare tire, but we found that the assembly becomes much more complex and difficult with the spare tire in place. The spare and its mounting assembly add a lot of weight to the front section, so it was difficult to follow the directions because we couldn't lift the heavy assembly as directed. Thus, we've had to create our own assembly and disassembly routine.
The problem is that we haven't been able to develop a consistent routine, and it takes much, much longer than I anticipated to fold it up or unfold it for transport. I've also found it to be a two-person job, especially with the weight of the spare tire.
I took dozens of photos of all the different stages of assembly and disassembly, but believe it or not, I haven't yet been able to piece together a logical flow of illustrations that would make any sense for this article. The lesson here is that if you're looking to purchase a folding motorcycle trailer, make sure you fully understand the instructions, what's involved in putting it together and try it a couple of times before you buy.
In the end, the Rocket folding trailer isn't all that much smaller when it's folded up, so my mistake was thinking that this was an advantage for me.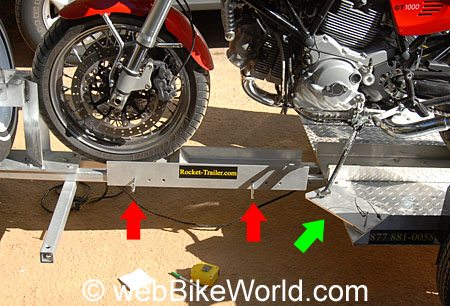 Design Quirks
Another disappointment with the Rocket fold-up is that after it's assembled, the weight of the motorcycle is basically carried on two stainless steel pins.
The two red arrows in the photo above are pointing to the pins that hold the front of the trailer on the left (which includes the mounted spare tire) to the bulk of the trailer on the right. The extrusion with the Rocket Trailer logo on it bridges the two assemblies. The two square aluminum tubes that slide into the front and rear of this extrusion can just be seen in the photo.
The weight of the bike is carried by these two pins, and most of the weight is situated directly over this section. Pins are also used underneath the floor of the trailer and in other places to hold the pieces together. Small stainless steel quick-release "hair pin" type cotter pins are provided, but they seem loose and one of them fell out as we were assembling the trailer for the first time.
I don't believe the hair pin cotter pins are safe enough for assembly and transport of this trailer, and I'll have to purchase either some type of locking cotter pin or use a circle cotter pin or lynch pin instead, hoping that they will stay in place.
I also would feel much better if there were four pins, two in front and two in the rear, holding the front and rear sections of the trailer together through the extrusion. I'm not the designer, but I see no reason why this couldn't have been part of the design. Yes, maybe the two are calculated to work, but there's nothing wrong with redundancy.
Another issue with the extrusion is that the holes for placement of the pins are 2" apart. The tire stop, which can just be seen behind the front tire, is also movable but can only be moved in 2" increments instead of, for example, 1", which would have provided more fine tuning for the range of placement for the tire stop. We could not find a location for the stop that felt secure for the 17" front tire on the Ducati, which is a standard sportbike size.
The green arrow in the photo above points to the slide-out side stand floor. It rotates towards the front of the trailer but we found that it is not nearly robust enough to hold the bike, so two people are also needed when loading the bike, one to hold it and the other to fasten the tie-downs.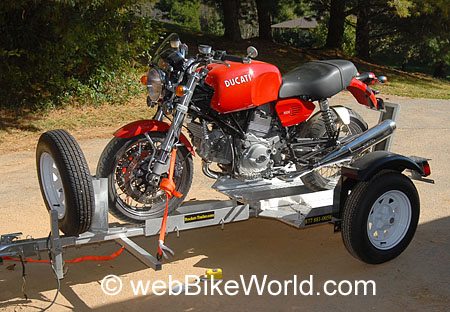 This photo (above) shows the bike finally loaded on the trailer. I've since installed a pair of Cargo Buckles (review) on the front crossbar. This bar is designed for one end of the tie-downs, but I wish it was either triangulated back to the trailer or perhaps two pieces of tubing were used, which I think would provide more support for both the trailer and the tie-downs.
I used the fantastic Tyre Down (review) rear tire holder to hold the rear of the bike (see photo below), and this system seems to work well with this bike and the Rocket fold-up trailer. But maybe I'm too conservative; it all works, but the bike just doesn't feel anywhere near as steady when it's loaded on this trailer as it did on the flatbed.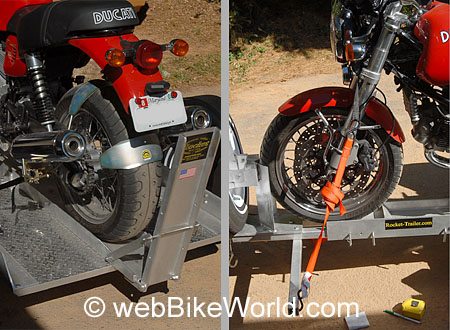 Following is a sampling of photos showing the assembly of the Rocket fold-up trailer. As I mentioned earlier, I've sort of given up on trying to piece together the exact sequence of assembly, mostly because after several tries I haven't been able to completely figure it out for myself.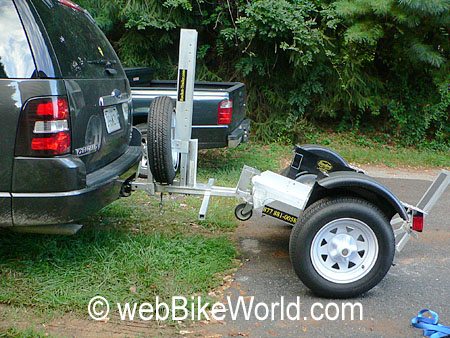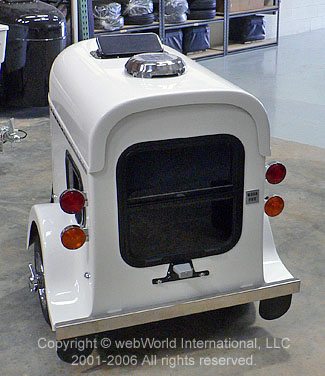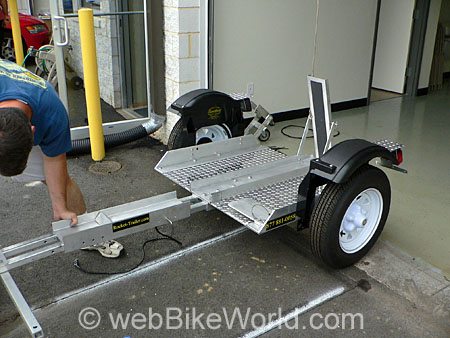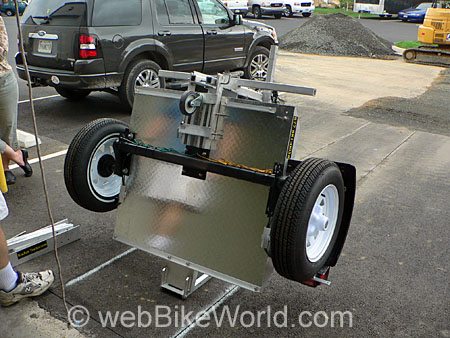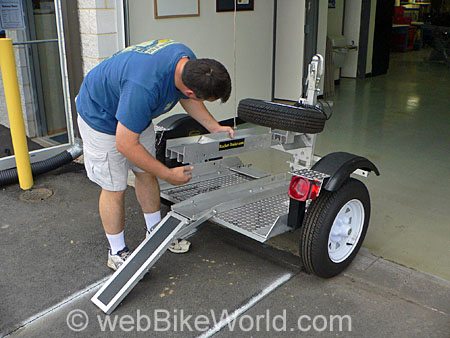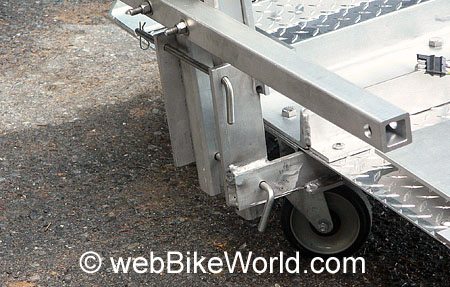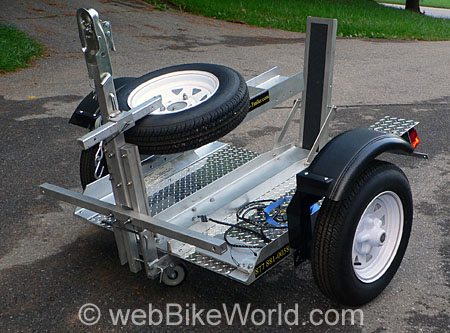 Suggested Improvements
As you can probably tell, our experience with this trailer wasn't as we expected. But it's a combination of my not thinking through exactly what outcomes I was looking for in a trailer and what I believe is a quirky design.
I'm now not really sure if I can see the advantages of a folding motorcycle trailer for our needs. I should have tried assembling and disassembling this trailer before I bought it and I don't like the way the pins and cotter pins hold everything together and I didn't realize the problems that the mounted spare would create. This is a lesson for anyone considering a folding trailer.
With regards to this particular design, it's my understanding that Rocket has been manufacturing this trailer for some time, but I would suggest that several features seem in need of improvement. I first guessed that perhaps this particular trailer was a prototype, and I was surprised to learn that it's been in regular production.
As of this writing, It definitely needs a better set of instructions, and the instructions should also be made available on the Rocket website so potential owners can see what's involved in assembly and disassembly.
I would like to see more and bigger diameter pins holding it together; the cotter pins definitely need improvement; the design of the spare tire assembly also needs improvement (it should be easily removable to reduce the weight of the front assembly, making it easier to lift); the side stand flooring doesn't work for me and I think that overall the trailer could use a bit of structural redesign to see if it could be made more robust.
The spreader bars in front that hold the front tie downs should be more robust and should be designed so the tie downs can hold the bike at a variety of angles; I don't like using the handlebars to hold a motorcycle on a trailer. And while they're at it, how about partnering with a front wheel chock manufacturer and incorporating one into the design of the trailer in a way that will both hold the bike steady and allow one person to load and tie down the bike?
I think one of the most important pieces of advice I can give, based on our experience, is this: before you order a folding trailer, make sure you first try to assemble it to see how long it takes and how many people are required. You should also then determine how long it takes to load the bike and the complexities involved.
Remember to try and tie down the bike and determine many people are required for that operation also. Finally, it's a good idea to tow the bike on the trailer at a variety of speeds and over different surfaces to understand how the trailer handles.
As I mentioned above, I could hitch up the flatbed trailer to the tow vehicle, load the big 1998 Triumph Tiger and tie it down very securely by myself in less than 3 minutes with very little effort. The Bike-Grab front wheel chock, a pair of quick release Cargo Buckles (review) and the Tyre Down (review) rear wheel holder make all the difference in the world, and any trailer I buy in the future will have to accommodate those products because they simply make trailering a motorcycle so much easier and safer.
Folding motorcycle trailer manufacturers, are you listening? You owe it to yourself and your customers to investigate these products and incorporate them or something like them into your trailer.
Conclusion
We've been accused of being too harsh on the Rocket trailer, but I would disagree. I think the criticism should be directed at the designers of this trailer. We wrote to the manufacturer with our concerns but never received a reply, so we don't know if the trailer has been redesigned or revised since this review was posted in October of 2006.
I am only relaying our experiences and our opinions on this product, manufactured in 2006, for the benefit of our visitors. If you have experience with one of these trailers and you don't agree with our opinion, that's fine with me. I feel confident that this review will provide lots of good information and insight for prospective trailer owners to consider when selecting a trailer. I wish I had this information before we made our purchase.
I'd like to hear from any folding motorcycle trailer owners and especially from Rocket fold-up trailer owners; please send your comments to the address below.
Epilogue
I finally removed the spare tire carrier from the Rocket trailer, then assembled the trailer and have not folded it up again since. It's actually rather small when its assembled, especially compared to the flatbed trailer. I took the spare tire off the holder and simply throw it in the back of the truck when we're using the Rocket trailer for towing.
When it's kept in its assembled state, obviously the issues with folding and unfolding are no longer valid. There's still the issue of the small pins holding the rail together; I wouldn't tow anything much heavier than the GT1000 shown in the photos. But when the bike is finally loaded -- which still takes two people -- and everything is carefully checked and ready to go, the Rocket trailer delivers a smooth and satisfactory experience.
I think the biggest problem I had was one of expectations. The ability to fold the trailer in this case turned out to be much less important than my personal safety and security comfort level. Once I got over the fact that folding the Rocket trailer was way more trouble than it was worth, and removed the spare tire holder that created a weight imbalance problem that made assembly and disassembly a real chore, I'm pleased with the results.
However, there is still the fact that the main selling point of this trailer -- the folding ability -- had to be disregarded by me in order to finally gain this satisfaction.
wBW Product Review: Folding Motorcycle Trailer

Available From: Rocket Trailers
Suggested Retail Price: $1,595.00 base price

Colors: Aluminum (powder coating available)
Made in: U.S.A.
More: wBW Motorcycle Trailers Page Review Date: October 2006. Revised: July 2007.

Note: For informational use only. All material and photographs are Copyright © webWorld International, LLC - 2000-2011. All rights reserved. See the webBikeWorld® Site Info page. NOTE: Product specifications, features and details may change or differ from our descriptions. Always check before purchasing. Read the Terms and Conditions!
Please send comments to
Comments are ordered from most recent to oldest.
Not all comments will be published (
details
). Comments may be edited for clarity prior to publication.
---
From "G.M.": "I just came across your story about the Rocket Folding Motorcycle Trailer and I found it to be quite interesting. I was recently at the Honda Hoot in TN and one of the Trike riders had a Rocket trailer for his trike that folded. He swore by it, I'm the Canadian dealer fro Stinger trailer and I had a hard time even remotely convincing him that there would be another compact trailer out there that would handle his trike.
Not all folding trailers are as user unfriendly and most are a lot smaller than the one you purchased. I don't know if you know about the Stinger Trailer and how it operates, stores etc but to lump all folding trailers in the same bag (no pun intended) is just plain unjust.
There are many people out there that don't have adequate space available to store large flat bed trailers or the money to pay for storage at the local public storage facility or a friend or family member that would allow storage of a flat bed trailer.
There is a need for compact folding trailers, fair is fair, if you don't like one don't lump them all together, there are good ones out there you just made the wrong choice."
---
From "T.B.": "Let me start by saying that I really enjoy your site and your reviews. I have found several pieces of great information that I used everyday while riding, i.e. earplugs, Formotion clocks, etc.
I must say that in your second pic in the folding trailer article that I am quite surprised you even purchased that thing given the axle lay out. You're carrying 500lb or so on some cantilever tubing? That alone with the funky channel aft of the bike's front wheel would have sent me running, esp for that price.
Quite a while before I had a cycle, I purchased a trailer identical to (this one), except it was purchased at a store called Fred Meyer. Yeah, it has some dinky rims, but the thing moves quite a load and I have not had a problem at 70mph or so. It has also shuttled my 2000 Kawasaki ZR-7. At that load, it didn't even wince. A friend is purchasing one to haul a coupe dirt bikes and his 999 and a Aprilia for track days.
With the applied 3/4in plywood deck and some 2x4 reinforced 3/4in plywood sides that are 2ft tall, I have hauled two cubic yards of bark mulch. This load pushes the limits but has been done several times with caution.
All told, this trailer cost about $320 plus registration and folds into an approximate 5.25ft x 2.25ft footprint including sides. I can have it ready to haul in about 30min including the connections to the car. It fits, folded, in my 20ft x 20ft, two car garage with two cars, my cycle, a full size fridge that has been converted to a keggerator, a chest freezer, and a whole host of shelving and other junk. I'd love to send you a pic or two.
I don't have un-realistic expectations of my trailer, but I would trust it to easily haul your beautiful Duc cross-country. That is something I cannot say for the trailer you reviewed. Also, the Harbor Freight link above will get you to other trailers with larger rims and higher capacities for not much more money.
Considering your situation with the reviewed trailer, the Harbour Freight verity might make a great counter point."