Your Sunday ride may have been your last for some time.
Australian governments at all levels seem set to recommend that "any sort of travel that is not part of someone's normal life" be avoided to stop the spread of coronavirus.
The official decision and precise wording has not yet been released, so we ride on in confusion!
We could argue that riding a motorcycle is essential to us and definitely part of our normal life.
We could argue that riding solo and not mixing with anyone nor stopping anywhere for a coffee is self-isolating.
We could also argue that our only stop would be for fuel and we could keep our gloves on while we pump fuel and pay with a credit card at the pump (if that is available).
But that might be disingenuous and perhaps not in the community's best interests.
We have asked the Prime Minister's office and all state premiers for clarification on travel advice regarding motorcyclists.
So far, the PM's office has simply replied: "The Prime Minister has recommend against all non-essential travel in Australia."
In Queensland, Premier Annastacia Palaszczuk says: "Stay in your suburb."
Now the state is joining South Australia, NT and Western Australia in closing its borders.
There is no word about enforcing any of these recommendations. Yet!
Click here for the latest info.
This is no laughing matter.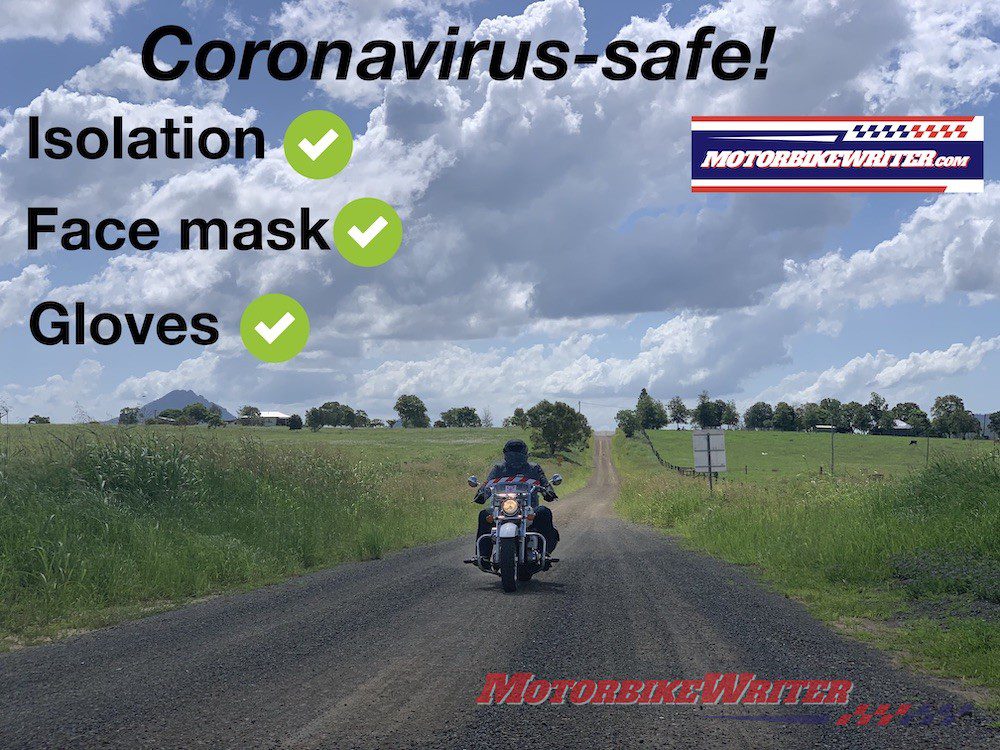 This is now serious.
Our leaders are talking about curtailing interstate and long-distance travel, which very much sounds to us like our weekend ride is in jeopardy.
If the government bans non-essential travel, then we will effectively be house-bound.
If they just recommend avoiding non-essential travel, we may still be able to ride if we act responsibly and "exercise judgement" as the PM says.
That probably means riding solo, no cafes or restaurants along the way and keeping our gloves on when fuelling up.
However, the PM also says "travel needs to be reduced to stop the spread of the virus across the country".
It's a baffling message for motorcyclists.
However, we need to share the responsibility of not contributing to the virus spread, so we suggest limiting your rides until the issue is clearly spelt out by our leaders.
Maybe just commuting to work.
If they do not ban non-essential travel tomorrow, it may only be a matter of days before they do. We hope you got in a good last ride!
Many countries are banning non-essential travel and some, such as Rwanda and California are specifically banning motorcycles.
Here's the rule for California:
All travel, including, but not limited to, travel on foot, bicycle, scooter, motorcycle, automobile, or public transit, except Essential Travel and Essential Activities as defined below in Section 10, is prohibited.
How to survive
The coming months look like being a long period of boring home detention if we are not allowed to ride.
To satisfy our motorcycling habit, we will need to watch old races, motorcycle movies and documentaries on streaming services.
We can also spend time giving our bike a thorough clean and maintenance update. Click here to find out how to hibernate your bike safely.
You can also wade through the more than 6000 articles on Motorbike Writer, especially those timeless self-help articles in the Tips/Training section!
Meanwhile, we will continue to publish relevant articles and keep you updated on the motorcycling world.
Stay safe and sane.
The Australian Government Department of Health advises that the only people who will be tested for COVID-19 are those with symptoms who have either returned from overseas in the past 14 days or been in close contact with a confirmed COVID-19 case in the past 14 days.
If you are sick and believe you have symptoms of COVID-19, call your GP ahead of time to book an appointment. Or call the national Coronavirus Health Information Line for advice on 1800 020 080. If you are experiencing a medical emergency, call 000.
To keep up to date with the latest information, please visit the Department of Health website.