WorldNav GPS Image Gallery
wBW WorldNav 3500 GPS Review
▪  Part 1: Introduction and Details
▪  Part 2: WorldNav GPS 3500 Overview
▪  Part 3: Applications and Settings
▪  Part 4: Where To? WorldNav 3500 Navigation
▪  Part 5: Using the WorldNav 3500
▪  Part 6: Installation and Conclusion
▪  WorldNav 3500 GPS Owner Comments 
Related wBW Reviews
▪  Motorcycle Bluetooth Intercoms
▪  Motorcycle Intercoms
▪  wBW Review Index
Another one for the road and my job doesn't seem to get any easier in assessing this newest webBikeWorld GPS.
The WorldNav 3500 Motorcycle GPS is a new offering from a well-established player in the commercial satellite navigation industry.
TeleType Co., Inc., who develops and manufactures the WorldNav brand GPS systems, may not be as well known to motorcyclists as it is to truckers.
But the company, who specializes in software development, has been providing a variety of GPS systems for embedded mobile devices, commercial navigation and fleet tracking for nearly 30 years.
This experience is evident in the WorldNav 3500 Motorcycle GPS, which has both new and older (or more mature) services incorporated in the product.
With a little bit of everything bundled in the application and tool suite, the device has lots of versatility, with the star application being the WorldNav Navigation software.
This mature and well-maintained application is an excellent navigational tool.
Referring to my comments in the Garmin zumo 660 review, my bottom line assessment is pretty much the same and as much as I really want to like the WorldNav 3500 GPS, I also hope it will evolve.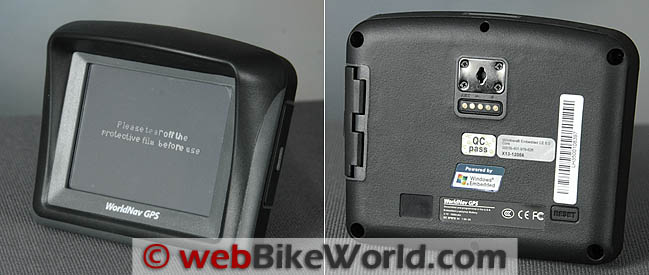 Introduction
I have been aware of TeleType Co., Inc. and its satellite navigation systems for some time, but was not aware that they had started to expand and diversify the product line.
So when the Editor offered up the opportunity to evaluate the WorldNav 3500 "Cycle" GPS, I didn't hesitate (ToysBMe!).
Designed and produced in the U.S.A., the WorldNav 3500 Satellite Navigation System is part of a growing GPS product line offered by Teletype, which is based in Boston, Massachusetts.
The company was founded in 1981 and now has truck, car, motorcycle, bicycle and other custom GPS products, along with developer tools, maps and programming implementations within Teletype software.
According to TeleType, they were the first to offer a portable GPS solution to commercial truck drivers.
The company also indicates that the WorldNav 3500 Cycle GPS was designed to take advantage of their expertise in the commercial trucking market.
As such, the system shows an appreciation for these other markets while offering real versatility to users on foot or wheeled enthusiasts, powered or not.
Other than the power and reset functions, the user interacts with the WorldNav 3500 with a touch screen interface.
The device lacks a built-in speaker but it does come with a special (proprietary) Bluetooth receiver headset with a single speaker for the reception and reproduction of monophonic (single channel) audio.
Text-to-speech navigational voice instructions are heard loud and clear in English, Spanish or French.
Once a language preference is selected, the audio and visual prompts reflect the chosen language, including the GPS text-to-speech instructions.

The WorldNav 3500 Cycle GPS uses Microsoft Windows Embedded CE 6.0 as the operating system, which also allows a suite of applications and related tools that are included with the device to be launched separately from the GPS instructions.
The applications, which are described in Part 3 of this review, are launched from the WorldNav 3500 main menu.
Besides the main GPS navigation function, the applications include Settings, GPS Info, Music, Movie, E-Book, Picture and Bluetooth programs.
However, there is no doubt that the navigation software is the featured application in the WorldNav 3500 GPS, as it should be.
The system supports navigation in Canada, the United States and Mexico and the software provides over 12 million points of interest (POI) which, for the WorldNav 3500 Motorcycle GPS, include motorcycle dealers, repair shops and other related addresses.
A welcome feature is the ability to import static GPX routes (GPX is the GPS eXchange format for motorcyclists to share GPS route information)  to support travel to and through areas that may not be well-mapped (been there, done that, survived).
The WorldNav 3500 owner also has the ability to store an unlimited number of user-created points, which can be designated by GPS coordinates, addresses, POIs, or by simply browsing the map.
As only one primary application can be active at a time when using the WorldNav 3500, the navigation application would be used for planning and travel purposes.
And once dismounted for the day or when taking a break the device could provide media playback services using the music, video, picture and E-Book applications.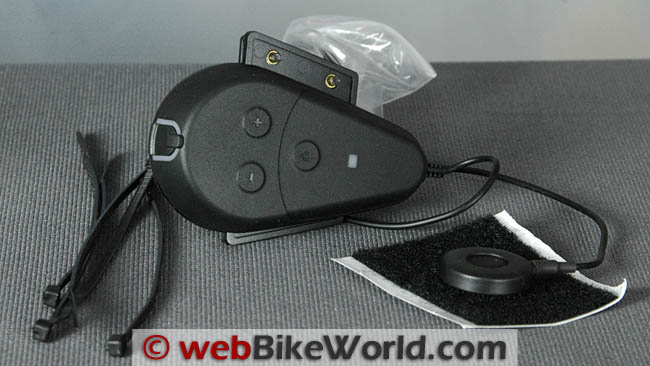 Included in the WorldNav 3500 Motorcycle GPS Kit
The WorldNav 3500 Cycle GPS module
GPS mounting bracket; handlebar bracket and carrier frame.
 12-24V power adapter, two section harness.
USB Cable for charging and data use.
Bluetooth receiver with single (mono) speaker.
Bluetooth Earphone User Guide.
Hardware User Guide.
Software User Guide.
Quick Installation Guide with package contents listing on reverse.
Warranty Card and Product Registration Card.

WorldNav 3500 Cycle GPS Specifications

Dimensions
112 x 91 x 47mm or 4.5 x 3.5 x 2 in
Net Weight
366 g (13 oz.) Operating
System
Microsoft Windows CE 6.0
Processor
ARM11 application processor @ 500MHz
SD RAM
64MB (Flash memory)
External Memory
Maximum 32GB SD/SDHC/MMC
Supported Media
Video: ASF, AVI, MP4, 3GP, WMV.
Audio: MP3, WMA, WAV.
Photo: JPEG, BMP, PNG.
E-book: Text-based (TXT)
Power
AC Charger: AC 100-240V. Output is DC 5V/2A.
Cradle Charger: 20 to 40 minutes depending on screen brightness.
Built-In Battery: 3.7V rated at (330 or 1000mAH).
Navigation Time: 2-3 hours at 50% volume and backlighting.
Power Saving: Automatic stand-by mode, backlight shut off.
Display
Specification: 3.5 TFT +3.5 in LCD screen, 4-line resistance touch screen.
Resolution: 320 x 240 pixels (RGB). Brightness and Time settings.
GPS Module
Frequency: 1575.42MHz
Port: COM7
Baud Rate: 38400
Channels: 64
Receiver Sensitivity: Minus (-) 161dBm
Precision: Position <10 metres
Start-Up Time: Hot – 3 sec. avg. Warm – 38 sec. avg. Cold – 45 sec. avg.
Refresh Rate: Once per second
Bluetooth
Embedded receiver module, supported earpiece, single channel audio Bluetooth.
Range: Less than five metres or 16 feet.
Bluetooth Output Power: 0.5W
FM Transmitter
Optional, frequency range 87.5 to 108MHz
Environmental
Working Temperature: -10 to 55 degrees C (14 to 131 degrees F).
Storage Temperature: -25 to 75 degrees C (-13 to 167 degrees F)
Waterproof Class: IP5
System Upgrade
Via SD/SDHC card
USB
USB 2.0 high speed
Certification
CE/FCC/ROHS
WorldNav 3500 Review Index
w

BW

 Product Review: WorldNav GPS 3500
Manufacturer: TeleType Co., Inc.
List Price (2010): $359.00. GPS software only can be purchased for $95.00.
Color: N/A
Made In: Assembled and programmed in the U.S.A.
Review Date: March 2010 Warranty: One year limited warranty, with 1, 2 or 3 year extension options.
Note:
 For informational use only. All material and photographs are Copyright © webWorld International, LLC since 2000. All rights reserved. See the webBikeWorld® 
Site Info page
. Product specifications, features and details may change or differ from our descriptions. Always check before purchasing. Read the
Terms and Conditions
!
Owner Comments and Feedback
---
From "R.H." (June 2015): "I have received, from a friend of mine, the WorldNav 3500 BT headset. I want to connect it with BT to my navigation but I need the BT code. Could you please be so kind to assist me with this? The normal codes 1234 and 0000 doesn't work."
H.B.C.'s Reply: "As noted in the original evaluation, and then again in the Comments/Feedback section (near top), the WorldNav GPS BT would only pair with the provided WorldNav proprietary mono BT headset.
This was proprietary and purposefully locked down in the firmware (that was confirmed). It will not pair with other headsets.
As also noted, other BT headsets would "see" the WorldNav GPS, but I never got any of them to exchange information and thus pair (given the lockdown).
However, having said this, one never knows what the newest protocols or calls, including the Universal Intercom (which is just a headset profile typically) might be capable of rendering, but I would have my doubts."
Response From "R.H." (June 2015): I would let you know the outcome to get the headset connected with the Garmin. I am not able to figure it out. It stops with the BT code which I cannot match with the Garmin.
So as for as I can see an impossible job to do. I have bought a simple BT headset with only earplugs to do the job from an friend of mine."
---
From "B.E." (April 2012): "I have purchased this WorldNav 3500 for my Motorcycle. But I have two questions:
Q1. What is the Bluetooth-ID-Code for the helmet Bluetooth receiver and speaker? I will pairing with my Android-Phone.
HBC's Reply: Unless TeleType GPS has changed the specifications and functional parameters of the WorldNav 3500 GPS system since our review (and nothing is identified on the website to indicate this), the WorldNav 3500 can only be paired successfully with the supplied mono-earpiece headset (or external headset if the upgrade kit is purchased), as described in the review.
The Bluetooth communications link between the GPS and the headset is proprietary and meant to be used as dedicated system, with no other interaction with other devices.
Accordingly, there is no code provided for secure pairing between devices, and neither the GPS or headset would be capable of pairing with or supporting a phone.
Q2. Can I change the device-configuration in Windows CE for the Bluetooth communication? Set a new device ID to connect another Bluetooth headset?
HBC's Reply:  This question actually identifies a possible software-based option in modifying the base WorldNav programmed settings to allow interaction with other Bluetooth devices.
But I suspect, especially if the protocols have been locked-down or restricted, that gaining access to this part of the firmware could be a difficult task unless one has the necessary insight and ability to undertake this.
It may not be impossible, but it could be a lot of work, that may or may not bring about positive results.
The (clearly identified) proprietary implementation of the Bluetooth feature on the WorldNav 3500 provides a dedicated link for audio purposes, but it also limits overall versatility and flexibility of the system.
While not resolving the Bluetooth limitations, a workaround that might help in providing audio is to purchase the optional mono-junction adapter and extension cable that allows an external headset or speaker to be used for the audio output.
As necessary a 2.5mm or 3.5mm mono-to-stereo adapter could be added so that audio from the GPS could be wired in using the auxiliary port of any modern Bluetooth headset.
I sincerely hope you were not misled by the vendor as to to the Bluetooth functionality of the WorldNav 3500!
---
From "A.M." (September 2011):  "Thanks for your reviews….I have only recently dived into Motorcycle GPS, only because I bought a used car a few years abck with an integrated GPS and discovered how handy it was.
I'm currently using a Nuvi 550; Could not justify the expense of the Sumo and found a reconditioned Nuvi that, with RAM mount, cost me $200….little enough to discover if I liked using a GPS on the bike or not.
So far, the experience is good, not great, primarily due to routing.
So, on the WorldNav; Weather resilience? Is the case sealed to continue to provide performance (and even work) if/when caught in a heavy rainstorm? (Editor's Note: It is IP5 rated; see the specifications table above.)
My biggest complaint with GPS's is route creation.
In the course of a single days ride, I will want to take a freeway, avoid the freeway, take a direct/shortest distance, avoid the direct/shortest distance…and do not find the Nuvi allows me to set up a ride like I want.
It will always take me on the freeway or avoid it, always take the shortest road or avoid it, etc.
That is the difference between car and MC GPS usage; The routes on a bike are not always meant to be the anything, as it is a pleasure trip.
I could not tell from the review if the WorldNav allowed sufficient flexibility in defining that route (I have tried forcing routes via Waypoints, but some of the tiny towns don't exist in the GPS database, especially when forcing a route through say West Virginia).
So, how flexible is Motorcycle Via in allowing you to create a specific route. I also didn't understand if you could create a route in Mapquest or Google Maps and transfer that route to the WorldNav….a big plus, in my opinion.
Though again, the Garmin will take my pre-defined Mapquest route recalculating the route, based on defined criteria….a negative in my opinion."
HBC's Reply: My simple reply would be no, but mainly because my initial attempts didn't go well in trying to set up a direct transfer link between Google Maps and the WorldNav 3500 as I couldn't get it recognized.
Unlike the interface applications that facilitates this efficient feature between Garmin devices and Goodle/Google Earth to upload or download routes. I did try a KML export from the WorldNav for processing with Google and Google Earth, but neither of those attempts worked either.
I must admit I haven't revisited this scenario and really do need to see where all that sits right now. On a related note, I never did get any answers back from Teletype Corp regarding some of my questions that were related to use of KML, etc.
And you are so right regarding the 'recalculating' issue, many users, including myself, run into this US vs Them scenario and it pays to carefully check input and output.
---
From "J.E." (04/11):  "I purchased the TeleType WorldNav 3500 GPS after reading your typically thorough review. I've owned TomTom Rider and two Garmin units, so I have in-depth experience with GPS on motorcycles.
I like the TeleType very much. The dedicated Bluetooth avoids a problem I had attempting (unsuccessfully) to get any of the other units to communicate via Bluetooth with my Cardo Scala G4 while it was paired with my Motorola phone.
Repeated calls to TomTom, Garmin, Motorola and Cardo always ended in finger pointing amongst the vendors. Now the phone links to the Cardo while the dedicated TeleType receiver is mounted on the other side of my helmet.
The rest of the unit compares favorably with TomTom and Garmin.
I have no desire for a larger screen; the smaller one fits nicely behind the little Givi A770 fairing on my Moto Guzzi Griso. I sent two product improvement suggestions to TeleType Technical Support:
When hard-wired to motorcycle power, the unit should turn on and off automatically. Both TomTom and Garmin work that way, while TeleType's power button is hard to operate with gloves;  and,
TeleType should turn their neat little twist lock (on the back of the mount) into a real keyed lock. It puzzles me why the GPS companies don't appreciate how easy it is for someone to simply pop one of these units out of the mount and walk away.
Your WebBikeWorld reviews are a real service to the motorcycle community. Many thanks."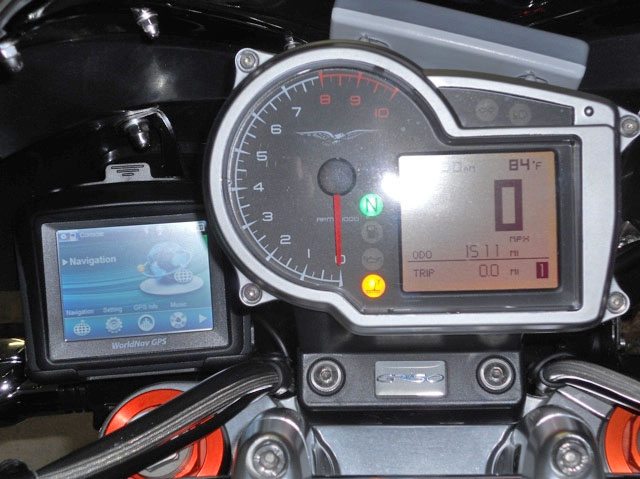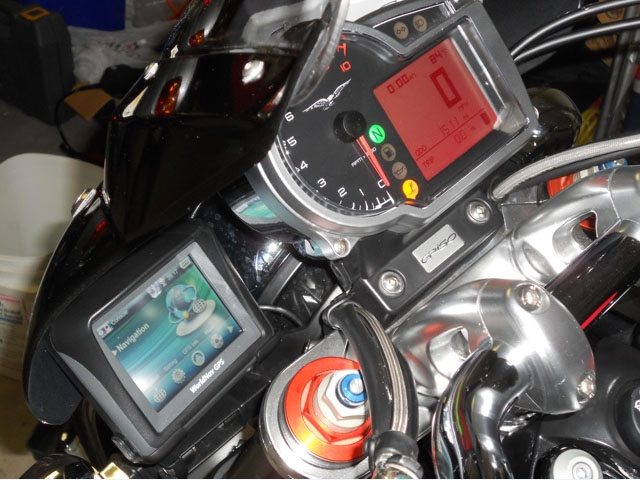 ---
From "S" (03/11):  "As usual, I enjoyed reading your review of the WorldNav but have some comments and questions (I'm a repeat commenter here).
As you note, the WorldNav looks very much like the TomTom Rider.
As a person who used the TomTom for 10 continuous days, across 5054 miles, I feel I have a good feel of that unit. Therefore, I feel I have reasonable justification for saying how much I ended up HATING the TomTom.
By the end of the ride I hated the TomTom with a PASSION, so much so that several times I just wanted to chuck the TomTom over my shoulder at 80MPH just to get a satisfying "clunk" when it hit.
The TomTom was borrowed in order to both help with the trip and give me a learning experience with motorcycle GPS units. When it came time to purchase my own unit.
I bought a Garmin, rather than have to put up with the TomTom's two most grievous flaws.
Two things about the design of the TomTom are worthy of abuse, and I could hope that you'll answer the questions as to whether or not the WorldNav suffers the same problems:
1) The bezel around the TomTom's screen is so thick, with some of the on-screen controls so small and close to that bezel's edge, that using the TomTom with gloves became an exercise in frustration.
I often had to remove my gloves in order for the screen to properly acknowledge my inputs, as the bezel would prevent my gloved fingers from properly activating my choices. Does the WorldNav suffer this problem?
2) The TomTom gets its external on-bike power from spring-loaded electrical contacts on the rear of the unit. There are flat contacts on the rear of the TomTom that mate with spring-loaded fingers on the mount.
The WorldNav seems to have the same design.
After 8 days of continuous, over 400-miles per day riding, the vibrations of the road caused the spring-loaded fingers to actually wear straight through the flat contacts.
The TomTom thereby lost all external power, not only forcing the unit to work strictly from battery power but also allowed the unit to fall out of "motorcycle" mode (large button with limited functions, see the webBikeWorld review) and into "standard" mode (smaller buttons that are very difficult to use while moving, but with full functions of the unit available).
In other words, the TomTom had a *mechanical* failure in the design after approximately 3000 miles.
The failure was due to the fact that the unit could move slightly in the supplied "Type I" mounting, and that small amount of movement allowed the contacts to wear away at each other.
TomTom changed the mounting to a RAM-supplied mount in their "2nd Edition" version, I believe in order to address this huge, huge design flaw.
A scan of the internet shows that other owners have suffered the same failure. Does the WorldNav suffer the same design flaw — spring-loaded power contacts against the flat rear unit contacts, and too much (read: 'any') play allowed in the mount-to-unit interface? Thanks in advance."
HBC's Reply: First off I have to state up front that my riding time with the WorldNav has been limited to a few days while down south and since then, some short rides here at home, a situation that will change this week as resumption of longer trips starts.
However, I have been working with the WorldNav mounted on the F800GS and the R1200RT and have a pretty good feel for sensitivity and accessing its controls.
You are absolutely right, the WorldNav is very much a TomTom look-a-like, a unit that I had for a month or so, until it got returned to the vendor as there were multiple issues (hardware and software) with the early TomTom Rider that I wouldn't live with.
Yes the WorldNav has the (same) heavy bezel and obtrusive shade that can, depending on placement and angle of the unit be bothersome — that possibility has become evident even with the limited road use I've had with the unit so far — very reminiscent of the TomTom.
Having a sun shade of some sort can be advantageous at times, but a real negative at other times, especially when it is permanent and possible obtrusive, depending on how and where the unit is mounted.
My mounting points on both the F800GS and the R1200RT provide direct access to the module.
With medium and light-weight gloves on I typically only experience problems accessing anything on the top pane (directly under the shade), such as the "Where To?" and "Menu" functions.
Heavy gloves, as I am finding out, will be problematic, not so much due to the touch screen, which is actually quite good, but just the small size of the screen – accuracy is needed, I agree.
The WorldNav has a loose-fitting insert plate as part of the back surface of the cradle – this houses both the power-source floating pin contact strip and the security locking screw.
The back of the GPS module has a surface contact pin strip and receptacle for the locking screw. As I stated in the article, the module and cradle are an absolute tight fit – very little movement is possible.
When the module is snapped into the cradle, the contact components make a positive surface connection with some pressure and acknowledging that there will be wear, the floating (spring-loaded) pins should work as designed in maintaining constant pressure and therefore, solid contact.
Although time and distance may tell a different tale, I will be watching carefully for wear between the contact strips.
I will also be keeping an eye on the loose-fitting insert that the floating pin strip sits on, as this is "play", but it may possibly act as a cure to or relief for the wear and vibration issues you encountered – one shared by other TomTom owners.
I also discarded the supplied mount, for multiple reasons and went with a standard RAM-B mounting. They may not be the strongest mounts on the planet, but for flexibility and vibration dampening they are very hard to beat…all things to be considered over the long term.
On the RT the WorldNav is mounted directly to a new 3rd generation Techmount centre mount, so comparisons regarding stability, wear and tear will be possible vis-à-vis the RAM mount on the 8GS.
Rest assured that updates will be provided as the WorldNav gets used this season."
---
From "T.G." (03/11): "One thing I see missing from this review is the all important readability in bright sun. I have tried and returned several "motorcycle" GPS devices because they are unreadable in the sunlight.
Only the Garmin Zumo 550 that I had to sell an arm for is actually usable on the motorcycle.
The Tom-Tom units and others that have a build in shade on the top tend to fail completely in sunlight, and end up useless on a bright sunny day with the sun to your back. How is this unit in the sun?
Photos of it running in bright sunlight would be a very good thing so that we can know what to expect on the handlebars."
Editor's Note: See the "Display & Backlighting" section in Part 5. I also added a photo showing the screen at maximum intensity; it does have difficulty in daylight.
---
From "A.P." (03/11): "It looks identical to the Go Cruise S350 GPS system here in Australia. The software used is iGo Amigo from Naviextras.com, but essentially its the same device, was sold with the Bluetooth headset, cradle, handlebar mount etc….
It's a great system – and for the price ($199 AUD) it is fantastic considering the next closest dedicated-motorcycle GPS over here is $499, while TomTom Riders and Garmin Zumos are closer to $800.
I used the headset on my helmet for about 6 months but recently decided to cut off the speaker and wire up a 3.5mm socket.
So now I have the headset in my tank bag, and the audio is routed through a splitter (with my iPod and iPhone) and then fed up to my ears via noise cancelling earbuds.
The biggest downside of the system is the fact that the GPS can't be paired with any other Bluetooth headset, (Scala Rider, etc.) or that the included headset can't be paired with other Bluetooth enable devices (iPhone etc).
The phone can find it, but due to the hardcoded pin there's no connection possible.
Your review was very extensive, and a great read……Its an awesome unit and I'm very happy with it."