If you have read Part I and Part II of the IMC Camos BTS 300 review you will have been introduced to the bundled set of components identified in this companion review.
Both this bundle and a Camos Audio and Funk Bluetooth Adapter were sent along with the two BTS 300 systems and both of these kits have been in continual use since being received.
What do they do?  The wiREVO D1000 is a Bluetooth stereo "dongle" device. Plug your MP3 player, radio or nearly any other personal music or voice player into the wiREVO D100 and it will transmit the sound to the wiREVO S300 Bluetooth stereo headphone speakers.
No matter what I am doing – riding, driving, walking, working out in the garage or pounding away on the keyboard, the pieces provided in this bundle get used, together or separately.
The wiREVO (Wireless Revolution) products are marked as being produced in Korea and the primary contact information is a listing in Seoul, Korea. The Customer Service centre for North America is located in San Jose CA ([email protected]).
This attractive little bundle consists of the S300 Bluetooth Stereo Headset and the D1000 Bluetooth Stereo Dongle, all very attractively packaged in a two-section flip-out box.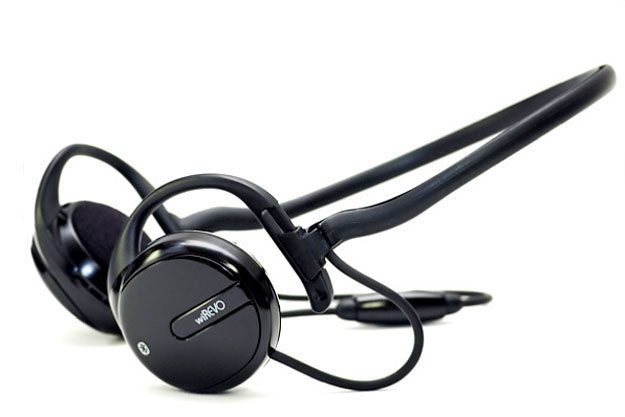 wiREVO Bluetooth Stereo Headset Set
Worth repeating, this set of components has become one of my favourite kits as I can use it both on and off the motorcycle. The kit includes the S300 Stereo Headset, the D1000 Stereo Dongle, a simple neckband, some extra ear-pad sponges, a North American plug AC/DC adapter, a USB to mini-USB cable and a small pocket-size user manual.
These components are also a really good combination for travel purposes. I use the D1000 dongle all the time with the BTS 300 or other Bluetooth communication systems. When dismounted or using the four-wheel box, one or both of the devices can be utilized together or with other wired or wireless devices.
Battery life of the wiREVO components, as with the Camos pieces, is very good. The S300 and D1000 dongle provide extended battery life, typically exceeding by a wide margin the listed timings for general use and it is obvious that the devices are extremely efficient.
Both the headset and the dongle can be charged using the supplied AC/DC adapter or the USB cable if a handy USB output is available (like the Sony Vaio notebook or ASUS hand-held we travel with).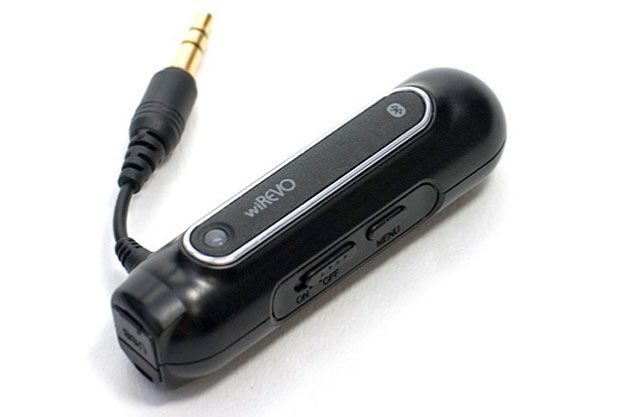 wiRevo Bluetooth Stereo S300 Adapter
The S300 is a wireless stereo headset that provides remote controller and hands-free functions via small controls built in to the outer circumference and surface of the right side piece. It even has an equalizer mode (Rock, Jazz, Classic, Pop or Normal) to adjust the audio to your preference.
The S300 has a wide-dynamic range speaker built into each of the left and right housings along with flexible ear-hooks. The right ear molding houses all the controls: a Volume Up/Volume Down combination pressure switch; a Play/Pause pressure button, a Fast Forward/Rewind pressure switch; an On/Off switch; and, a Talk button on the surface.
An indicator LED provides visual information while a mini-USB charging connector port hides behind a well-integrated pop-up panel marked with the universal USB symbol. A very sensitive microphone is mounted in-line 4cm below the right earpiece on the lead that runs over to the left earpiece housing.
Although the headset can be worn just using the ear-hooks, depending on the size and shape of the ear, the neckband piece can be mounted (per the manual) and the whole assembly then adjusted via the ear-hook sliders, providing a more precise fit. So configured the individual earpieces sit much closer to the ear, resulting in less movement and far better audio.
The only real observation I had is that the neckband, again depending on the size of the individual, can stick out from the neck and if high collar or heavy clothing is worn, the two will touch and possibly disturb the positioning of the headset itself.
What cannot be faulted in any way is the performance of the headset. With a stereo Bluetooth stream initiated via the D1000 dongle or directly from an A2DP compatible device, outstanding audio is heard from the headset.
It has been some time since I owned a good stereo headset but in having done some comparisons in the stores, the S300 is an excellent headset.
Battery performance has been excellent as well. The headset charges in less than 2.5 hours with the adapter and only slightly longer via USB. Talk time has not been formally measured yet, but I suspect the documented time of 11 hours is realistic. My actual play time has exceeded the listed eight (8) hours by a good margin.
wiREVO D1000 Dongle
Small, compact and somewhat simpler than the S300 headset, the D1000 dongle provides a stereo source (A2DP), remote control (AVRCP target), supports both analog audio and USB audio input, can change passkey (PIN code) and can provide volume level control in analog mode.
A simple cylindrical device with three flattened surfaces, describing the features of the D1000 is pretty easy: A Volume UP and Volume DOWN switch pair on one surface; a Menu button and On/Off switch grouping on another; and, the Indicator Light on the third.
A small mini-USB charging port is hidden by a rubber plug at one end. The 3.5mm stereo audio jack is located on the same surface as the Volume control.
As with the headset, battery performance for the dongle has been excellent. Charging time averages around 2.5 hours by either the AC/DC adapter or USB. The listed standby time is again realistic and my play time, which typically includes a fair bit of switching it on and off and pairing it with other stuff, is usually around or beyond the listed eight (8) hours.
Like its Camos companion, the wiREVO Bluetooth Adapter is just one of those handy-dandy little devices that are small and consume little power, but provide big results in daily use. It takes up virtually no space and pairs in seconds to everything I have put in front of it so far.

Pairing and connecting the S300 and D1000 devices is initiated by taking the dongle and pressing the MENU button while flipping the adjacent power switch to ON. The Blue and Red LEDs will flash in turn. Now hold the TALK button on the headset down and turn its power switch on – its Blue and Red LEDs will flash in turn.
If the dongle and headset are within close range, pairing will take two or three seconds, indicated by a three-flash sequence from the LEDs and once the pair are connected, by a six-flash sequence. Once done, the headset indicator light goes off and the dongle LED flashes slowly.
As the manual says, "plug the stereo dongle in to your audio device and enjoy the music."
If a three device configuration is desired, like a mobile phone, turn off the nearby dongle first, and then pair the mobile phone per above and following any specific pairing/partnership steps unique to the phone. The default pass-key for both the S300 and D1000 devices is '0000'. Make sure the Hands-free function is checked on the mobile phone as necessary.
With this pairing done, the second pairing can be done with the dongle as needed, or simply turn the dongle back on and let the headset-dongle connection resume. If a call comes in and if support by the phone, it will be automatically answered and passed to the headset. The call can be manually answered or terminated by pressing the TALK button as well.
The headset will stay in pairing mode for three (3) minutes, while the dongle will be receptive for only one (1) minute at a time.
Both devices have been trouble-free overall and are extremely easy to work with. While the odd connection made will not be resumed quickly, requiring a simple re-pairing, these two devices have been far more reliable than most other Bluetooth devices used or evaluated to date.
The S300 headset and D1000 dongle have a few more tricks up their sleeves so to speak, but you will need to consult the provided manuals, or go online to check the products out in detail. This bundle is worth a close look.
The warranty for the wiREVO gear is listed as one year, which is not marked on any of the documentation, but I found the information posted on several reseller sites.
wiREVO S300 Bluetooth Stereo Headset Specifications
Bluetooth – version 2.0 with A2DP, AVRCP, HFP and HSP
Frequency Range – 2.402 – 2.480 GHz
Transmission Output Power – 0.25 – 2.5mW (Bluetooth Class 2 device)
Maximum Cordless Distance – 10 metres or 30 feet
Left and Right Housing Dimensions – 37.8 x 21.8mm (1.48 x 0.85in)
Operating Temperature Range – minus 10 to plus 50C (14F to 122F)
Standby Time – 180 hours
Talk Time – 11 hours
Play Time – eight (8) hours. Standby, Talk and Play time are dependent on the number of connected devices and percentage of use.
Battery Type – Lithium, rechargeable
AC Adapter – Input is 100 – 240C 50/60Hz, Output is DC 5.0 – 5.3V, 600 – 700mA
wiREVO D1000 Bluetooth Stereo Adapter Specifications
Bluetooth – version 2.0 with A2DP and AVRCP
Frequency Range – 2.402 – 2.480 GHz
Transmission Output Power – 0.25 – 2.5mW
Maximum Cordless Distance – 10 metres (30 feet)
Dimensions – 17 x 60.7 x 17.9 mm (0.66 x 2.39 x 0.70in)
Operating Temperature Range – minus 10 to plus 50C (14F to 122F)
Standby Time – 120 hours
Talk Time – n/a
Play Time – eight (8) hours. Standby and Play time are dependent on the number of connected devices and percentage of use.
Battery Type – Lithium, rechargeable.
Also In This Series:
▪ IMC Camos BTS 300 Review
▪ IMC Camos BTS 300 Review Part 2
▪ IMC Camos Bluetooth Adapter
w

BW

 Review: wiREVO Bluetooth Headphones & Adapter
List Price (2009): S300+D1000: $120.00
Review Date: January 2009
NOTE:
 The webBikeWorld evaluators wear properly fitted ear plugs for intercom evaluations. This is reflected in the opinions on sound quality and speaker volume. Your experience may differ. Always protect your hearing when riding a motorcycle (
more
).
Note:
 For informational use only. All material and photographs are Copyright © webWorld International, LLC since 2000. All rights reserved. See the webBikeWorld® 
Site Info page
. Product specifications, features and details may change or differ from our descriptions. Always check before purchasing. Read the
Terms and Conditions
!
Owner Comments and Feedback
---
From "G.M." (1/09):  "These items may just be a dream come true for me. I have been looking for a Bluetooth connection for my IPod and/or my Zumo 450 (non-Blue Tooth Zumo that plays MP3's and gives verbal directions), etc. for listening to tunes on the bike. No, I don't make phone calls, thank you. I have a couple of follow up questions.
I had previously written asking about helmet speakers, and it appears the reviewer finds these to be high fidelity (they include some bass response I assume?). A problem I have encountered with wired headphones (in ear type) is that they are sometimes ripped violently from my ears as I put on my helmet, or they shift around after the helmet is on, and lose their fidelity as they come loose in my ears.
The S300 headphones look as if they would make putting on the helmet even more of a challenge, since they sit on the outside of the ears. Does the reviewer have any wisdom concerning how easy, or not, it is to put on a helmet with these on, and riding with them on under the helmet?
Thanks as always for your reply!"
HBC's Reply:  wiREVO S300 headset – the headset is indeed hi-fi – providing excellent dynamic response including relatively good bass tones. However, unless you wear shorty-style helmet, and have a lot of clearance around and behind the ears, this headset may not be the best solution.
However, having said this, if you look at the BTS 300H stereo Bluetooth system, they do use a variation of the wiREVO style headset, intended for shorty helmets. I can't confirm right now if the headset used in the 300H kit is an actual wiREVO headset or just the standard BTS 300 headset (which is good in its own right) with a specific neckband. One concern would be how much material there is, or how stiff is the side piece of the helmet…if its only the strapping, then an over-the-ear headset might work.
Really good in-helmet headsets are few and far between, although more and more manufacturers are providing quality hi-fi headsets with their kits or as an option. This is one reason why I try to do a thorough evaluation of each headset with the systems as there is such a wide variance between systems and most helmet headsets are still lacking.
An in-ear headset works well, I use one or two sets myself – one off the shelf and one custom molded, especially for my wired system. I agree that unless properly fitted and unless there is sufficient clearance, they will typically get jostled or pulled out, sometimes painfully, when the helmet is put on and taken off…and when they work loose, the volume might be there, but most of the tone will be lost as the earpieces are no longer in contact with or close to the (bone) conductor.
This is one reason why molded or custom-fitted in-ear sets are so popular – they do work and they typically do stay in place, and are far better dampeners than most in-ear sets or even earplugs.
So, it might not be wisdom per se, but I think looking into the BTS 300H headset could be worth your while and the wiREVO S300 headset might be a viable choice (sound-wise it is) but its something that may not be known until actually configured. I don't have a shorty helmet at hand, otherwise I would give it a try."
---
From "W.R." (1/09):  "I was talking to a vendor at Thunder Beach this last fall about the same problem. His solution was by using Camos WiRevo D1000 stereo Bluetooth 2.0 adapter and plug it into the stereo audio jack on the Zumo. The Zumo only transmits in mono while the Camos adapter is in stereo.
Results: One rider syncs with the mono signal from the Zumo and one to the stereo from the Camos adapter. Then the rider can sync to their individual cell phones and answer calls too.
Preferred sync pattern (headset channel one):
Rider sync headset(ch 1) to Zumo mono signal.
Sync Zumo to rider cell phone to let Zumo switch audio to the phone and provide onscreen phone control.
Sync passenger headset(ch 1) to Camos WiRevo D1000 stereo Bluetooth 2.0 adapter.
Sync passenger cell to the D1000 to answer phone calls.
The two riders will talk to each other on channel two of the headsets. When riding alone the rider can sync to the stereo signal.
I have been anxious to try try this but haven't bought the equipment yet."
HBC's Reply:  I just wanted to confirm something that was alluded to the original submission, but perhaps not clearly identified as a configuration option that will allow audio from a device, like the zumo550, to be shared:
Sharing audio from a common peripheral device, especially one that has both a BT capability and an output jack, like the zumo 550 GPS, can be done as long as a compatible BT adapter is available to add to the configuration. I was going to identify this audio sharing workaround in the Camo BTS 300 Part II submission but omitted to do so before the article got submitted. I did test this during the initial evaluation: many users have already figured this one out, but its worth repeating…
As pointed out by "W.R.", a compatible BTA is the key here, such as the Camos Audio and Radio BTA or the wiREVO BTA, either will do the trick – just be sure you switch the Camos BTA to stereo first (if you want a stereo stream) before configuring it with the second BT communications system and then plugging it into the 3.5mm stereo output port of the zumo.
The first BT connection will be between the first BTS 300, ie – rider, and the zumo 550 and it will be in mono of course. With this pairing established, with or without a phone being hosted by the zumo, set up another BT connection between one of the compatible BTAs and the second BTS 300, ie – passenger. The zumo audio output will be provided to both – one direct and one via the BTA, for shared audio.
Just remember to configure the two pairings separately – done by turning off the first BTS 300 and the zumo itself, or getting well out of range of the first pair. Then go ahead and get the second configuration going. I did and still find the zumo 550 reconnection timings very slow – sometimes the mono BT connection would not pick up at all without rebooting, whereas the external BTA device would establish the connection to the second BTS 300 and start the stereo stream…
The Intercom on Channel 2 will be available between the two BTS systems, with the usual limitations.