BRP Australia has issued a recall for their entry-level Can-Am Ryker three-wheeler roadster because a front wheel may drop off.
Riders have been advised to stop riding their Ryker, according to the official recall notice issued through the Australian Competition and Consumer Commission.
The issue only affects 30 of this year's models sold between March 27 and September 26.
Vehicle Identification Numbers (VINs) of affected vehicles are listed at the end of this article.
The notice says the front wheels assembly may not have been installed properly, referring to the amount of torque applied to the installation of a red locking clip (pictured below).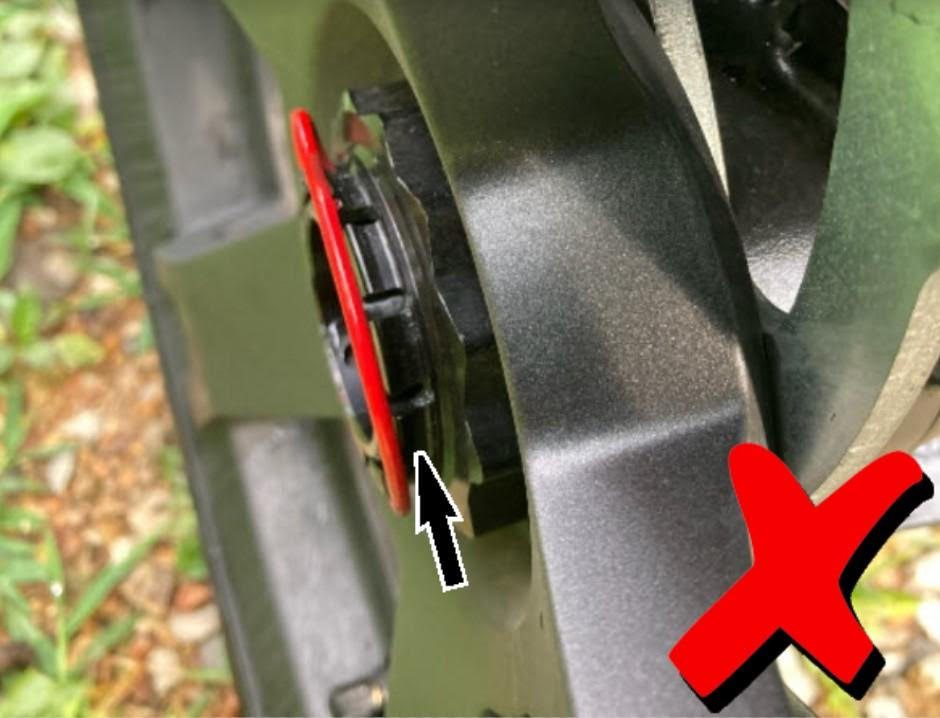 "This could result in a wheel loss, reducing the vehicles handling and control," the notice quaintly asserts. "This increases the risk of an accident, potentially leading to serious injury or death of the rider or other road users.
"Do not ride your vehicle until it has been inspected and repaired."
BRP will contact owners by mail and arrange to repair involved vehicles, free of charge.
The company has only issued three other recalls in Australia for their Spyders, twice for brake defects and once for the vehicle bursting into flames.
YOUR LEGAL RIGHTS ON RECALLS
It's important to know your legal rights on recalls. Even though manufacturers and importers usually contact owners when a recall is issued, the bike may have been sold privately to a rider unknown to the company.
Therefore, Motorbike Writer publishes all motorcycle and scooter recalls as a service to all riders.
If you believe there is an endemic problem with your bike that should be recalled, contact the ACCC on 1300 302 502.
To check whether your motorcycle has been recalled, click on these sites:
VINS of affected vehicles:
3JB2FEF12LJ000964
3JB2FEF18LJ000967
3JB2FEF11LJ000986
3JB2FEF17LJ000975
3JB2FEF11LJ001197
3JB2FEF11LJ001202
3JB2FEF13LJ001198
3JB2FEF13LJ001203
3JB2FEF18LJ001200
3JB2FEF1XLJ001201
3JB2FEF10LJ001868
3JB2FEF12LJ001869
3JB2FEF12LJ001872
3JB2FEF19LJ001867
3JB2FEF15LJ002370
3JB2FEF17LJ002371
3JB2FEF19LJ002369
3JB2FEF19LJ002372
3JB2FEF10LJ002924
3JB2FEF13LJ002920
3JB2FEF14LJ002926
3JB2FEF16LJ002927
3JB2FEF17LJ002922
3JB2FEF18LJ002928
3JB2FEF18LJ002931
3JB2FEF10LJ003295
3JB2FEF12LJ003296
3JB2FEF19LJ003294
3JB2FEF11LJ003371
3JB2FEF15LJ003373