Wayloo Gloves Review Summary
Wayloo Gloves Image Gallery
The Wayloo gloves are good basic gloves at a bargain price that work for day-in day-out riding. NOTE: As of April 2011, apparently Wayloo is no longer in business (website is non-functional). Wayloo is a new entrant into the community of motorcycle apparel manufacturers and the company offers a limited line of products. Their display at a recent trade show had a $40 pair of gauntlet gloves that had a comfortably familiar look. It was only later that a reader reminded us why.
These are not high end gloves that will give competition to expensive race track offerings from Alpinestars, Held, or Velocity. There are no titanium protectors and you won't find skin from some rare species of animal covering your fingers. Like a Model T Ford, the selection of colors is limited to black, black, and black.
These gloves have a more modest goal: a straightforward and comfortable pair of gauntlet gloves that provide a reasonable amount of protection at a good price.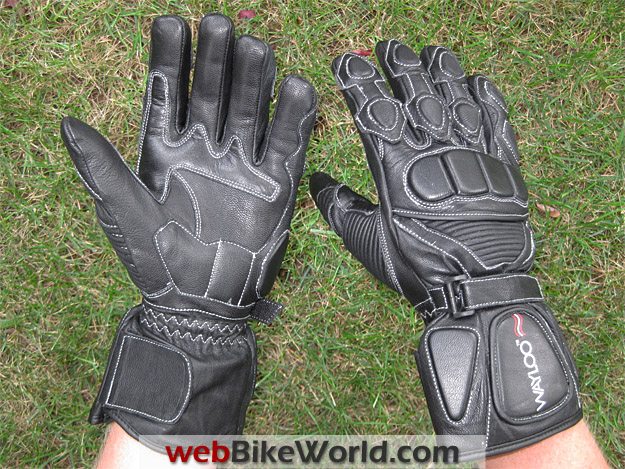 Wayloo "Gladiator" Gloves
The Wayloo gloves are black with double rows of white stitching. They have a tag attached that states "Real Leather", while the Wayloo website had a note that the gloves were made from synthetic leather.
That note has since been changed and it now reads "100% leather", so leather it is. They look and smell like leather anyway…
The length of the gauntlets is excellent, covering the end of jacket sleeves enough to block wind and rain without reaching halfway to the elbow.
The gauntlets also have thin flexible armor inserts and they are adjustable with hook-and-loop closures.
Another hook-and-loop strap at the wrists should keep the gloves in place during a slide.
The fingers have a good length and roomy diameter. They're not overly loose for anyone with thick fingers, but they are what I can describe as comfortable and not too thin.
Whoever did the ergonomic model testing to size the gloves must have used a wide range of people. One person found a bit more material than he needed in the palm, however.
Because these are apparently made from cow leather, they do not have the feel or stretch in the palms that the high end gloves do that use kangaroo leather.
The knuckles of the Wayloo Gladiator gloves are protected by an outer layer of leather with foam inserts. Because of the semi-loose attachment, the armor does not make the gloves stiffer.
While this design has none of the high-end ECE certifications, it looks like it would take an abrasive slide and protect precious fingers.
The thumbs, heels, and palm have additional layers of leather for additional abrasion protection. There is a smooth synthetic lining to the interior.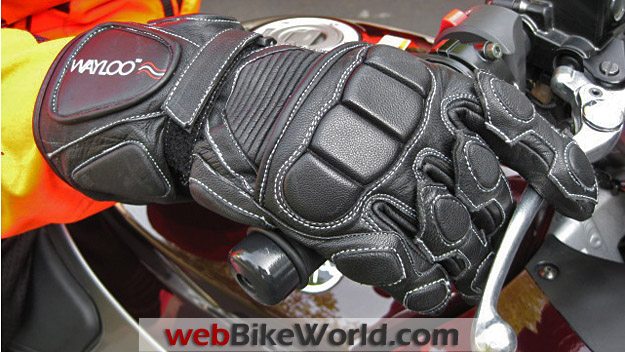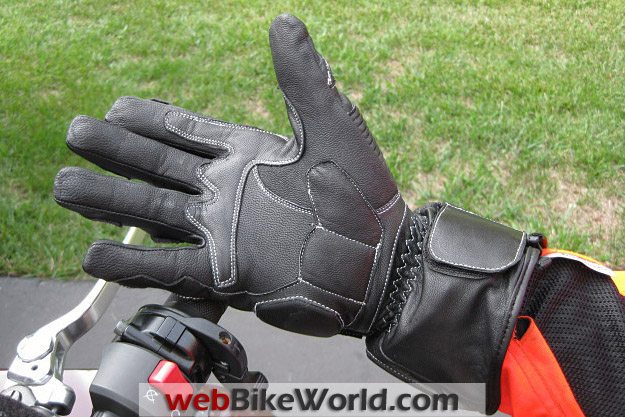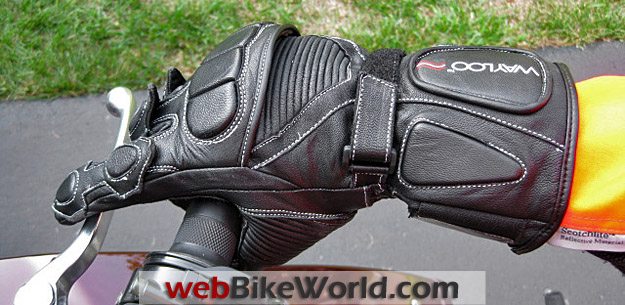 Wayloo Gloves: Details
One point that I would like to see better adopted into price-point gloves like these would be better scaphoid protection.
Give the designers credit for inserting a pad to spread the load if you land on the palm of your hand in what is called the scaphoid area.
Unfortunately, the pad is not large enough to be practical and was not well located. Hmmm, this looked familiar, too…
After a daily use for a week, I can find no worn stitches or other unusual wear points. The Wayloo gloves and the stitching, armor, and general construction seemed so familiar that I started reading previous webBikeWorld glove reviews.
It didn't take long to realize that many of the same features used in the Wayloo gloves are also apparently found in two other pairs of gloves that were reviewed.
For example, the Wayloo gloves seem very similar to the Joe Rocket Highside gloves that were reviewed in 2009. The big realization came from a reader who was responding to that review in the comments section.
Nearly 20 years ago, I had a Honda 700 with a red and white pair of HondaLine gloves and the reader noted how similar the Joe Rocket Highside gloves were to the Honda gloves.
The Wayloo gloves are their own product, but the theme and construction looks similar. So it's possible that the Wayloo gloves come from the same factory as the Joe Rocket brand, but don't tell Joe Rocket.
The word "Gladiator" is used only once on the Wayloo web page describing these gloves — it's used in the page title only. Perhaps if Wayloo starts making more types of gloves, the names will become more significant.
But keeping it simple, they're pretty much known as "Wayloo gloves".
Wayloo has a list price of (wink, wink) $199.00 for the Gladiator gloves, but the "Military Discount" brings them down to only $40.00. That is a certified bargain.
Wayloo also sells helmets and jackets and offers a package discount for bundling the gear in a single order.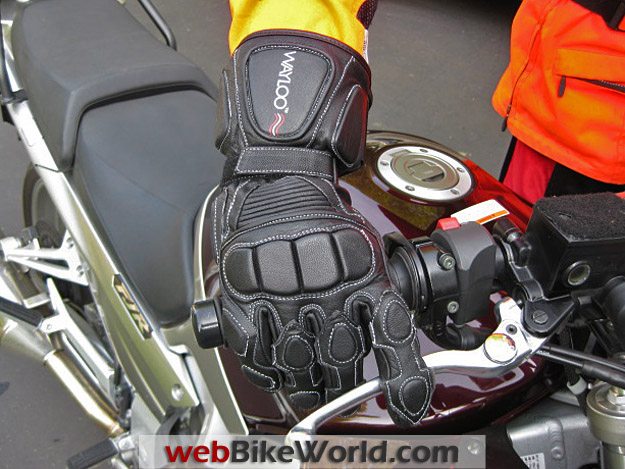 Conclusion
The Wayloo Gladiator gloves are probably not something that Valentino Rossi would wear in a MotoGP race.
These are decent basic gloves that work for day-in day-out riding.
While the Honda and Joe Rocket brands have moved on to other versions of gloves over the years, it's great to know that a similar and popular basic product is still apparently with us; one that has been providing protection for motorcycle riders for many years.
w

BW

 Review: Wayloo Motorcycle Gloves
Manufacturer: WaylooMOTO
NOTE: As of April 2011, apparently Wayloo is apparently no longer in business (website is non-functional).
List Price (2010): $40.00
Made In: New Zealand
Colors: Black
Sizes: XS-2XL
Review Date: August 2010
Note:
 For informational use only. All material and photographs are Copyright © webWorld International, LLC since 2000. All rights reserved. See the webBikeWorld® 
Site Info page
. Product specifications, features and details may change or differ from our descriptions. Always check before purchasing. Read the
Terms and Conditions
!
Owner Comments and Feedback