Waterproof Motorcycle USB Port Image Gallery
As its name implies, this is a waterproof (water resistant actually) USB Type A port designed for motorcycle use.
It's a simple device; connect the wires to a battery or other switched power and you're good to go.
Then you can charge your video cameras, music devices, intercoms, GPS units and more while you ride.
A USB Port for a Motorcycle?
The Editor handed me the Burns Moto USB port just the other day and asked me to install it on one of the bikes and give it a try.
I had to stop and think for a minute — a USB port? On a motorcycle? And this is for…what?
But once I got over the initial puzzlement, I started thinking about all the devices I own that can only be charged through a USB connection: an MP3 player; a video camera; a cell phone; a camera and even an intercom. OK — I get it!
And then I started wondering — why isn't a USB port standard equipment on every motorcycle made?
It's 2011 and the world is filled with USB-powered devices, so why not? Especially on touring bikes… Is there a touring bike with an OE USB port? Maybe, but I'm not aware of any.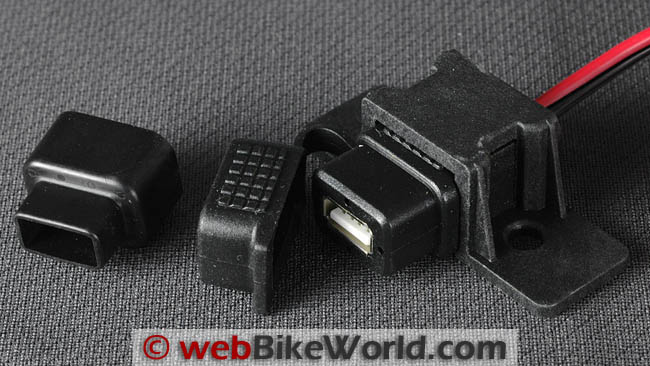 The Burns Moto Weatherproof Motorcycle USB Port
Let me make something clear right off the bat: Burns Moto, a retailer of all sorts of interesting electrical connecting devices, claims that this USB port is water-resistant, not "waterproof".
Actually, they call it "weatherproof", which is probably the more correct term.
The word "waterproof" implies the ability to dip the thing in water and have it remain dry, and that's not the case here. But they do say it's "water resistant" and it has a "Heavy Duty All Weather Design" and that seems perfectly correct and accurate to me.
The device couldn't be simpler, although that beefy rubbery-plastic case with the attached cover hides some 21st Century technology. It's a USB Type A port, designed to power devices only, not transmit data.
By the way, if you don't know what a USB port is or have never used one, you probably don't need this device on your motorcycle! If you want to know more about USB ports, see this Wikipedia page.
Basically what you get is a standard "full sized" (Type A) USB port, covered with a water-resistant case. It has two wires coming out of it; a red for power and black for ground. You connect it to the battery or to a powered set of wires on the motorcycle; i.e., wires that get juice when the key is turned on.
Actually, Burns Moto suggests connecting it directly to the battery, so that's what I did. It comes with 3 feet of a heavy gauge black/red two-wire combination; red is positive and black is ground, or earth.
They will even make you a custom length wire and here's something cool — you can have them add an SAE connector so the USB port can be plugged right in to your Battery Tender outlet already on the bike. You do have an SAE connector on the bike, right?
Or, they will splice in a BMW style European round outlet — the type that used to be called a cigarette lighter outlet.
Back when the USB first was used in the late 1990's, it was a marvel of electronics and it looked tiny compared to the serial and parallel ports then commonly used. But like everything else in computers, small wasn't small enough.
So next came even smaller USB ports. The Type A full-sized port is now complemented by smaller ports like the Type B "square" port; the Mini-A, Mini-B, and then the Micro-A and Micro-B.
Many cell phones, cameras and MP3 players are now too small for the Type A USB, so if your device has one of the other types, you can get all sorts of USB adapters for mini-to-maxi sized connections. Here are some USB adapters on Amazon.com with our affiliate link.
Mounting the USB Port on the Motorcycle
Then all you have to do is find a place to mount the USB port on the motorcycle and you're all set.
It comes with a square plastic bracket with two drilled holes, and as you can see in the photos we took, I toyed with a couple of ideas before settling on mounting it to the new Happy Trail Imnaha bags (review coming soon, I'm told) on the Suzuki DR650 (blog).
Since the port housing is fairly large (for a USB port) and flat, a matching flat surface is best for mounting and the port should be firmly mounted also because you'll be pushing and pulling USB cables in and out of it.
I suppose you could simply leave the port hanging loose or lightly secured with a cable tie, or stick the end in your tank bag or something, especially if you're using the SAE connector on the other end so it's not permanently connected to the battery.
We're interested in hearing from motorcycle owners who have mounted a USB on their ride, so please let us know how you did it, where you mounted it and what you use it for and we'll add it to the comments below.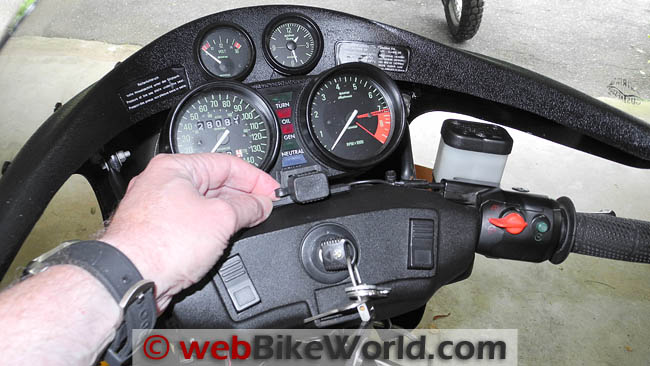 Using the Waterproof USB Port
Connecting the USB port directly to the battery on the motorcycle, whether directly or through the SAE connector, means that the port will have constant power.
So you'll want to be careful to turn off any connected device when the motorcycle is turned off so that the battery doesn't get drained.
That's why I'd prefer to connect the USB to a positive and negative on the bike that only gets power when the ignition is on, but again, Burns Moto doesn't specifically state that this is allowed, so I'm not sure if it's a good idea or not?
In any case, the USB has an internal automatically switching fuse that resets itself it something goes wrong. It also throttles down the juice from 12V to the pabulum that a USB device can swallow; i.e., 5 Volts DC (±0.25) at 1 Amp maximum.
After we connected the port, I used it to perk up a motorcycle video camera and a Sandisk MP3 player, which usually takes forever to charge but can only be charged via a USB port connection.
Everything works fine and although I didn't time it, the charging time seems about the same as it does when those devices are connected to the powered USB port on a computer.
Burns Moto says the port will charge an iPhone, iPod, Blackberry, a Garmin GPS, a Droid, the HTC EVO and more, but even though my Motorola cell phone charges with a mini-USB plug, apparently it doesn't work with the motorcycle USB, so check with your device operator manual.
By the way, Burns Moto also sells a little water resistant cover that you can add to the end of the USB port housing. It sort of surrounds a full-sized USB plug to keep it water resistant when it's plugged in.
It's kind of an expensive accessory at $9.95 but necessary if you plan on riding in the rain whilst charging. You can see it in the two photos at the top of the page.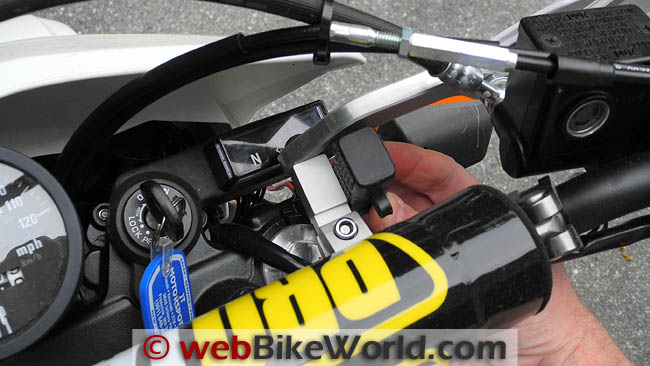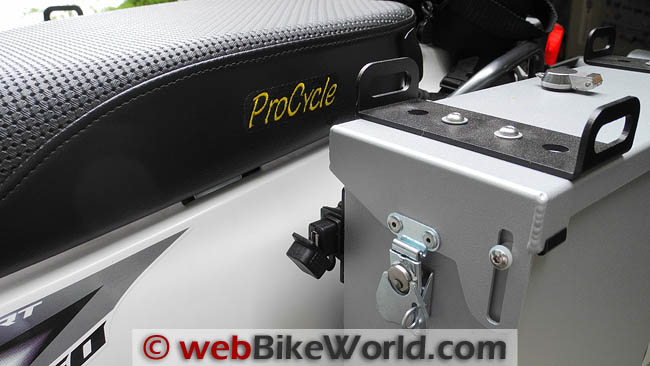 Conclusion
The Burns Moto waterproof USB port — sorry, I mean weatherproof — is a handy little device, very easy to install, with basically no moving parts to break.
It's very heavy duty and well made and the price isn't bad at all, so it's a no-brainer if you have any sort of modern device on your motorcycle that can be powered or charged via a USB.
More: BurnsMoto Dual-Port USB Chargers Review  |  Weatherproof Ports, Outlets, Connectors and Cables Review
w

BW

 Product Review: Burns Moto Waterproof Motorcycle USB Port

Manufacturer: Burns Moto
List Price (2011): $21.95
Colors: Black
Made In: U.S.A.
Review Date: June 2011
Note: Item provided by a retailer, distributor or manufacturer with these Terms and Conditions.
Note:
 For informational use only. All material and photographs are Copyright © webWorld International, LLC since 2000. All rights reserved. See the webBikeWorld® 
Site Info page
. Product specifications, features and details may change or differ from our descriptions. Always check before purchasing. Read the
Terms and Conditions
!
Owner Comments and Feedback
---
From "D.E." (October 2012): "I think people are over-thinking it mounting it. I did at first — looking for a flat accessible surface I could drill holes in…
I ended up using two 8″ tie-wraps through the holes in the bracket supplied with it and a frame tube on my '07 BMW R1200R. Get the tie-wraps right and tight and it is quite firmly mounted.
Any USB cable will pull out before it moves. Very handy device. Right now I have it hooked to an un-switched circuit on the bike. I'll have to contact Stephen to see what the quiescent draw on it is.
I may want to move it back to a switched circuit (how I originally had it.) Luckily easy to do with my auxiliary fuse block, which you just have to move the fuse to change from un-switched to switched."
---
From "I.V.H." (May 2012): "I didn't use this specific model, but I did have a USB port on my Ninja 650r, and it was the single most useful thing I purchased for that bike.
I used my cell phone as my MP3 player and GPS system while I was riding, so it was very handy to keep it charged.
I also used it to charge my Contour ROAM camera in my tank bag whenever I stopped to rest.
The USB port wasn't weatherproofed in any way, but I placed it along the inside edge of the fairing, so it was protected well enough. For as cheap as it is, it's a no brainer."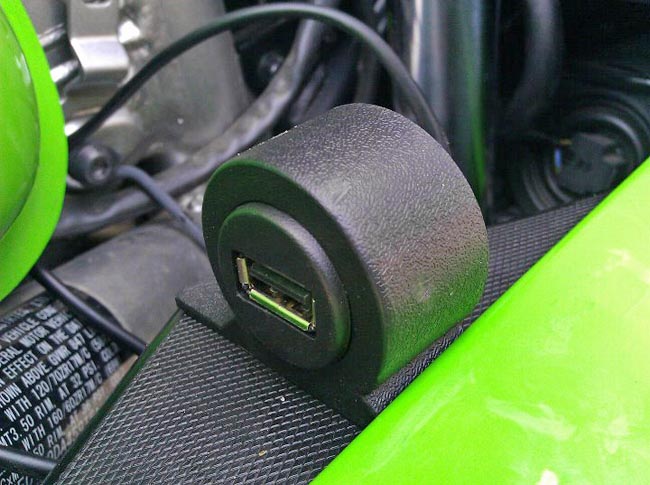 ---
From "T.P." (06/2011):  "I mounted one of these several months ago and have found it to be one of the most useful accessories I've ever installed.
Mine is mounted on my BMW R1200RT on a shelf that sits above the dash and is wired directly to the battery. It's main purpose is to power my Garmin GPS, which I like to leave powered on during short stops.
The GPS is ram ball mounted on the shelf as well and is powered by a 6" mini USB. Very easy to pop off the GPS and unplug when I'm leaving the bike for lunch or shopping.
On very long rides, I've used it to recharge my Droid phone and my Bluetooth headset.
I keep 2 (foot long) mini and micro USB adapter cords in my tank bag so that I can plug the item in to recharge and keep it secure in the tank bag when riding.
During this time the GPS runs on its own internal battery for a couple of hours, which is just right for getting several more hours of use out of the phone or Bluetooth headset. Great tool."
---
From "H.W." (06/2011):  "The new BMW K1600 (info) has a USB port on it."