WORX All Natural Waterless Hand Cleaner
Zogics CitraWipe Degreaser and Waterless Hand Cleaner
WORX works but isn't waterless.  CitraWipe is the one to carry on a motorcycle, but both of these hand cleaners are relatively expensive.
Many of you have asked for suggestions for waterless hand cleaners that are easy to use, bio-friendly and that can be easily stored on all types of motorcycles.
Well, it just so happens that buried deep in the "to do" pile were some samples of hand cleaners that respond to nearly all of those criteria.
I'm sure there are lots more waterless hand cleaners out there and I'm hoping that our visitors will respond by sending us their tips and tricks for keeping clean whilst on the road.  In the meantime, let's take a look at two interesting products, Zogics CitraWipes and WORX All Natural Hand Cleaner.
WORX isn't actually a waterless hand cleaner, although I didn't discover that detail until I finally read the instructions on the back of the package the first time I used it.  But I'm including it here because it works — if you'll pardon the pun — very well indeed.
WORX is a strange concoction of a greenish powder that smells faintly like, well, like day-old fried flounder with a squeeze of lemon.  Yes, exactly that.
But don't let that put you off, because the stuff is pretty amazing; in fact, I'd say that it probably cleans dirty, greasy, oily hands about as well as anything else I've used.  Don't ask me how, but it does.
The manufacturer claims that the product is "a unique nature-based green hand cleaner made entirely of all natural ingredients".  WORX contains "no solvents, phosphates, borax, alkali, irritants, sand, plastics, hydrocarbon derivates or animal ingredients and is non-flammable and safe to store".
The cleaner carries the Environmental Choice (Canada) EcoLogo.  This is claimed to be "North America's most widely recognized and respected multi-attribute environmental certification mark".  WORX is also certified by Green Seal as an "environmentally responsible" product.
We've discovered that none of these hand cleaners are inexpensive.  WORX is sold in bulk or individual 25 gram (0.9 oz.) re-sealable packets.   Unless you care to roll your own, the packets are probably best suited for motorcycle use rather than the bulk canisters and 12 packets can be purchased for $19.95, plus shipping and handling.  So you'll pay a lot for convenience.
I've been using WORX All Natural Hand Cleaner for a few weeks, and I will say that one 25 g packet probably holds enough WORX to last for about 3-4 hand cleanings.  The packets have a male/female seal along the top that closes tight when pressed.
WORX works (sorry) great around the garage, but it does require water.  The instructions direct the user to first wet the hands and then rub them together using a small amount of WORX.  Then the hands must be rinsed to remove the powder.
I suppose a source of water could be a bottle carried on the bike, but it works best if a faucet is handy.  I did use it once on the road and I used the relatively clear water in a nearby puddle to wet my hands and then rinse them off, after a fashion.
The bottom line is that WORX is an "environmentally friendly" cleaning agent that somehow removes grime about as good or better than any other type of garage/shop hand cleaner I've tried.  It's expensive and water is needed for best results.
WORX All Natural Hand Cleanser Photos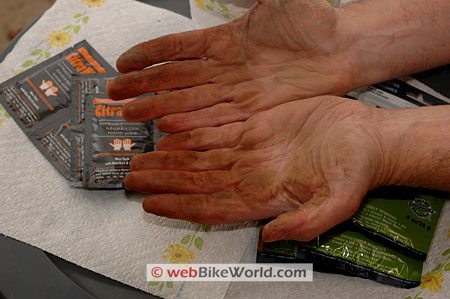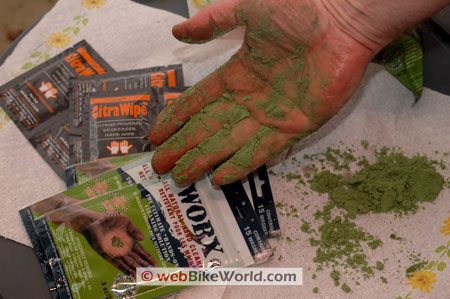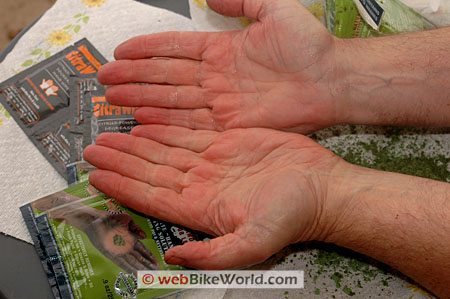 CitraWipes
CitraWipes come in individual packets, just like the "moist towelettes" that might be found in your local barbeque joint and elsewhere.
The towels are pre-moistened with natural citrus extracts and they have a pleasantly faint citrus-y smell.  The towels are also slightly larger at 23cm by 18cm (9″ x 7″) and more robust than the type used in restaurants.  Or should I say diners?  Restaurants don't have ketchup on the tables and they sure won't stock moist towelettes.
CitraWipes are designed to remove "tough grease and grime", according to the manufacturer.  I guess they would also work nicely to remove barbeque sauce stains…
This product has been popular with bicycle riders who apparently use them to clean their hands after changing a tire or performing roadside maintenance, so they're well suited for motorcycling.  They require no additional water; simply wipe off the grease and grime and you're good to go as soon as your hands are dry.
By the way, they're also useful (but expensive) for cleaning grease and grime off the motorcycle itself.
CitraWipes are also expensive.  They cost $2.49 per two-pack and they're available in lots of 4 two-packs for $9.96 (a total of 8 packets).  CitraWipes does offer free shipping in the U.S.A. though, which is a bonus.  The product is made in the U.S.A. and Zogics donates a percentage of sales to environmental organizations.
The bottom line on CitraWipes is that they don't seem to have quite the cleaning power as WORX, but they do the job and they are waterless.  This is the one to carry under the seat.
CitraWipes Citrus Powered Degreaser Hand Wipe Photos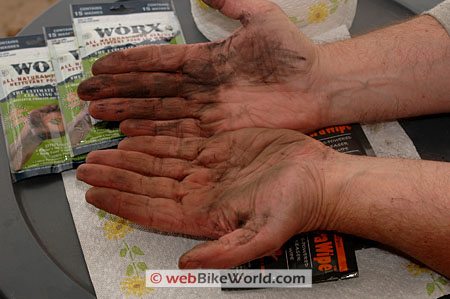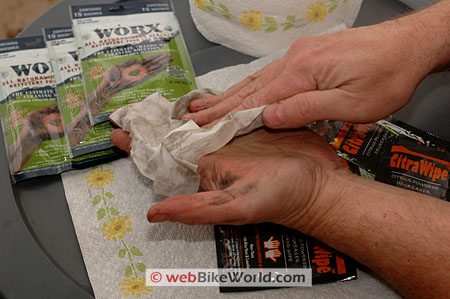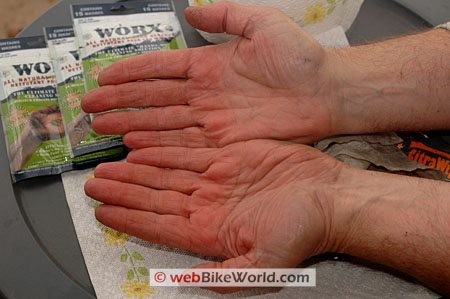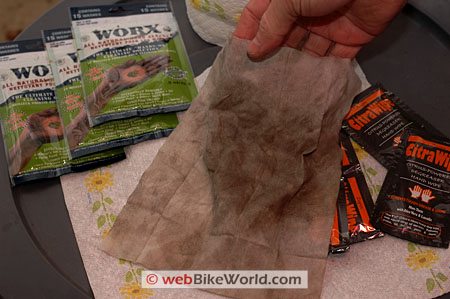 Conclusion
Don't forget: other solutions include stowing a pair or two of disposable rubber gloves under the seat, which you should probably have on hand (another pun) anyway.  But they rip easily and who knows how long they'll last if they're stored under the seat, where it can get mighty hot?
And remember also to be careful how you dispose of the packaging, the towelettes or the disposable gloves.  Toss 'em in your pocket and give them a proper send off and don't leave them by the side of the road.
I'm sure these two products are only the tip of the iceberg when it comes to waterless hand cleaners that are packaged appropriately for motorcycle use.
Note:  For informational use only.  All material and photographs are Copyright © webWorld International, LLC – 2000-2011.  All rights reserved.  See the webBikeWorld® Site Info page.  NOTE:  Product specifications, features and details may change or differ from our descriptions.  Always check before purchasing.  Read the Terms and Conditions!
wBW Quick Look:  Waterless Hand Cleaners

Available From:   WorxBest and
Suggested Retail Price:  WORX – 12 for $19.95.  CitraWipes – Four 2-packs for $9.96.
Sizes:  CitraWipes available individually packaged only.  WORX available in bulk or 25g packets.
Made In:  WORX is made in Canada.  CitraWipe is made in the U.S.A.
Review Date:  April 2007
Owner Comments and Feedback
Comments are ordered from most recent to oldest.
Not all comments will be published (
details
).  Comments may be edited for clarity prior to publication.
---
Editor's Note:  Here's another one we found.  This single packet of GOOP Antibacterial (Waterless) Hand Cleaner was sent as a sample, coincidental to our review.  These are also expensive, at $11.98 for 24 packets, plus $6.10 for shipping.  We'll order some and report back.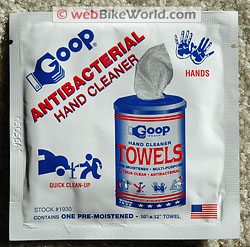 From "B.D.":  "(Gloves in a Bottle) isn't exactly a "Hand Cleaner" but does help with getting your hands "Clean" after you grease them up from working on your bike.
Ever get a solvent into a cut or dry cracks on your hands?  This is supposed to prevent that from happening.  Also, we all know (or should) that long term exposure to petroleum products can lead to certain types of cancer.  Gloves in a Bottle protects your hands from primary contact with oils.  So if you are the kind of wrencher that doesn't like to wear gloves, this will at least give you some extended "Safe Time" from caustic absorption into the skin.  I use this product primarily when I know I'll be doing some Fiberglass or Carbon Fiber lay up.  It helps keep the itch down from contact with errant fibers."
---
From "C.G.":  "You may wish to check out Fast Wipes from GOJO Industries.  They manufacture a whole line of soaps, moisturizers and hand cleaners; Purell hand sanitizers; Provon healthcare skin care products. Fast Wipes come packaged in various quantities and can be repackaged in smaller quantities in freezer zipper bags.  Depending on quantity purchased, wipes are about $0.30 each.
Another option – use regular GOJO hand cleaner – It's a staple in my garage and shop A small dollop can be placed in a small screw top poly travel container or recycled hotel shampoo bottle.  BTW – I am not associated with GOJO, just a very satisfied customer over the years.  Thanks for all you work on the website. It's a must read."
Editor's Note:  Thanks for the tip!  It's not easy finding information about GoJo Fast Wipes on their website, it's buried deep in the "Medium & Heavy Duty Hand Cleaner" section on the"Hand Hygiene and Healthy Skin" page.