While the Honda RC213V-S – their street-legal MotoGP machine – is starting to be delivered around the world, Australia is still waiting on the arrival of its one and only order.
Honda Australia spokesman Glyn Griffiths confirms only one order has been placed, although he says they also have "a couple of interested parties".
He could not confirm when the bike will arrive in Australia.
The first official owner to receive his bike is English rider John Brown who received his keys at the Honda Racing HQ in Louth, Lincolnshire, UK.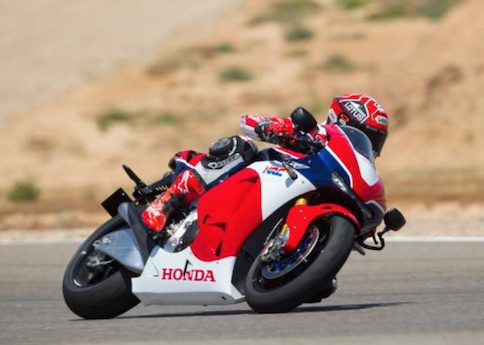 The price in Australia is $A244,000 for the road-legal version and $260,000 for with the track-only sports kit.
The sports kit includes a different ECU, muffler, spark plugs, data logger, quickshift, reverse race gears and various other items that we can't even work out such as a AI joint cover set.
To make the MotoGP bike roadworthy, it gets a starter motor, "tweaked" bake pads and discs, coil-spring suspension rather than pneumatic valves, a conventional transmission like the RCV1000R rather than a seamless transmission, lengthened the wheelbase and added a legal muffler.
Of course, it also gets mirrors, a horn and indicators.
But are customers really getting a hand-made bike?
This official video from Honda proves it is with workers welding the chassis by hand and sanding frame pieces by hand.