What was your favourite motorcycle of the more than 50 new machines that debuted at the world's biggest motorcycle show in Milan this week?
You can quickly refresh your memory by doing a search at the top of this page for "EICMA" which is the acronym for Esposizione Internazionale Ciclo Motociclo e Accessori or simply the Milan Motorcycle Show.
It attracts more than half a million visitors and the most motorcycle world debuts each year and this was no different with a stunning number of new models which augers well for the industry.
First thing you will find is that the word "scrambler came up a lot. Ducati had two new ones after the success of their Scrambler launched at the show last year and rocketing to their top seller.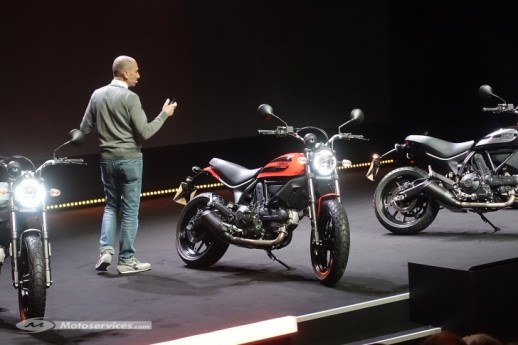 There were also scramblers from Benelli, BMW, Moto Guzzi, Yamaha (notionally) and even Honda, although it was a concept with far-off production possibilities.
There was also a lot of hi-tech electronic gadgetry, apps, rider aids and whizz-bang stuff.
And many concepts. My favourite actually being the Victory Ignition which is a sort of V-Rod or Diavel rival.
Speaking of which, my favourite bike of the show is the Ducati XDiavel. I wouldn't own one, but it looks monstrously grand!
The Ducati XDiavel was also chosen as the 'Best-looking bike' title by 61% of visitors and attendees.
I was expecting the learner Scrambler Sixty2 to be my favourite and then I heard how expensive it was. Same goes for the pointless baby Scout Sixty; ironically with a similar name.
For our poll, I've discounted minor updates and all concept bikes.
You can vote for your top three, nominate a bike not listed and even change your vote before you lock it in, but you can't vote more than once. However, you are welcome to come back and check on the voting progress.
You can even share the voting with your friends, just by clicking on the Facebook or Twitter buttons at the bottom!
Hope your favourite wins!