Vitesse Boots Review Summary
Vitesse Boots Image Gallery
Vitesse "Glove" Motorcycle Boots Review
The Vitesse Glove motorcycle boots are outstanding.
They are built to a very high standard of design and quality and they don't look like every other sports boot on the market
For the serious motorcyclist, the balance between protection and style/comfort is always hard to get right.
Everyone's seen foolhardy types on a sportbike in flip-flops and shorts. They make the bike look silly and apparently they aren't afraid of multiple skin grafts.
But on the other hand, who's going to pop down to the local shops in a set of full leathers? Daily commuters — like me — have to find an outfit that's good both on and off the bike.
And after sorting through the protection, waterproofing, ventilation and versatility, there's not much left by way of style to speak of — unless you're of the same fashion vein as Henry Ford.
Boots form part of the conundrum, too. Most race boots have more buckles than an S&M festival, or resemble asteroids with protrusions and safety tumours. They look good, but in a rather narrowly-defined range of "good".
French company Vitesse is a relative newcomer to the scene, started in 2008 by John and Caroline Mollanger, who both have extensive experience in footwear, having been product and marketing roles with companies like Nike and Puma. Caroline came with experience in Puma's moto-boots offerings too.
Vitesse aims to marry high-protection with a "custom-styling" approach in a variety of looks. In the company's words: "You should expect motorcycle boots to protect you when you ride. You should also expect them to be comfortable and beautiful, on and off the bike."
Vitesse started with three boot models for sale, the "Glove" (a sport, track day boot I'm evaluating here), the "Hunt" (urban, daily-use with work-boot styling) and the "Vulcan", which is similar to the Hunt but with a denim-like textile finish.
Vitesse has also announced its new 2012 lineup (.pdf) shortly, with updated designs, waterproofing and a range of casual shoes too.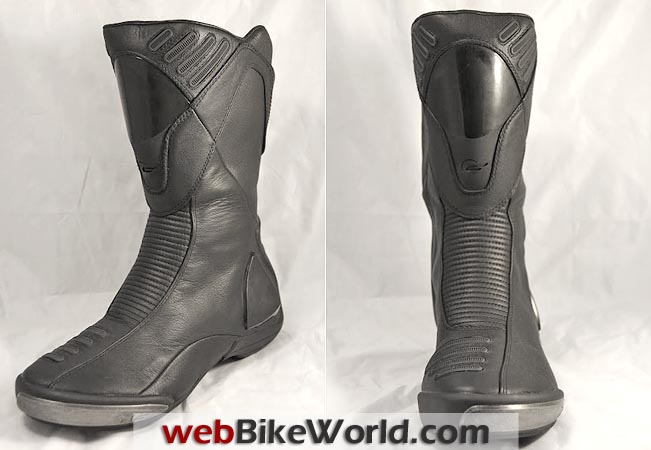 Vitesse "Glove" Boots
The "Glove" is named for its close fit and glove-soft leather. It 's the most sport-biased model in the Vitesse linuep and it's aimed at riders who do sport riding and the occasional track day.
I'd lump the Glove in with "classic" styled sport boots like the Alpinestars Articolo and Puma Desmo. They aren't full-on race boots, but features such as the metal toe sliders and ankle shields and a generous calf gaiter (to fit leathers) means going to the circuit shouldn't be a problem.
I asked Vitesse why the parts are non-replaceable (i.e., the toe slider) like on some high-end race boots, and they said it's because the Glove is aimed at riders who want an all-round boot for the street with the occasional track day thrown in, so anyone looking to break circuit records or go racing will have to look elsewhere.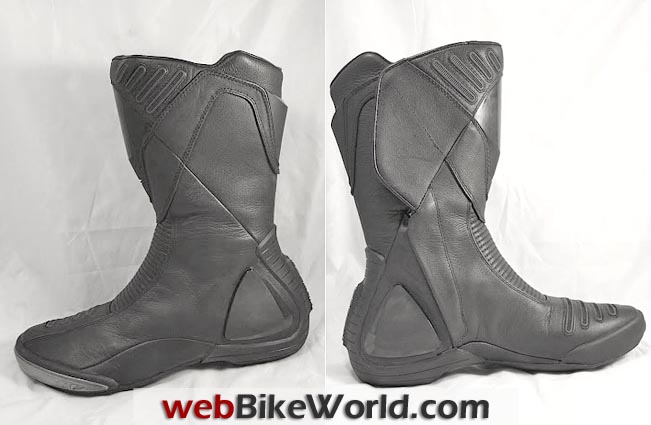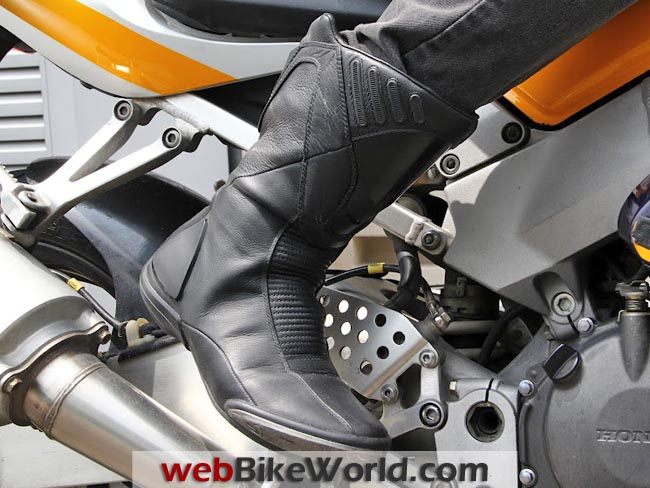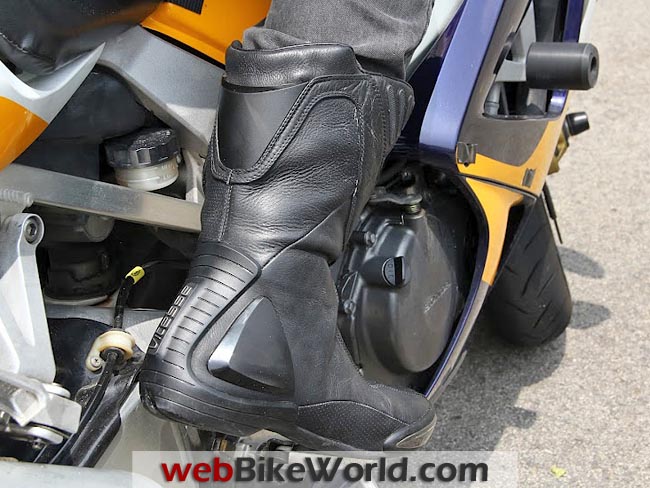 Design and Build Quality
Most boots fall into two general categories — sport or touring — and if you've seen the offerings from the big players (Alpinestars, Dainese, Sidi, TCX) you've seen about 90 percent of what the market has to offer.
What drew me to Vitesse in the first place was the very different design language of the products; you can see for yourself the Glove boots don't look like your typical sporting boots.
Vitesse says it employs an Italian consultancy, One Design, for its products, and they were apparently also responsible for the Puma 1000 V2 and Desmo boots as well.
The Vitesse Glove boots do bring them to mind, although "retro-racing" boots like the Alpinestars Articolo are also a competitor.
The Glove boots look good in photos but they really have to be seen to appreciated.
Large one-piece leather panels and integrated design features like the shin and toe guard (nothing sticks out too far) give them a very clean overall appearance.
These details and more (the "Vitesse" logos under the heel, for example) are literally built into the boot.
The letters of the Vitesse name on the back heel are wrought in metal too.
The pared-down and sleek aesthetic is a welcome contrast to most modern sport boots and gives the Vitesse Glove boots a great all-round "matching" ability; that is, they don't look out of place whether you're wearing jeans or a full set of leathers.
Also, if you're piloting a café race or vintage-style bike, they won't clash with your outfit like modern race boots will.
Vitesse boot production is handled by a Taiwanese firm with facilities in Vietnam.
So while the boots aren't made anywhere in France, or even Europe, and the word "hand-made" is never used, the quality and finish of the boots is outstanding.
Fresh out of the box (they even come wrapped in a linen bag) there wasn't a stitch or glue seam out of place; everything was flawless.
Vitesse doesn't name the type or origin of the cowhide it uses (the site says "soft, breathable leather"), but it feels like top-notch stuff, certainly on par with offerings from "brand name" companies.
I've owned boots from Sidi and TCX and fondled everything else at one time or another, but the Vitesse build quality is really something else altogether and the attention to detail is quite outstanding.

The Vitesse "V-Cockpit" Technology: Photo Left: "A soft, wrap-around memory foam bootie encapsulates the foot in a comfortable cradle, offering better comfort and impact absorption." Photo Center: "A rigid, tri–dimensional TPU structure helps protect from impact and guarantees lateral rigidity. The extended forefoot construction provides superior torsional rigidity." Photo Right: "A radial monobloc chassis built out of injected TPU and zinc-aluminum, integrates the other two layers into a fully functional system."
Safety and Protective Features
Normally safety features would be discussed after the "Fit and Comfort" section in a webBikeWorld boot review, but the Vitesse system is rather different and also affects everything else, so here it is up front.
The company has a system it terms "V-Cockpit", as shown above. To summarise, it's a wrap-around bootie and two, stiffer lateral shields with integrated ankle protectors held together by the "chassis", which is the bellows-like segment that you can see around the entire heel area.
It's an interesting concept because it's like an built-in inner-bootie you don't need to wrestle with. Booties, if you don't know, are used when maximum protection is needed, such as in many mainstream motocross boots.
German company Daytona uses a similar system for its very highly-regarded (and highly-priced!) race boots. It should be noted that the Puma Roadster V3 motorcycle boot claims a similar "cockpit" system as well, although I'm not sure if there is a relation (or patents) between these two systems.
Vitesse doesn't offer any impact figures or hard science (like with back protectors or helmets) on the V-Cockpit system, but to be fair, neither does any other bootmaker, as far as I know.
Other safety features of the Vitesse Glove boots include shin, ankle and calf protectors in hard, gloss TPU; a zinc-alloy toe slider; and "reinforced forefoot" construction, which I take to mean the stiff nature of the relatively roomy toe-box section.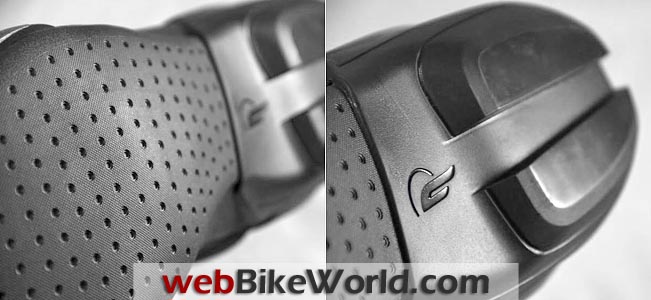 The Sole and heel of the Vitesse Glove boots.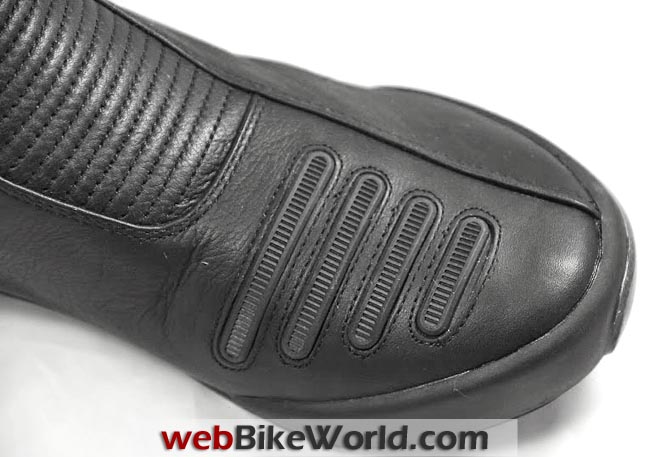 Integrated toe protectors.
Fit and Comfort
Ever realise how you tend to ride faster if you're wearing better gear? If I get a speeding ticket in the mail, I'll blame Vitesse.
The support of the V-Cockpit system is palpable whatever I'm doing on the bike; a sort of snug, firm feeling whether I'm pushing the bike around during parking, shifting through the gears or weighting the foot pegs with the balls of my feet in the corners.
The sole has a micro-patterned tread and offers good traction even in the damp, while the compound offers great tactility when on the foot pegs or using the brake pedal. Happily, the soles are thin but not hard, so walking around and life off the bike isn't hell on two legs like it is with very thin-soled racing offerings.
While a close-fitting, sport-style boots sound like a recipe for a sweat bath, the Gloves are surprisingly comfy to wear over prolonged periods. The breathable leather claim isn't just marketing (some sections are perforated) and I can wear them all day without growing a river delta down at my ankles. Singapore's weather is no joke, so anyone a few degrees further from the equator than us will have an even better time of it.
I have worn the boots in the rain and they are not waterproof, nor do they claim to be. The hook-and-loop calf fastening system allows the boots to be worn either inside or outside a pair of pants. Leathers will of course easily fit inside the boots, but since the Glove boots are a sports design, wearing them on the outside of a pair of pants is problematic.
Vitesse Glove Boots Fit and Sizing
Like most motorcycle boots, the Vitesse Glove boots have a combination zipper and hook-and-loop side entry system, with a folding "gutter".
Being of European design, and as the name suggests, the Glove boots are very form-fitting and the side protective elements of the V-Cockpit design means putting your feet into the boots can be quite a challenge until the boots are fully broken-in.
Luckily, the cowhide construction means they'll adapt their shape to your feet after awhile — one of the major downsides of synthetic leather like Lorica is that it doesn't do this, unlike natural leather.
I wear a size 42 boot (Sidi and Oxtar/TCX) and the Vitesse Glove boots are very close-fitting, as I do have a slightly wide forefoot. Those of you without European or Asian-sized feet will probably want to buy a size higher.
Although currently Vitesse is a direct-buy only model, they have useful print-out size charts to help you. I used thin socks to help shoehorn myself in, but once on, the Glove boots fit like their namesake. I can feel the V-Cockpit system around my ankle; it's something like wearing a sports brace, but not so restrictive and doesn't cut off circulation. The fit and boot entry got better after a few weeks of wear.  .
Price
Currently the only way to get a pair of Vitesse boots is to buy them directly from Vitesse, and they go for 250 Euros without shipping. This puts them in the mid-range, alongside race boots like the Dainese TRQ Race and Alpinestars SMX Plus, or touring boots like the Dainese TRQ Tour Gore-Tex and Sidi On Road.
It's pricey, since they offer fewer "bells and whistles" than full-on race boots, but the V-Cockpit feature, the great style of the Vitesse boots, and sheer level of quality helps justify the price tag in my opinion.
Conclusion
The Vitesse Glove boots are an outstanding pair of motorcycle boots. They offer something built to a very high standard of design and quality and they don't look like every other sports boot on the market.
While I (thankfully) didn't have an opportunity to evaluate the safety claims, the V-Cockpit system offers the support and snugness of an inner bootie without the hassle.
The boots are a bit hard to get on (and off) until they're broken in and they don't have as many features as some other race boots, but if you're looking for a classy sport boot that is a bit unusual, this is the way to go.
NOTE (November 2012): Vitesse is apparently not filling orders (see comments below), so caution is advised. The link to the company has been removed in the summary table below.
More wBW Motorcycle Boot Reviews
w

BW

 Review: Vitesse "Glove" Motorcycle Boots

Manufacturer: Vitesse Moto (France)
List Price: €250.00
Colors: Black.
Made In: Vietnam
Sizes: 7-13 (US). 39-47 (Euro). Colours: Black
Rating: 
Review Date: May 2012
Note:
 For informational use only. All material and photographs are Copyright © webWorld International, LLC since 2000. All rights reserved. See the webBikeWorld® 
Site Info page
. Product specifications, features and details may change or differ from our descriptions. Always check before purchasing. Read the
Terms and Conditions
!
Owner Comments and Feedback
---
From "A.F." (November 2012): "Your review is one of the prime search results that is found when searching for reviews of these boots, so I believe it would be worth updating your review to warn your readers about the current state of affairs of Vitesse.
It appears Vitesse are currently NOT filling their orders, while they are still charging the credit cards of customers placing orders with them. They have admitted to this issue in an email but have not made any progress in rectifying the situation as yet. Despite their current status, they have not placed any update on their website and are likely still accepting orders via their web store.
Between their website and many online reviews, there is no indication of risk when placing an order with them. I'm yet to receive my order. I have emailed their only listed email address twice to request information, and have yet to receive a single reply.
While as a company they may be experiencing trouble, I do not think it is fair to have "gone dark" on customers while holding their funds. I do not think it is fair to charge more customers via their web store when they have not completed their previous obligations.
A check of postings to their Facebook page will show that my case is not isolated. Others have been waiting much longer than I have. In summary: Vitesse are presenting themselves "as normal" on-line and accepting orders. Customers are being charged in full for boots and postage. Customers are not receiving their orders or any information on when to expect them. Vitesse are not replying to emails, and do not list other contact methods on their website. No on-line reviews make mention of the current state of affairs.
Please consider placing a very clear warning at the start and end of your review to protect your readers from having their funds stolen."
UPDATE From "A.F." (November 2012): "To my surprise, my boots have actually arrived, and they are actually fantastic boots, just as your review indicated. They fit perfectly and the quality is top notch. They easily compete with the top shelf offerings from the usual suspects at a much better price point.
To correct a point I commented on, It appears Vitesse have now closed their web store and are not taking new orders as far as I can see. Aside from that though, they have made no public comment on their web site, and have not replied in any way to the emails I sent them previously.
I sincerely hope whatever issues they are having are resolved and they become a dependable source for motorcycle boots in the future, it's a shame to see a truly fantastic product be let down so severely by the sales process!"
---
From "M.P." (October 2012): "I ordered a pair of Vitesse boots based on (the) review back on July 18th. I still have not received the boots and have been unable to get any form of response from Vitesse for these past 3 months.
Unfortunately I am unable to get a refund do to Paypal's 45 day dispute policy. I had just hoped it was taking a long time due to the international shipping and the fact that other people in the Vitesse Facebook page said it took 2 months to receive them . If you take a look at the Vitesse Facebook page you will see that many other people are in the same situation as myself…."