Victory Motorcycles could be adding a water-cooled performance bike to their line-up with the unveiling of a new bike at the EICMA motorcycle show in Milan in November 2015.
Sister company Indian Motorcycle already has the water-cooled 1133cc Scout, but Victory only has the 106 Freedom air-cooled engine.
Meanwhile, Harley has introduced a partially water-cooled engine in its full-dresser tourers but it doesn't appear that this new water-cooled engine will be added to Victory's tourers.
Instead, it will be in a performance bike, not unlike the Project 156 which they raced up Pikes Peak International Hillclimb in June.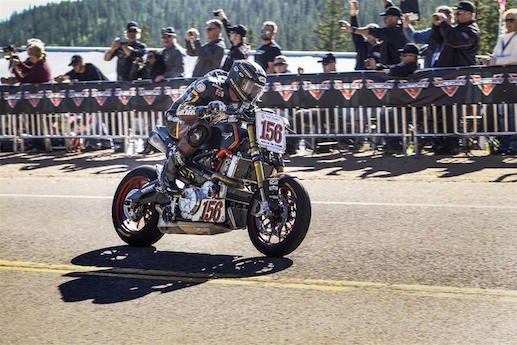 Victory says it has been "showcasing American Muscle throughout its product line and in racing" which seems to be a reference to the hillclimber.
They also released an image of the water-cooled engine's case cover (top) which is the same as the hillclimb prototype racer and looks fairly similar to the Scout engine.
We expect it will be of similar capacity, maybe slightly larger.
However, what type of bike they will fit it in is still unknown.
Most likely it will be a naked muscle bike similar to those produced by Buell, even though that company went bust this year and is now in the throes of being reinvented by its new owners, Atlantic Metals Group.
Victory is angling for a younger rider and this new engine, together with their Empulse TT electric naked bike, may be just the tonic to attract a more youthful market.